Tucked away on a side street in Yaba, a historic part of Lagos that is also home to the city's art school, is Kenneth Ize's studio. It makes sense entirely that the man attributed of single-handedly spearheading Nigerian fashion's  revived love affair with woven cloth, contemporising it and designing collections of covetable pieces worn by the global fashion cognoscenti and a smattering of celebrities should choose this corner of the mainland for his base. He elaborates: "I picked here because I like colonial houses , I like old buildings and architecture and I just really wanted to be in a space where my staff and I could be here together." For a designer who is known for the kaleidoscopic nature of his fabric choices and juxtapositions the two storied light filled, white walled and monochrome terrazzo floored house offers a striking and visually calming counterpoint to the pieces he creates. The overall vibe is of a conscientious creative commune, his aforementioned staff, two weavers and an assistant continue to diligently work in the adjacent room, samples are neatly arranged in a corner,  and only his dog seems to be allowed to rush in and out as he pleases interrupting us every so often from his base camp of the veranda. Away from the hubbub, the plaudits the clients who keep returning to Alara for another Kenneth Ize fix, he has created the optimum cocoon for him to continue to live and work.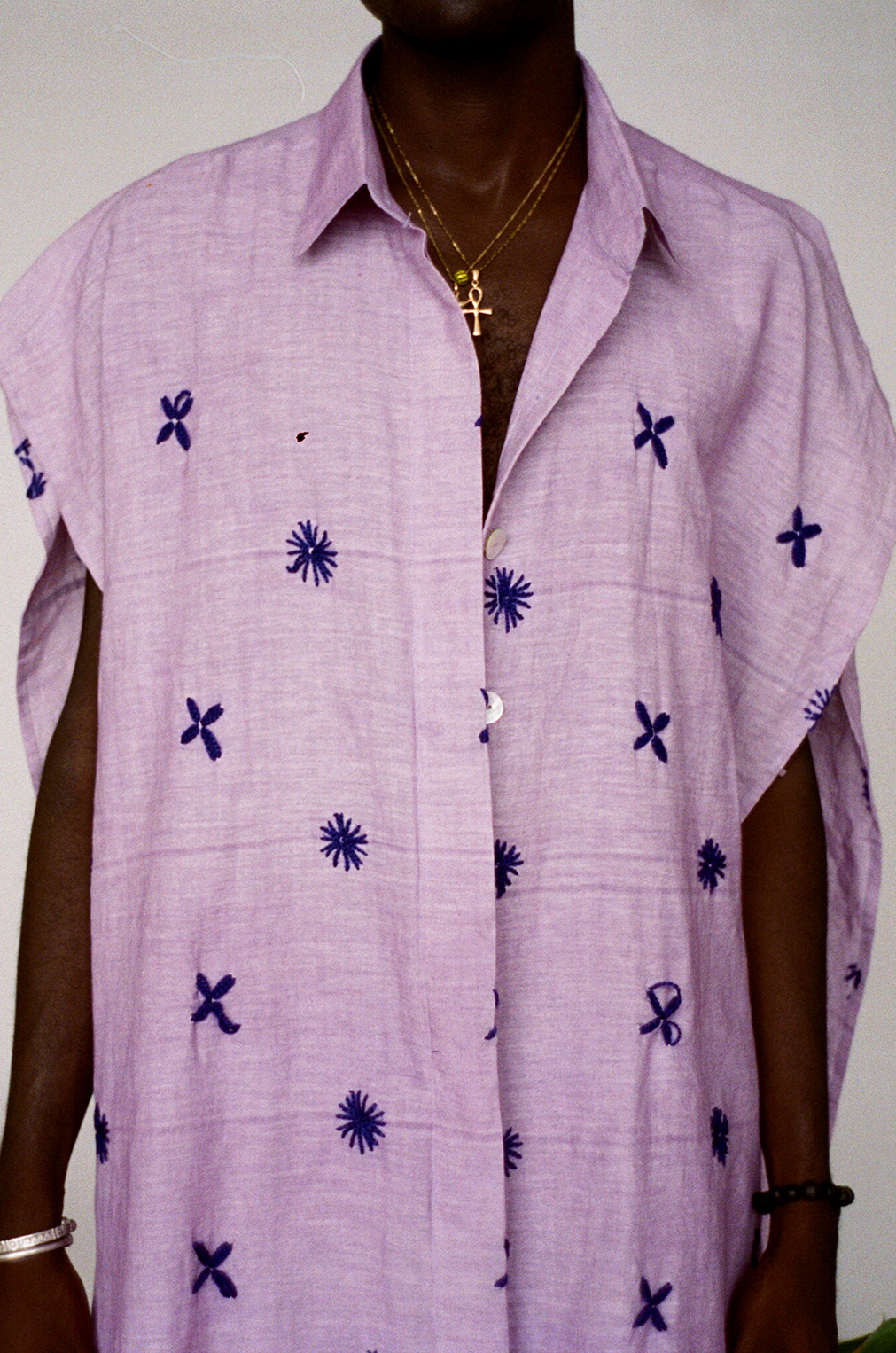 An Education in Aesthetics that's find its way home
As with many designers Ize's path has the aura of predestination. Regarding being drawn to fashion design he explains: I would say it was something I believed I could do best, it is something I saw around me [and] I customised my own clothes." Attention to detail was inspired by his father: "I grew up seeing my dad wearing suits and the alignment was perfect. Even his singlet he would make sure, like, it was proper like flat…He would tell me there are some pants that you wear that it has to be so slick, like your bum has to be so smooth, you can't have the pant line so my dad was rocking g strings to not have a pant line. I mean that guy, I don't know what planet he was from…. But thinking now it is beautiful because it is my Dad who taught me mostly how to dress."  Upending the assumption that most African parents are reluctant for their child to embark in a career in the creative industries, much less fashion, he expands: "My parents are very nostalgic but cool… I studied psychology for a year and I never went  to class [but] when I called my Mum and I am like Mum I think I know what I want to do I want to be a fashion designer, she was like go for it , this is what you should be doing."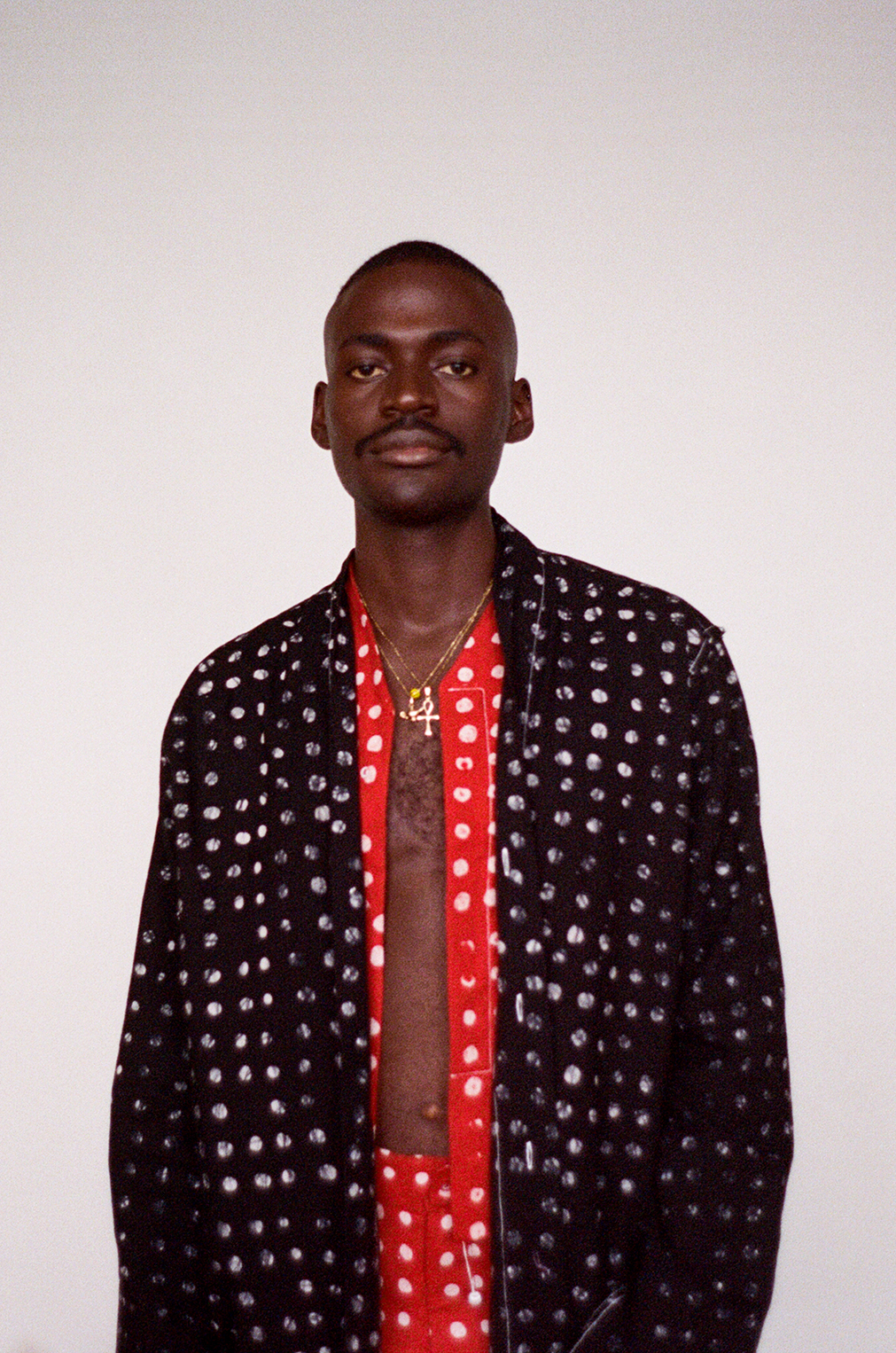 Of course, this was not misplaced optimism on the part of Ize's parents; who had left Nigeria and settled in Austria as a family. He won a place at the prestigious Institute of Design, University of Applied Arts, Vienna where he did his BA under the instruction of Bernard Willhelm and his MA under the tutelage of the legendary Hussein Chalayan.  Immersing himself in a demanding programme that was interdisciplinary in its approach and allowed him to explore the semiotics and theory of fashion as much as construction remains evident in his approach, which unlike many who are self-taught possesses an intellectualism and rigour that is every bit as important as the rack appeal of the finished pieces. "I just started playing with yarns during my thesis. I was researching, and I kept asking around where could I get weavers…one of my cousins knew a lady that made fabric and that wove here [in Lagos] so she took me there we did a sample and it was so experimental…I was saying everything I wanted and we sat outside and started doing it. And I was like wait, I could actually just expand this thing into something." For many the finished fabric is aso'oke, a traditional woven fabric technique that is native to the Yoruba of South Western Nigeria but Ize sees his iteration of being an expansion on the traditional fabric. "It took me about two years… I feel like the experimentation we have done with this fabric has now shifted it from being aso'oke to being a woven cloth that should be celebrated everywhere in the world as we have moved this technique to a different level" In experimentation Ize has created a fabric that is 60% silk, 30% rayon and 10% cotton, allowing for more malleability and a glossy sheen in the finish. But this is not to say that he has abandoned the craft aspect in the process as he notes: "We hand weave here, a two-yard scarf for instance to prepare and design the pattern takes about a day and then to weave the actual fabric it takes about seven hours. It's very labour intensive and the lady I started working with, she's getting older, but I am so happy because one of her nieces is really loving this and has gotten into it now. I also have a team in Ilorin so we make the samples here and the team in Ilorin produces to a very large scale." The organic nature of the process and the communal nature of the team behind it results in a more personal piece of luxury. In the age of the 'drop' and an insatiable client base that designers are pressured to feed at all times and costs, Ize's process places skills, sustainability and perhaps most important of all, humanity at the centre.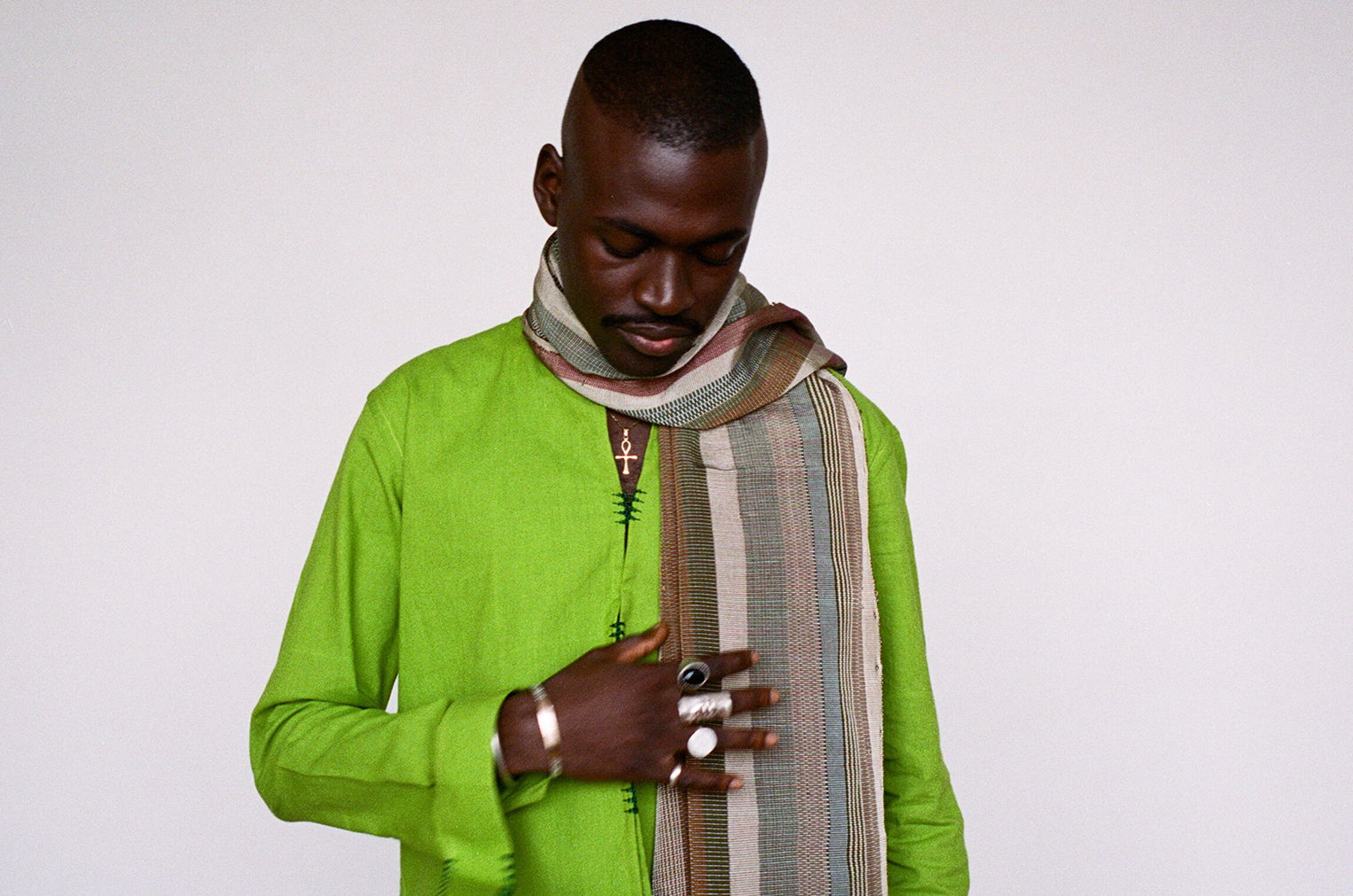 Asked about his design language Ize is emphatic when he states: "For me the aesthetic is very pragmatic. It's real definitely, and that is the kind of person I am designing for, because it is all comfortable clothes, just put it on and off you go. Also, the brand is very genuine and genuine aligns with one being very pragmatic." Certainly, much of what he has offered on the runway has been classic in cut, from single breasted jackets to city shorts, trousers and jumbo scarves that can be draped and shaped in a myriad of ways. With the colours and textures being so audacious restraint is indicated in the silhouette. It also reveals commercial savvy; colour and print can often frighten the average shopper but made in an easy to wear shape the leap of consideration to purchase  becomes easier. He also sees his brand as acting as conduit for others to plug into what is happening in Nigeria culturally and having an ambassadorial role in changing negative perceptions:  "I am not just making these clothes for myself, I am making them for every African person. I want people to go Google oh yes, Nigeria, Lagos because they have seen the clothes and it makes them so fascinated." In a world where cultural signifiers hold far greater currency than policy statements or government pronouncements, Ize's thesis of Africa charting a positive course through its creative industries is far from naïve.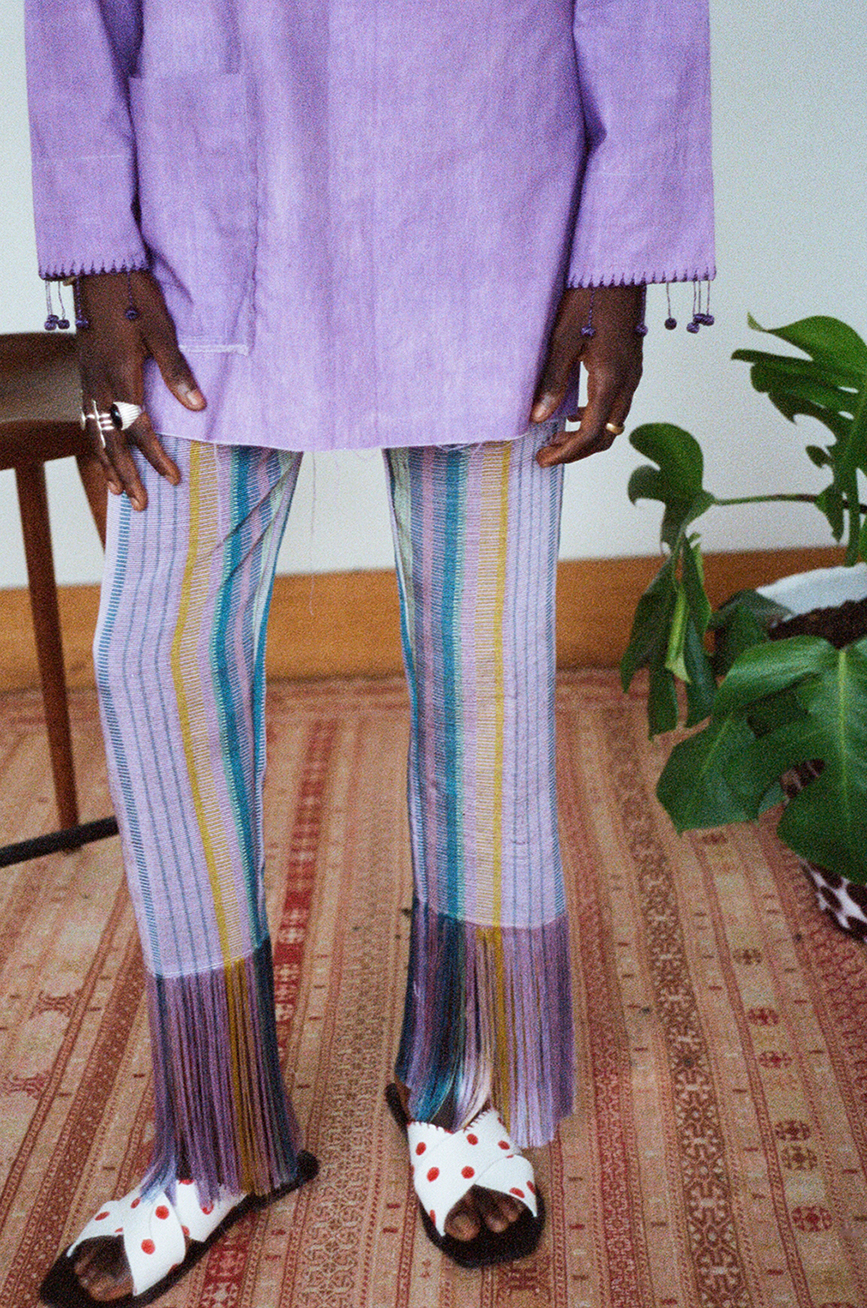 Muses, Supporters and the Fashion Eco-System
For a designer working in the 21st century there is something delightfully old-school in Ize's methodology. Similar to the likes of Yves Saint Laurent with Loulou de la Falaise and Betty Catroux or Karl Lagerfeld with Ines De La Frassange and a host of fabled beauties and it-girls since, Ize works closely with a muse. In his case the muse is Baingor Joiner, or  as he is known more simply Bai, a creative consultant and photographer and part of the Lagos Cool Set. Ize is effusive in his praise for Bai: "Oh my God, I had a crush on Bai, the first time I met him my fantasies were on Bai, I just wanted to dress Bai…. I saw Bai and it was about clothes, it was about a design and about the runway which is interesting because runway is one thing that makes my collections really cohesive because even before a collection is made I have seen it, I have had the vision. Bai helps me narrate my vision." It also helps that Bai by virtue of his activities as a DJ, model, photographer and fixture in Lagos' creative nexus is in touch with many of the creative and cultural outlets that Ize infuses into his work and reframes via clothing. Ize adds: "We have conversations on design. He tells me how he feels about clothes because he also really understands where my mind is." When asked how long he sees their working relationship lasting, Ize shakes his head at the thought of having a revolving door of muses: "I would love to use Bai in the next 20 years if he is not too busy for me…and even it gets that way Bai is an open spirit and I am too, we just really connect together and he knows how to say yes and never say no to me."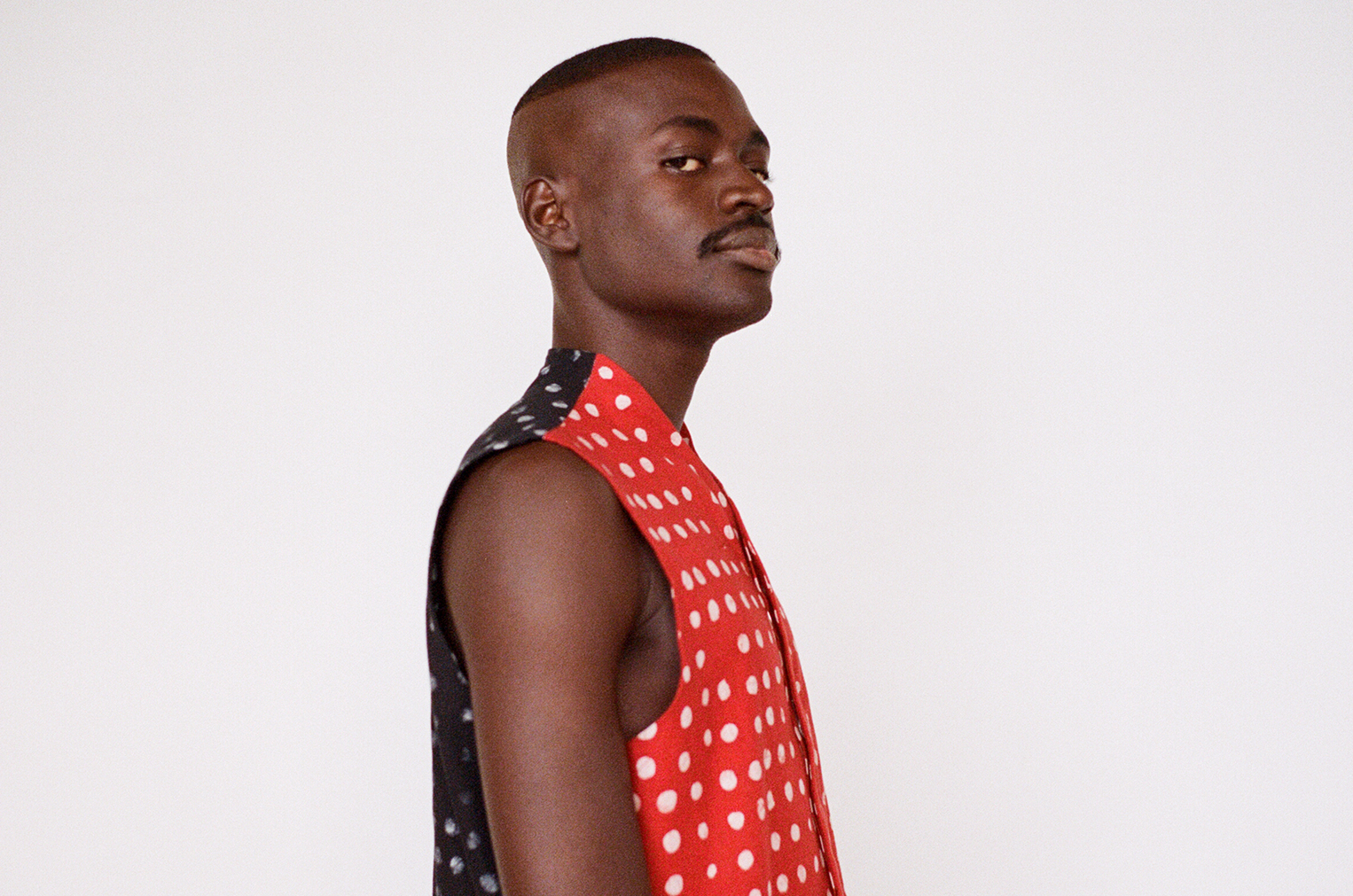 The familial energy extends to clients and supporters many whom are also cultural ambassadors in their own right: "I gain support from past relationships I have with people like Reni Folawiyo…friends like Faridah Folawiyo, Jomi Marcus-Bello from Waffles n Cream, Tokini Peterside of Art X and I love Nduka from This Day too." Reni Folawiyo, owner of Alara is not only an early stockist, she has also invested significantly in the Oji Showroom in Paris (which with assistance from the Nigerian Export Promotion Council (NEPC) saw Kenneth Ize and other menswear brands showcase their work) furthermore, Faridah Folawiyo a fine art consultant is a close friend and confidante. By having such a close network of friends and a clear sense of purpose Ize has been able to navigate challenging episodes most recently the rumour mill that went into overdrive when he didn't show at either Lagos Fashion Week or GTB Fashion Weekend this year. He shares candidly: "My mind runs very fast…I am going through a serious depression right now… I had this collection ready before because I follow the international fashion calendar, but these weren't the spaces for me to show anymore in a runway that I can't be able to control or organise…I want to be able to be given the time and to be able to express my feelings and my emotions on the journey of making these clothes." Instead he spent a month at a residency in New Orleans arranged by The Assemble a London based architectural and design collective and funded by two New Orleans based reclusive philanthropists who want to invest in the city's creative possibilities. Ize expands on what the students should hope to experience: "I am really excited to be teaching how to make things more cohesive. I also  have a project that I am going to give them… I am going to use the source of what I learnt from my university days because I feel like I have learnt so much from my uni and I am excited because it is a way of me remembering myself and refreshing my spirit and my energy because I really wanted to leave Lagos because I need a break not to see things that I see every day."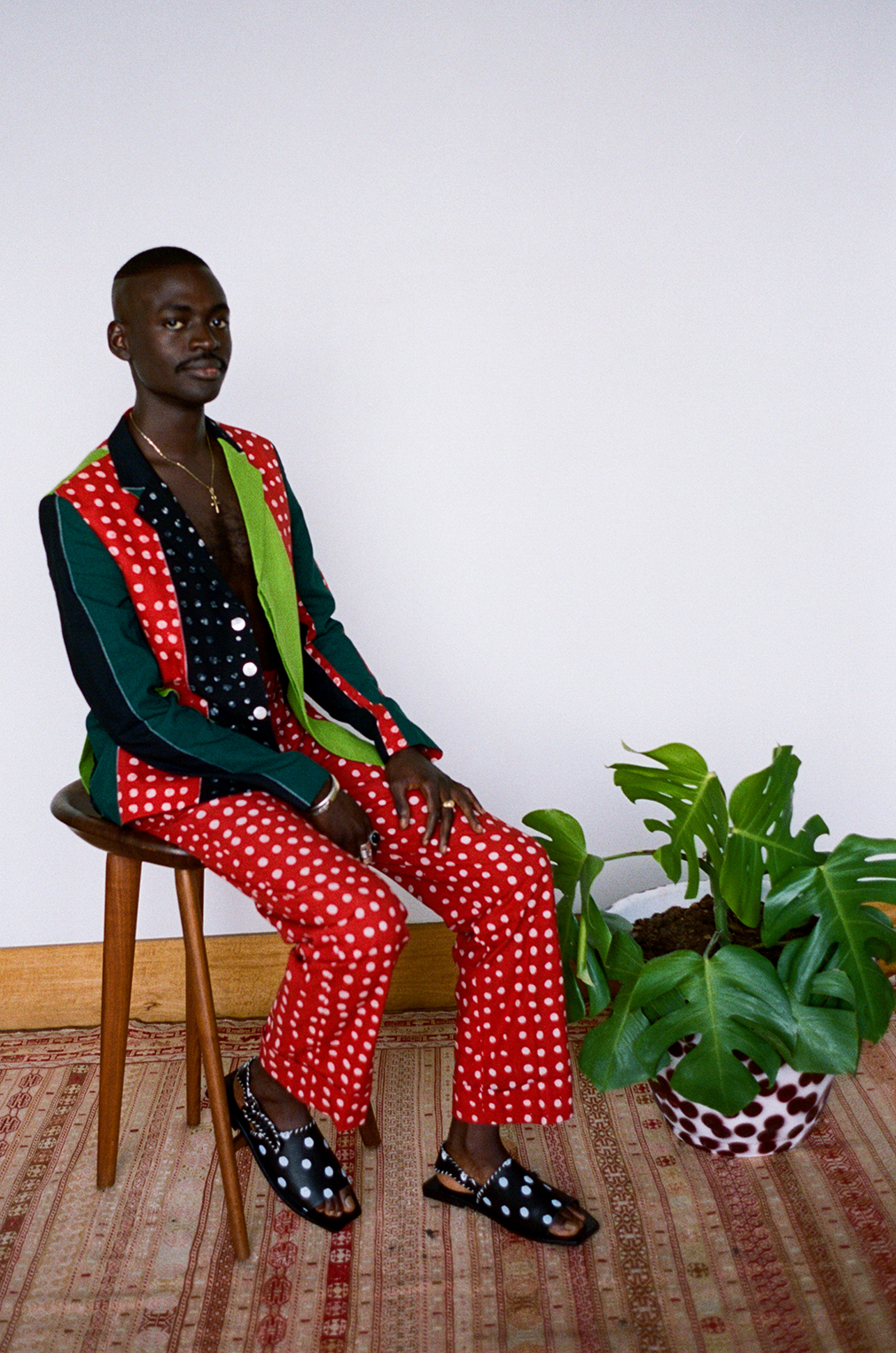 He also provides a broadside on the efficacy and relevance of the spate of fashion weeks, shows and events saturating the Nigerian calendar when he adds: "I don't think I have to lash anybody, but I do think maybe we just really have to go back to bed, sleep a bit and wake up again and think things through. I think fashion weeks here, there are too many already….I don't know why this is like this because the fashion industry in Nigeria is just 1% , the 1% we all know each other…Everything I make and every one of my decisions in my life has to be very relevant. So if it is hurting me there is no point in showing. Then I also thought that why do I have to keep running around making this or making that to show? To show for who? Who am I really showing this for if my client isn't really there? I mean I have done shows over four years under Lagos Fashion Week and I don't think I have gotten a buyer from there one time." It is an assessment that whilst not often spoken about overtly, for fear of offending industry leaders, gate-keepers and business leaders is whispered quietly by many designers regarding the different fashion weeks on the Lagos fashion calendar be it LFW or GTB. From the relative absence of buyers vis a vis journalists, influencers and bloggers to the flying in of big names in the international fashion scene that do not offer any ongoing engagement with the local industry beyond excitable social media posts during their brief visits and prestige by association for those who have hosted them. Whilst the flurry of articles and write ups that appear in the international press hailing the Lagos fashion scene might be deemed great for profile building, especially for the brands that get a mention, questions still remain as to why they do not necessarily translate into orders and sales. However, it is a nascent industry, and this too is something Ize concedes noting : "It's a very tricky one,  they, the organisers, are doing what they think they can do but it is self-taught. I don't see the fashion shows here to be a business because at the end of the day that designer that has shown for one hundred years or whatever is still a bespoke designer. Ready to wear culture is not really known here…. Where are those clothes going to after the shows? So okay maybe [they are] going to go to Zinkata, Temple Muse, Alara but what else again?" By raising these questions and choosing to pause from the domestic fashion merry-go-round Ize is displaying a bravery that some might seem deem reckless, but conversely, if one does not critique or question, how does one grow?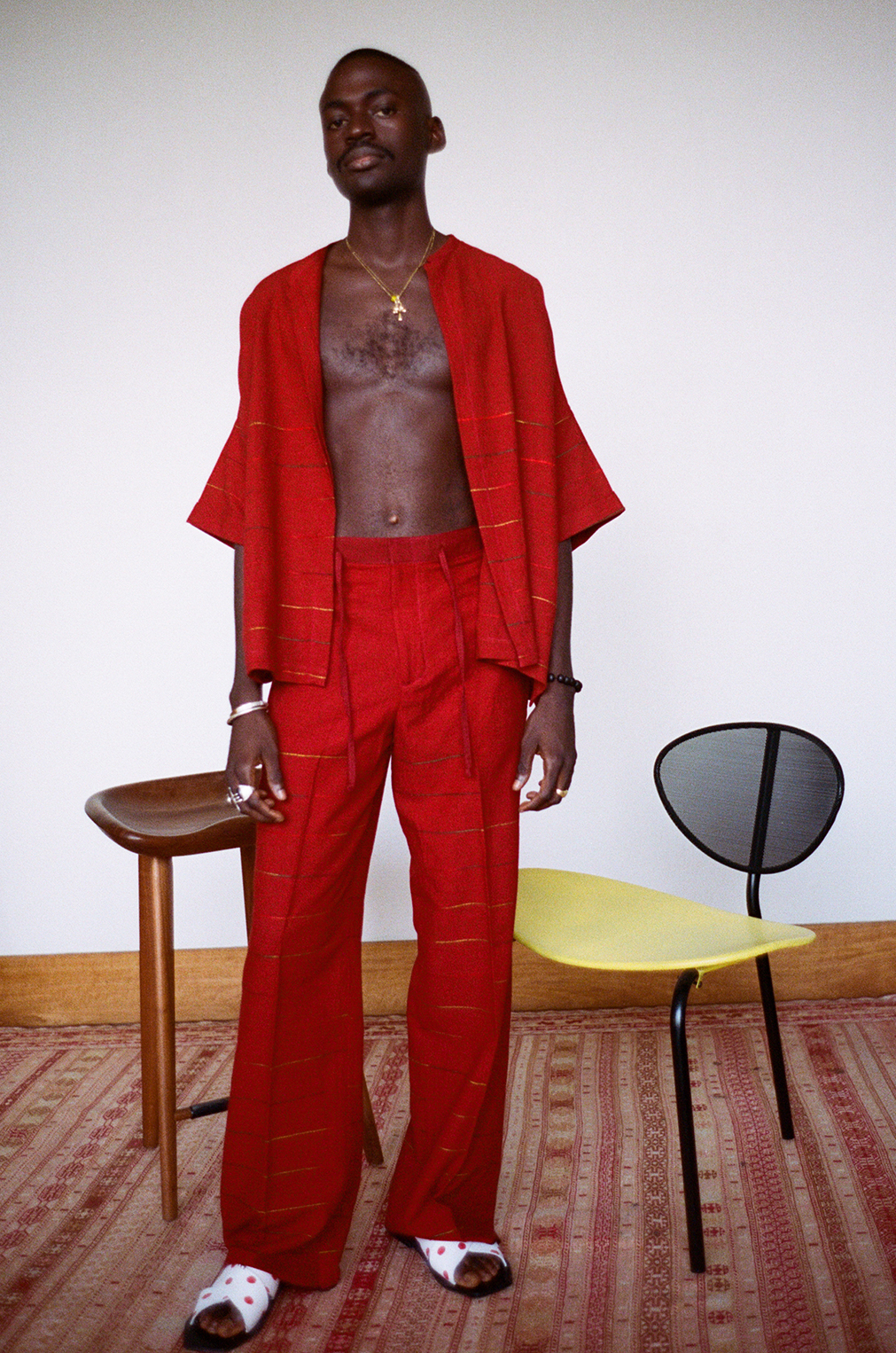 He is equally passionate about the state of the Nigerian fashion industry and the paucity of opportunities available whether one is starting out in the business or more established. He notes: "We're getting the press but we're not making the money here. There are loads of international designers  I won't mention names, but you could show me their collections and I can show you how African designers or our aesthetics have been referenced." And whilst the occasional Social Media 'name and shame' might cause a flurry of activity on threads it does not translate into revenue as he puts it more succinctly: "I mean the fashion industry is growing here but I don't think it is making money. Because for example I do not know any Nigerian fashion designer that is selling in Dover Street Market."  He is equally scathing of the Pop-Up model which has seen a number of Nigerian designers be stocked albeit temporarily in prestigious stores overseas as he adds chuckling: "They want to pop you up honey but that's just it. A pop means they don't trust you. They are low-key trying to tell you that 'oh let's give you a pop up you know and then be happy and it's going to be good'. But if someone offered me a pop up I would say no, because I am not willing to make 50 jackets for a pop up as what is really the assurance of me selling? If you really trust in someone's brand you would actually want to have it in that store and buy the collection outright that's my belief." Training is an ongoing issue, something Ize with the benefit of his education feels needs to be urgently addressed: "The lack of education here in our system is a problem. The fact we don't have a fashion school that would teach students how to  grow an aesthetic. We need a strong fashion school here. it's time." He also questions the intent of the international spotlight so firmly on Africa currently when he adds ."They are consuming (our creativity) and we are not making the money…We think we are exposing these African brands but we are really not , we are only exposing the continent for people to take from." And whilst his upbringing makes Ize very much an internationalist his warning to Nigeria and in the greater scheme Africa as a whole  of needing to chart its own destiny rather than assume an equal playing field will be created on the global fashion landscape is pertinent.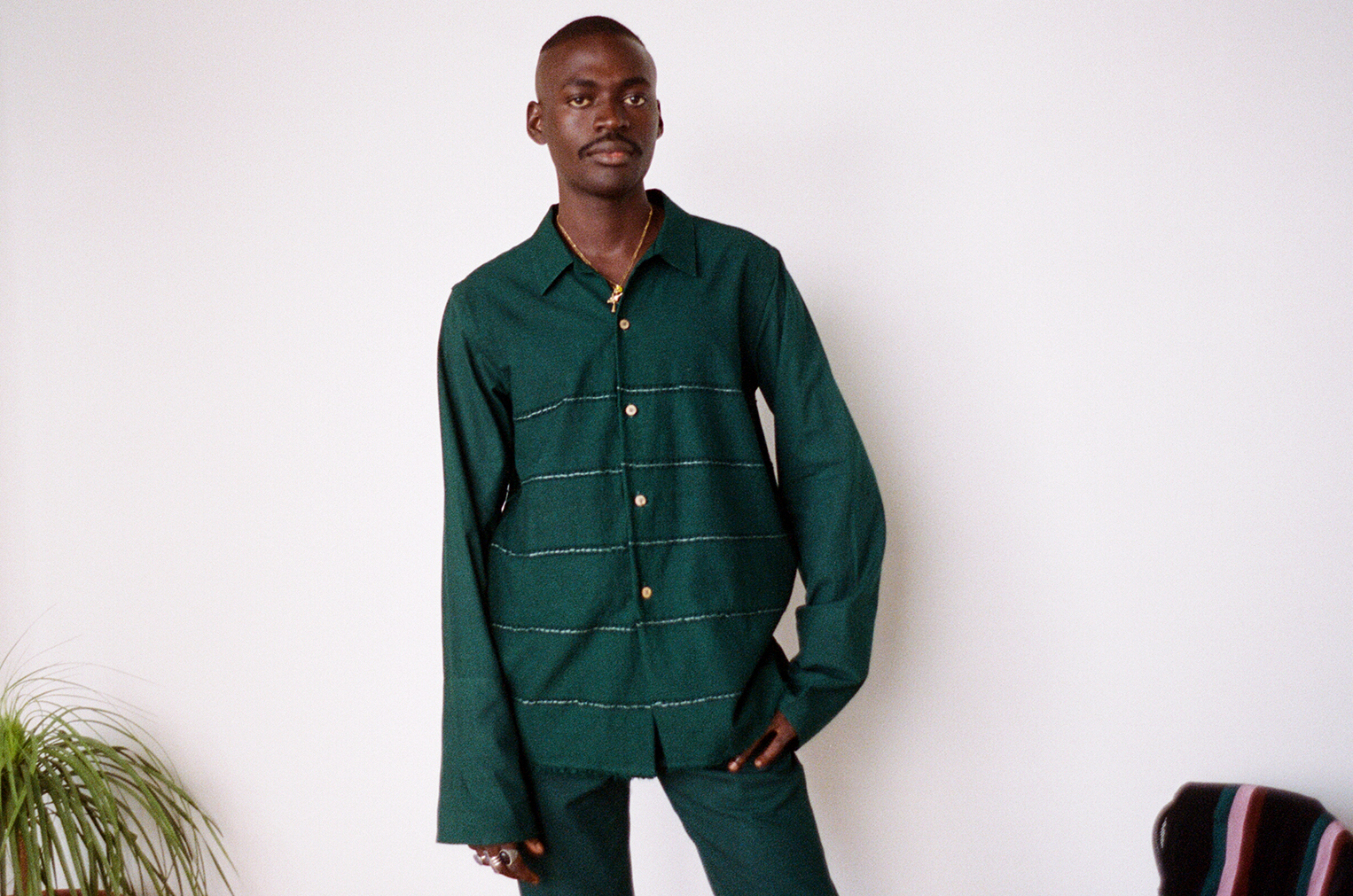 Fame, Fandom and Future Plans
For someone who has seen his client list grow beyond Nigeria to include the likes of Donald Glover, Anum Bashir and most recently Beyoncé, Ize is decidedly muted about the implications for his brand. "You know it's a sustainable brand and I don't think about popularity, not at all. Trust me I didn't know who Childish Gambino was. I don't feel like I know five lyrics from Beyoncé's songs… I know people would assume he would know this he would know that, but I just don't…I am thinking about how can I better myself and better my environment? The way it works in my head is I care more about my staff than chasing celebrities to wear my clothes. I am not a crowd chaser. I am just about being natural. I am also very aware of how destructive this world is already so all I am[focusing on is how can I as an individual person make a change in the world or  add to this world so that it can be better." It is for this reason that Ize doesn't engage in sending pieces out to celebrities speculatively or go into PR overdrive during awards season. Instead, stylists approach his team and orders are taken from there, just as with any other client. A contrarian approach but it allows for greater freedom in the long run as he is not enslaved to insta-popularity or the foibles of a few famous clients.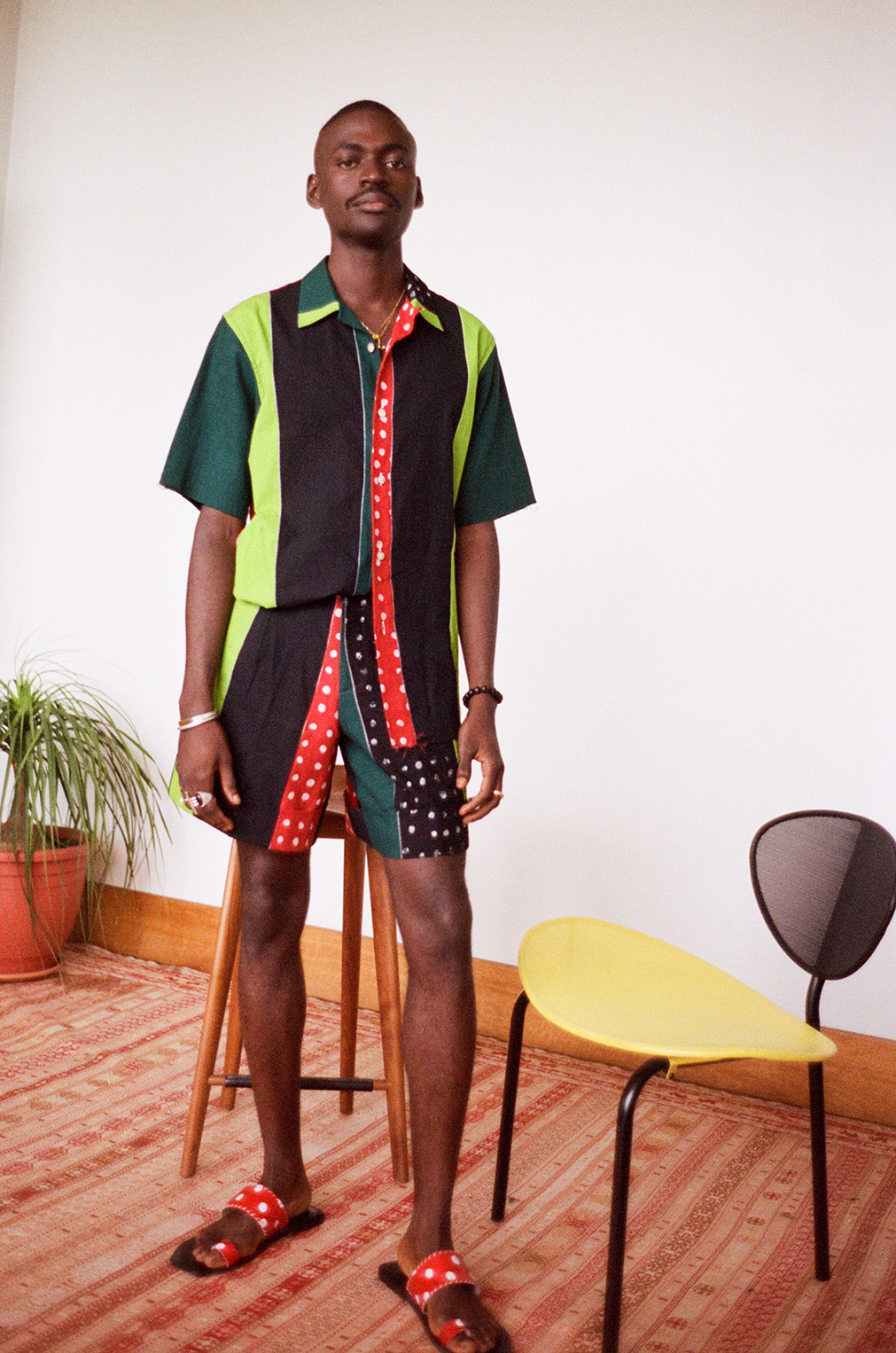 For female fans who have had to content themselves with slipping into menswear pieces of Kenneth Ize's, if they are slender of hip enough to do so, this year brings the arrival of a full womenswear collection. "I have been working on this collection for the past four months I am still not done it's a lot of work I have never made women's wear before…, I want to know the body of a woman because I am making womenswear." He gestures to me and adds: "I want to know your story as a woman I want to know everything…I want to know about your menstruation how you move how you feel everything. This is my headspace right now. I am so excited by this womenswear because my energy is so into it and I love it so much I am telling you it is going to be amazing." His effervescence is infectious and with his meticulous approach to design conception female fans will no doubt flock for more. Womenswear is just one part of a broader expansion that will include lifestyle objects in due course. As Ize notes: "Because my brand is luxury there is a goal and there is a determination. My determination, I am going to be very honest here, is to be the brand that is from Africa that is on everyone's radar globally because I am sick and tired of seeing negative things about Africa."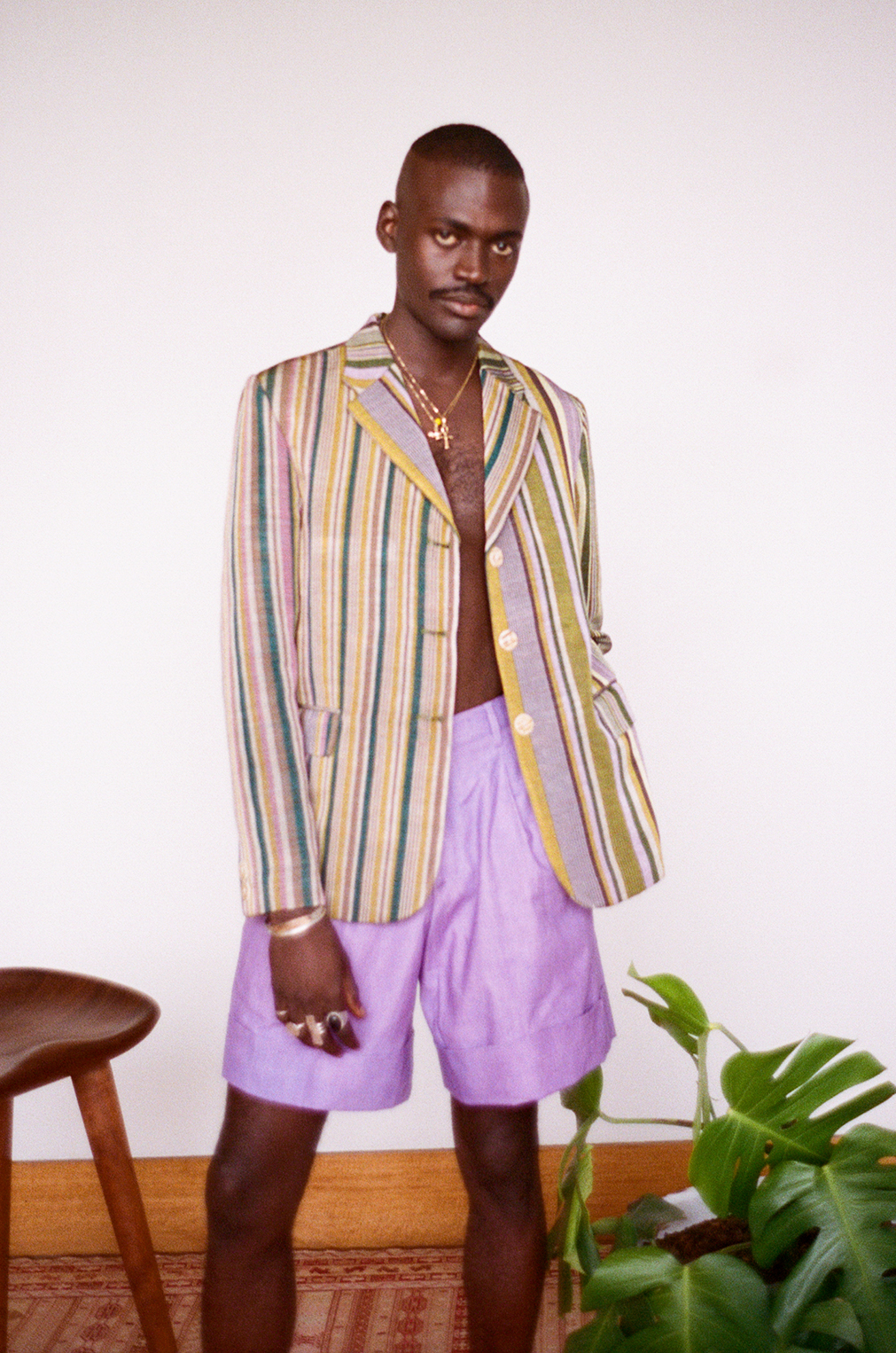 Of his peers within the industry, there are only a few he admires: "I like Kelechi Odu and Maki Oh and I also  like Waffles n Cream and it's very affordable and it's one of the only brands that I feel I own a lot of pieces from, yes Waffles n Cream totally. I would say those are the three brands." Expanding to brands based outside of Africa, once more it is the interdisciplinary visionaries that capture his imagination the most when he adds: "You know in as much as I get that I sound a bit shady but I don't feel like I know or love many brands even international brands….I love Chanel , because I have these conversations with a lot of people and they are like oh,  they do the same thing and I am like no, the beautiful thing and the reason why I connect so much with Chanel is that every time you see his shows they are like fucking epic. This guy Karl, he thinks about everything with his shows. Sometimes I will just go on YouTube and be like let me just watch a Chanel show… I also like Christopher Lemaire and Paco Rabanne… it's its own aesthetic, it is alternative, it's a different sexy I can't even explain it." By not being over engrossed with what others are doing Ize's career has to date not suffered from the critique of being derivative or homage heavy and in that lies its greatest strength.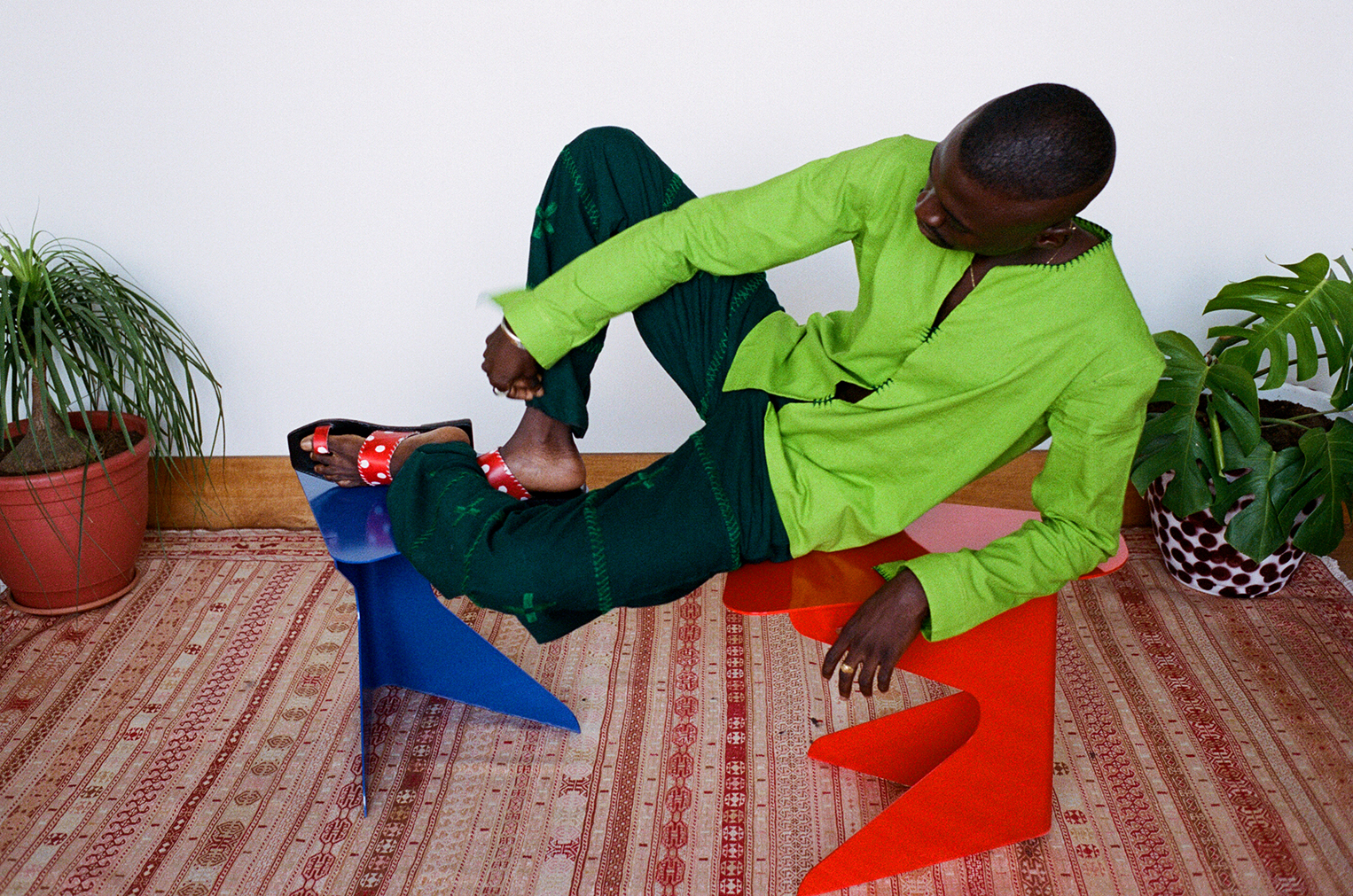 It is clear that Ize has a long-term strategy for his brand and has assembled a team that can assist him in his journey, but he notes that although he is very much part of the renaissance that the creative arts are enjoying in Nigeria, challenges remain to him living a fully authentic life. Outside of the world of fashion, one where sexual orientation and identifying as non-binary barely raises a robed shoulder, society remains obstinately conservative: "I feel like my sexuality is something that will not allow me to be here for a very long time which is very sad… There are a lot of gay people here but at the same time if you have lived somewhere like Europe, lived all your life having this freedom and then someone is taking it away from you, someone you don't even see, I am like why? The other day I was out with like twenty-one gay men at Nok and we were at a table and it was like the most beautiful thing for me in Lagos. It was so nice." It is a poignant conclusion to my time with Ize as one is left with the notion of what does it take to have a truly dynamic fashion industry here in Nigeria? There is talent aplenty and a youth led population that is the breeding ground of innovation globally. Yes, structural challenges remain; capacity building is high up on the to-do and must-do list. But will we lose our greatest talents to other locales because we do not have a truly inclusive society? It would be a tragedy if this was the case. But for now we celebrate the places and spaces such as fashion where talent, beauty, creativity and possessing the ability to distil dreams into apparel still have the power to vanquish, and love and doing the work is enough.