The last day of Lagos Fashion Week had fashionistas sprinting in stilettos trying to catch the action in multiple locations with off-site events held a at Lagos' premier luxury stores Alara and Temple Muse. Sadly, I couldn't clone myself as I had the privilege of being part of a panel selecting who made the final of this year's  LFW Fashion Focus Programme. One of the developments spearheaded by founder of Lagos Fashion Week, Omoyemi Akerele, it aims to not only identify talent but also provide training, mentorships and capacity building opportunities for the lucky winner. It is an important addition , as beyond the glamour of weeks such as this, fashion remains a fledgling industry in comparison to juggernauts such as oil and gas or  agriculture.
Kicking off the action in the tends was a double-bill from the House of Deola Sagoe, which showed collections from both Clan the ready-to-wear brand and bespoke mother-brand Deola. Before the show itself commenced we were treated to a short fashion film that set the tone of heritage and longevity and closed with the logo which proudly stated: 'established 1989'. Whilst Creative Director of Clan, Teni Sagoe continued to refine her slinky girl about town aesthetic but with demi-couture elements such as boned bodices, lace panelling and a heavy injection of velvet.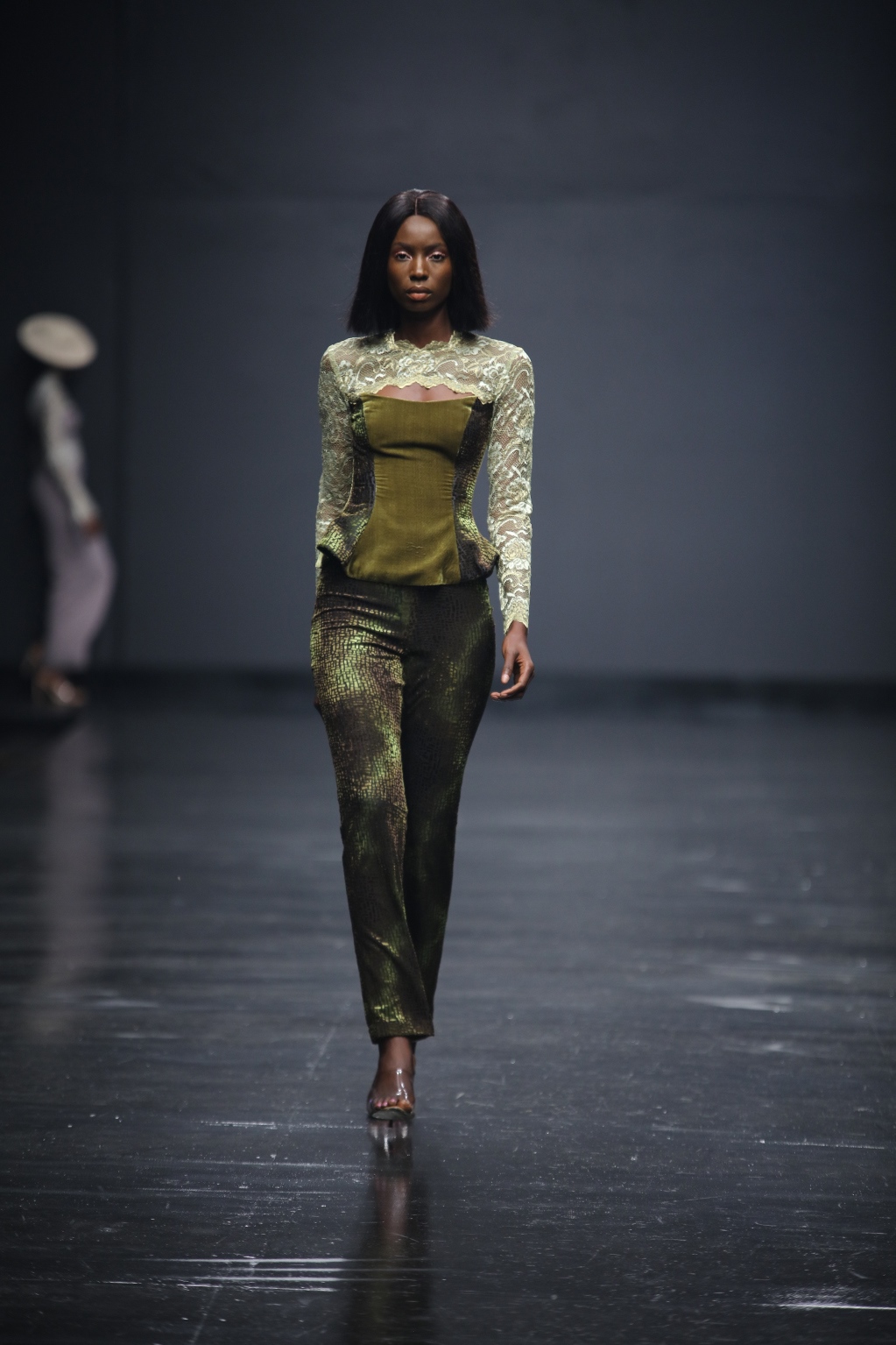 For the Deola brand, Deola Sagoe demonstrated her haute couture credentials with a series of dresses that are best labelled 'For Billionaire Grown-Up Ladies Only'. Floor length gowns were embellished with ostrich-plumes, giant sequins that from a distance resembled peacock feathers, bodices that had pleating, with traditional fabrics getting a look in via a candy striped aso'oke mullet length gown. Such labour intensiveness in the construction of all of the pieces, with even throwback couture sleeves such as the virago,  made it easy to see how the prices could go to sit-down-and-have-a-stiff-drink levels before you hand over your credit card. But that is the price one pays for the couture dream, and even if you cannot fully participate, it is cheering to know that such is available here in Lagos.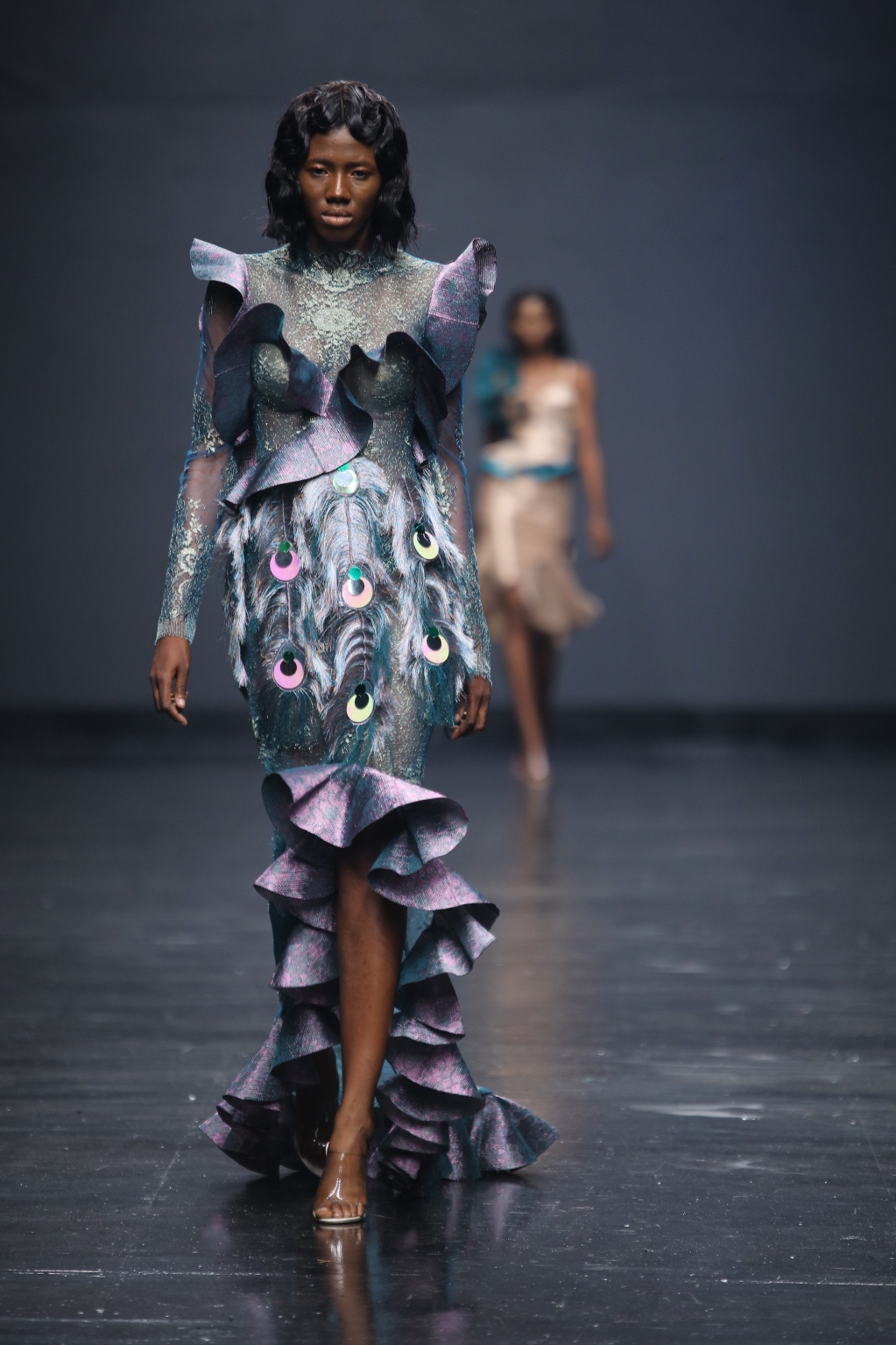 So, who is the Tokyo James man? Well, based on past collections he is partial to a killer coat, takes his suiting seriously and is a hybrid of influences and experiences. For keen watchers of the brand there had been a hint that ladies might be allowed to participate beyond robing their lover's Tokyo James jacket over their shoulders, most notably by a mini-collection at the Arise Fashion Week in April earlier this year. This season he introduced a full women's collection but not before he presented his latest offering for men. Leather and exotic hides were prevalent particularly in a series of trench coats where snake trims found a home either the bottom of trousers or as one side of a coat. Metallic copper leather and lilac on suiting was the feminine touches to a silhouette that was uncompromisingly masculine and formal – it was great to see so many variants of double-breasted suits with peak lapels and single-breasted suits as a riposte to the notion that all young men wish to wear athleisure 24/7. For off-duty days James proposed a bolero biker, and because the contemporary man might not want to spoil the lines in his suit or coat large snakeskin tote bags were the roomy solution. For women, James is encouraging one's inner vamp to be unleashed fully. Leather was prevalent with high waisted slim line trousers, form-fitting minis, and in singer Seyi Shay's closer an above the knee slim-fit coat dress that was guaranteed to get temperatures rising. A series of asymmetric dresses were less exciting and felt more like a late addition to what was an otherwise crystal-clear vision. Thankfully for all those who have been stealing their man's jackets tailoring was present and correct with low single button jackets teamed with wide leg trousers, exotic hide three piece suits,  and a long line silver pleated tunic paired with a narrow trouser and slimline jacket for a dressy yet edgy alternative to formal wear.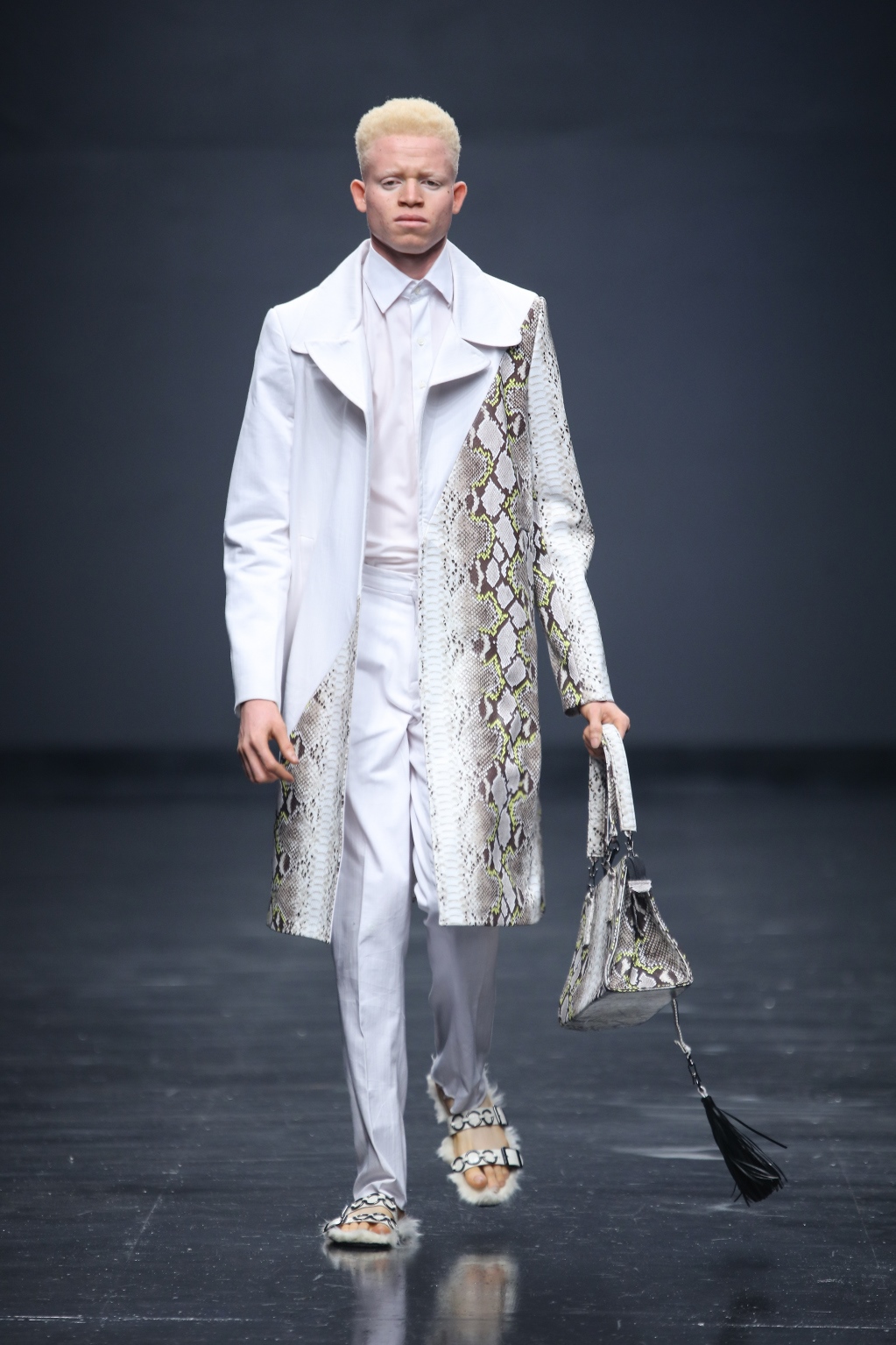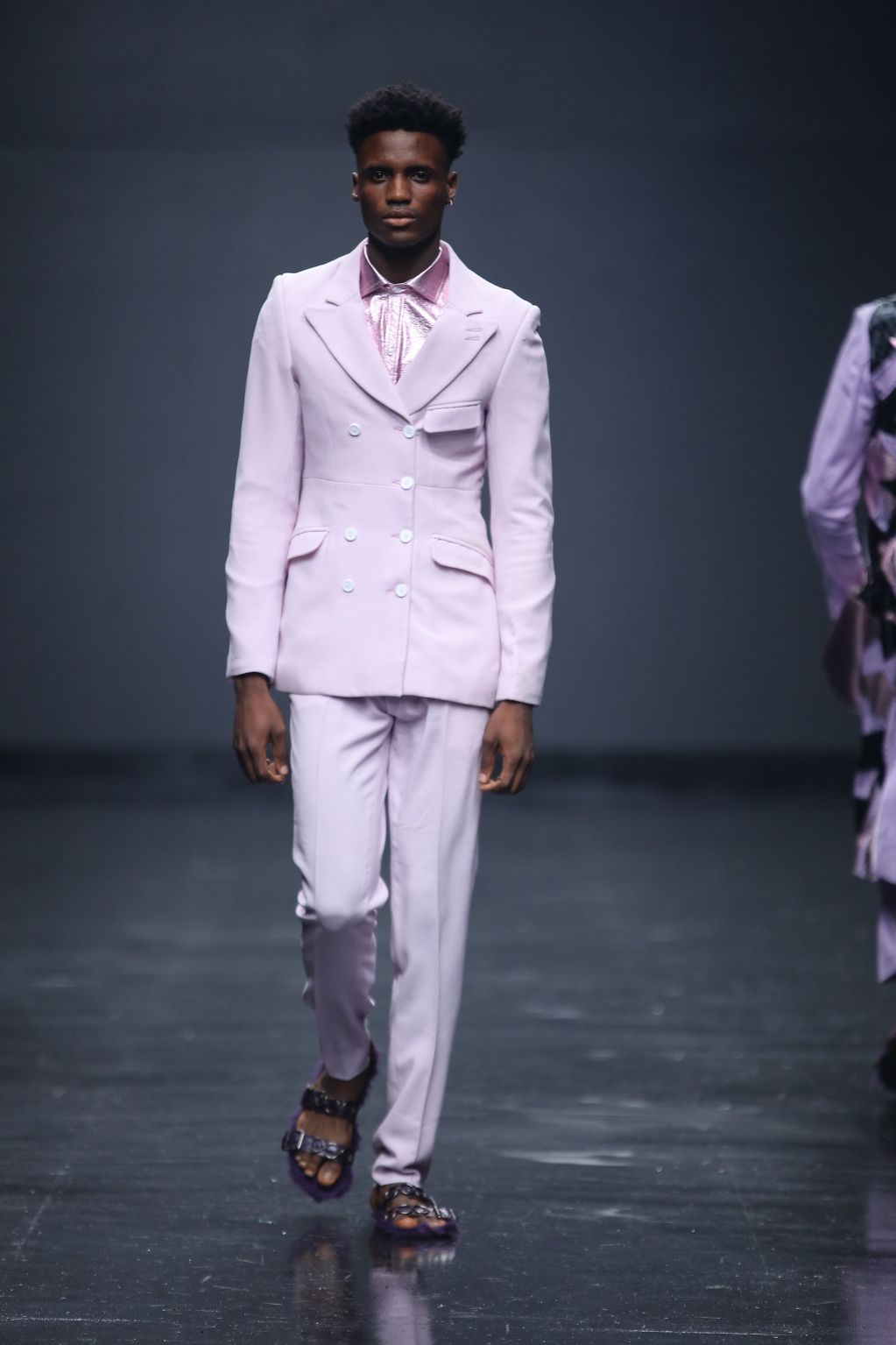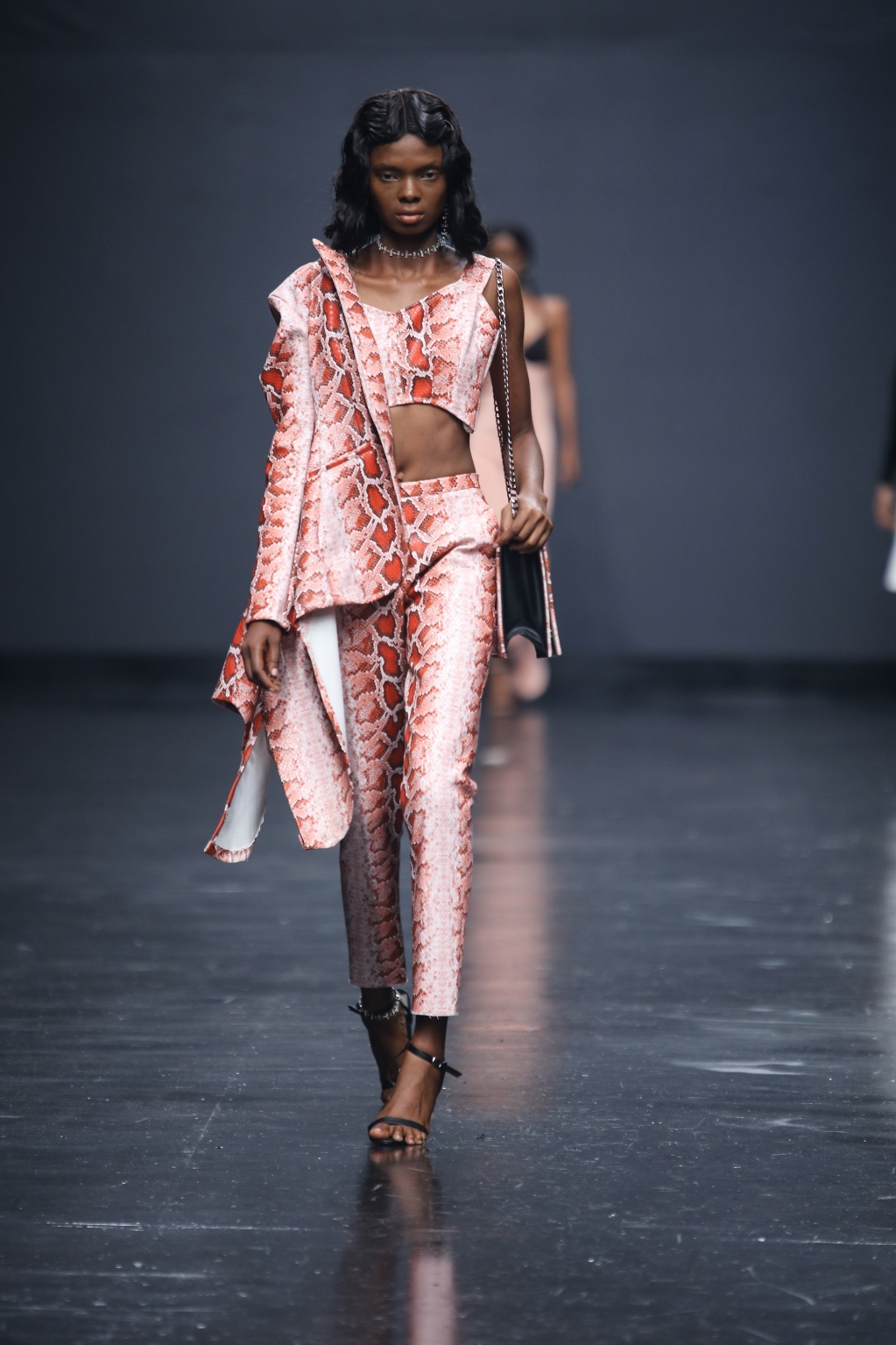 Three brands that have become the home of the Lagos Creative Girl are Gozel Green ,IAMISIGO and Nkwo. Gozel Green delivered what was though not their strongest collection to date had enough to keep existing fans of their brand happy. They are known for their asymmetry and play on proportion and this season the anchor piece were culottes that had a slit in the instep. As ever the colours were vibrant with orange and tomato red being dominant,  as well as their signature green, black white and turquoise.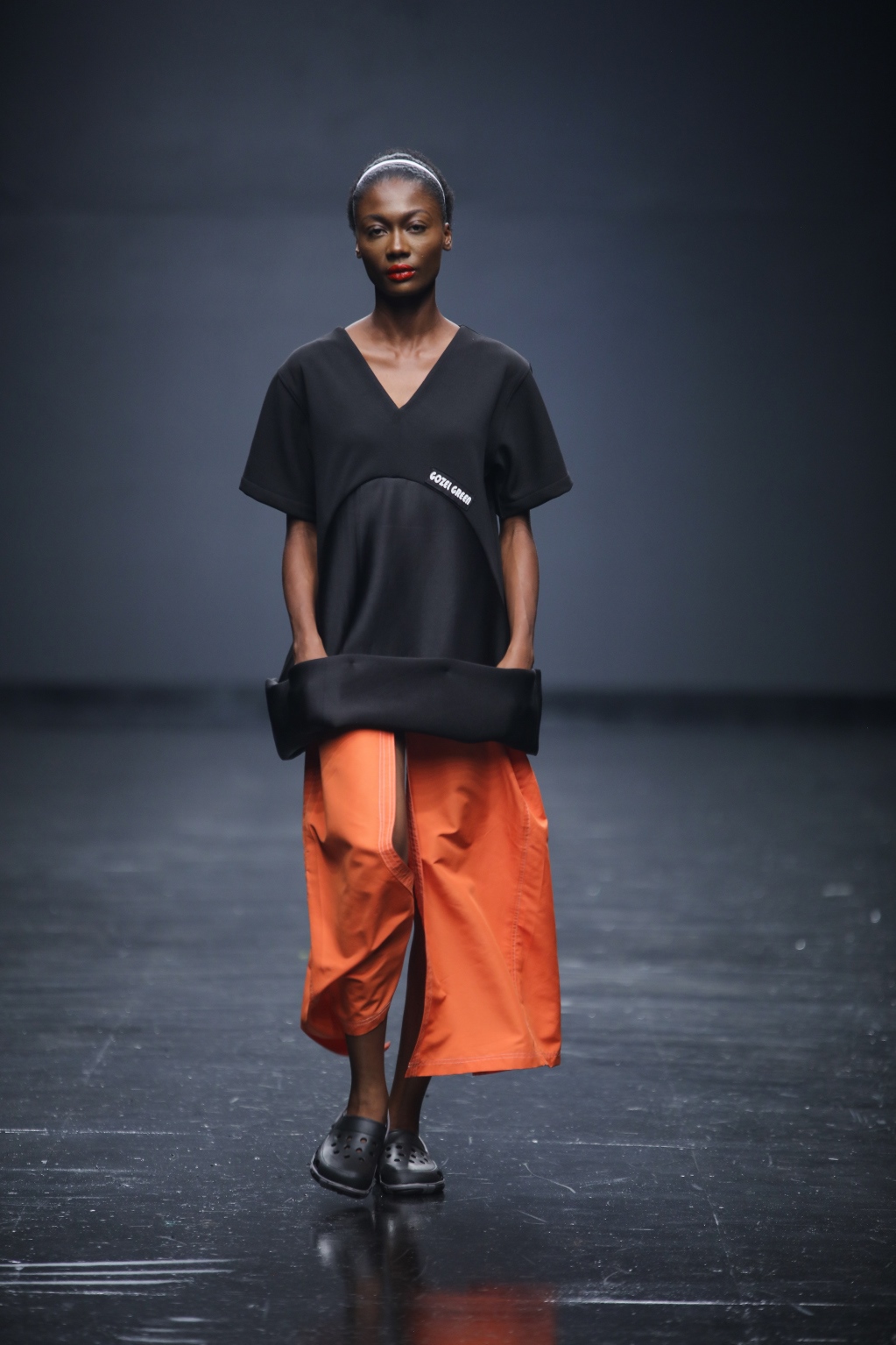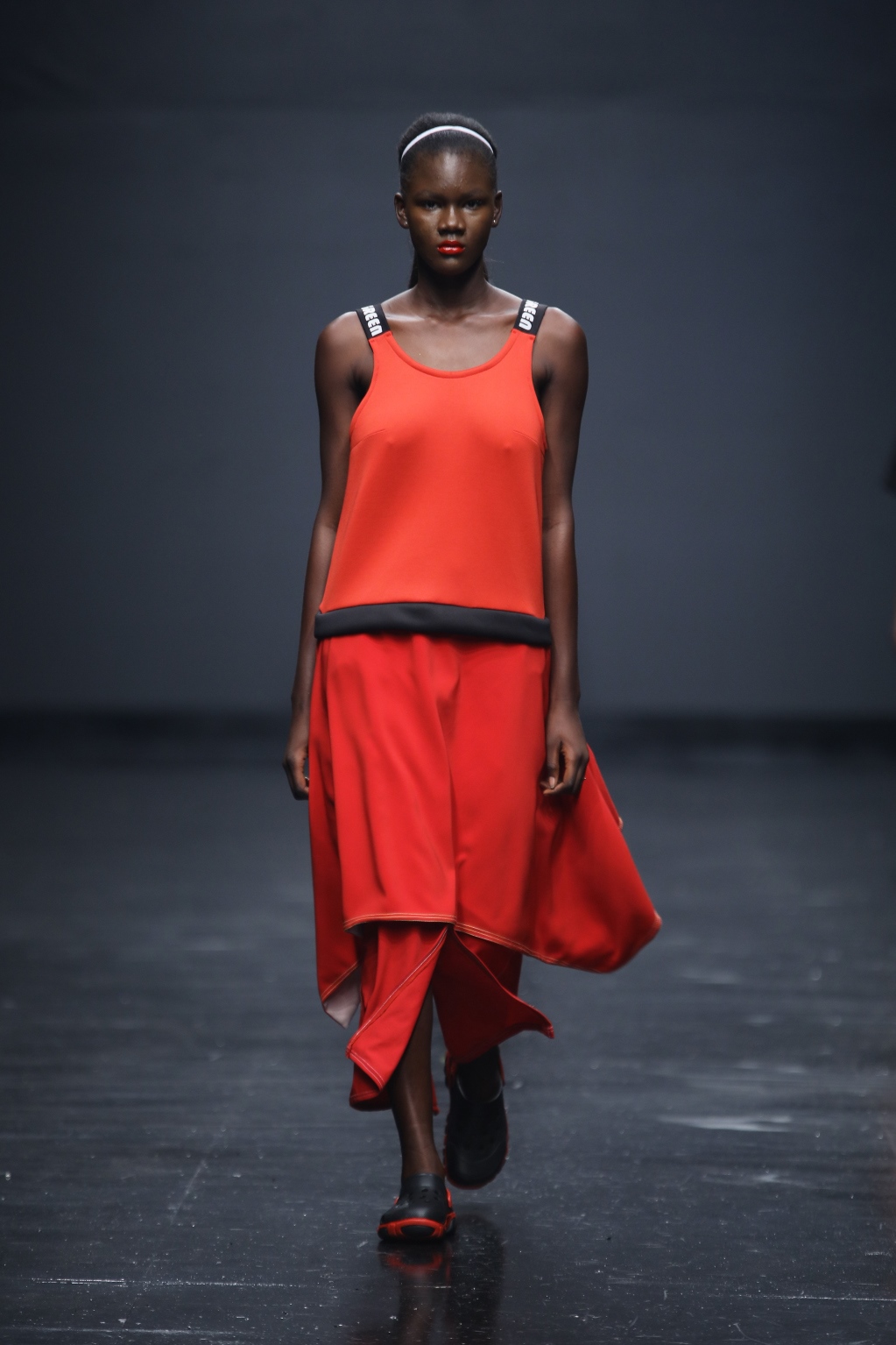 In the instance of IAMISIGO Creative Director Bubu Ogisi took masquerade as her inspiration, with models faces concealed with wool and Arabian slippers on models' feet. The signature aso'oke mini dress was re-imagined once more -hardly surprising when it went viral when worn by Naomi Campbell earlier in the year. Another stand out piece were a pair of woven trousers paired with a peach- draped t-shirt with purposefully unfinished hems. Peach, rust, bottle green and cobalt blue were the preferred palette, but with woven fabrics also getting a look in, and there was a wide range of hemline lengths but maybe due to its brevity (something of a trend this year with many collections falling  well short of the traditional 40 looks), one felt there was more or should have been more to follow. But those who love the brand will be back to refresh their wardrobes with more pieces, and ultimately from a business perspective that is what matters most.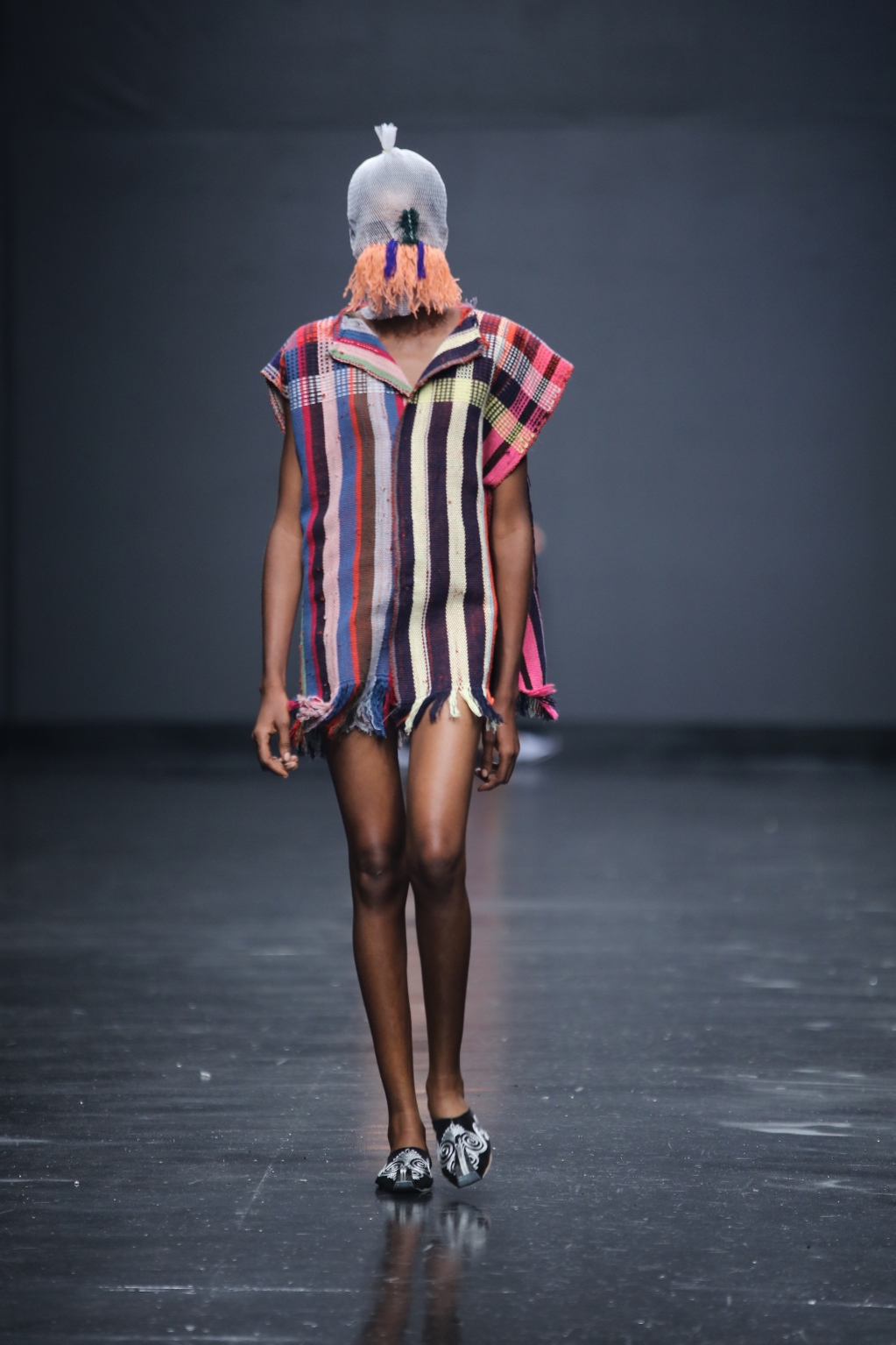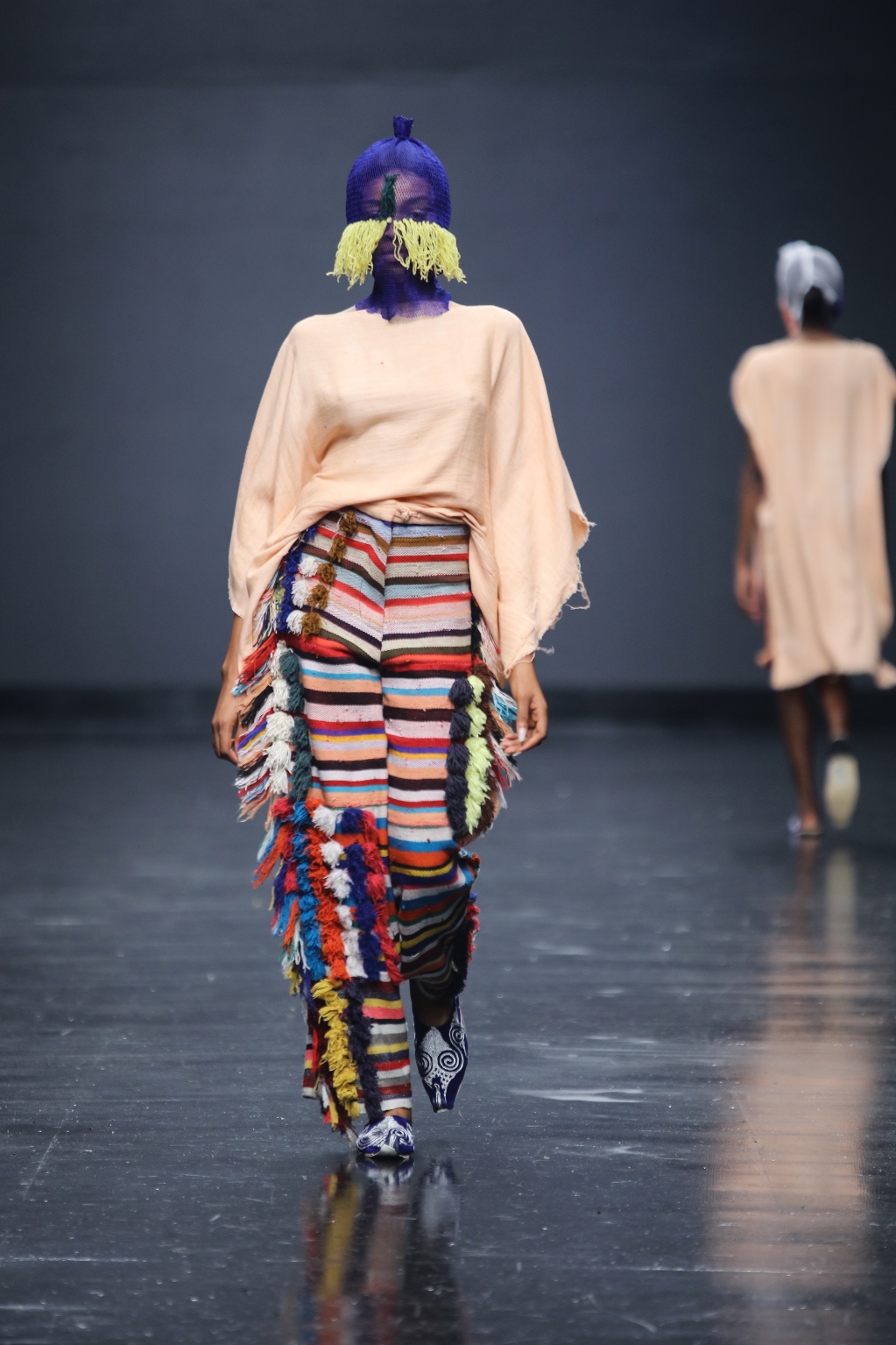 In the instance of Nkwo, Creative Director Nkwo Onwuka continued ploughing her path as an early adaptor, innovator and pioneer in the sustainable fashion sphere. Her fabric innovation  Dakala cloth, which is woven from textile waste, and is dyed using natural processes was fashioned into flattering tulip silhouettes  with racer backs on tops adding a sporty injection. The pieces were the sort that require minimal thought on the wearer's part, a bonus for women with a busy schedule, and, accessorised with heels or flats they work effortlessly, illustrated with how the models trotted barefoot and still looked pulled together. Viral Instagram moment came via the giant head-ties which were made from Ghana-Must-Go bags and were a visual commentary  on recycling as a bag that is ubiquitous and cheap but in Onwuka's hand is given luxe appeal. For the woman who likes to wear her ethics on her sleeve and prefers clothes without caveats that allow for freedom of movement, Nkwo is a surefire choice.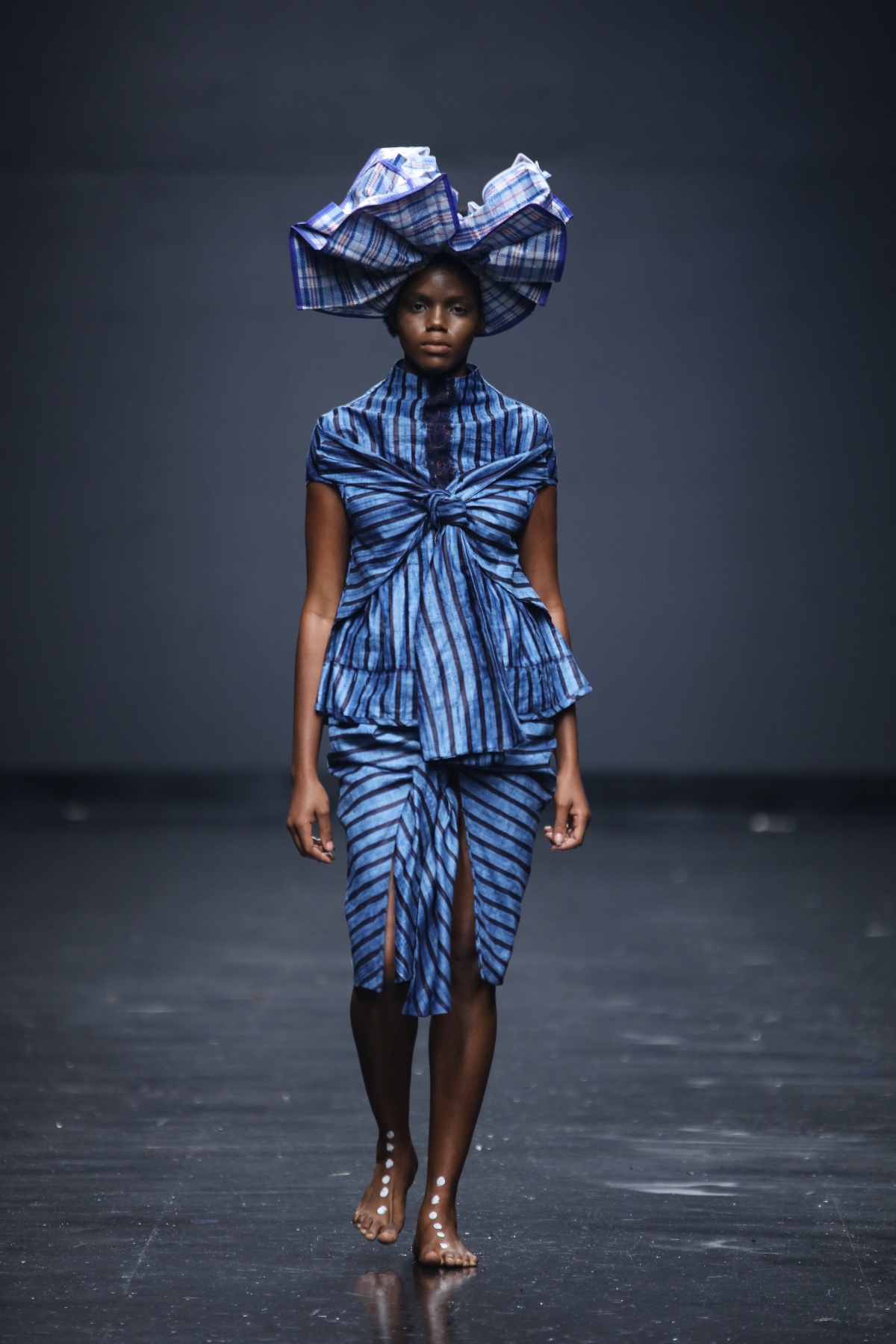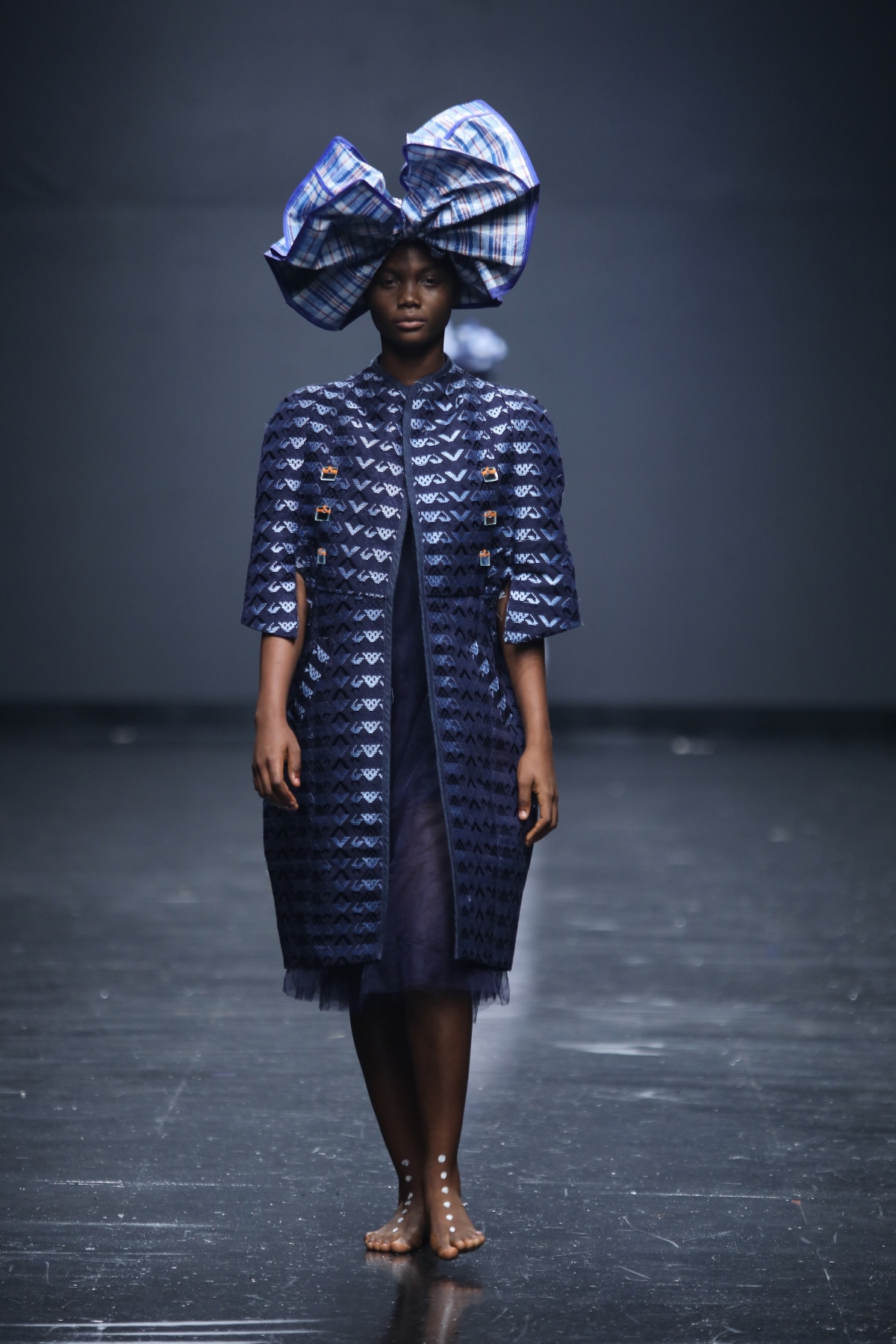 One of the biggest cheers of the night came from last year's Fashion Focus winner and designer-du-jour Emmy Kasbit. As a designer he likes to present a complete and fully comprehensible collection and this season was no different. Taking the slave museum in Calabar, a port from which 30% of all slaves were transported from as inspiration he presented a  collection that spoke to the realities of belonging and displacement. The fabrics were still often traditional with aso'oke rendered in shades of blue to reflect the Atlantic Ocean. Women's suits were cinched with chain belts that resembled slave shackles and men's single-breasted jackets were fastened with anchor shaped buttons denoting the ships sailed on. The coral sequence was a joy and evocative of a hue and gemstone that is inextricably linked with Nigerian traditional wear, with women wearing a contemporary wrapper skirt atop trousers, again a nod to local norms which would have a double wrapper as appropriate attire. Other details included shirts with dual personality collars  – one ruffled, the other pointed, again indicating the inevitable cross pollination of identity as a result of transportation. But in the midst of this deep dive into history were too many pieces that would make sense in one's wardrobe regardless of age or gender and that was most exciting of all.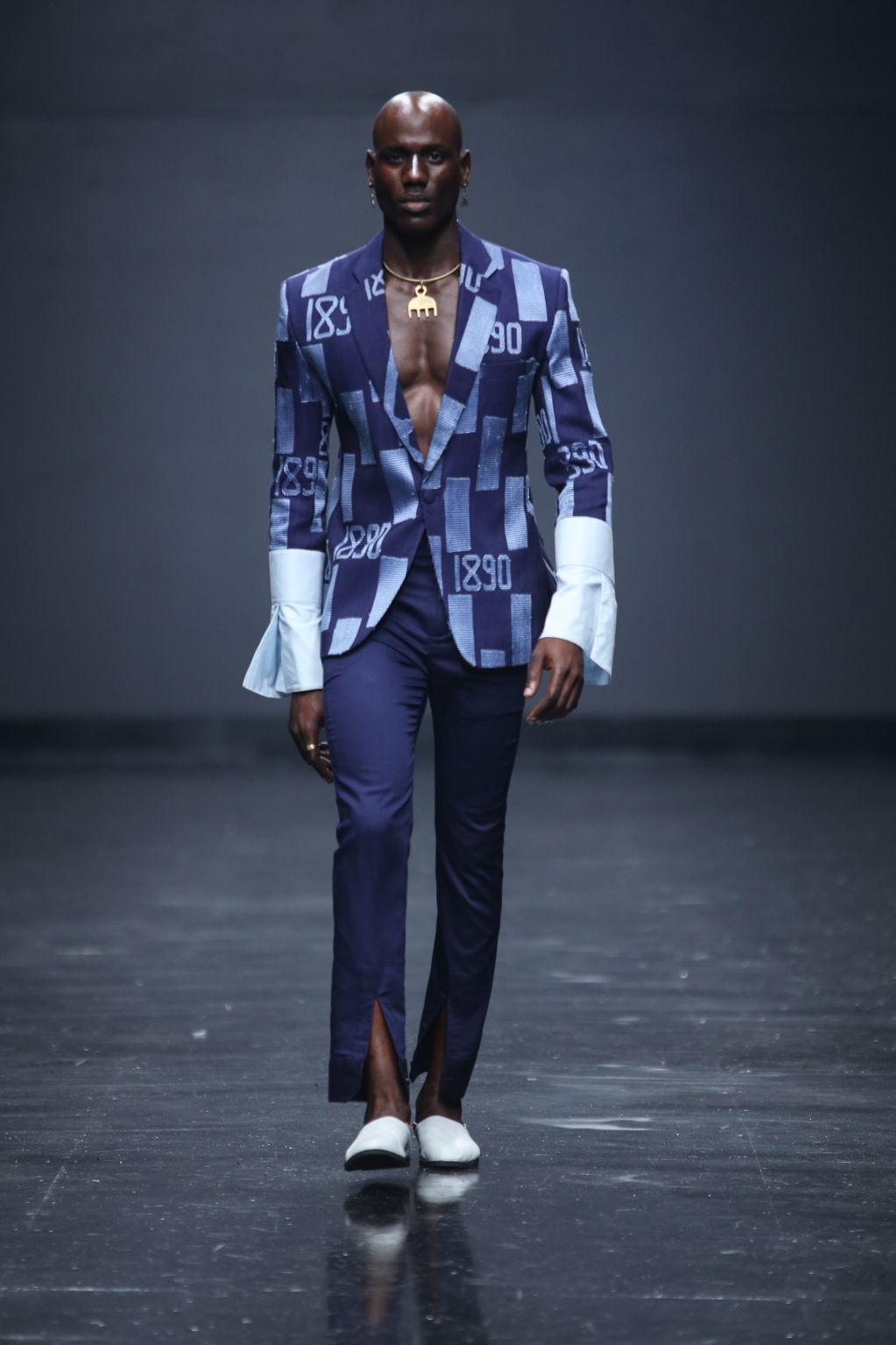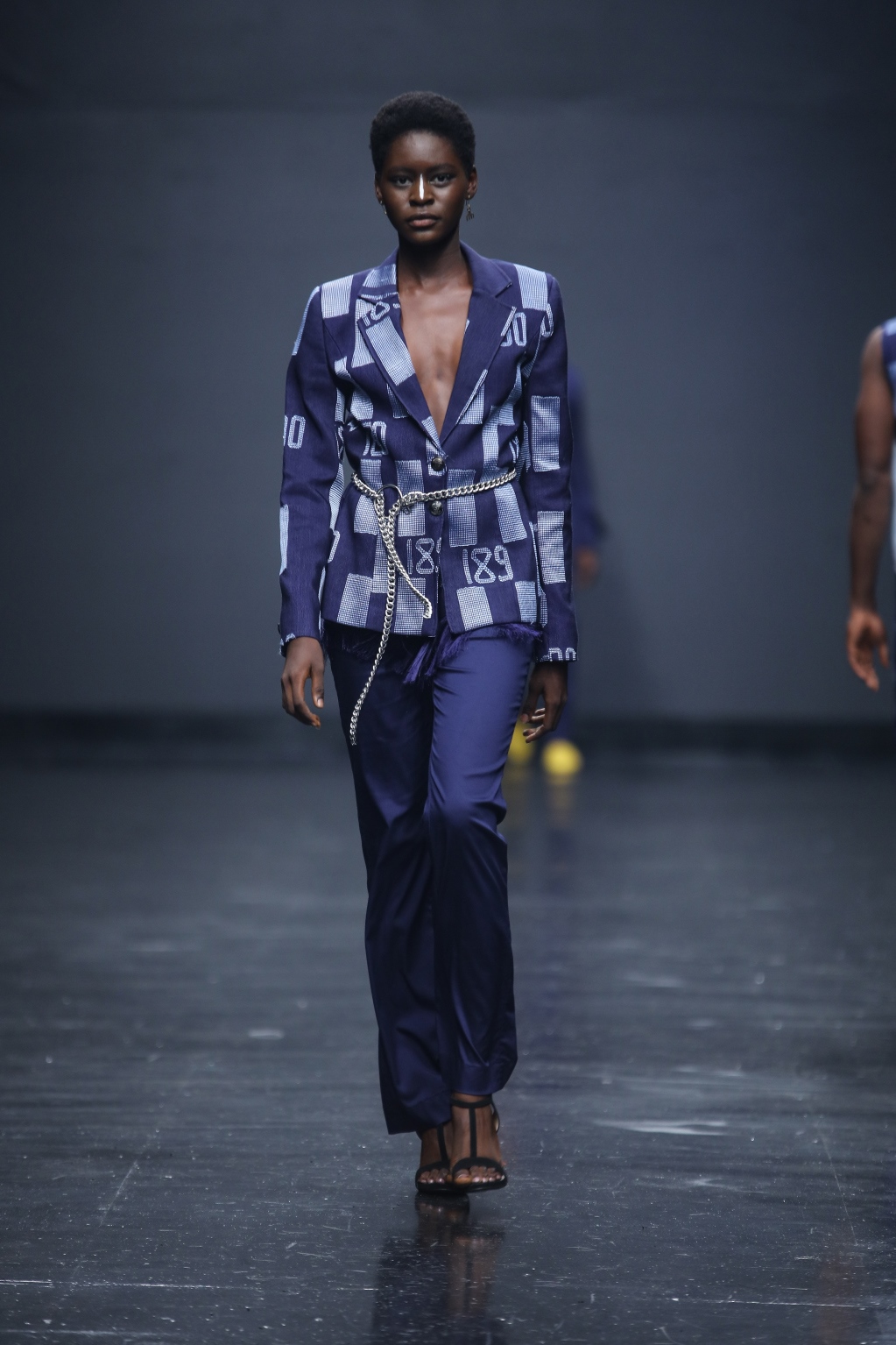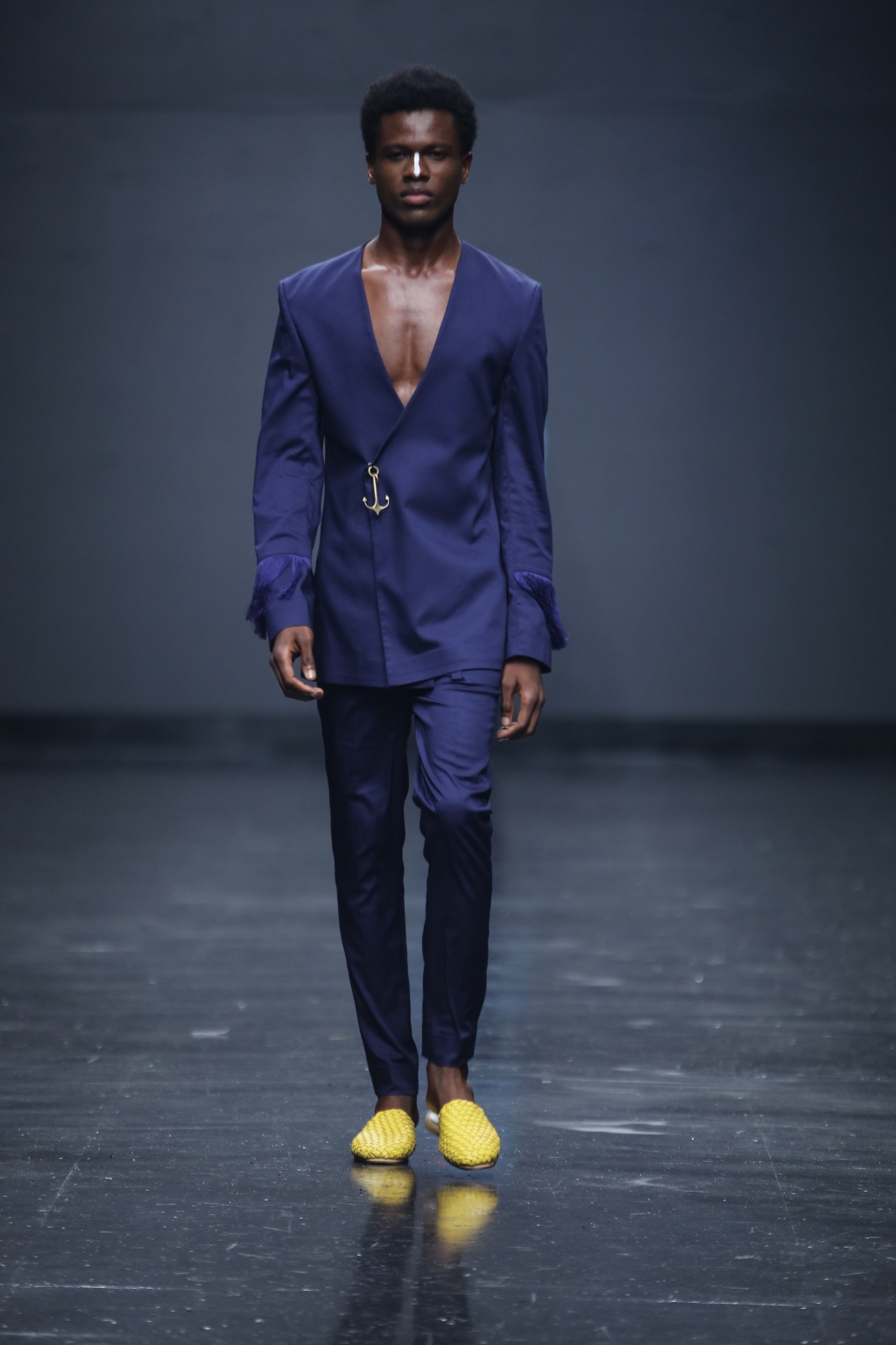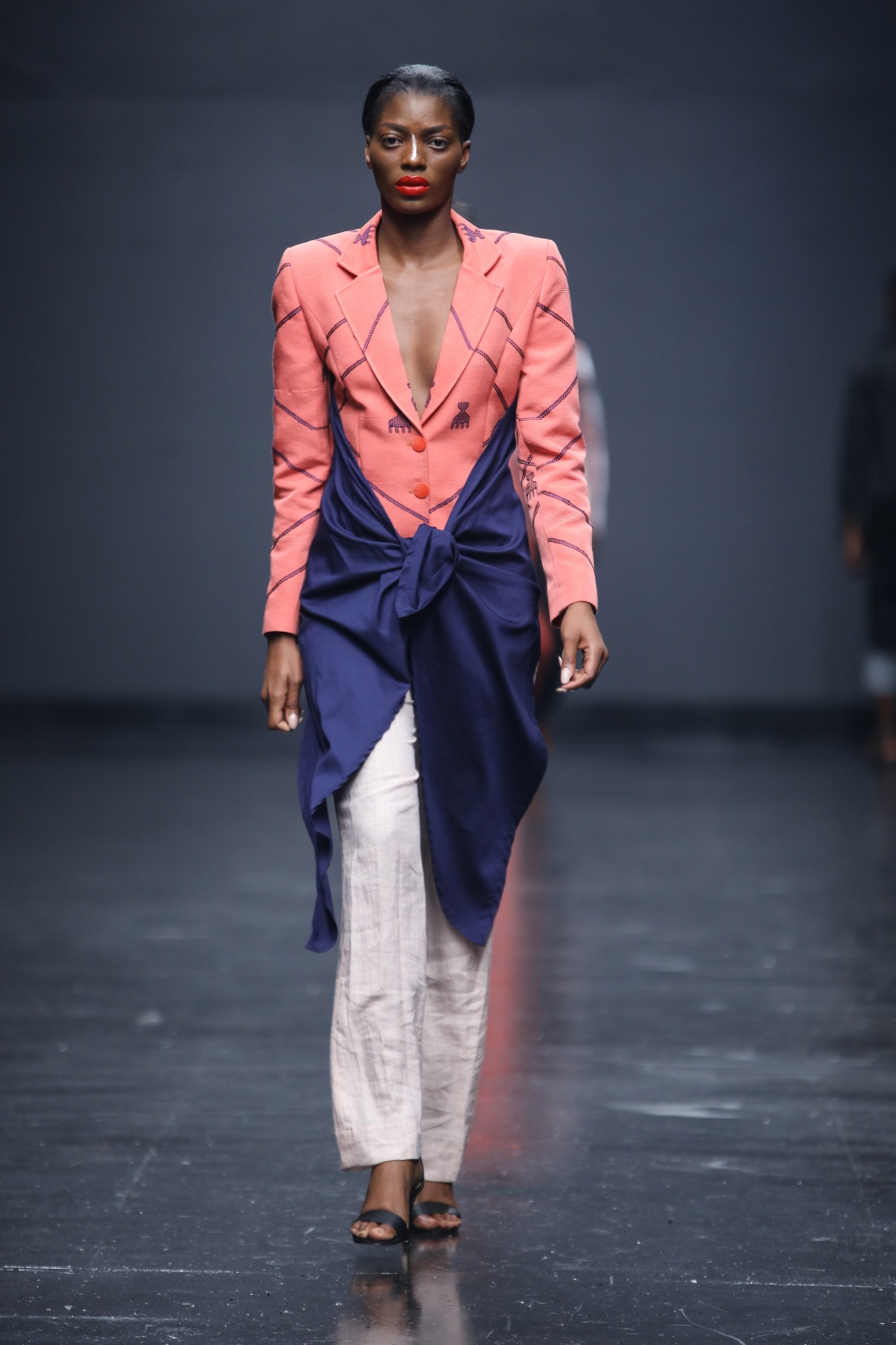 Maki Oh presented the collection that she showed last month in New York Fashion Week, but although we might have seen it before on screen it was good to have the opportunity to see it in real life. As always with Maki Oh there was a clear narrative arc in the collection with Spring Summer 2019 being an ode to market women, however, this being Maki the women were casually sexy and confident  – with show opener;  a t-shirt with a see through panel just under the bust-line with  'Fresh Fish' emblazoned on it and a black diaphanous skirt with a deep slit and a lace panel insert – giving the impression of a woman who even when working outdoors wants to be hotter than the midday sun. Skirts with slits were ever present  – speaking to the need to move quickly and the flat rubber slippers reflected practicality and also tempered certain looks from looking 'try-hard', something the Maki Oh woman is by definition not. Adiire, a signature for her, was present but in this instance with long dresses that were slim line at the front but cape shaped in the back. Fringing, another signature was also evident in this collection but this time in circular panels of fringing either on the side of  dresses or in one skirt extended from hip bone to ankle adding opulence to simplicity. Evening dresses came in several variants but effortless was innate in all, a long black straight column with thick shoulder straps and a panel cut away just past the knee that was tied by strips of fabric was novel. Indeed, it was a motif repeated in other pieces. Will calves become the new erogenous zone? If it happens, it will be because of dresses such as these.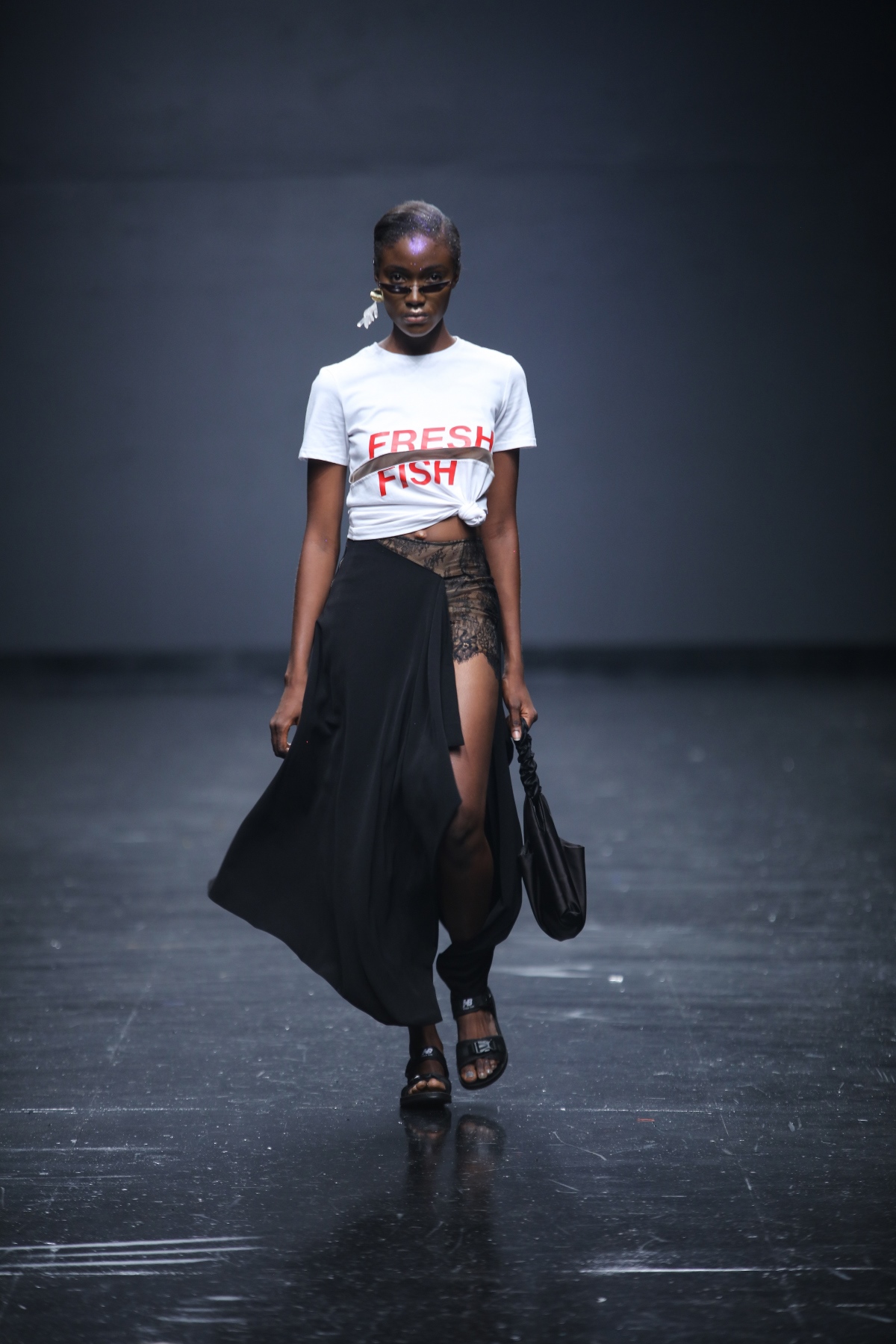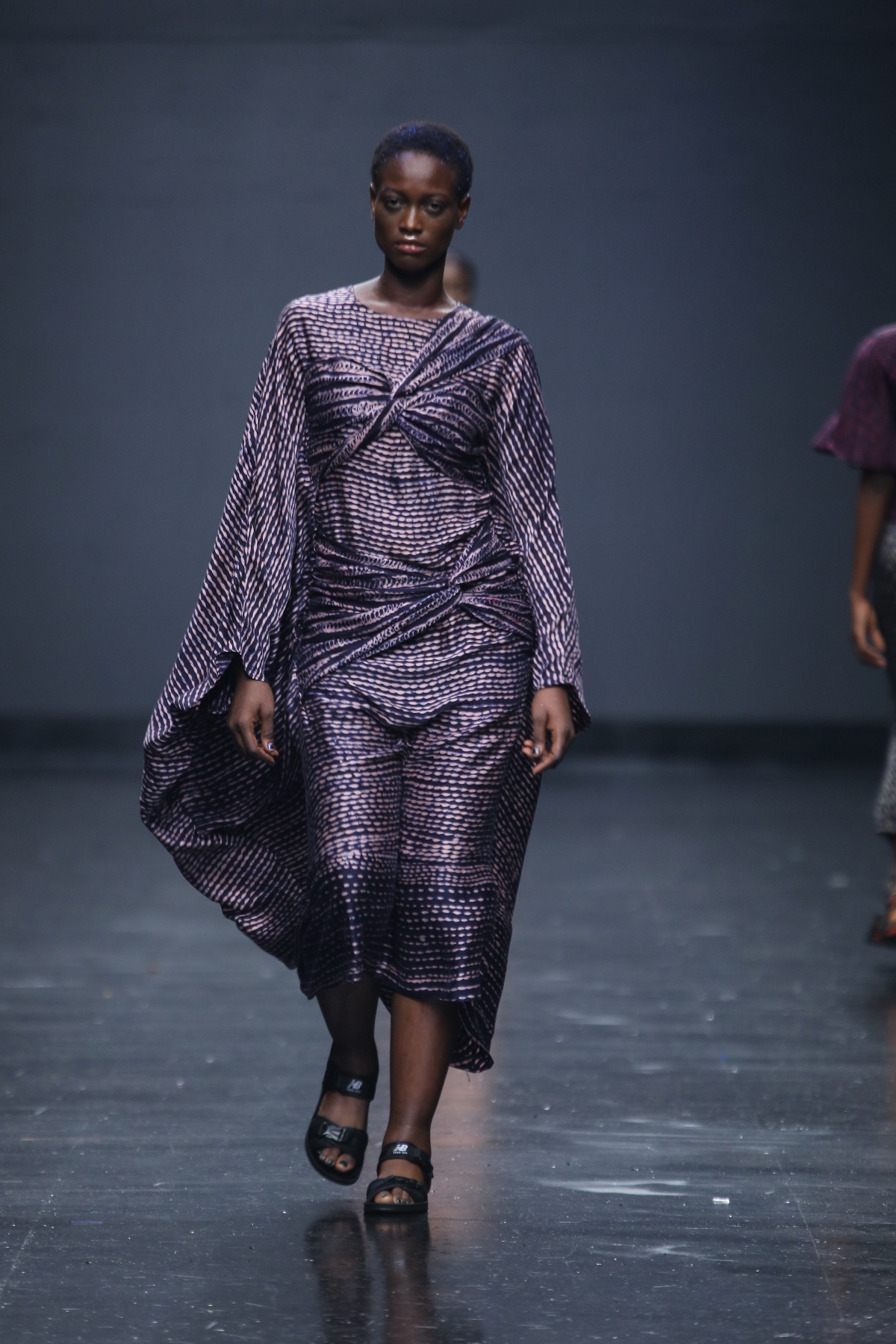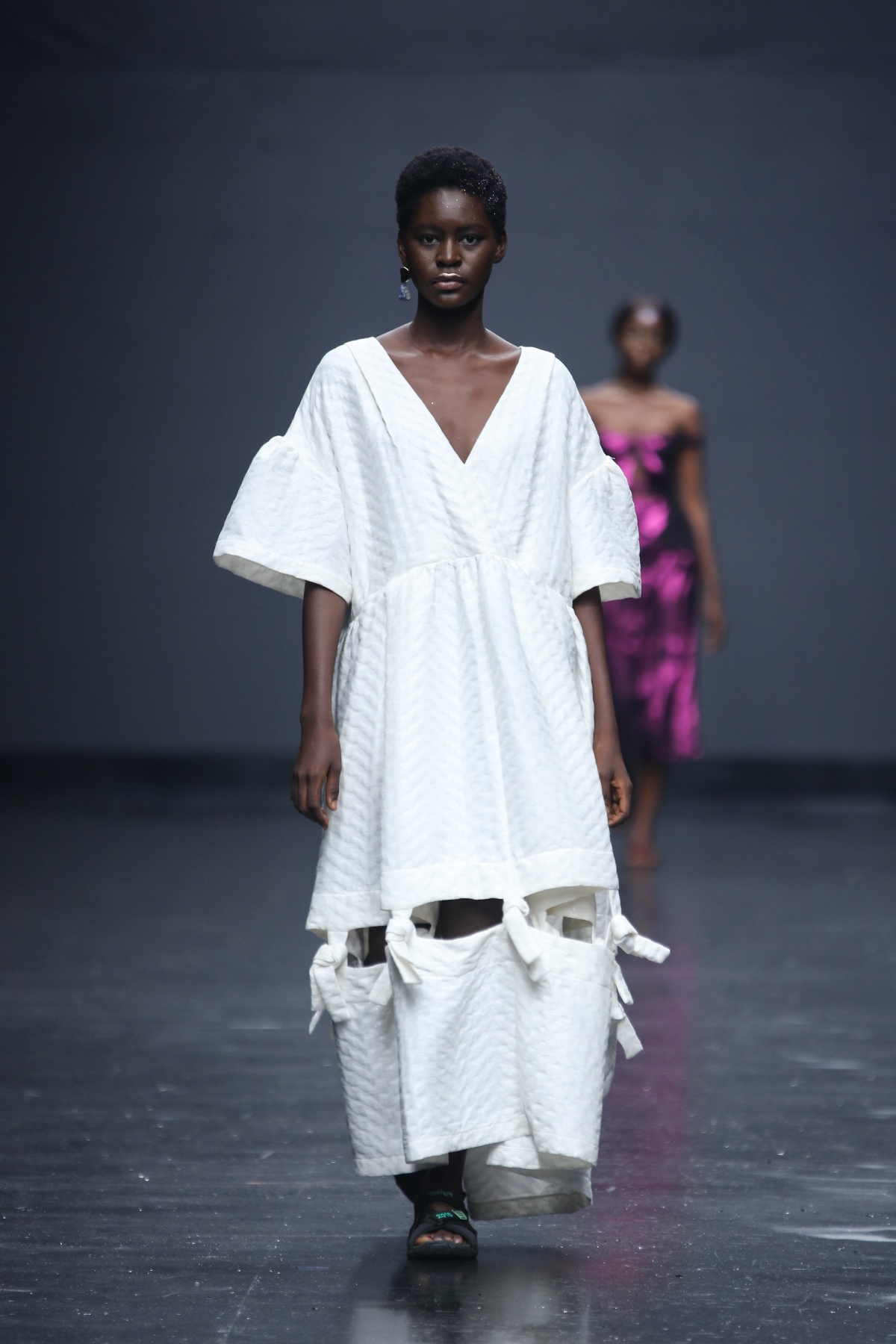 When Adebayo Oke-Lawal named his brand Orange Culture he clearly had a long-term vision about heading a movement, and that was evident in the deafening cheer that greeted the lights dimming before his show commenced. This was designer as rock star territory with the fans as much in love with him and what he stands for as whatever else may follow on the runway. The Collection was entitled 'Who are you in the sun? Who are you in the moonlight?' And opened with all the models in the looks assembling in formation before the lights came up to further cheers from the crowd. What followed was a collection that was riotous in colour – palette wise think 60's psychedelia meets 80's/90's rave culture  – ages that were marked as being ones where youth culture was hyper-expressive and actively changed the status quo and individuals were fearless in both their expression and demand to be themselves. Oke-Lawal was seeking to explore these themes via pieces that were defiant in their nods to subcultures – from whale-net leggings with shorts worn over them to suiting reimagined via a two toned blue and orange suit and a purple jumpsuit, and trousers and tops with 'Naked Clarity' printed on them. As ever there were pieces that one could see had 'sell sell sell' writ large particularly shirts and knitwear.  Gender fluidity, something that has always been at the heart of the Orange Culture's ethos was also evident with both men and women modeling, jewellery designed by South African brand Waif and handbags by Tuza Jewellery being worn by all and a closing look of a male model in trousers teamed with a lurex wrap skirt.  Falana, a close friend of the designer and a muse of the brand, sang out the finale walk, and it was a fitting end to a collection that had metamorphosed into a concert rather than fashion show vibe. For Oke-Lawal authenticity to one's self and how you present yourself to the world are critical,  and a brand such as his, via the lens of clothing is there as a tool for people to embark in that journey.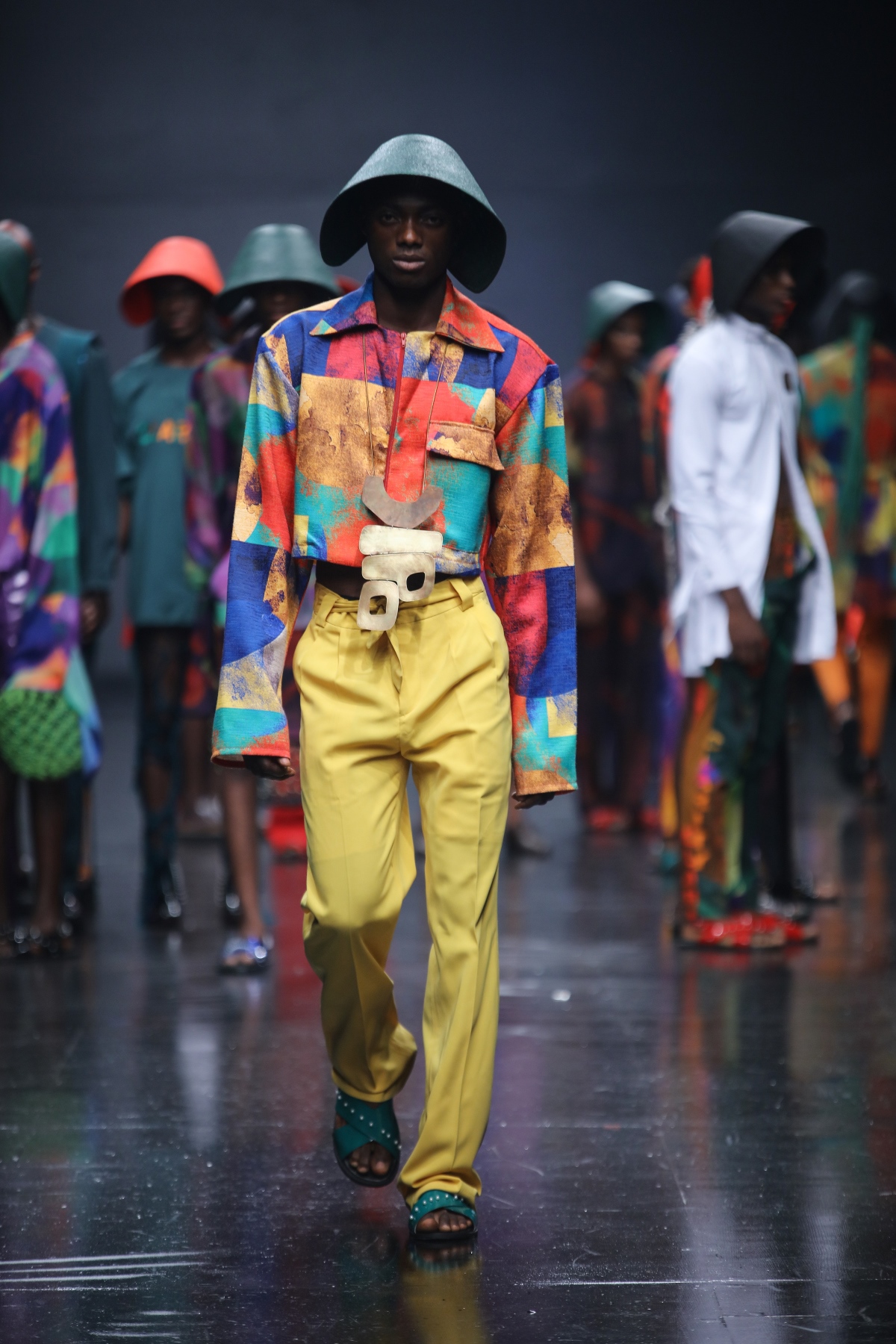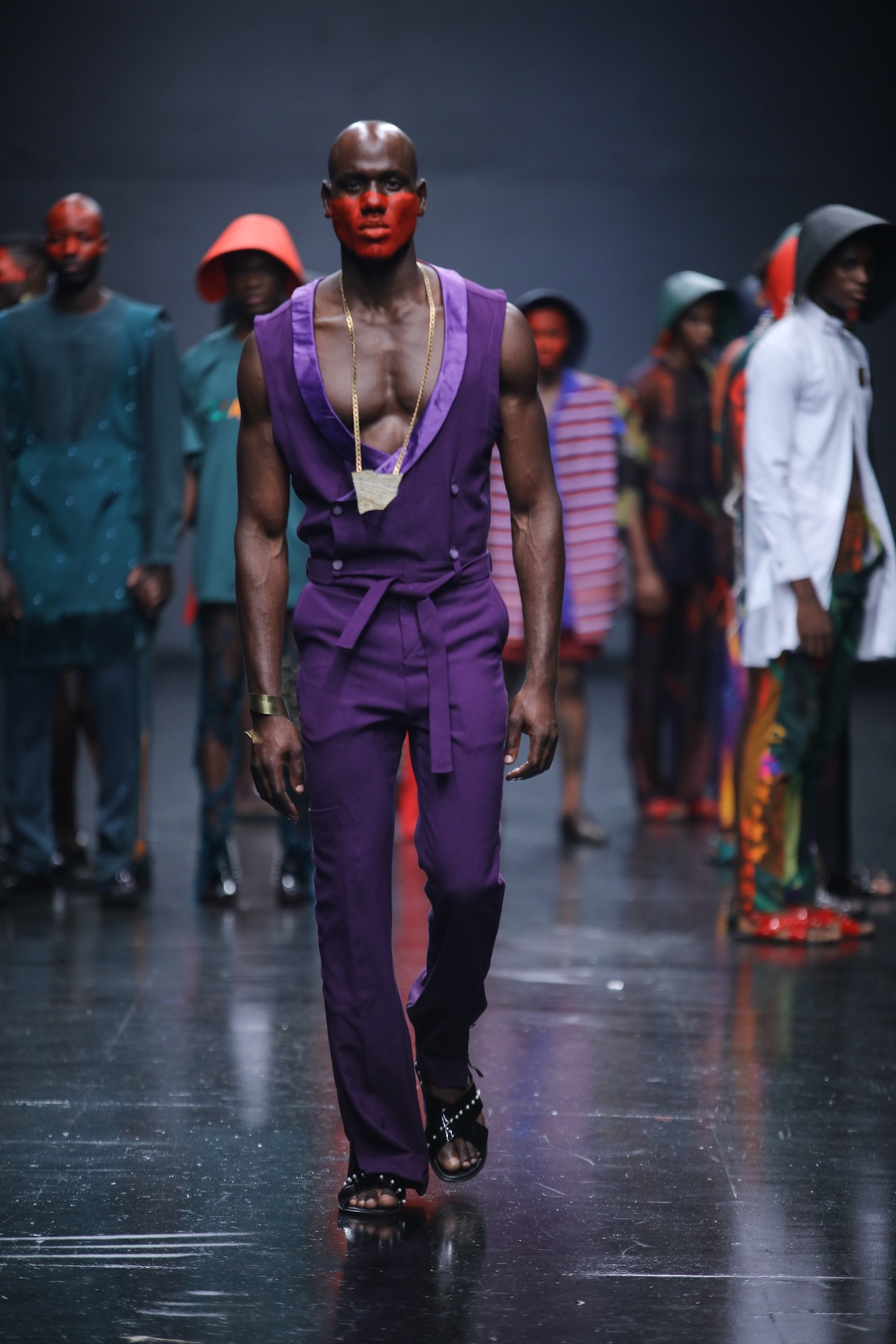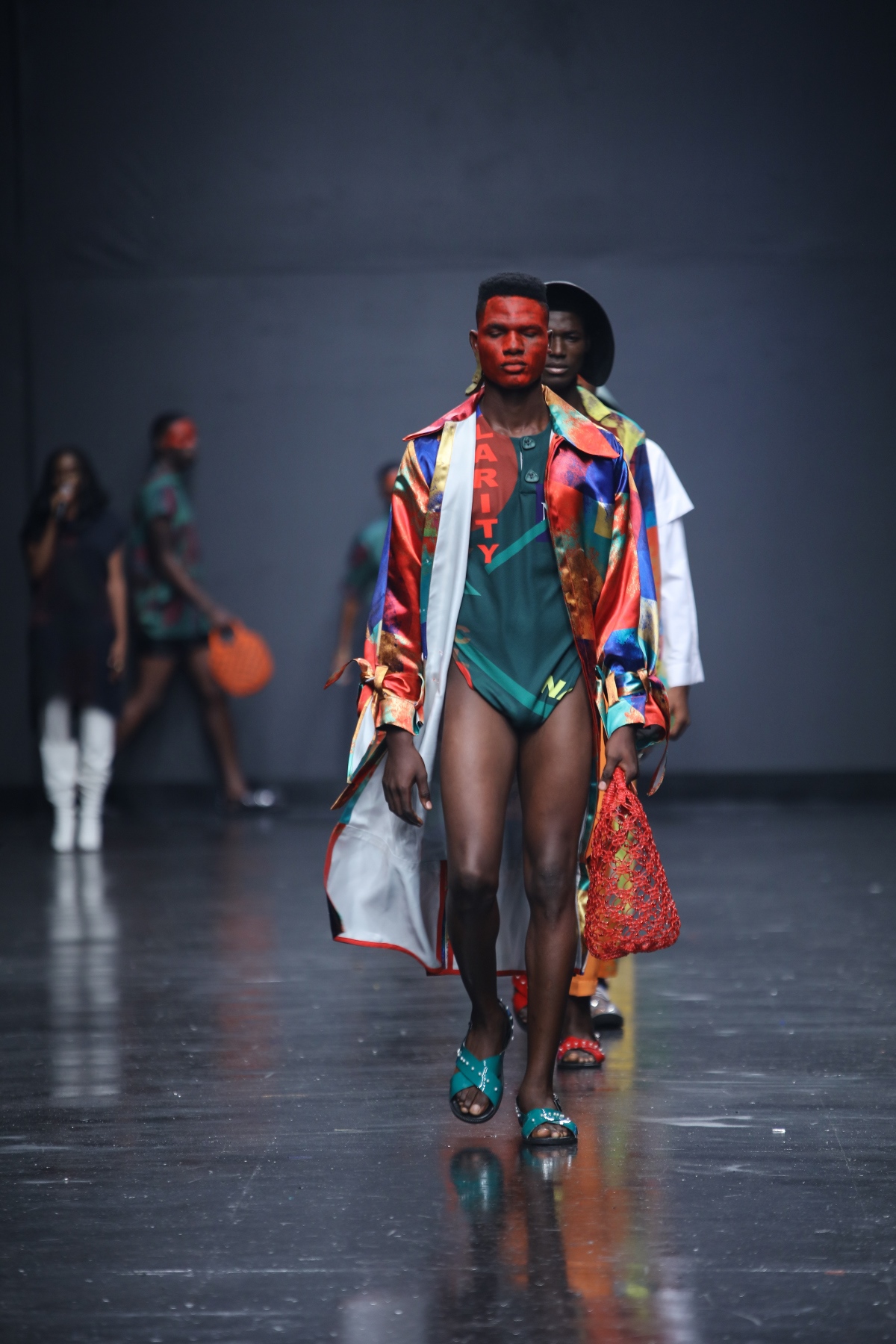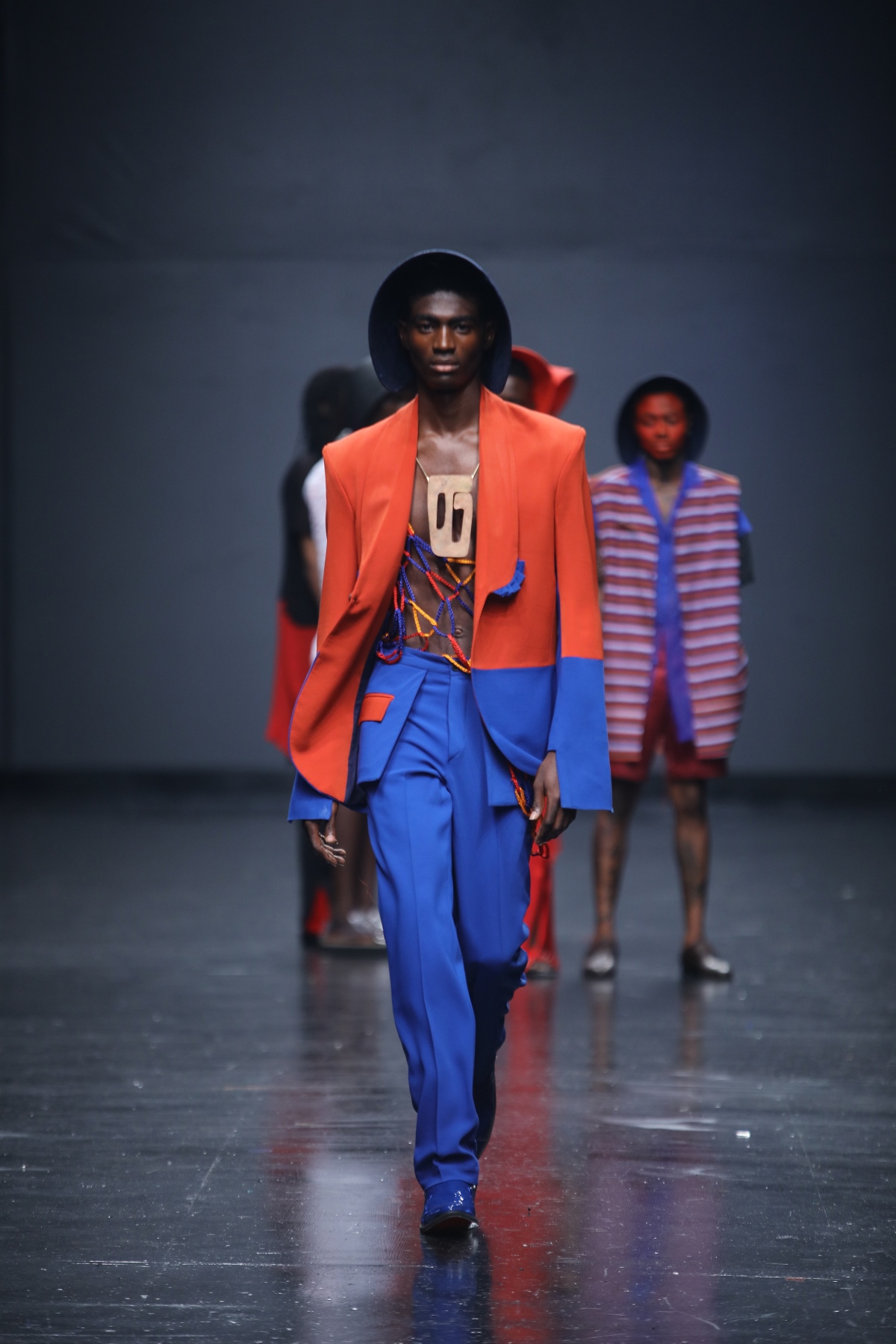 In many ways it was fitting to close Lagos Fashion Week with a designer who has immense support amongst his peers and has also made important strides creatively and commercially, from being a finalist in the LVMH Prize, to having his collaboration with pop superstar Davido stocked in Selfridges to his side-hustle as a brand ambassador for online retailer Jumia.  Furthermore, Oke-Lawal's show was filled with optimism, vitality and confidence traits that are innately Lagos' as a city.