With most jobs it takes three months for you to settle in, know the ropes and glide effortlessly from task to task, but if you are the Duchess of Sussex née Meghan Markle, ten weeks will do just fine. It is hard to believe that it has been that long since she glided down the aisle in St George's Chapel, Windsor  in THAT Givenchy gown (more on that later), but since then Meghan Watchers (guilty as charged, I often check out the ensembles she is wearing) have been treated to a refashioning of sorts. Proving to all along the way that  The 21st Century Royal Duchess' wardrobe needn't be twinsets and double strands of pearls or floral prints.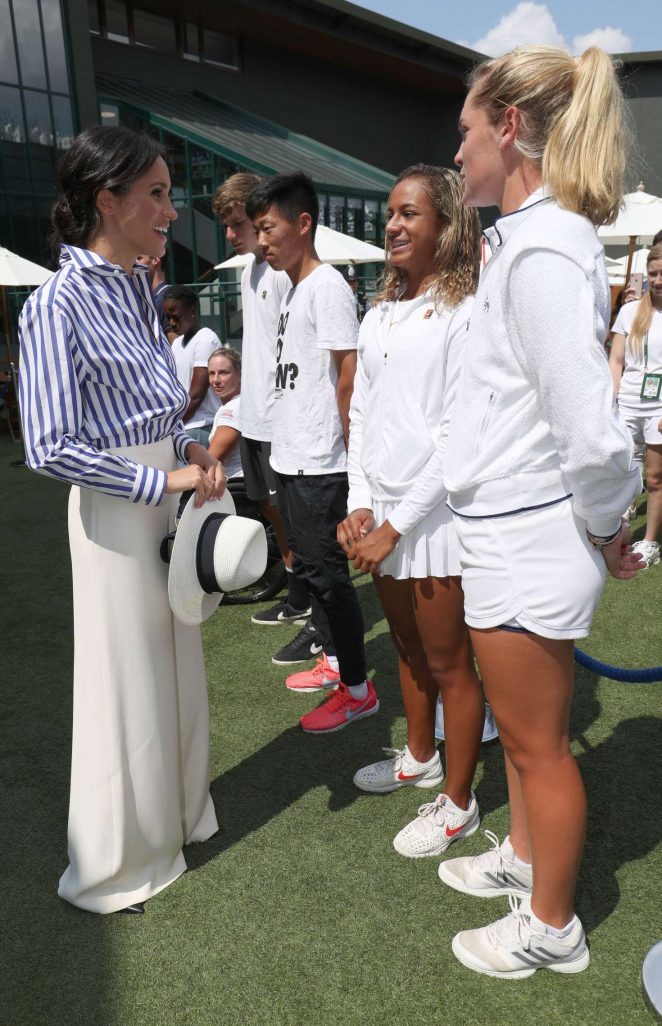 She didn't snag her prince with a wardrobe that screamed 'to the manor born/country-bumpkin goes to a smart event every so often' so why slip into that?  And at Wimbledon,  we saw her channel one of the greatest American style icons by embracing the power of  a pair of wide leg white trousers with a crisp shirt – heck if it worked for Jackie Kennedy-Onassis it can work for you too! In Meghan's case Ralph Lauren did the design honours but the nod to American Prep culture is impossible to ignore.
In fact it is this seemingly determined approach to dressing in pieces that are by American designers that marks Meghan out. Not for her the subdued route of a woman who has subsumed her identity for her husband's. For now at least the feminist mantra of being more than a spouse and vessel for future  Windsors is being played out via her wardrobe. Not made in the United Kingdom only for her, especially when there are a number of Americans she is more than happy to champion. This yellow Brandon Maxwell proving a particular hit.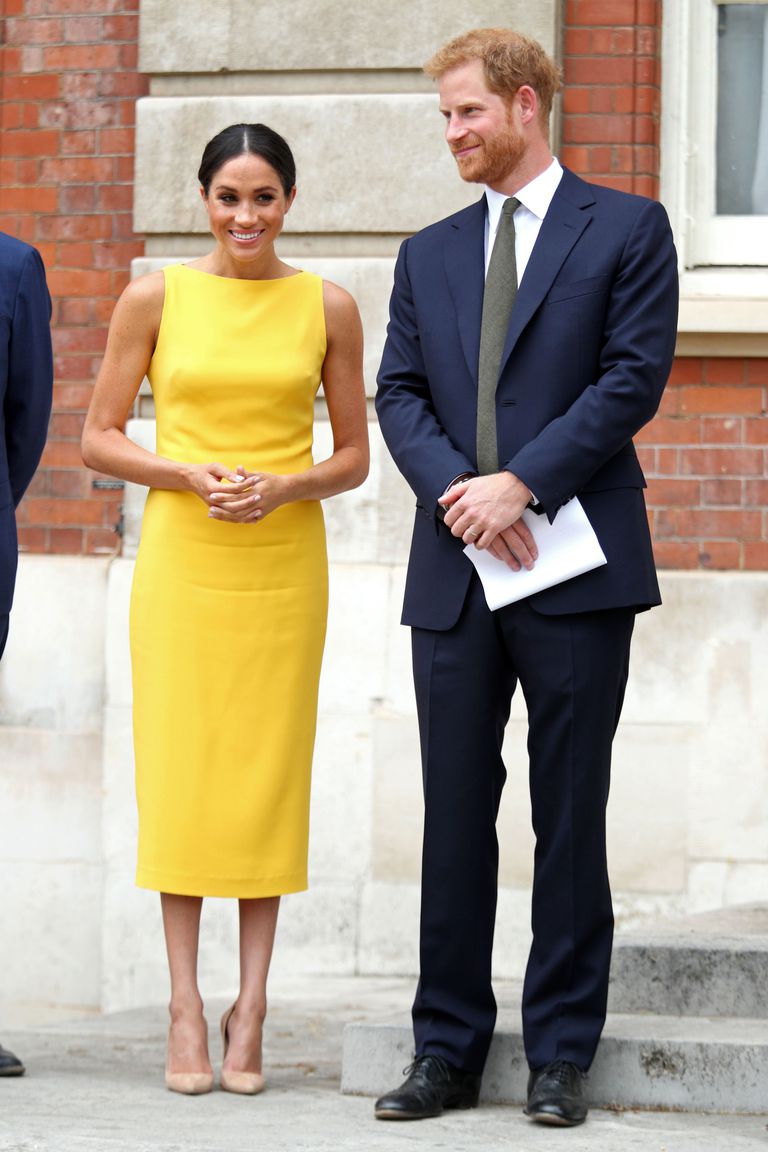 Ralph Lauren got the nod again for Prince Louis' christening with the duchess a sleek chic vision in olive and refreshing contrast to the sea of pastel worn by the rest of the party. It is this Meghan that is more interesting . Her brief flirtation with pastels (the Goat Dress with those too pale tights at a Garden Party at Buckingham Palace,the off the shoulder double breasted – can't =bring-myself-to-describe-it-any-further Trooping of the Colour Caroline Herrera) had shades of dressing by committee and perceived expectations rather than for herself. Not a look for a woman who is a self proclaimed feminist.As she is probably aware from her time as an actor haters are going to hate ,never mind the racists who are in conniptions at the prospect of black blood in the House of Windsor. So she might as well keep it real and wear her boat necked column dresses with alacrity. Occasional compliance, seen here in the church appropriate Stephen Jones hat and the Super Old -School flourish of gloves in hand are great but not needed every time.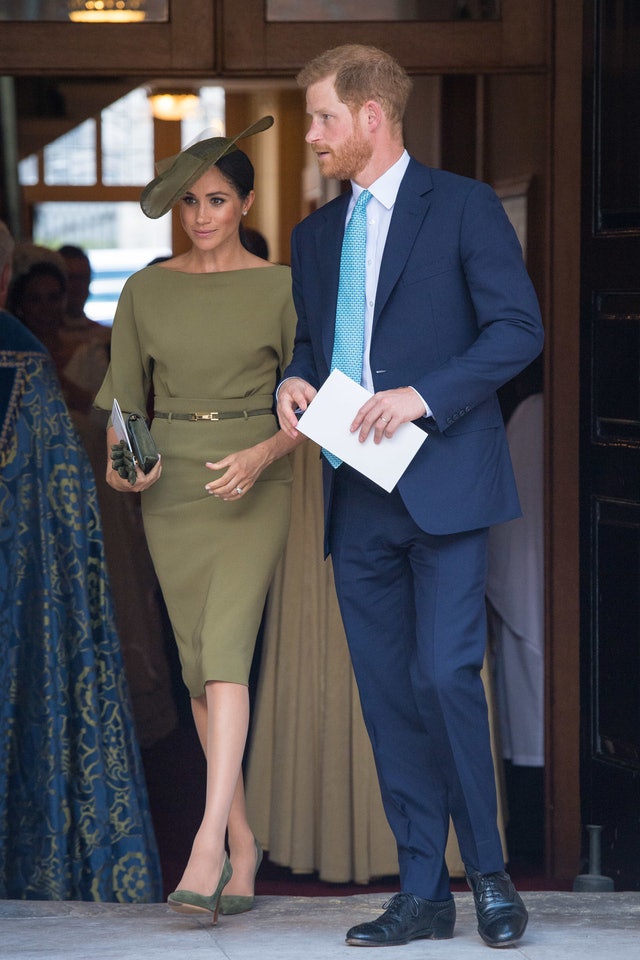 However,  perhaps most exciting for fashion lovers is the  burgeoning relationship  between  Meghan  and  the  House  of Givenchy under the creative direction of Claire Waight Keller. The wedding dress may have divided critics  (of course the chilled Cali girl fit was intended, not everyone wants to be corseted to an inch of their lives, rendering the wedding breakfast an impossibility and smiling a Herculean task , indeed such a cut is a luxury of the very slim. But the triumph of the dress was its deceptive simplicity coupled with timeless feel ,whilst being entirely appropriate for her new life in the  Royal  Family. With her soft make-up and signature messy bun, she also achieved that Holy Grail of wedding day style; looking spectacular but still recognizable as herself.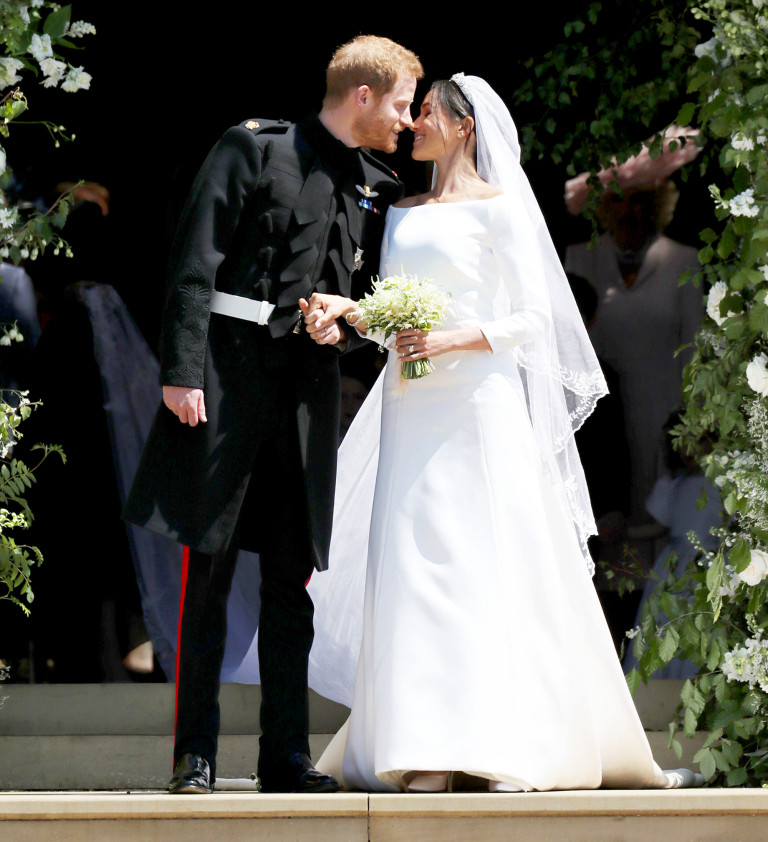 Since the Wedding Day we've witnessed more designer and  her royal  muse alchemy. Ladies Day at Royal Ascot saw  the duo keep things modern with a  white belted shirt dress rather than the more typically favoured by aristocrats  and royals  alike, coat dress. The Philip  Treacy hat was entirely on point and bonus points for  the  Balenciaga Knife  courts, but it is the  new informal – formal template that the two are creating that's  proving particularly  fascinating. A favoured look for  the working woman, it hints at a duchess who still identifies herself as such even if protocol dictates her views remain private.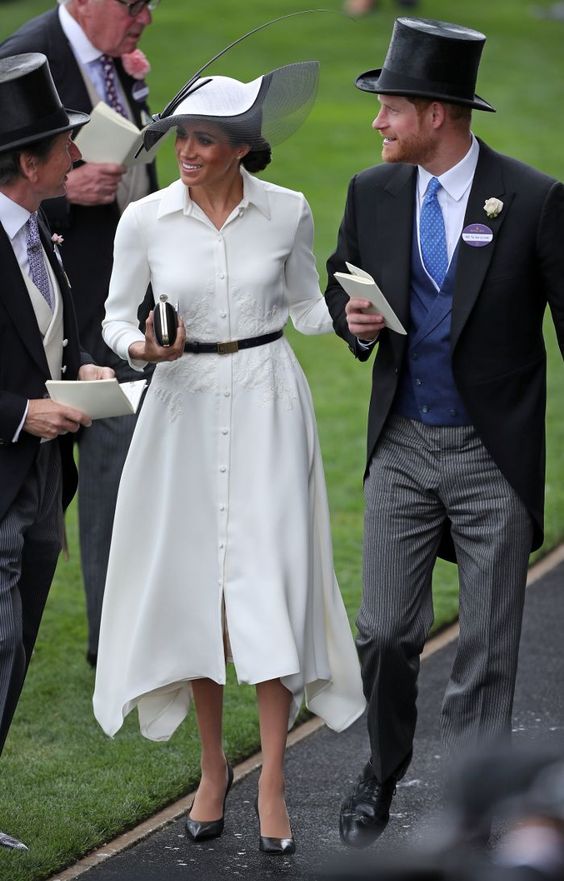 The high-water mark for the Claire x Meghan collaboration however goes to a certain caped shoulder shift worn with the Queen in Chester. Haute Couture Perfection are the only words needed to describe. Demure and over the knee, with a skinny belt which also gave the slender of hip duchess more of a hip flare than she has in reality, the dress was why Givenchy's Haute Couture Spring/Summer 19 was one of the highlights of Paris this month. Flounce is an unnecessary distraction when the cutting  is this precise. No wonder the Queen was smiling throughout the engagement, when your grand-daughter in law not only gets the memo, but runs with it, you know the future, at least sartorially, is in very safe hands.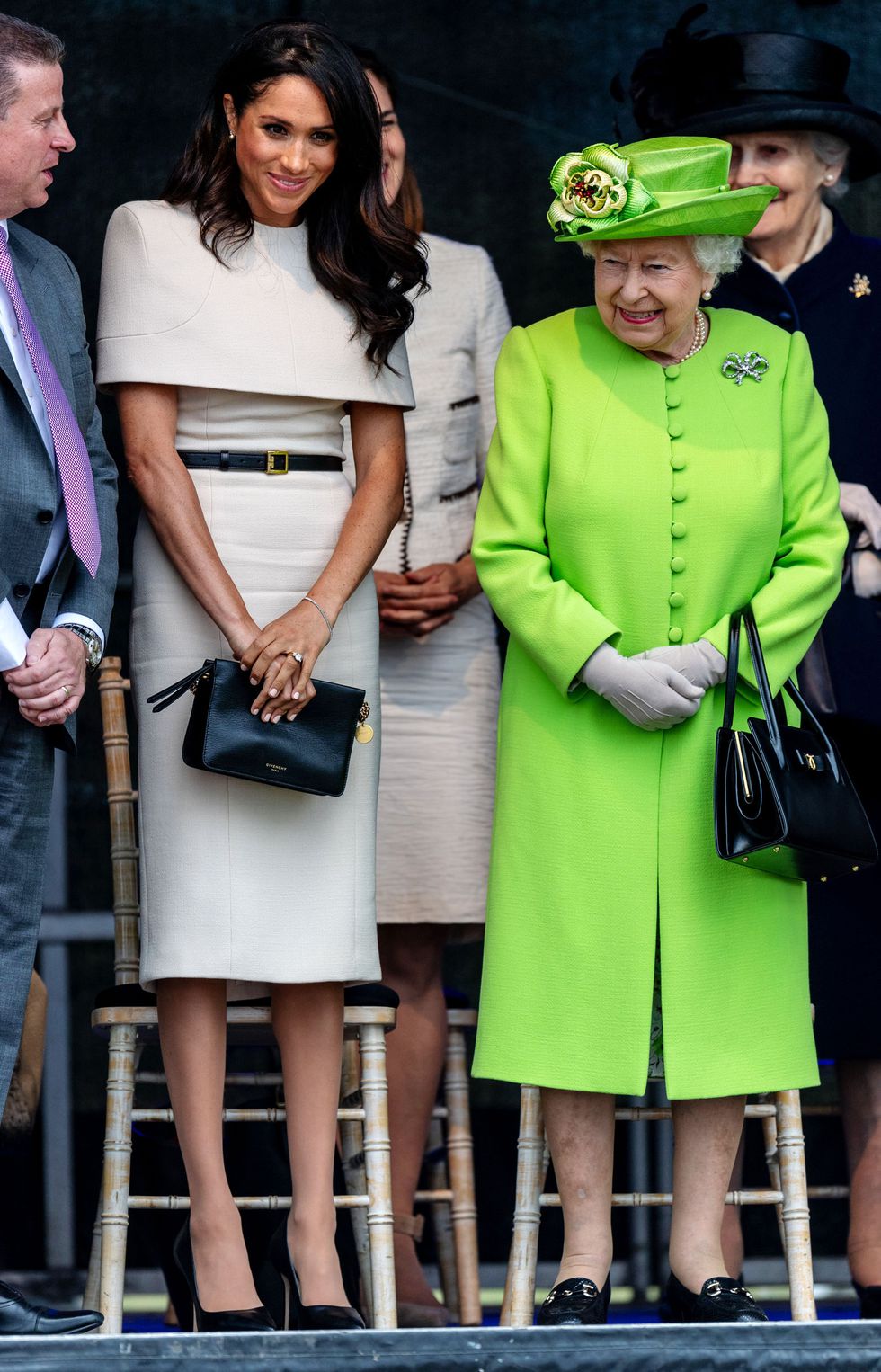 The union between the Duke and Duchess of Sussex has precedents, most obviously seen in the late Princess Grace of Monaco formerly Grace Kelly, Hollywood Actress and style icon. However, much has changed since an old European Royal House experienced the refreshing breeze of a glamorous American actress joining its ranks.  When Princess Grace stepped into her'Helen Rose designed wedding dress (without doubt dress inspiration for the Duchess of Cambridge's Sarah Burton designed Alexander McQueen gown, if you don't believe me, kindly Google) the world was one of hierarchy and tradition, with anything that might cause a ripple in established norms and expectations stamped out or quietly let go of, ideally over a Gin and Tonic. Now in our inter-connected, socially fluid, historically ambivalent times the ties that bind are altogether more meritocratic. As long as you are beautiful, wealthy, and in these digitally enabled times relatable, the world is truly your oyster. It is for this reason that Meghan seems so gloriously modern. Yes, she is bound by the same rules every other Windsor Bride has ever been, (no talking about politics, religion, international affairs and certainly no tweeting or posting), but because there are hints, courtesy of her former online presence we feel we know her. Furthermore she seems to be together charting a new path for the Windsors. One that segues between heritage, celebrity, youth, glamour and philanthropy and throws in trans-Atlantic pizzazz for good measure. And if she can leverage and harness the public scrutiny for global good, one cannot help but cheer, especially if she continues to do so in perfect trouser suits designed by the genius that is Claire Waight Keller for Givenchy.