"I only design jewellery that I would want to wear myself and I lead an incredibly casual lifestyle." says Francesca Grima, creative director of Grima Jewellery the fabled house that was founded by her father Andrew Grima in 1952 and he ran until his death in 2007. Casual is of course relative; now based full-time in London, a childhood in Switzerland and travelling as her parents' de facto plus one meant hers was a lifestyle with a front row seat to the vanguard of late 20th century design creativity. Yet, from the start of our conversation it is clear that Grima is as far away as one could imagine from the creative heiress cliché that we have grown accustomed to hearing and reading about. She qualifies her statements with exemplum; not for her the trailing off sentence that is often indicative of foggy thinking. And in many ways it is reflective of her lifelong love of architecture, where design rationale and building methodology are of equal import to aesthetics and feelings elicited by the finished product. Her pieces, like her late father's possess a singularity of vision, and simultaneously challenge and expand notions of what we can wear and indeed how we can wear it. As she elucidates further "rather than in the 80s where everyone enjoyed going to a dinner party and someone saying, 'oh darling you have the same necklace as I do' nowadays it is more about having unique pieces and the sense of discovery." For Grima, holding close to a particular design brief is made complex by her twin roles as keeper of a heritage house's flame and Firestarter in the 21st century.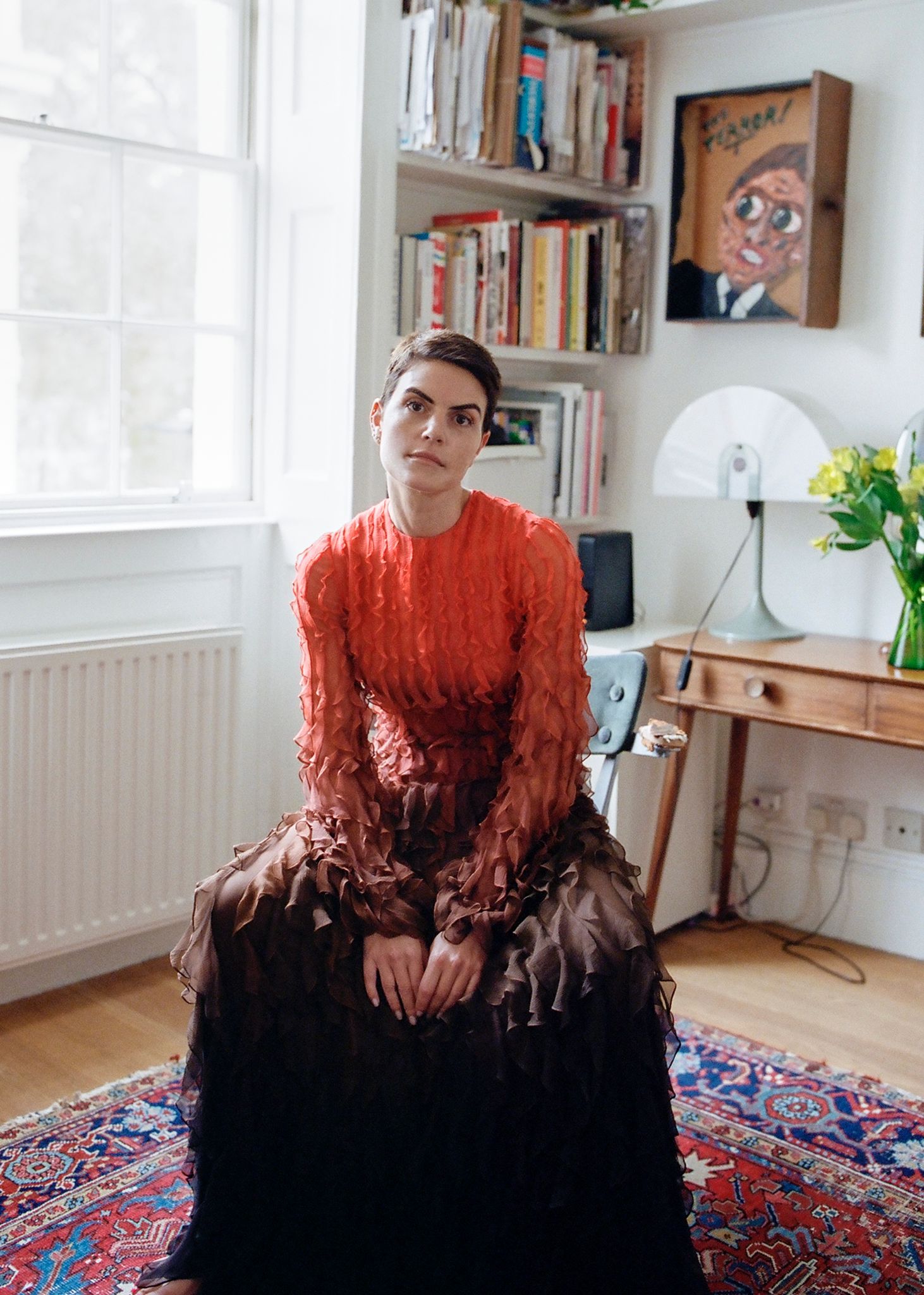 When You're the daughter of the Father of Modern Jewellery
"My mother and I both run the company and we both design." Grima explains. Her mother Jojo is a scion of the Cullinan family, the South African mining dynasty best known for discovering the 3,106 carat Cullinan Diamond. Jewellery was and indeed still is an implicit part of the family's day to day and she notes "having parents who worked in the business meant they never really switched off. Sitting around the dinner table they'd be talking business and I even had to tell them from time to time can we please talk about something else because aged six I didn't really want to hear about the clients and the problems." However, this immersive education, meant that Grima possessed a comprehensive knowledge of the mechanics of maintaining and growing a family business, where relationship building is as important as creating unforgettable pieces for highly visually literate clientele. Furthermore, she quickly discovered that it was imperative that one's own clearly formed design language was the sine qua non of operating in the rarefied world of luxury.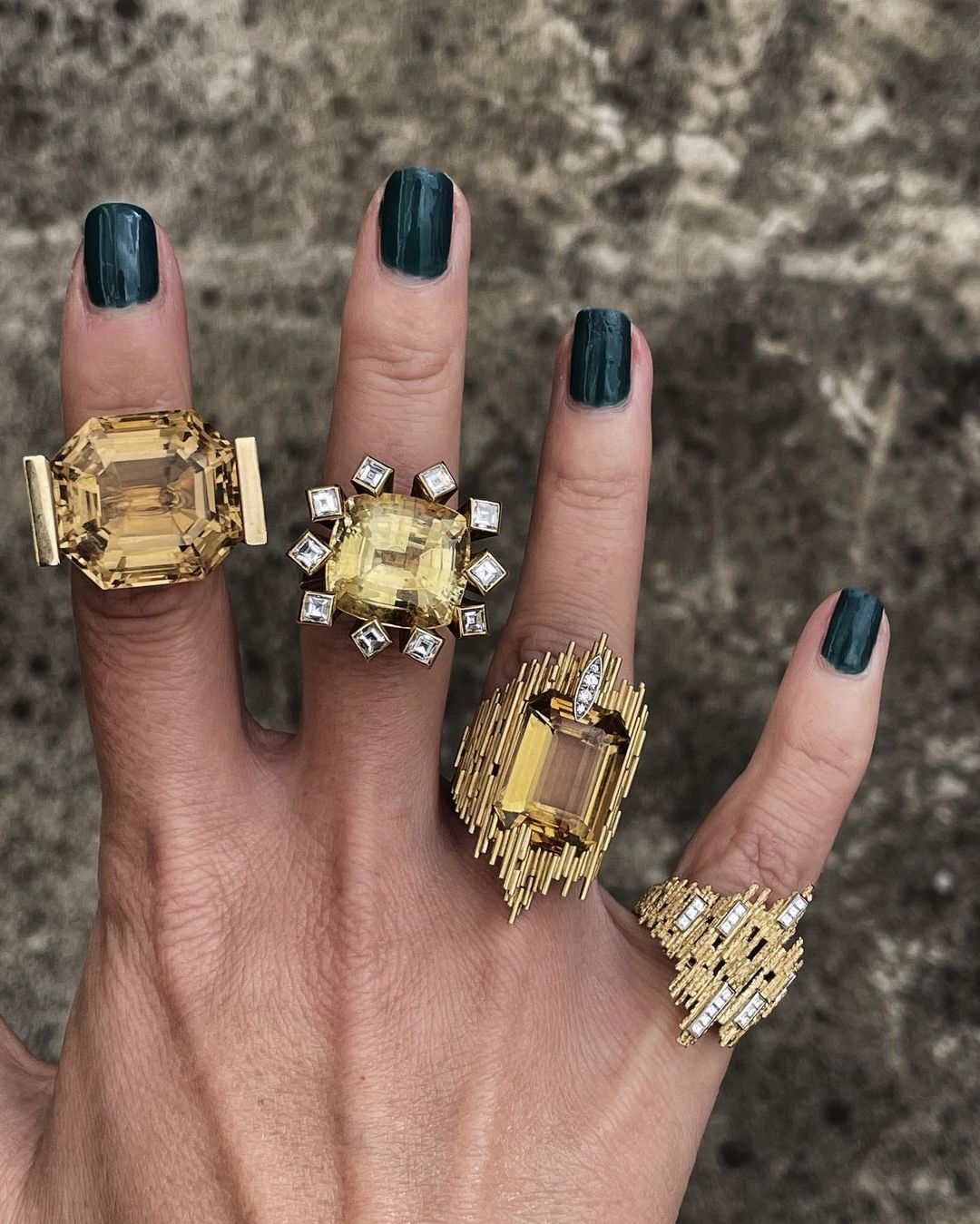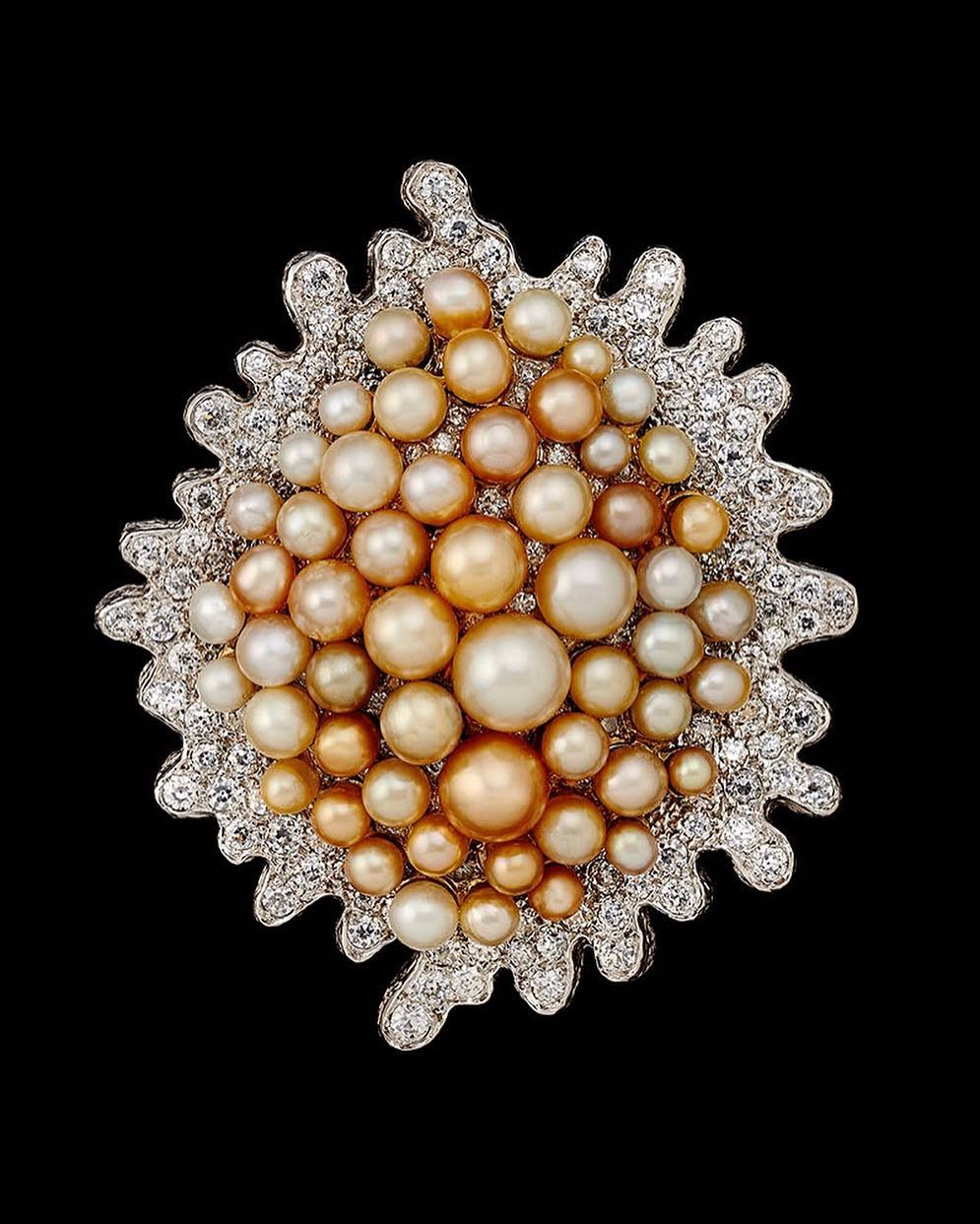 Andrew Grima's sobriquet – and also the title of a book published in 2020 celebrating his career – was 'the father of modern jewellery'. And whilst hyperbole of this kind is frequent in jewellery circles, in this instance it is no overstatement. Many aspects of the contemporary jewellers' tool kit – the use of textured precious metal, the elevation of semi-precious stones, adventurous proportions and conceptually playful pieces can be traced to particular pieces he designed and ideas he realized. A pioneer of 'the jewellery retail destination', his first shopfront in London's gentleman's mecca Jermyn Street – designed by his architect brothers with a staircase by Ove & Arup – was feted as an experience in and of itself when it opened in 1966. In possession of 'Old Hollywood' good looks, he was also ahead of the curve regarding the notion of being one's own brand ambassador; a fixture at the smartest events internationally, his celebrity status was immortalized in a starring role in a Campari soda advertisement. His most googled piece is a carved ruby brooch given by the Duke of Edinburgh to his wife, and he remains the highest recipient of De Beers Diamonds International Awards by any jeweller. His legacy, such was its breadth and depth could have been overwhelming for his daughter, to paraphrase Shakespeare's Henry IV, Part II "uneasy lies the head that wears a crown." However, rather than said crown becoming a creative millstone, she has chosen to wear it lightly. "I think my father because he was such an original would definitely want me to be an original and not to look back too much on the archives when it comes to designing, which I don't do." The net result is that whilst vintage Andrew Grima is often a hymnal to nature in all its forms, and the pieces designed by her mother Jojo act as poetic companion pieces to that design thesis, Francesca Grima's design language in contrast is guided by a quest to make bold statements that are underpinned by minimalistic principles. Extrapolating on the theme, she adds "I'm very much inspired by product designers such as Dieter Rams who designed for Braun, he always said simple is better."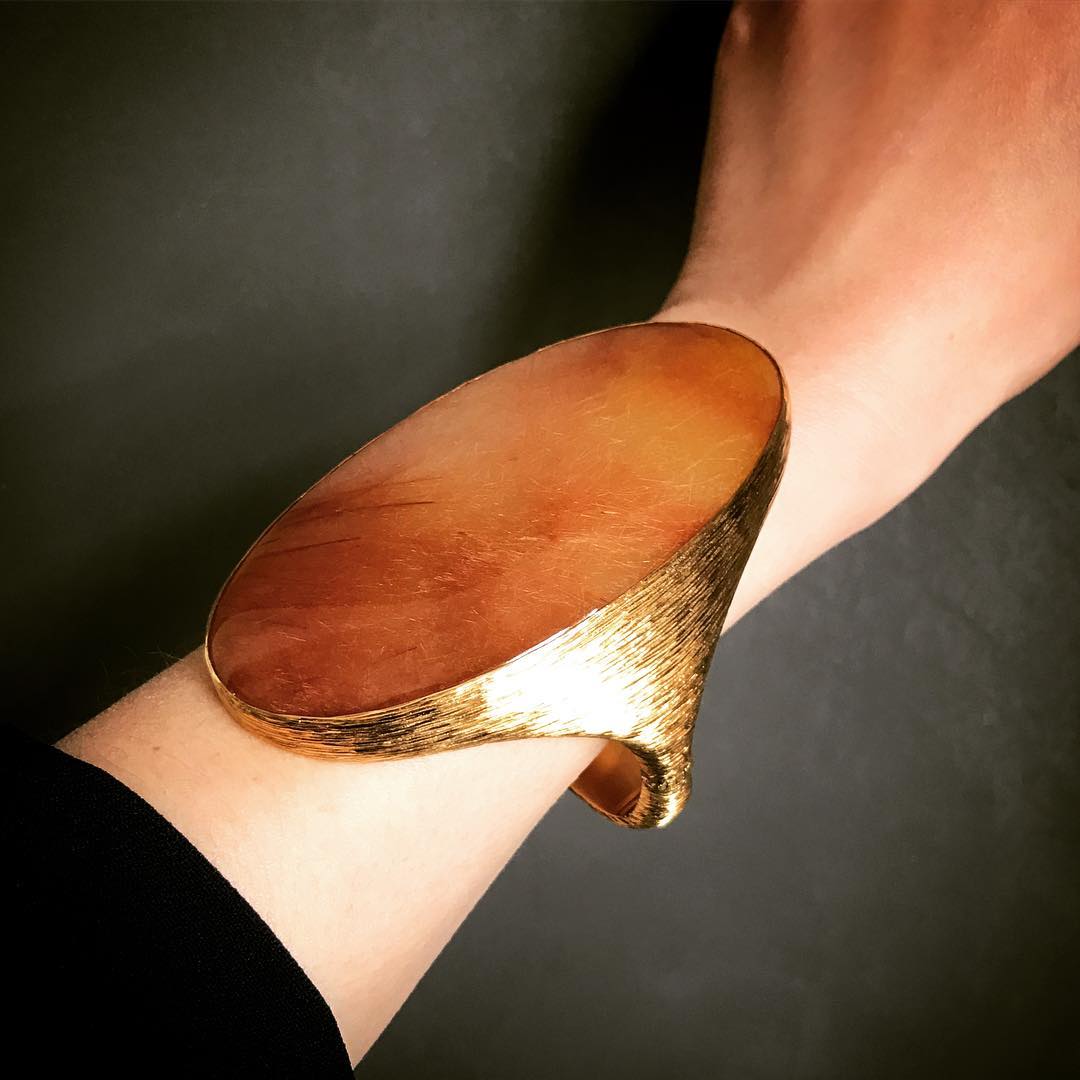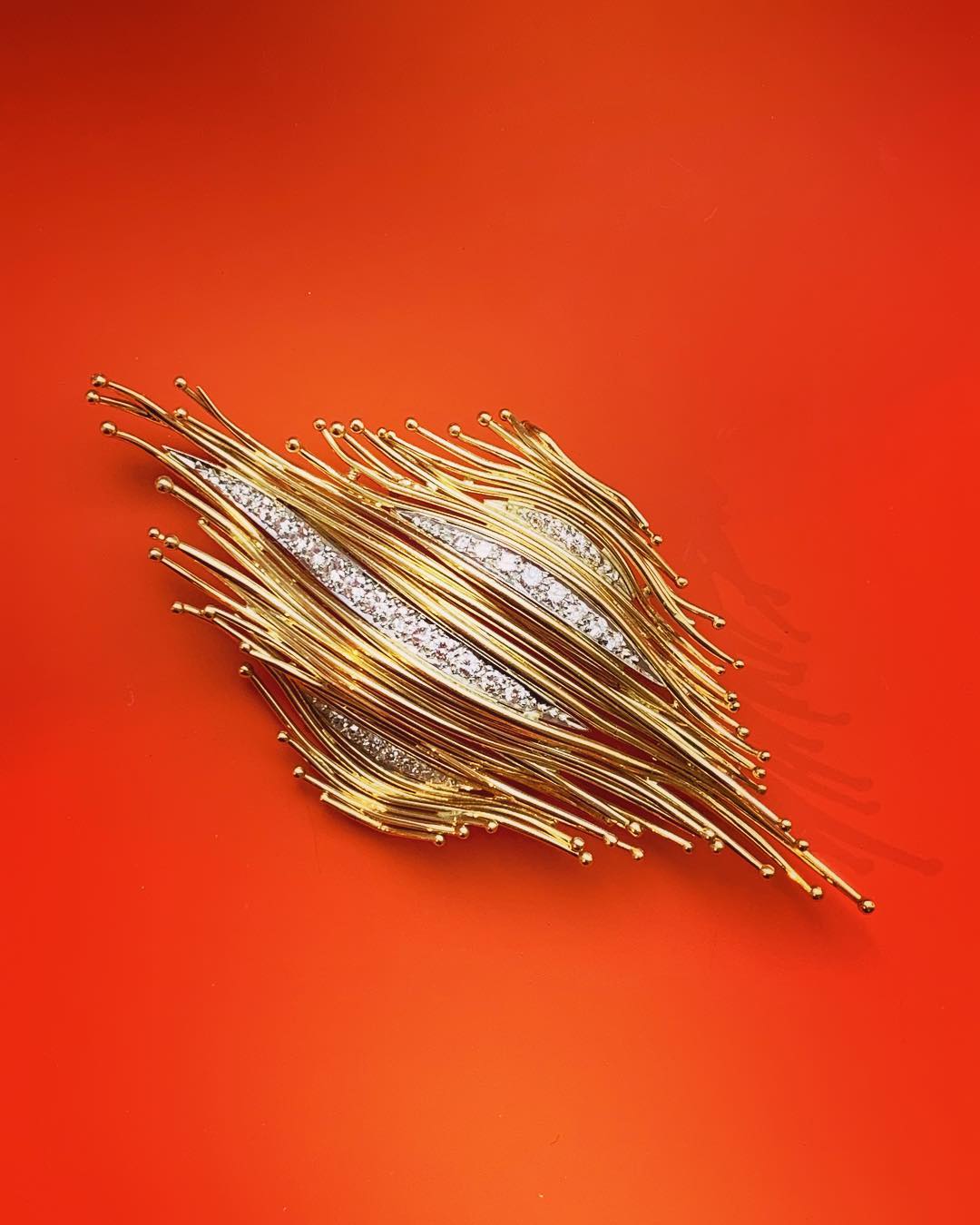 This is not to say that she arrived at this point speedily; reminiscing "My earlier body of work – oh my God I sound so pretentious" she says laughing "was very organic I would almost call it frilly which is terrible, but they would definitely not be my style anymore." The clues to Grima's continued design prompts are there in the work, and for those who prefer to decipher clues on jeweller's Instagram handles, her timeline. "I am mostly inspired by artists or architecture. I photograph a lot and there are always shapes and textures that I come across in my photographic walks and that's what inspires me for the simple gold pieces." Brutalism masterpieces such as Erno Goldfinger's Trellick Tower in London's Kensal Green and George Marsh's CentrePoint also in London are captured on her handle alongside classic cars and works of contemporary art that have particularly moved her. It is thus unsurprising that she feels comfortable viewing herself as a jewellery-artist. "When I look at a piece of art, I want the art to give me some emotion. I think I would like the person who wears one of my pieces to feel a sense of happiness by wearing it." Grima recognizes that energetic exchanges be they in the built environment or on the body are constantly happening and her pieces act as a conduit to such exchanges. One recent piece that speaks to this is the Dot Ring which was part of Vivienne Becker and Phillips Auction House New Modernism exhibition. "So I've always been a fan of Yoyoi Kusama's work and I have been wanting to do something that is inspired by her for quite a long time… then I came across this white agate and I thought it's an opaque stone it needs a 'pop' design that is very graphic hence the dots." Francesca is not a maker herself, "we use all the same goldsmiths I mean obviously there are some who have passed on now, but we still have goldsmiths who worked with my father and understand our process" In the instance of the Dot Ring her determination for a specific vision resulted in a temporary impasse but ultimately favourable result. "The goldsmith said, 'Ok, I will just set those gold dots on top of the agate' and I said 'no, no, no it needs to be tactile, so you need to actually carve into the agate, so that the gold dots are flush and if you run your fingers over it feels good.'" Choosing not to surrender to compromised tactility is illustrative of how resoluteness and rigour often begets work that is consistently memorable. Francesca's edict of optimized wearability is especially tested when making rings, as hands are in constant use and display but this did not deter her. Furthermore, it was not enough for the piece to be a visual paean to Kusama it was also a thematic one, a piece that points to abstract surrealism but is also reflective of two female freethinking artists choosing first and foremost to work and present their work on their own terms.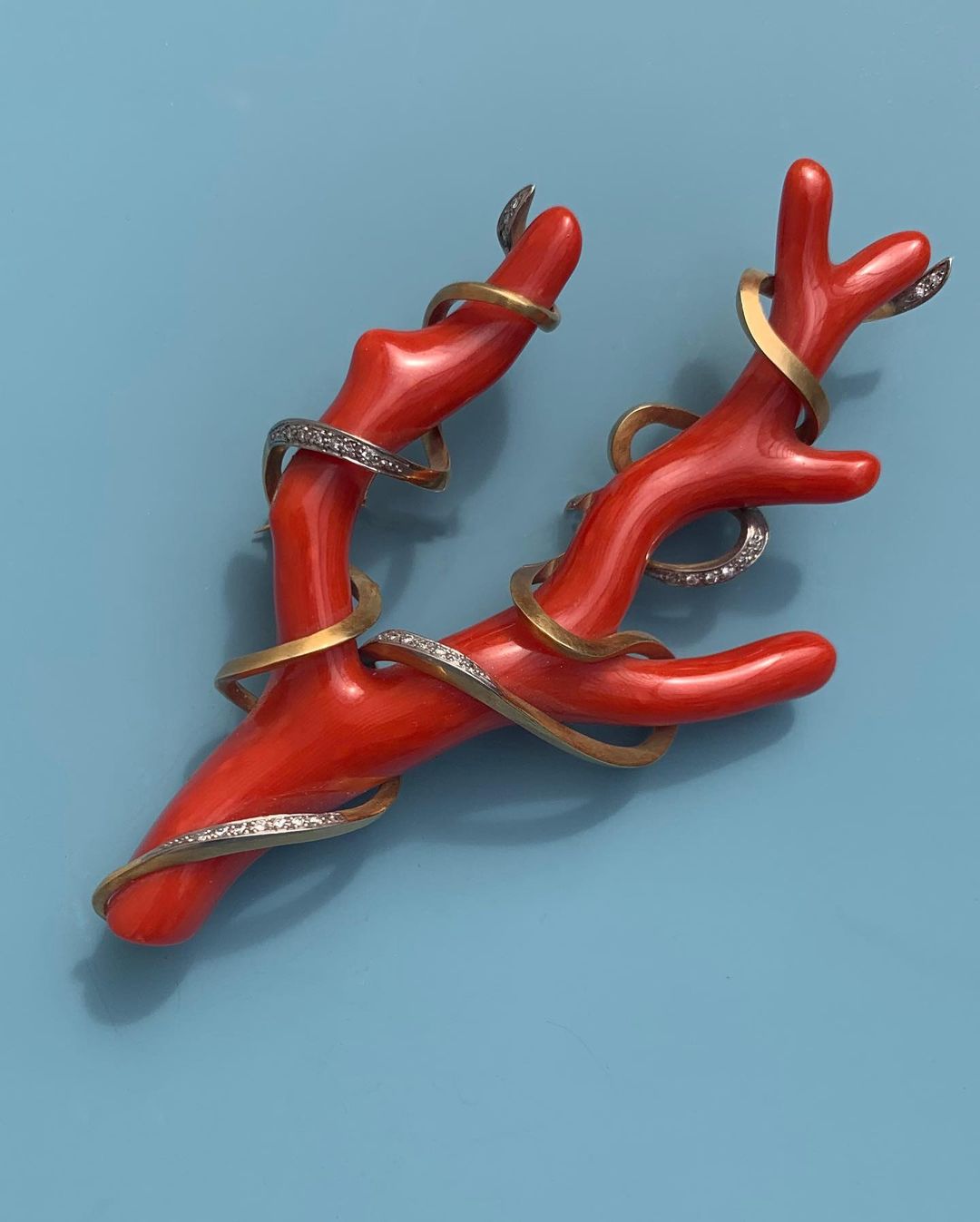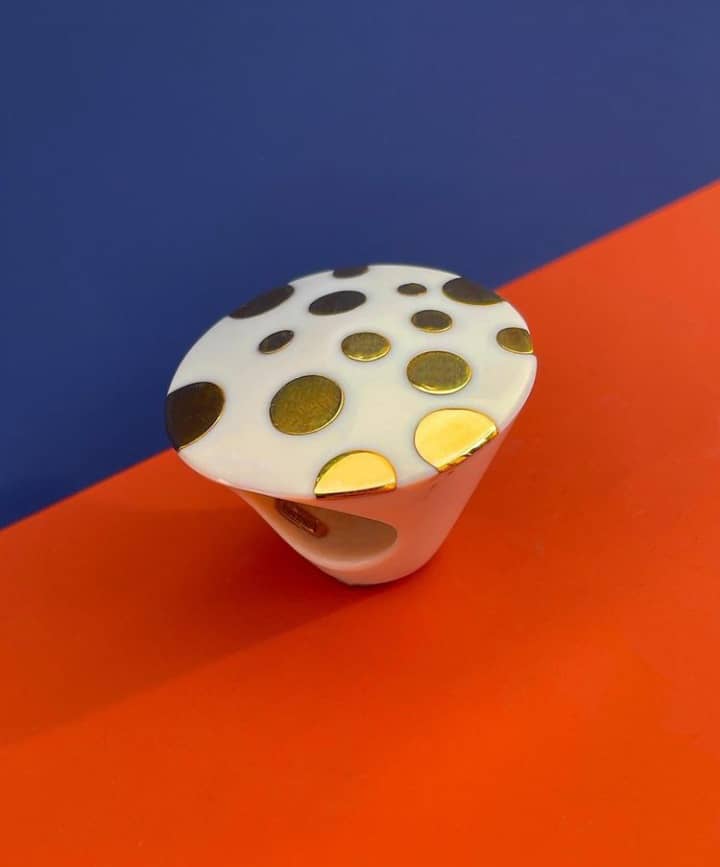 Romancing the Stone
Who or indeed what determines a piece's worth? One could limit one's response based on the trading prices on the global metal exchanges and diamond bourses or one could add factors such as trends, the maison or house making the jewellery itself or the reputation of the artist involved in its design. Unusual gemstone choices were a key differentiator of Andrew Grima's work and central to his initial success, and explorations in materialism continue to be part of Francesca's own work. "The strange thing is the stones that my father used in the 60s and 70s had no intrinsic value then… tourmaline crystals you can't find anymore, so they have actually become precious stones, so that's quite interesting." As well as the aforementioned tourmalines, aquamarines, moonstones and quartz were treated with equal reverence to diamonds by Andrew and it is an approach shared by Francesca whose principal intention when working with gemstones is "to highlight the stone and it's beauty and make it the protagonist." Casting gemstones as leading ladies in a supporting cast of metallic forms also highlights a historic and cultural aspect around wearing jewellery; when curative and spiritual powers were attributed to certain gemstones. It is a notion that still endures, even when not explicitly alluded to; as certain pieces and heirlooms become part of an individual or if inherited, the family's talismanic armory. In her making process Grima asserts that "the stone just really needs to speak to you", before she will consider making something with it and in a direct riposte to people treating jewellery like chips in a casino she notes "if someone shows interest in a piece and says 'how many carats is this tourmaline?', I will kind of know from then that they haven't understood what we do." In many ways there is a schism within the jewellery world that has been percolating for decades. On one side those who live for the high value, super large and rare gemstones that even before they are made into anything fetch for the tens of millions at auction, and those who are more interested in the artistic landscape, conceptual concerns and in some cases spiritual or social commentary a jewellery designer or artist is making with completed pieces. This is not to say it is a clear binary, with many houses' bodies of work and clientele overlapping between the two concerns. However, for independent houses, where one sits on the cultural divide is important from an operational perspective. With Grima the remit is clear as Francesca concludes "what we do is not at all about the intrinsic value of the piece. It is about creating and selling wearable art and sculpture."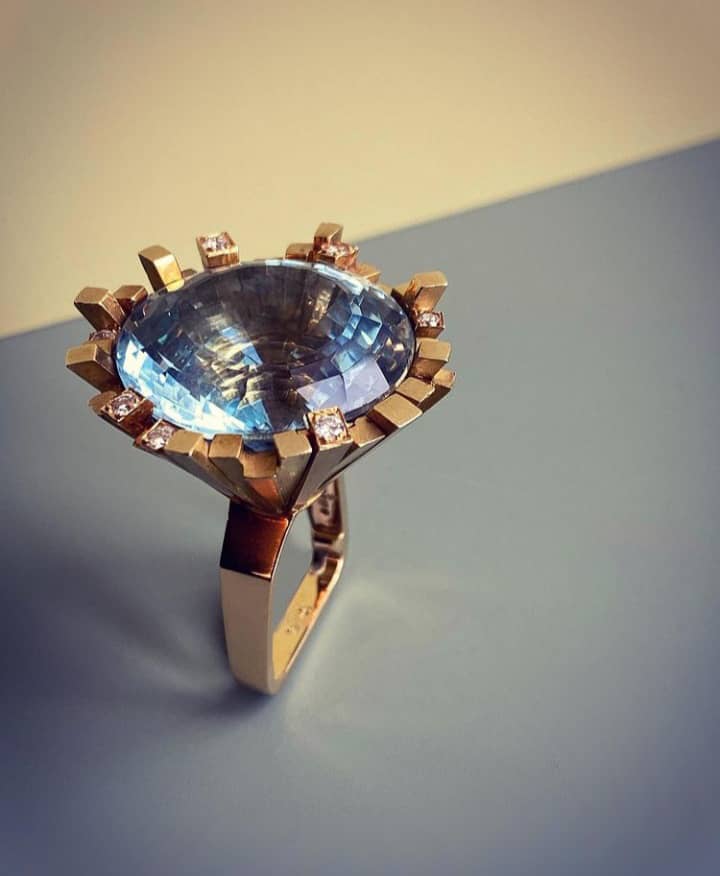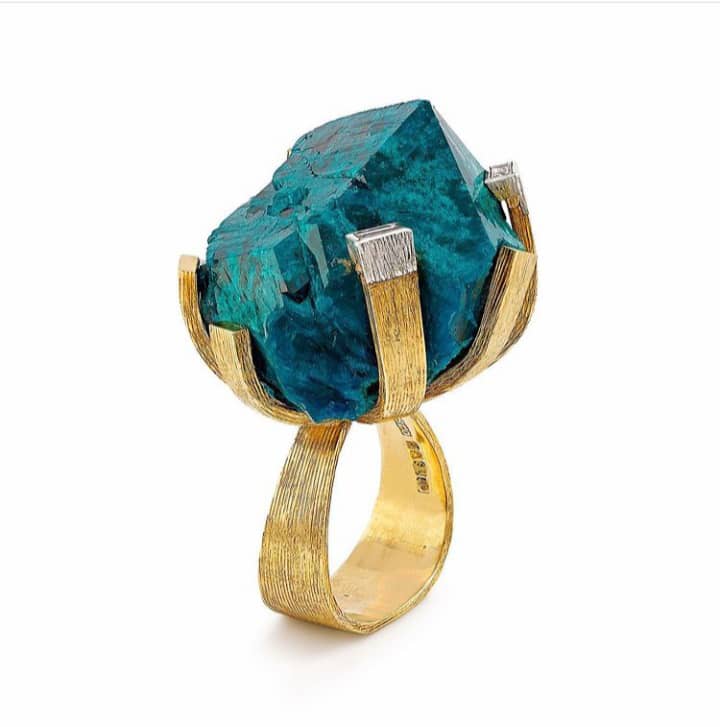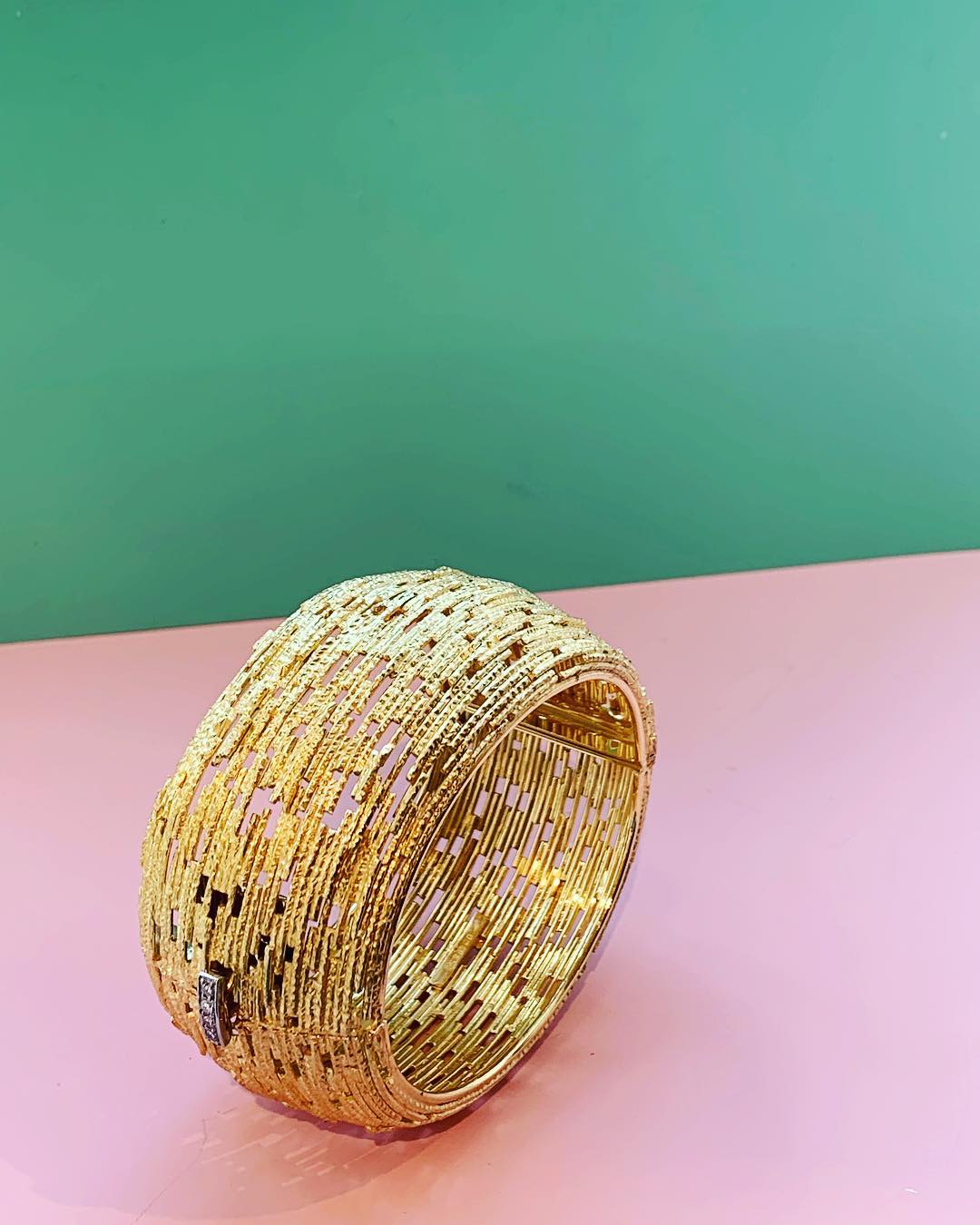 Assessing the contribution of the house of Grima to the contemporary jewellery landscape is a task that has been tackled most recently by William Grant magisterial monograph. Grima was also included in Mary Anne Wingfield's Modern British Jewellery Designers, which contextualises the rise of many independent houses in the United Kingdom and how factors such as the price of gold, two royal jewellery loving ladies (Queen Elizabeth II and Princess Margaret) and the challenging and in some cases dismantling of cultural and socioeconomic norms paved the way for radical jewellery design and its avid consumption. But not everyone who was 'white hot cool' survived this particular zeitgeist and Francesca notes "What I find when I look at jewellers of my father's generation who haven't been I will use the word as successful, is that with my father's jewellery he somehow got all the proportions right." To illustrate her point she references a citrine and diamond brooch of his design, "It is so stunning and it shows this organic movement and flow which just came so naturally to him." For her part, Francesca has made many a piece which posits a stone as the main event but with her minimalistic approach. "I designed a pyrite ring a few years ago, which was really simple. It was a huge pyrite and then a block of diamonds that were mimicking the pyrite crystals." Another personal favourite of hers is an ammonite necklace which she adds "just encapsulates everything I love at the moment. Which is sort of that brutalist design, very simple, just highlighting the stone, making it the protagonist and just really easy to wear."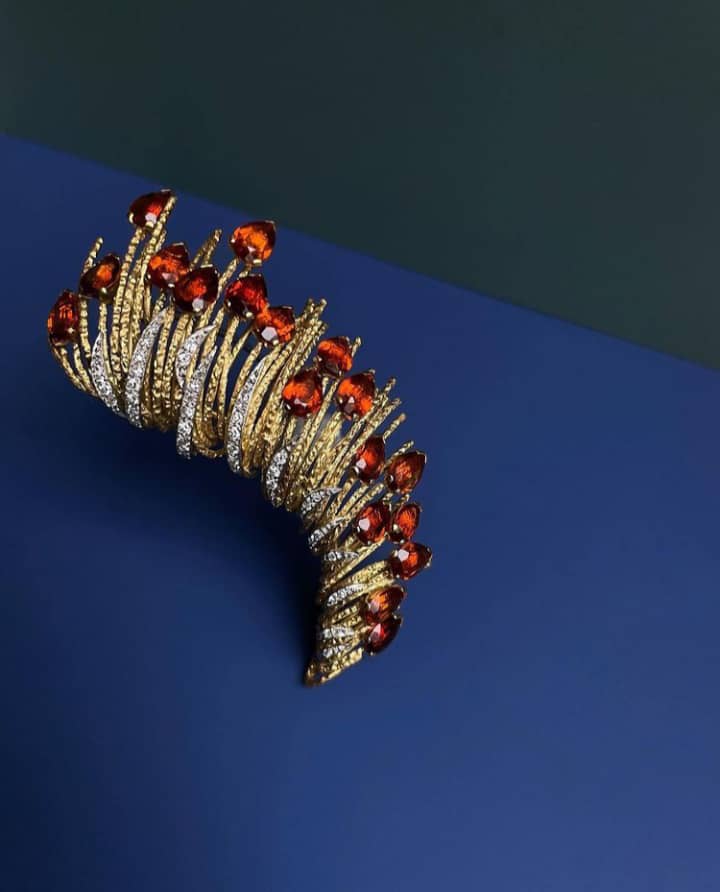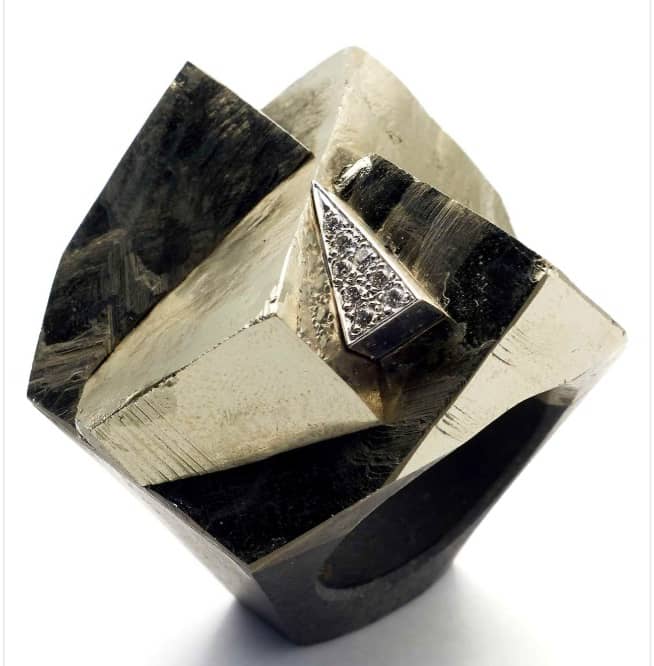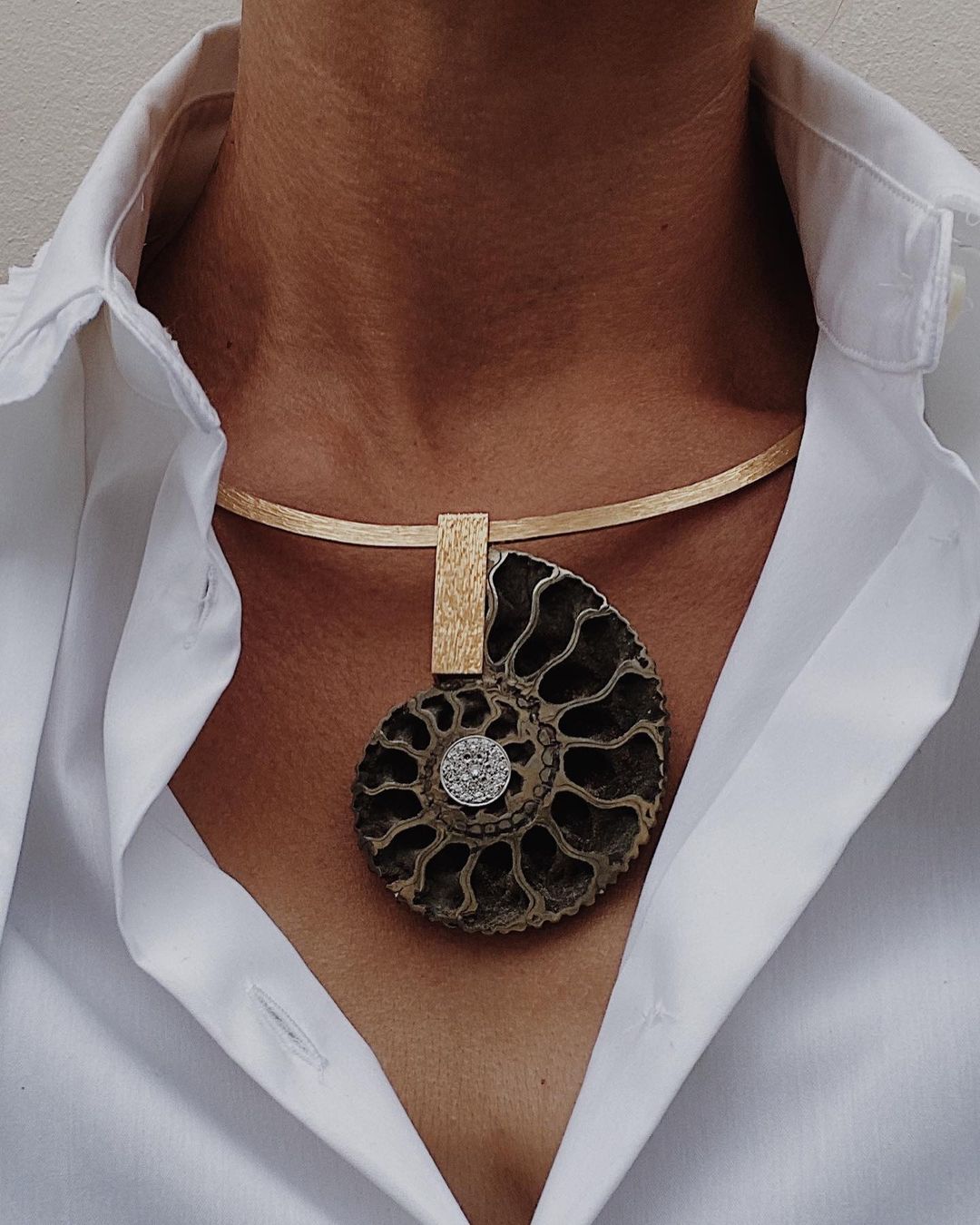 The design techniques pioneered by Andrew Grima have been well documented especially his use of textured gold wire and his love of nature. But the thread that seems most relevant, and what acutely binds his and Francesca's world beyond consanguinity is the mandate to make wearing treasure in one's everyday standard but still with romance at its heart. On the landing page of the company's website sneakers are adorned with vintage brooches and a basic singlet elevated with a tanzanite and diamond brooch as one does when one can. There is an insouciance but also a tacit permission to enjoy your jewellery as and how you wish, not to be dictated by its value or the importance of the event or the caliber of people who will appreciate what you are wearing. Because if not now when?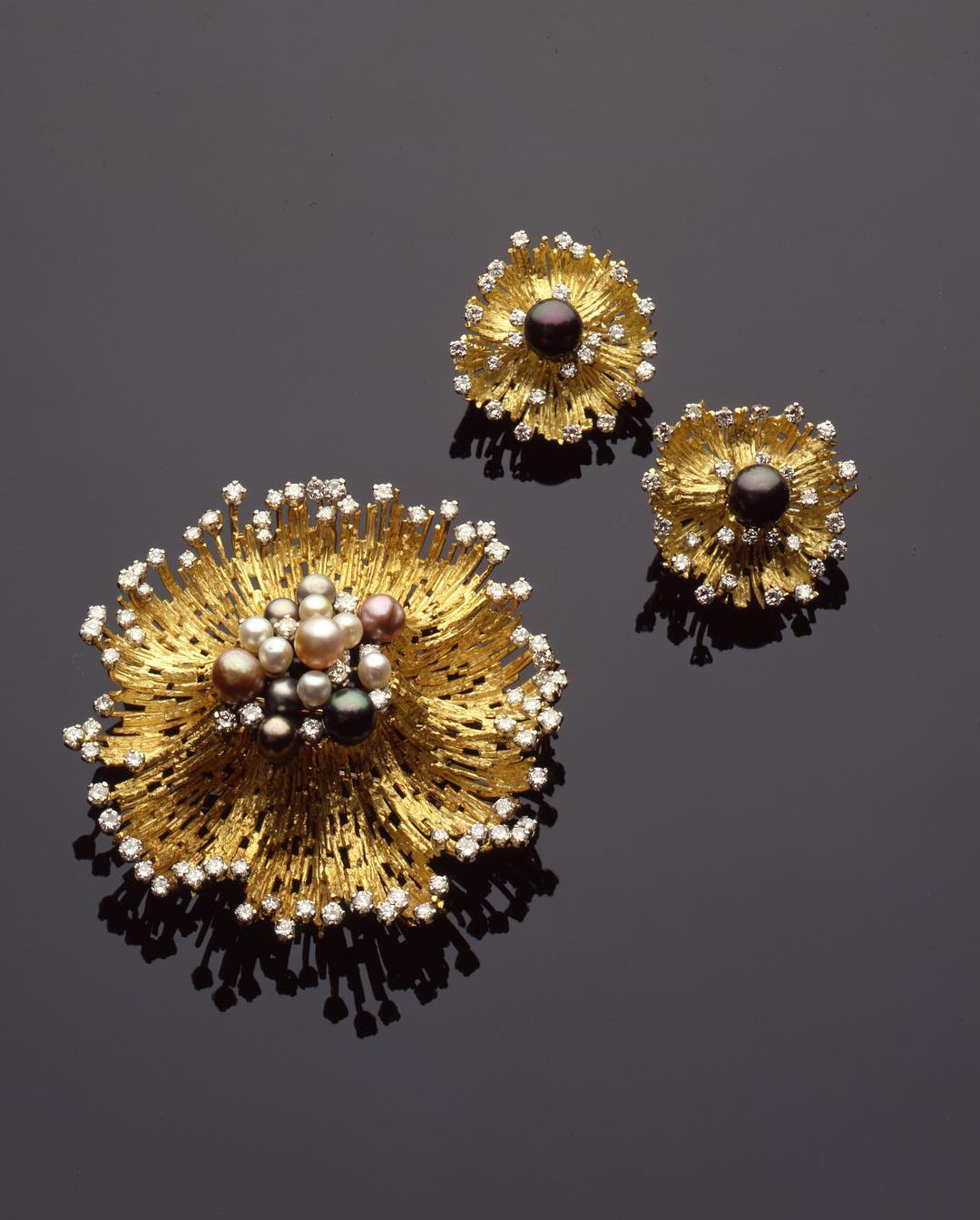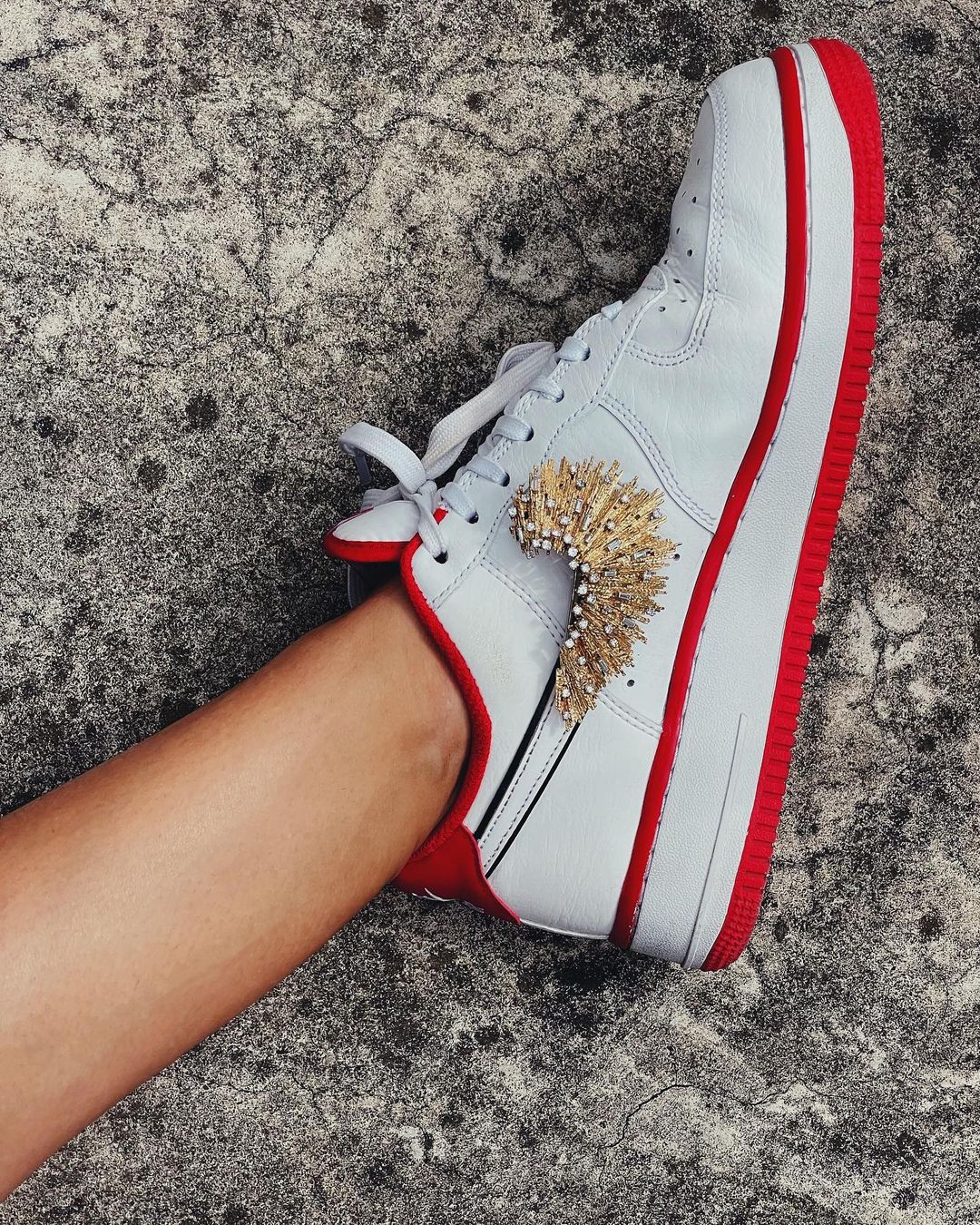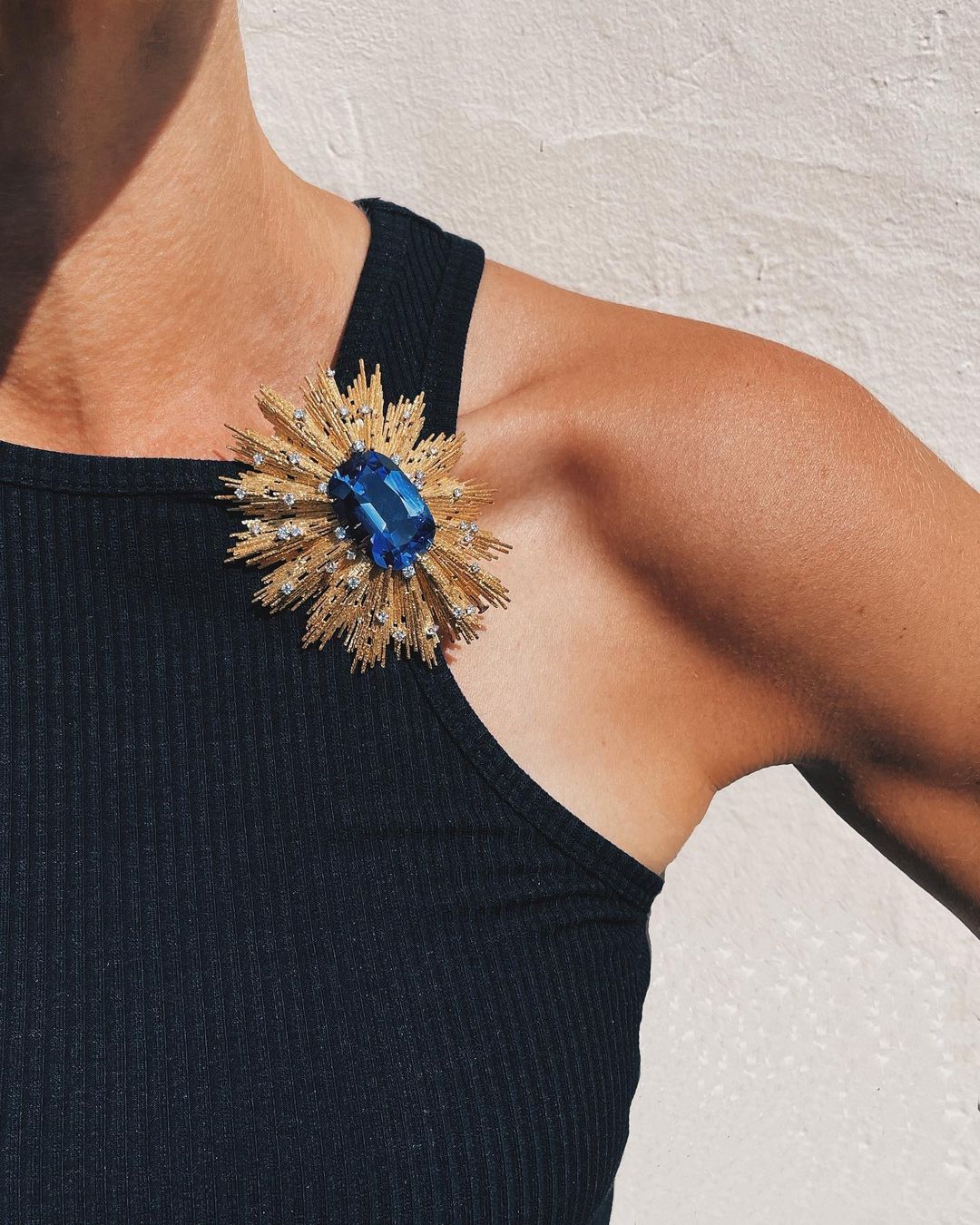 Heirlooms, Heritage and the Future Present
Heritage houses still run by the familial founders often rise and fall on the next generation of custodians. Economic factors and unsustainable expansions can also take their toll. One contemporary peer, Kutchinsky was ultimately bought out in 1991 by Moussaieff Jewellers and many others from the 1960s and 70s have stopped producing with their work only appearing on specialist jewellery websites or at auction. In many ways Grima under the co-steer of Francesca and her mother Jojo have the perfect mix of a direct link to the founder and a creative lead who is very much in touch with how modern clients enjoy their luxury. With contemporary conversations so closely aligned to traceability of gemstones few companies can attest as Francesca does "We have stone dealers who are actually the children of stone dealers who worked with my father, so the trust is there implicitly." Furthermore, Francesca's agility on social media platforms has meant the company is able to adapt to the 24/7 concierge service expectation that has proliferated the art, design and jewellery worlds. "I think that is where the responsibility lies in terms of innovating and bringing the company forward… If I put a photograph up on Instagram I respond to every message. And that's what I love and maybe it is because I am a bit of a control freak, but I will see it through to purchase and I also do all the bookkeeping and the photography." Personally grueling and potentially exhausting as this model might be, it allows for the family to cut through the middlemen and the PR machines and speak directly to the consumer. They also get to control their narrative, and in an age where authenticity is prized, it makes their brand enduringly compelling. For those who seek to have a private commission, an intimate atelier appointment awaits them where the client will be attended to without a jot of the snooty energy that is sometimes associated with high jewellery houses, it is an important consideration, especially as conversations around spaces being truly inclusive continue.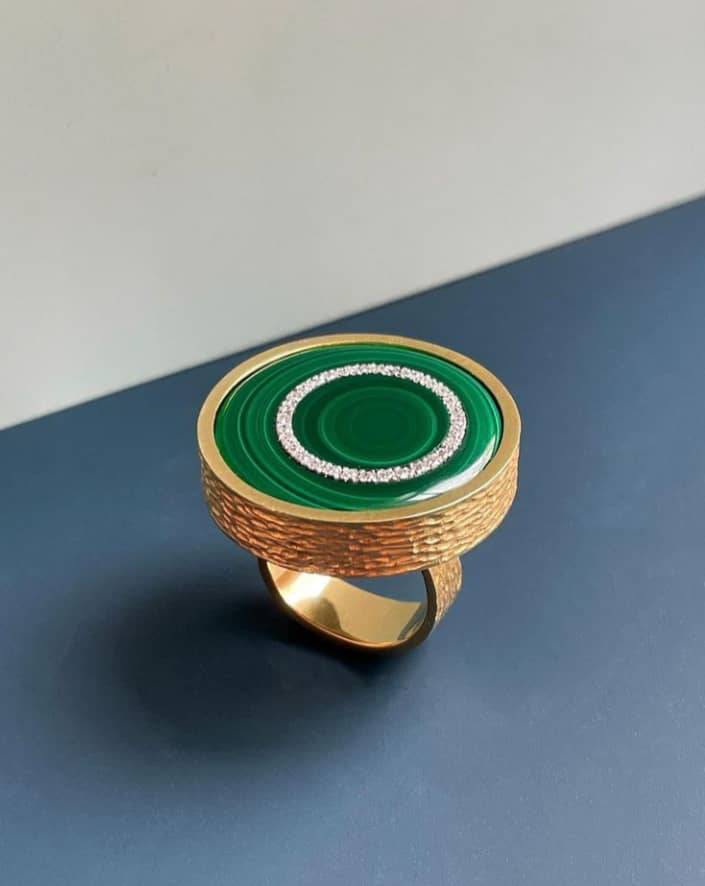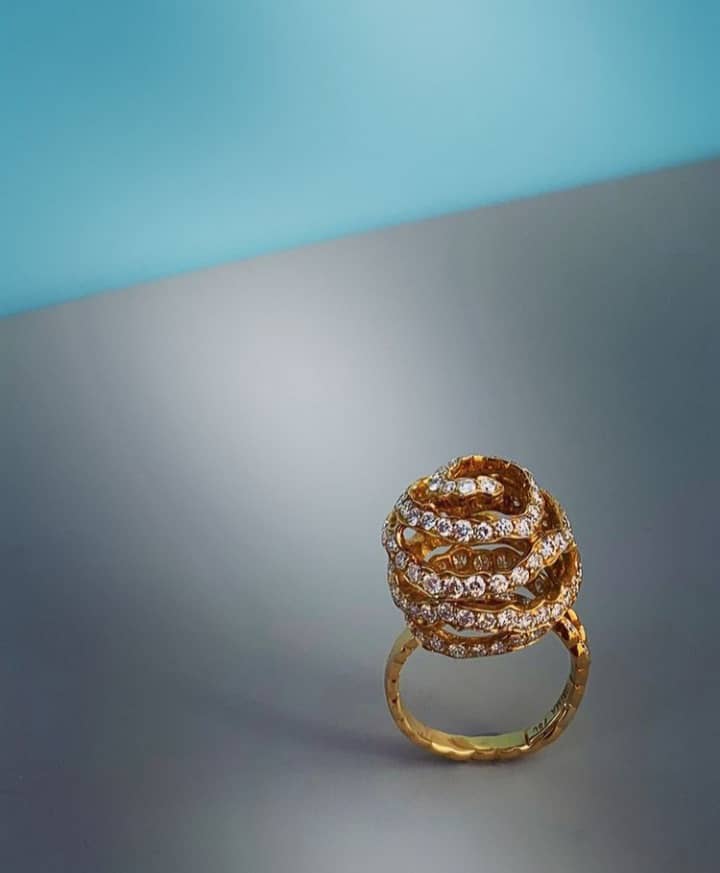 However, it is not only Grima's business savvy coupled with her social media and tech proficiencies and informality that bodes well for the company but also her ability to like her father create contemporary future classics. She says laughing "Timeless classics are something that are very difficult to design because you don't really know you are designing them." Indeed, it is a truism most evocatively witnessed in her own father's About Time series of watches for Omega, a 55-timepiece collaboration that in the making in 1969 wasn't foreseen either by himself or the watchmakers as creations that would birth a devoted and cult following independent of either brand. Owning one shows a different level of horology appreciation, and when pushed Francesca cites the 'Elegance' watch as her personal favourite. However, returning to her own oeuvre her numerous explorations in agate possess the elements of classics already in the making, as she dares to create a seemingly oxymoronic distillation of bold minimalism; an artist unafraid to continue returning to a medium and in each iteration discovering it anew. "I think it is the range of colours in agate that I am drawn to. I love when it's frosted…as you don't really have to add much to make it really beautiful…Also you can make a ring that is fully agate without having to be too worried about it breaking, which you can't really do with another stone." Her pragmatic approach is ever present but is a godsend for those new to jewellery collecting who might not even be aware of stone durability as a consideration when purchasing a piece.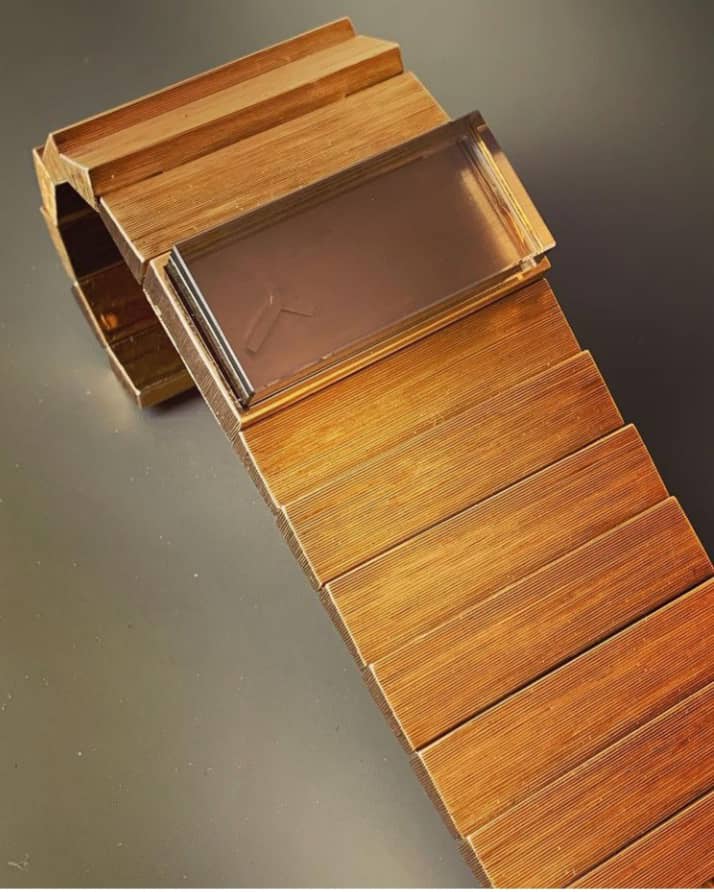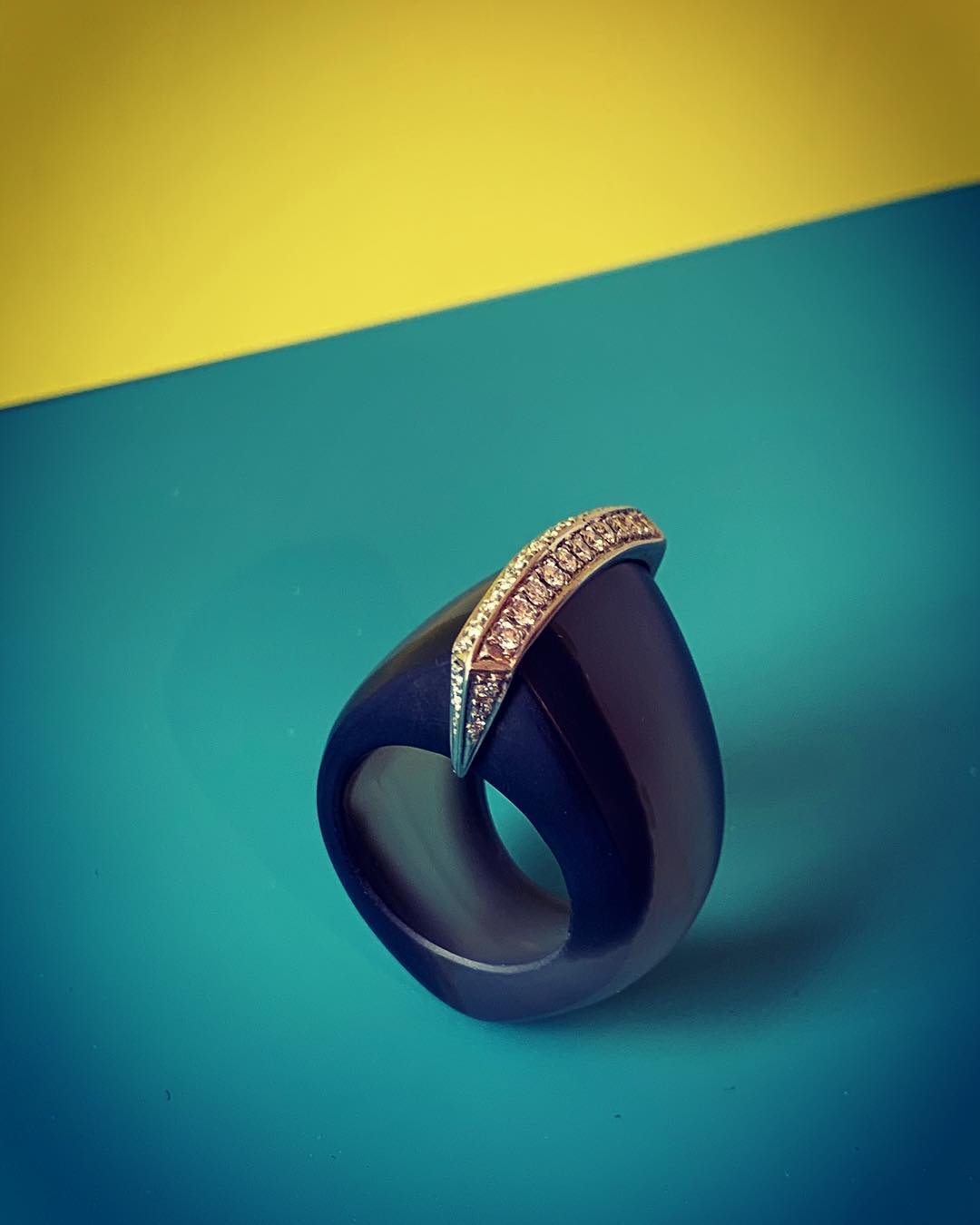 Grima does not see jewellery as a competition with an expectation for certain performative measures to ensure long term success. "I like us being different. I like us being niche and exclusive. And I don't see how getting our jewellery on a celebrity is going to make us a bigger success if you know what I mean." Perhaps, one might argue she is speaking from a place of privilege, a heritage house that has ridden the sartorial and economic waves with aplomb. But one only need observe how every heritage behemoth house has been quick to sign up a celebrity as 'collaborator' to see just how brave this approach is. When asked whether commercial success or artistic relevance are her principle driver, Grima responds without hesitation "100% artistic relevance". She fearlessly elegantly pushes conversations around value and collectability. "I do believe one should look at a piece of jewellery as a work of art. You don't question the price of a canvas when you buy a painting so why would you do that with a piece of jewellery?" In our peak consumerist information saturated age, when we are all in danger of to quote Oscar Wilde 'knowing the cost of everything and the value of nothing" proposing that jewellery speak for itself, no hashtags and hefty price tags bandied about in public as justification, becomes a radical act that places art as the highest conderation. But it is also a potent act of love, for the craft, for the ideation and process that comes in the making and for the clients who dare to put their heads above the parapet of what is expected and wear only what truly speaks to them. Principles that still bring profit are great, set in an unusual gemstone or none at all, they become truly luxurious.