How does one get to speak to Feng J, one of high jewellery's hottest properties, when time zones, an ever-expanding client list and perhaps most pertinent of all you don't share a lingua franca? You wait for the calm before the Christmas storm but after a glorious success at Design Miami to set upon a time. Next, you negotiate a late-night call to Shanghai. Then you ensure that David Tsui, Feng's Mandarin speaking business partner (who previously worked for advertising giant Ogilvy in New York) is on the call too in an interpreter capacity, allowing for our three way conversation, to take on a rhythm of its own and are always meticulously referenced with a Feng piece, a vivid anecdote or a witty sidebar from Tsui himself. And finally, prior and after the call itself, one returns intermittently to an Instagram page and website awash with otherworldly pieces with exquisite craftsmanship and an obsessive (in the best way) level of detail. Because at the heart of Feng's story is a commitment to pushing the proverbial envelope; cost, time and established norms be damned, after all, this is how singular aesthetic voices and legends are made.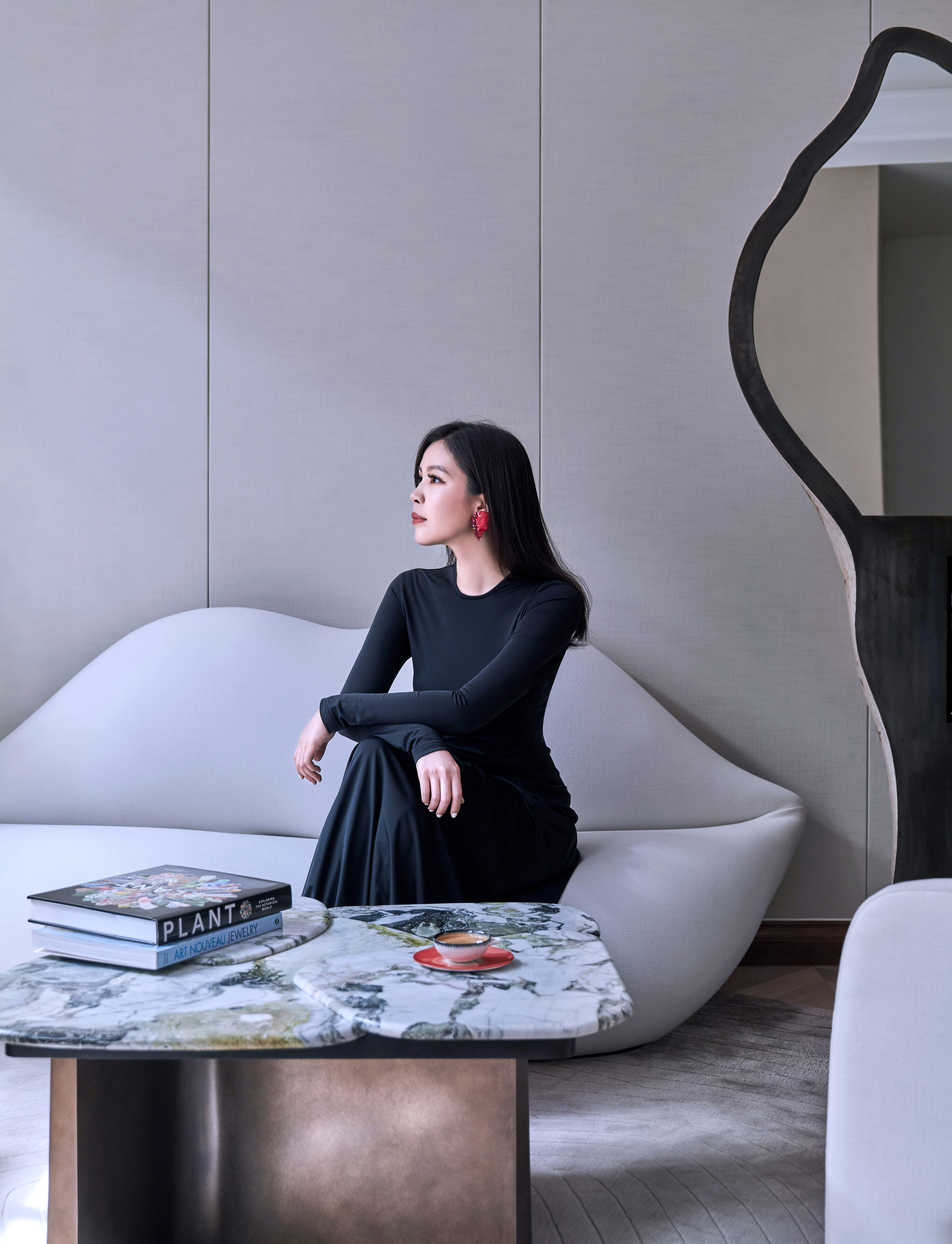 Journeying and trusting in the Destination
"As a person I have always thought about having the highest standards and being in the locations that reflect that I am operating at the highest standards. For financial people you would go to Wall Street in New York and for High Jewellery the only place is Paris…. I needed to be there to see the good things, the good people and start in a good place." Feng J is an intentional creative and unapologetically so. The high-jewellery artist founded her eponymous brand Feng J Haute Joaillerie in 2016 and conscious of the opportunities and historical cultural lodestars of that world chose to insert herself in the heart of it, in this instance with an atelier in the Place Vendôme. Somewhat intriguingly, jewellery was not her chosen career, she explains; "My dream was to study sport's car design, I applied to a very famous school in California, the Art Center School of Design in Pasadena. But there was a problem with my visa and it was rejected to the US. So, I decided to shift my direction to London, and I went to Central Saint Martin's to study jewellery design for my masters followed by gemology in Gubelin in Switzerland." Car design's loss was ultimately jewellery's gain but Feng's artistic and creative background is more varied still: her great-grandfather was a court painter during the Qing Dynasty and her first degree was in furniture and production design at China Academy of Art, with Wang Shu, China's only Pritzker Architecture Prize winner as her tutor. These seemingly disparate threads come together in Feng's unique design language which she describes as 'painting with gemstones' and in her creating a setting technique to realise her complex designs.
Proudly Chinese and seemingly strongly influenced by her classical jewellery education, Feng who is originally from Hangzhou, felt it essential that her atelier in Shanghai act as the physical headquarters for the brand. Tsui interjects with a laugh that "Shanghai's nickname is the Paris of the Orient." But when explaining her choice of location Feng adds "Yes, Shanghai is very Parisian. And the atelier is in the city's French Concession which is very interesting as it echoes our Paris location. But it's larger. The building is five floors and we put a lot of paintings, sculpture and installations in this house showcasing the best of Chinese artistic creativity and pieces bought on my travels too. We also have the atelier the studio and some of the production." Whilst the global luxury epicentre has tilted east with many Western brands openly acknowledging that sales from Asia are the lifeblood from which they survive, Feng's decision to make her Shanghai location such a powerful destination place in and of itself is indicative of an agenda that seeks to expand the spaces and places we expect luxury to emanate from. Presenting her nation's cultural and artistic excellence is not only "a little dream within my career I am happy to share" but also "very meaningful as we are a brand from mainland China that wants to stand on the global high jewellery stage."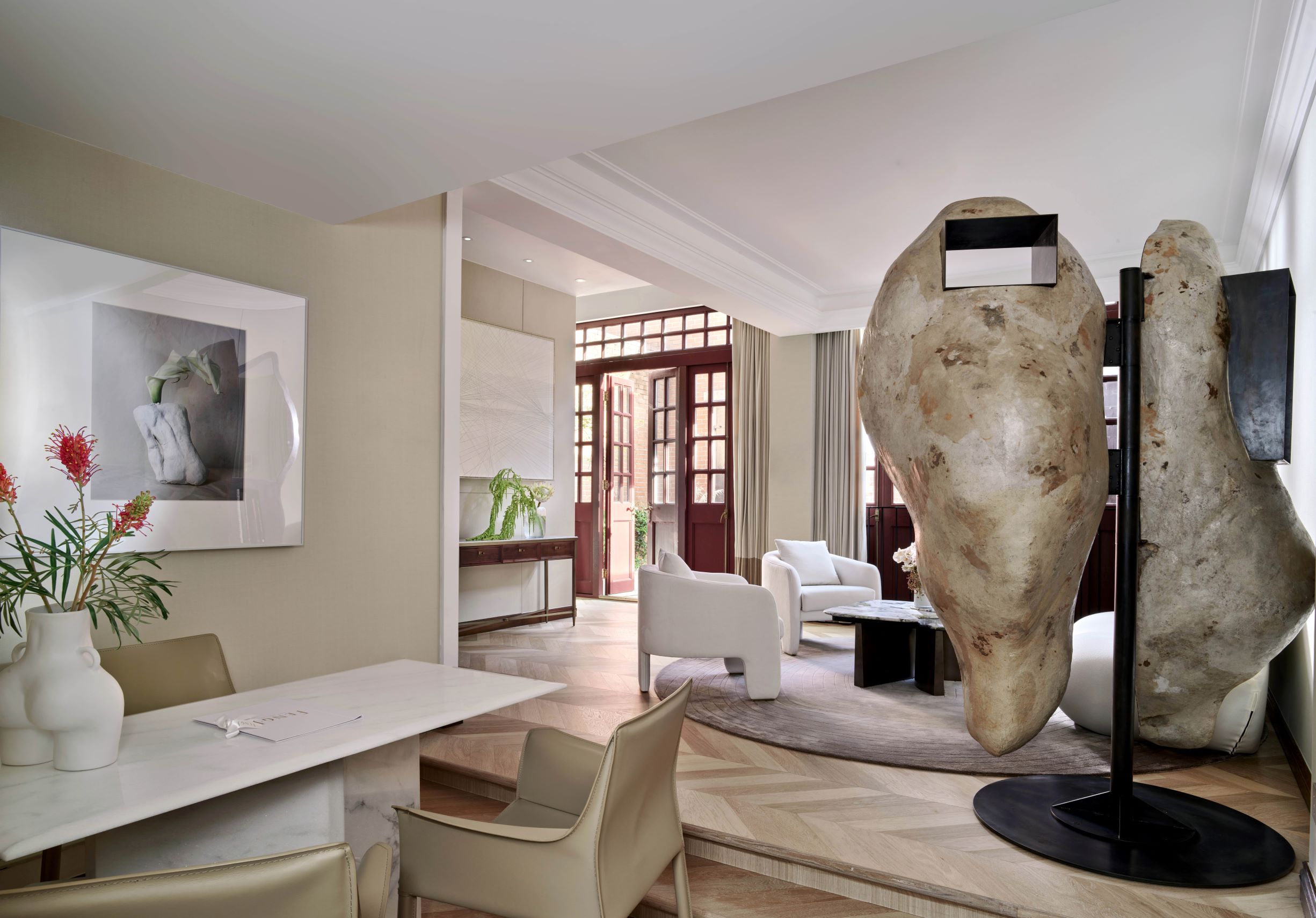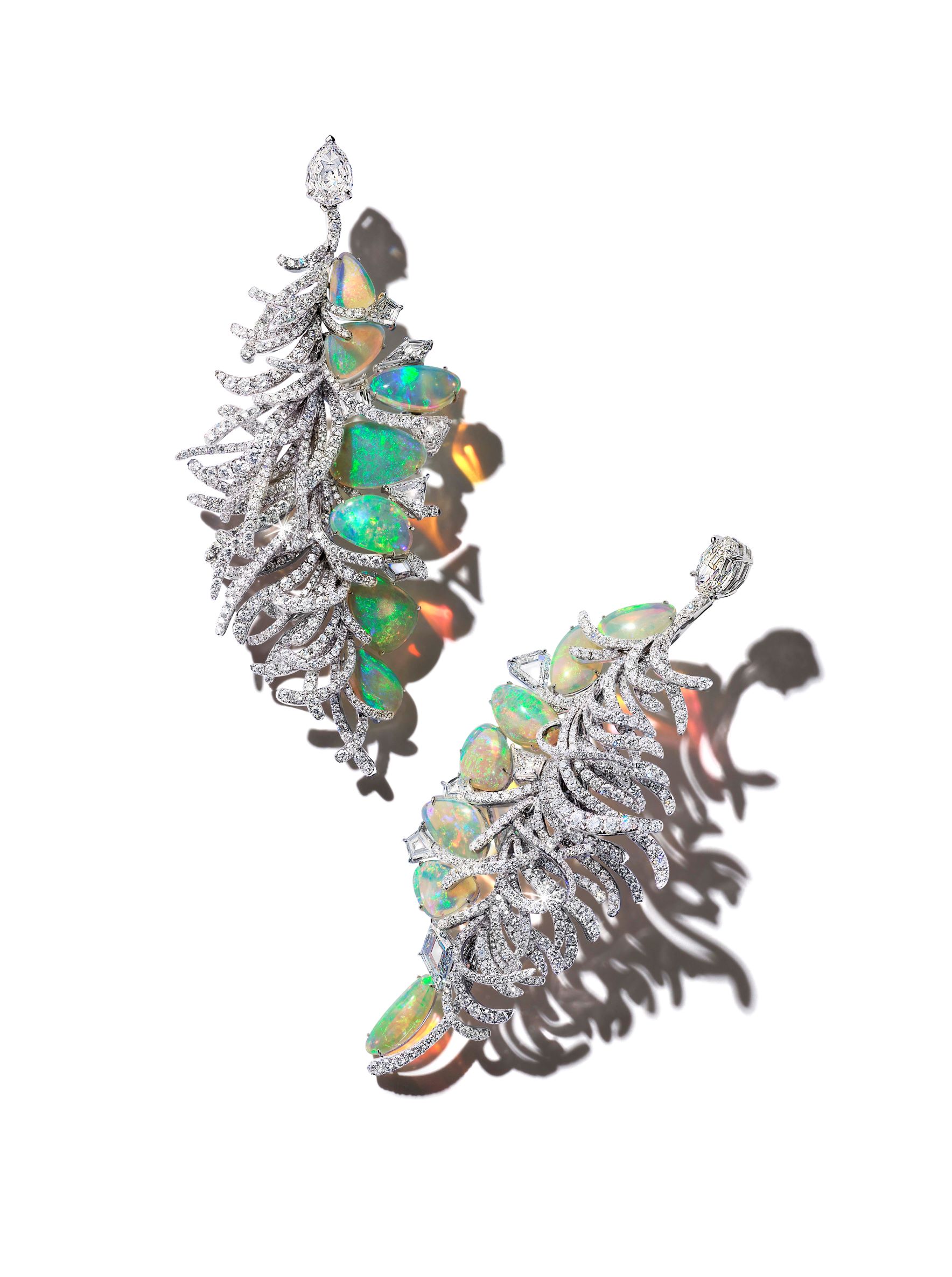 Feng's rise has been extraordinarily swift and she is quick to note that she has not felt a victim of Sinophobia. At this point Tsui adds that from a business perspective "being Chinese now is not her big problem." Furthermore, local and international press have embraced her work. "The Financial Times and New York Times, they all wrote features" Tsui adds. For her part Feng notes that her clientele is drawn from jewellery lovers and collectors globally. "Some are from New York some from Palm Beach and some from the Middle East and of course I have a lot of clients from mainland China and Hong Kong." What is significant for Feng is their shared intent: "My clients buy my pieces in a way that art collectors do." Positioning herself as a jewellery artist has been a boon. In bypassing the segments where jewellery is created with a more overt commercial aim, and thus having to be adept to thematic shapeshifting to reflect current trends and cultural conversations, Feng can focus on the things that principally interest her – her craft and artistry. She has also inadvertently created a Feng J collector community: just as those who are particularly interested in a particular artistic movement might run into each other in the various global auction rooms, Feng whose work most recently was part of the Vivienne Becker curated Woman to Woman selling auction at Phillips Hong Kong, as well as in the inaugural Design Miami, Shanghai Show in November 2021, has become an inevitable part of the jewellery artist landscape.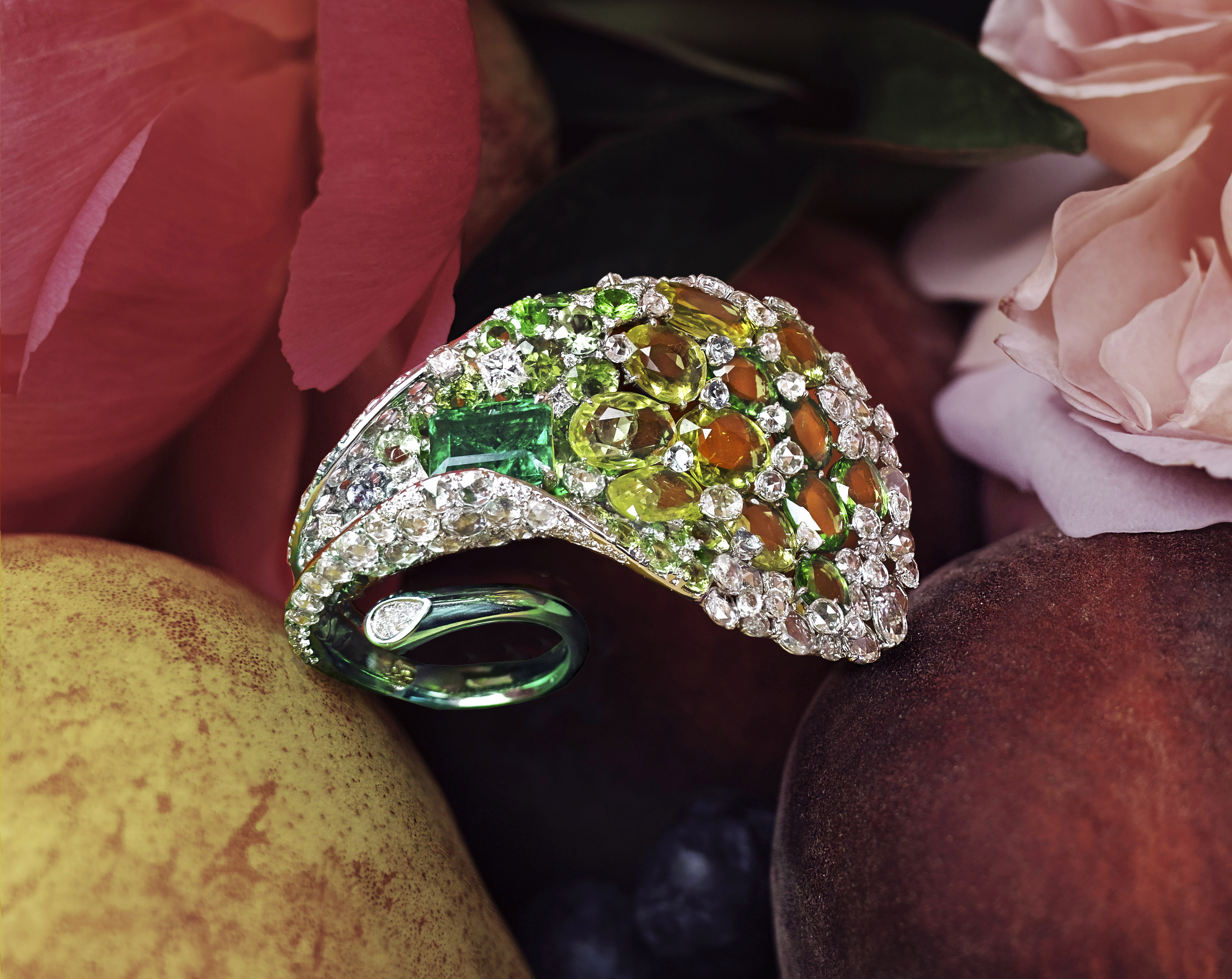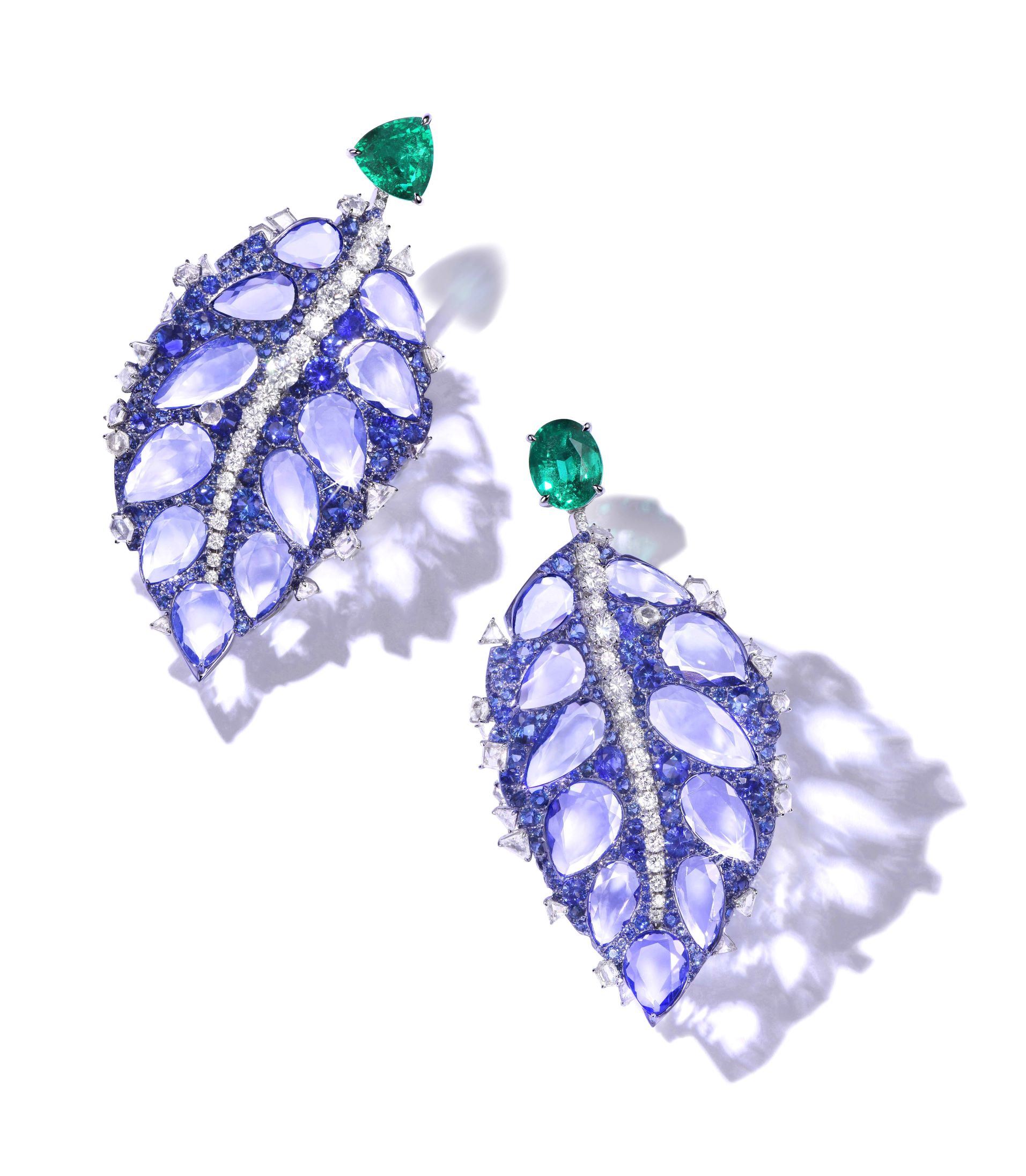 A Design Language Developed and Decoded
"From the very beginning I wasn't looking for clients I was looking to develop my way of design. So, I developed my own design style which I call painting with gemstones. I consider it my creation." In practical terms this meant also reimagining how the gemstones themselves were cut and set in order to realise her specific vision, something that brought her into radical thinking territory. She expands "The double rose cut is very special as it makes each piece of the gemstone very slim, it is only 1cm-1.2cm and the good thing is it can let the light come through." This is evocatively seen in pieces such as The Coloured Ginkgo Leaf Brooch, which have a translucent quality. As with any artist, certain motifs and techniques become synonymous with an jewellery-artist's work and Feng herself raises this. "When you mention Wallace Chan the first thing you think of is his carving of the gemstones and also the use of titanium. And when you mention Cindy Chao you will think of the architectural style, with me I've loved the grey colours of gemstones [and] been drawn to the idea of tonality." Feng is a huge admirer of the Italian painter Giorgio Morandi and sees similarities in his techniques and her own, adding "In Morandi's paintings there are a lot of grey colours, but every grey colour has different hues. It is very subtle and very sensitive with me; I use the gemstones to make a coloured tone for the piece." At this point Tsui notes with a wry chuckle "Everyone was like what the fuck? Are you crazy? Because normally in jewellery you are thinking the bigger, the more vivid a colour, the more bright the more flashing is better. Because you can sell at a very high price." But Feng was resolute in her direction adding: "Yes, it's crazy and it's disruptive. But when we cut this thin, you can have a lot of patterns and colours, it is like a woman's lipstick counter." She also cites the American modern master Georgia O'Keefe, who was also not afraid of large scale paintings of flowers which had a saturation of similar hues.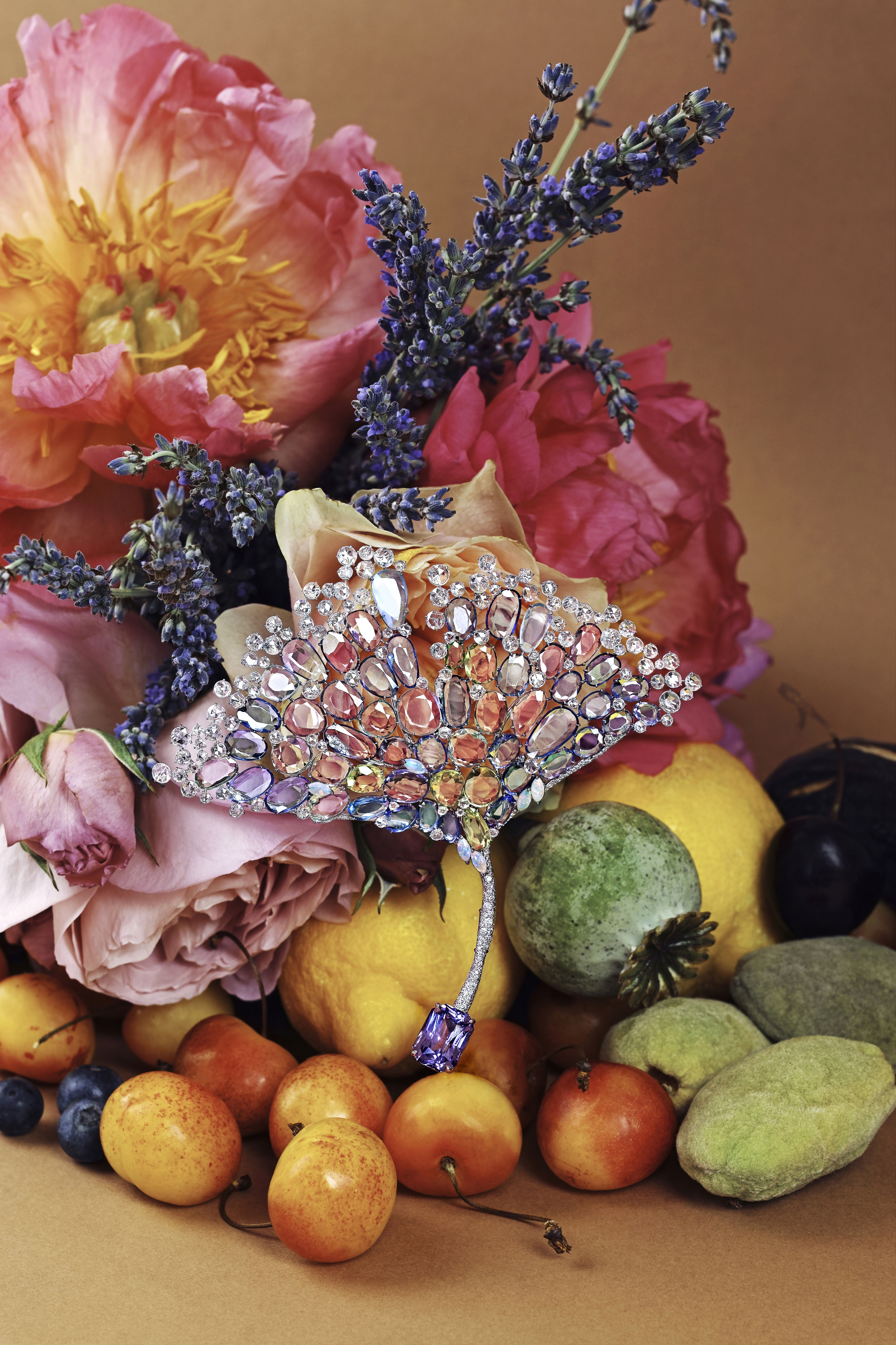 Her most famous piece to date is the Jardin De Giverny Necklace, which in the true tradition of the highest of jewellery is multifunctional and can be worn as a bracelet and ring too. The centrepiece is a 19kt fancy pink diamond but the piece as a whole acts as a vivid exposition of Feng's design language. Whilst in Paris, Feng visited the famed garden immortalized in Monet's paintings and was struck by the natural beauty, and like Monet, how the light at different times of the day deeply affected the garden's appearance. "I visited the garden in the noon time with the sun was just raised in the centre of the sky and the light was very strong and that scene left a very strong impression on me. So when I first saw the pink diamond, its lightness felt like sunshine in the middle of the sky, it is almost white, and I recalled my trip to the Jardin de Giverny [and] the rest of the necklace is the botanic, the plants in the garden." To achieve this Feng used an assortment of gemstones: coloured sapphires, garnets, spinels, tsavorites, tanzanites, and aquamarines dance along the collar to enhance rather than detract from the sun in all its fulsome gemstone splendour. On completing the piece, Feng herself states "I felt like I had just finished a conversation with Monet. The time difference might be more than 100 years, talk less the geography distance, but I wanted to create a piece of jewellery that was an homage to impressionist painting and to create a removable garden for people's necks." The piece sold at Phillips auction for HKD 20,215,000 ($2,594,627) and made Feng the first mainland China designer and the youngest to achieve a multi-million dollar sale, but for her it was never about the price achieved but rather achieving her artistic vision.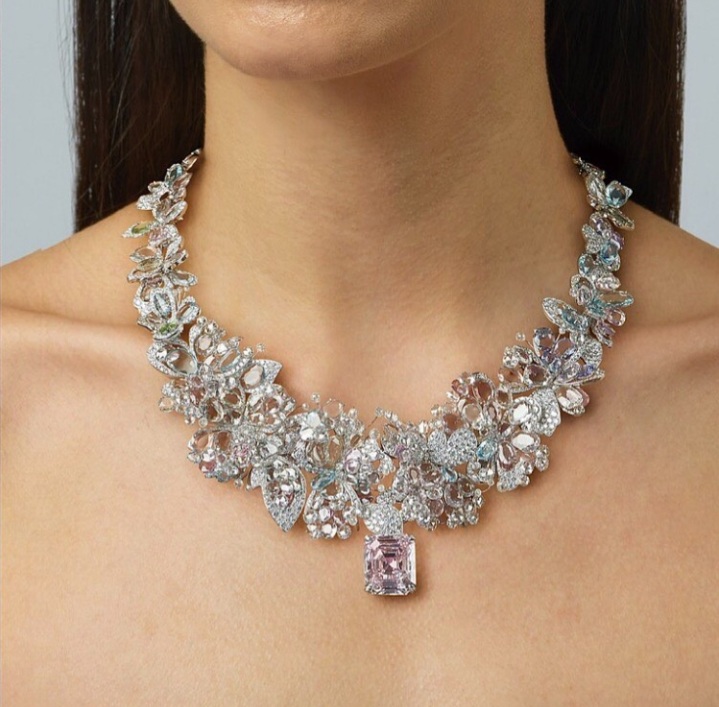 The piece also featured one of Feng's other hallmark techniques; floating setting. "I was thinking of a way to liberate the gemstones from the metal…[because] if you put it on a metal base the metal will block and black out the light." To solve this quandary, which was only half solved by slicing the stones extra thin she developed an almost invisible setting technique, she elaborates "With every piece I use a tiny prong and the tiniest loop to support the structure so you need to be very accurate about the strength. If you do it the normal way you will cast the metal base but with each piece floating you need to consider the physical curve and distortion. With double rose cut stones the shape is very organic you cannot control the shape..it is almost like gambling." The end result are pieces with curvature and character as well as notably lighter and thus easier to wear. This final factor is especially important to Feng who at 37 often thinks of making pieces that will connect with younger collectors and are uncomplicated in the wearing, and it was a central thesis to the pieces she presented at Design Miami Shanghai which included the much photographed and talked about Vie En Rose bangle. "Jewellery is not about things in your grandmother's safe…it is about mix and match, wear your high jewellery with your sneaker." However, insouciant approach to how her pieces are worn aside, Feng remains very much inspired by nature, with flowers and the natural world being a theme she returns to frequently, and her travels, especially prior to the Pandemic giving her ample opportunity to sketch, observe light and movement, which in turn are reflected in the finished pieces and the names she gives them.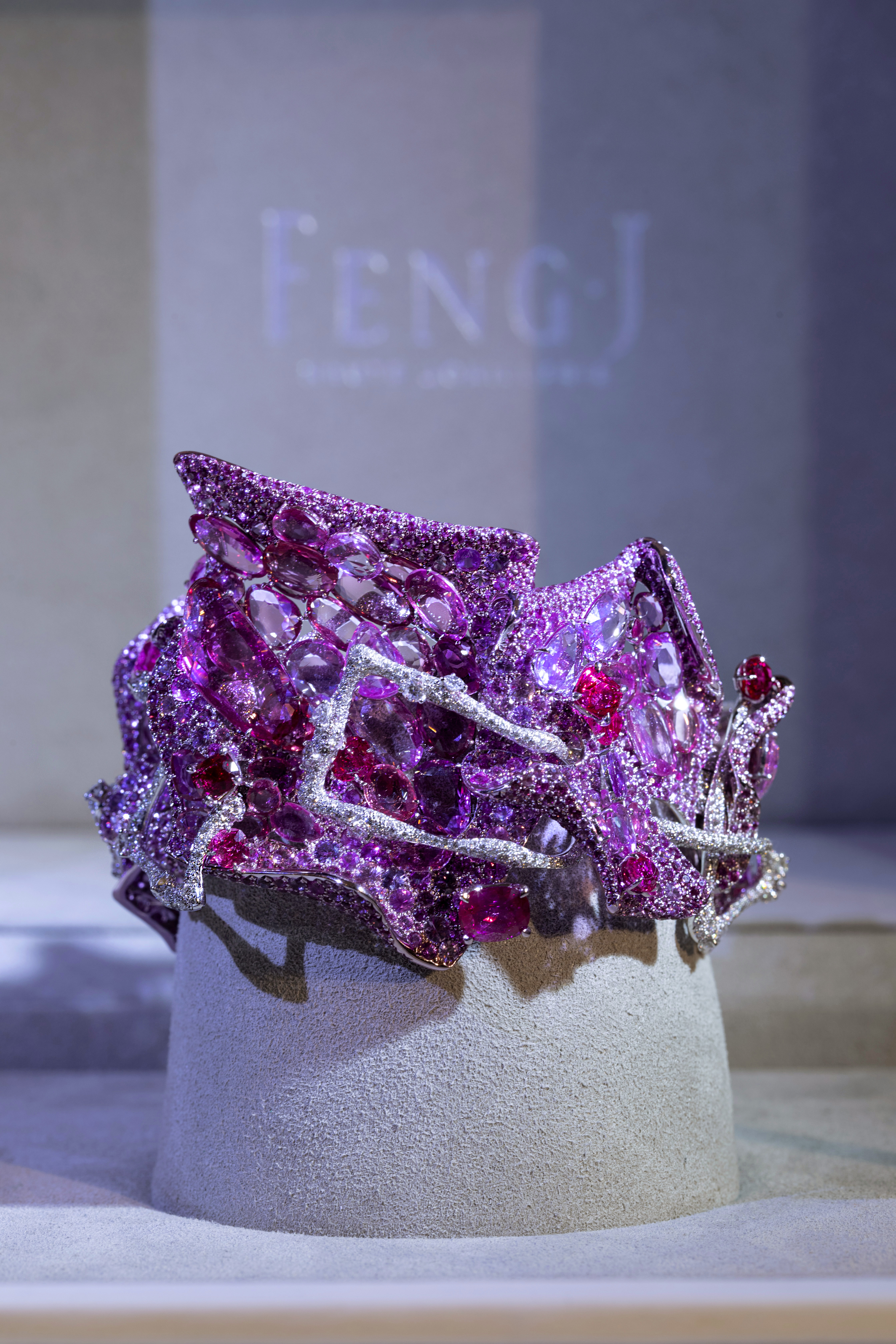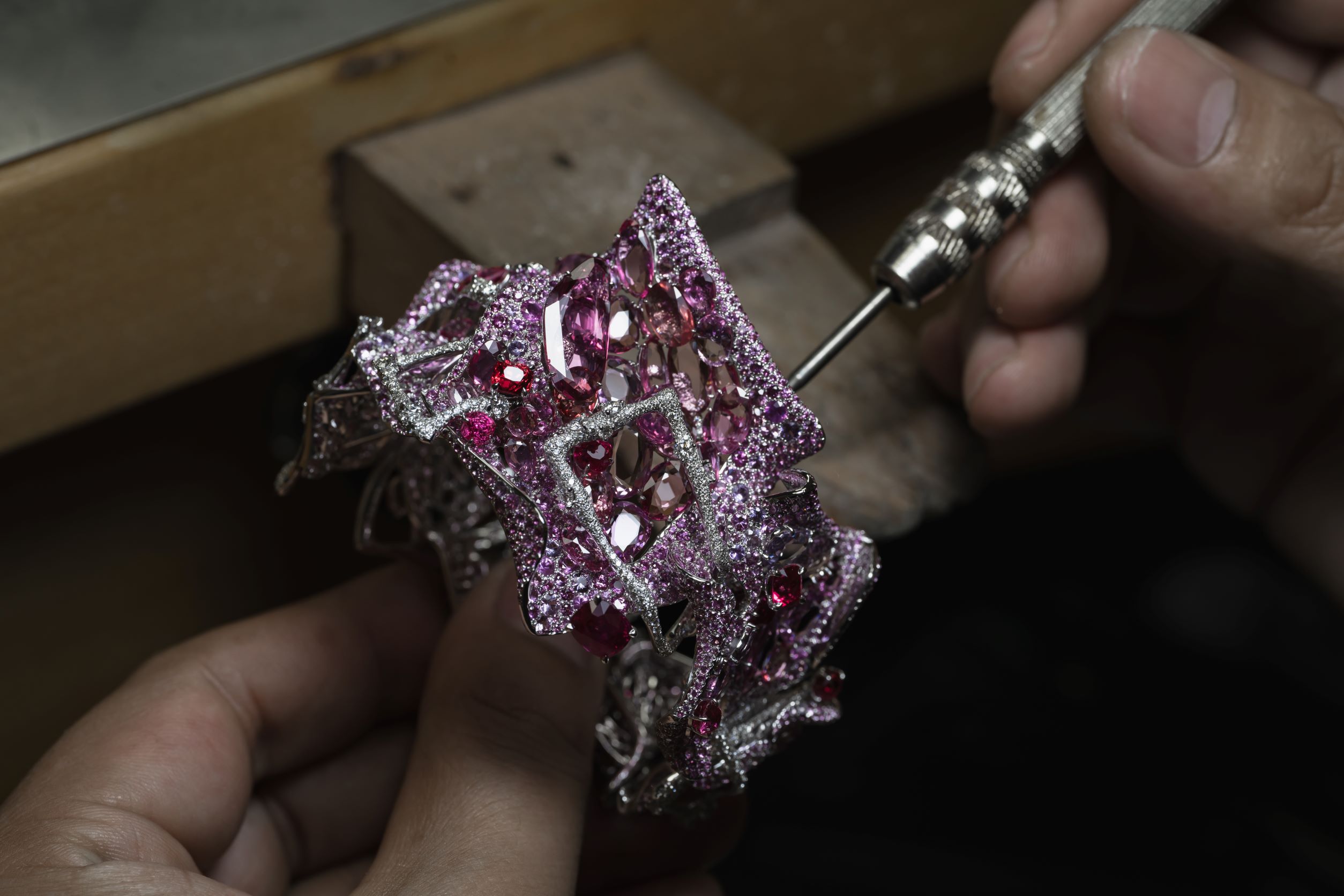 Although her work points to an innate inquisitiveness, notions and the reimagining of tradition are ever present, most notably in her pieces using Chinese Lacquer, a technique that she has brought boldly into the 21st century. "The Coeur Rouge bangle that Rihanna wears is painted lacquer on silver… it is a very interesting material, very organic as it is from tree sap and of course first used in China. I chose to use it and combine it with European gemstones because I wanted to do something that was east-meets-west." To get the finished effect, takes time and patience, "at the very beginning the colour from the lacquer is black and it is only after weeks that it changes to crimson, then to red and bright red. I guess the look also fulfills my dreams of sportscar design" she says. But jest aside Feng is always setting an internal marker between herself and her peers, adding "I always like to do innovations for high jewellery, and this also makes me different." Not resting on her laurels is something of a theme throughout our conversation, it as if Feng sees her work as being one part custodian and propagator of her home culture and the other part modernizer in terms of methodology, usage and appreciation.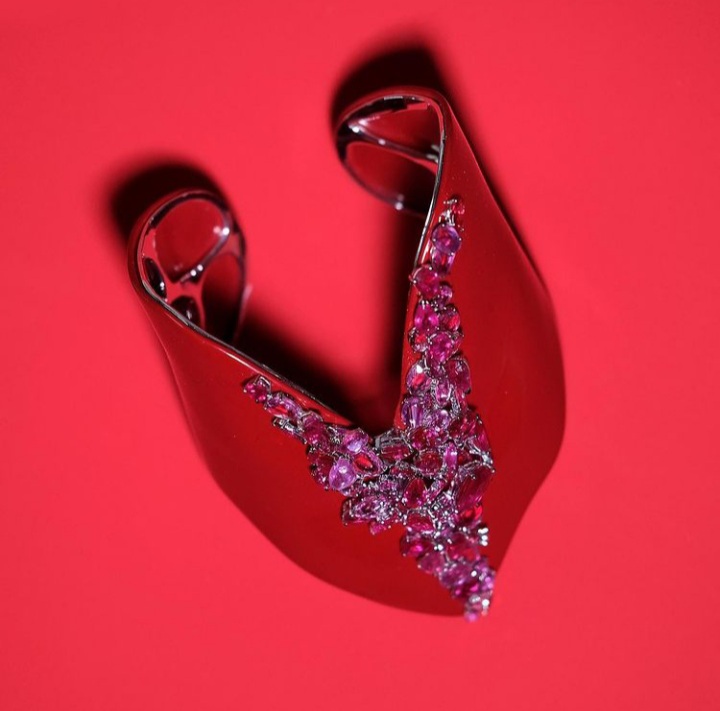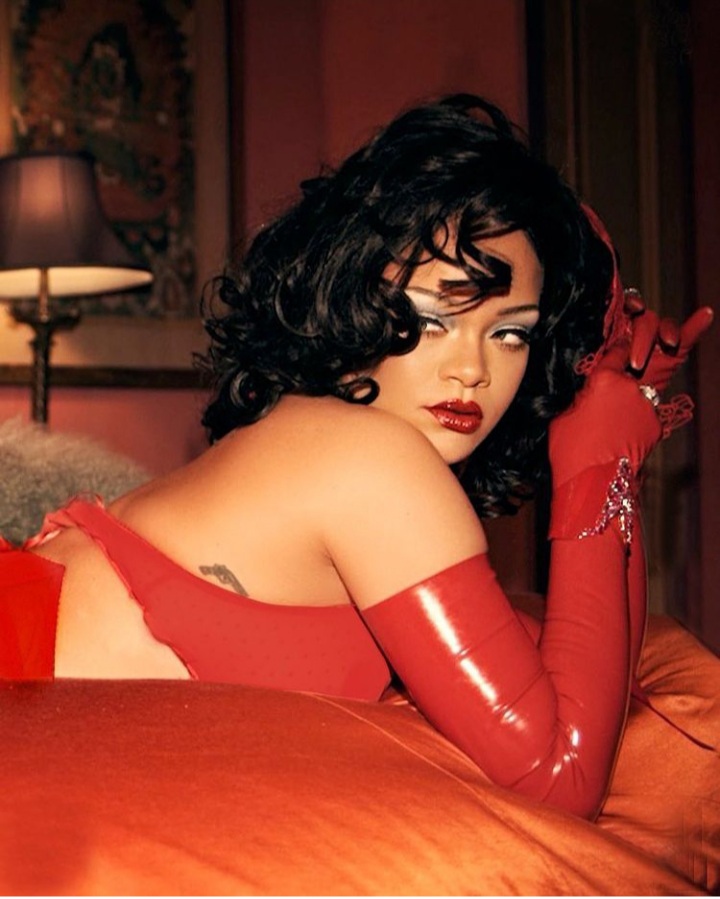 High Jewellery and the Next Gen
From the outset, Feng's pieces have had as many younger collectors as older ones, in spite of a continued perception that high jewellery for the most part is an older client's game. "Younger collectors' tastes are more open. Older people will love a big stone from somewhere like Graff or Harry Winston, but the young rich love contemporary art and are more experimental…they have a wider world-view so they want something different, something unique." Feng for her part aims to offer this in her pieces, that even when using the most opulent gemstones possess a lightness of touch. "Sometimes jewellers make with a loud voice but my pieces are not in that loud voice…I want my jewellery to give the wearer a spiritual power…it is nothing to do with any religion but I feel my pieces have a very subtle power." It is a rubric that seems to have proven successful with celebrity clients such as Rihanna, Kylie Jenner and Victoria Song of K-Pop sensation f(x) among the many high jewellery enthusiasts who consistently seek her out.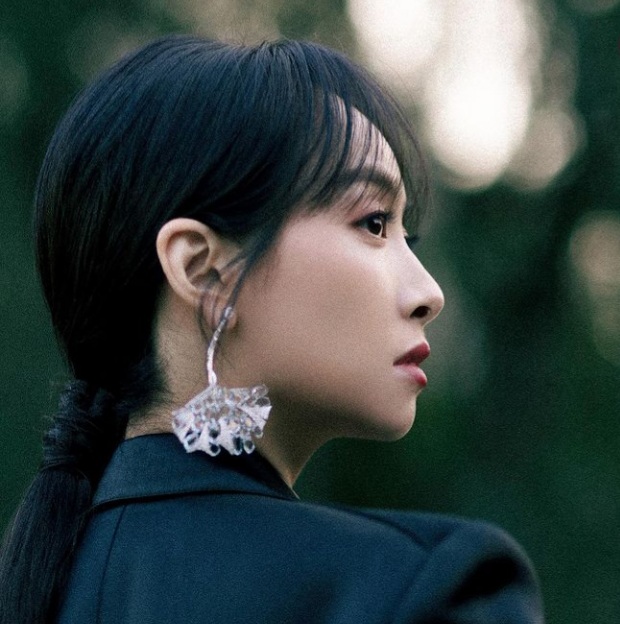 However, future=proofing her business aside with Gen Y and Z buy-in, what is perhaps the most compelling reason for Feng's speedy ascent since she founded her eponymous house five years ago is a commitment to her own aesthetic. Realising early that techniques and craft could be a potent part of the emotive storytelling that we have all become accustomed to seeing and hearing about in regards to high jewellery collections, she also actively chose to celebrate the interconnectedness of her lived experience and those of her potential collectors and ultimately wearers. China's past and future, France's artistic and jewellery heritage, the wonders of nature to be found in every corner of the globe and forces eliciting a kinetic energy are all part of the discourse. In turn they are observed, internally processed and a beautiful distillation is manifested in her collections. As the conversation ends one cannot help but concede that Feng may indeed be right; who needs loud when almost everything one feels hopes for and desires can be expressed in a double-rose cut painterly whisper?