The final day of Arise Fashion Week felt like the end of a three-day fashion extravaganza with the venue full early. No Naomi today, but supermodel presence was represented with Oluchi and Ogy Okpe who walked for a number of designers and the FROW was a cross section of fashion industry stalwarts, socialites, captains of industry and notable figures in Nigerian and African media. It was this potpourri approach to the guest-list that had resulted in the celebratory energy of the week overall, yes, these people liked fashion, but it was not their business per se, thus entertainment and enjoyment was as much an essential part of the evening as being shocked and awed by the ensembles on the runway.
Moofa's collection was the first to capture the imagination of both the chilled and more fashion obsessed. Fashola Olayinka is self-trained but her eye for detail belies this. Stylistic ticks such as covering shoes with black tights elongated the models legs and brought focus to the pieces themselves which were print-tacular but sensibly in oh-so-commercial silhouettes. This season the Moofa woman is an African gypsy who has been seduced by tales of the Orient. Maxi dresses and coats were created with a clarity of vision that made it very easy to envision them not only on the shop floor but in many women of all ages closets. Clever, concise and critically commercial, something that many designers wishing to branch out beyond the African continent would be wise to emulate.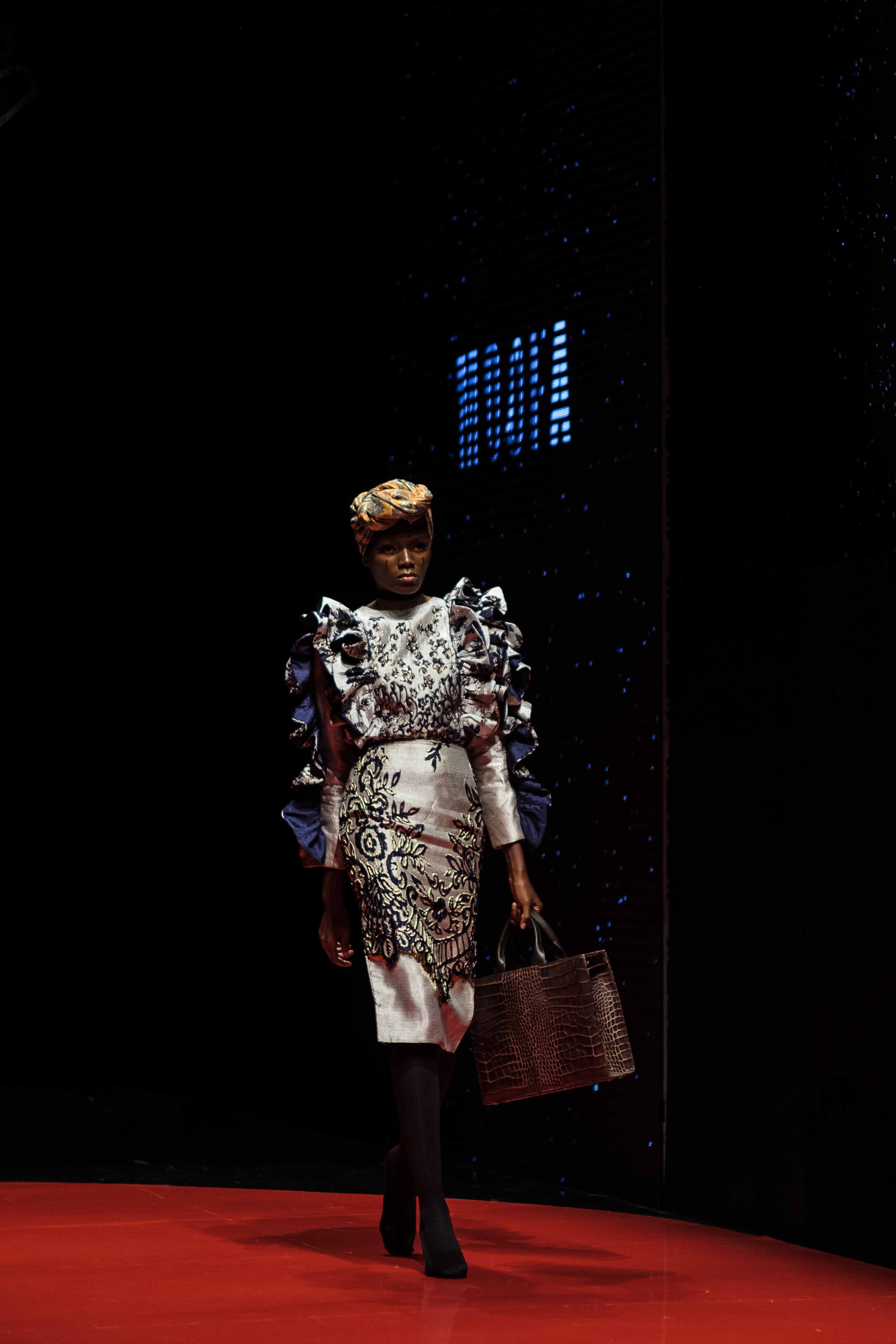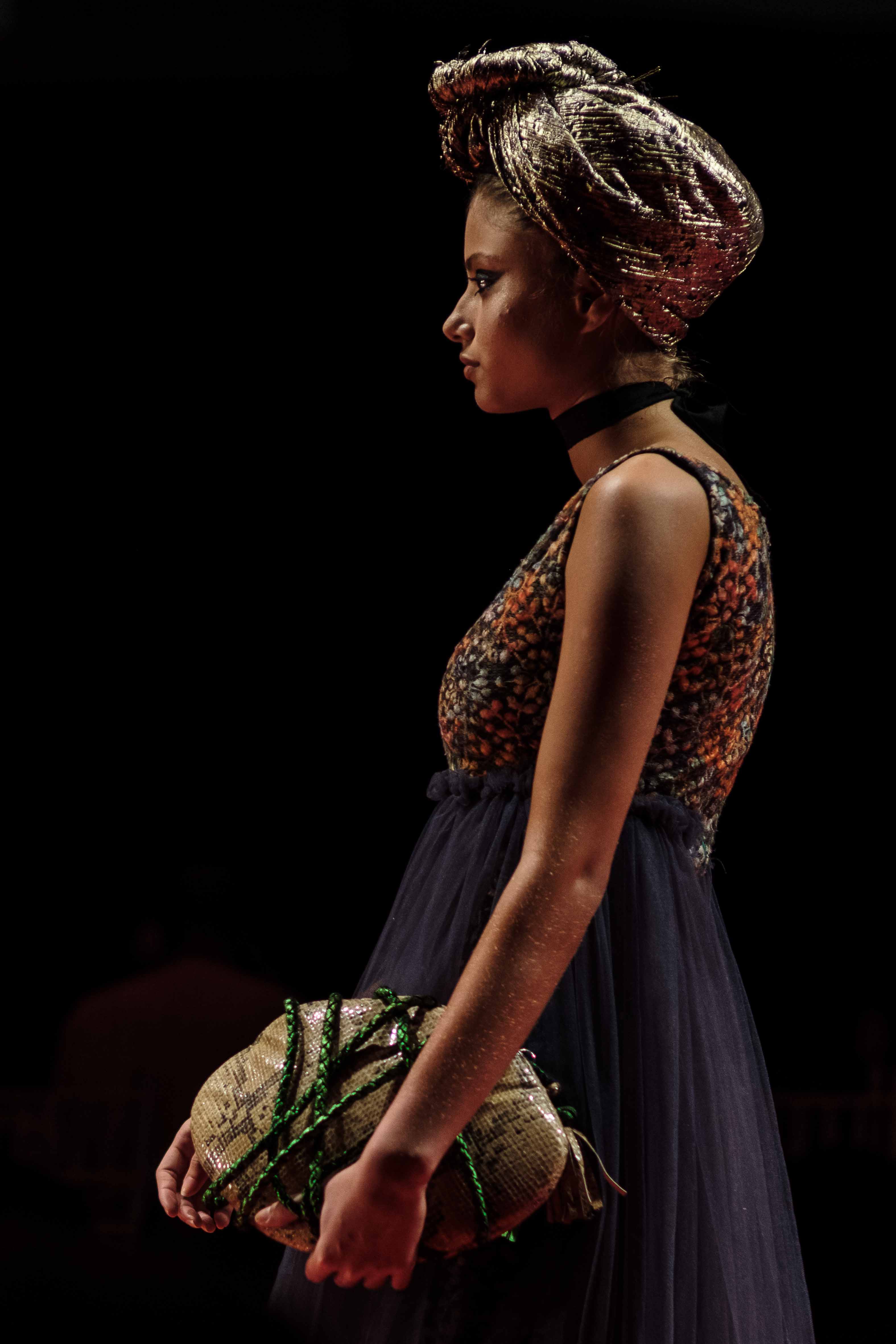 Ré, Sunny Rose and Gozel Green all expanded on themes they had explored in collections presented at Lagos Fashion Week. This is not to say the collections in and of themselves felt re-hashed, if anything an increase of pieces shown allowed for theses to be fully be, exactly as the designer  and this was particularly evident at Ré where the Japanese Geisha influences were made apparent in the introduction of obi style belts white ankle socks and black sandals on the models' feet.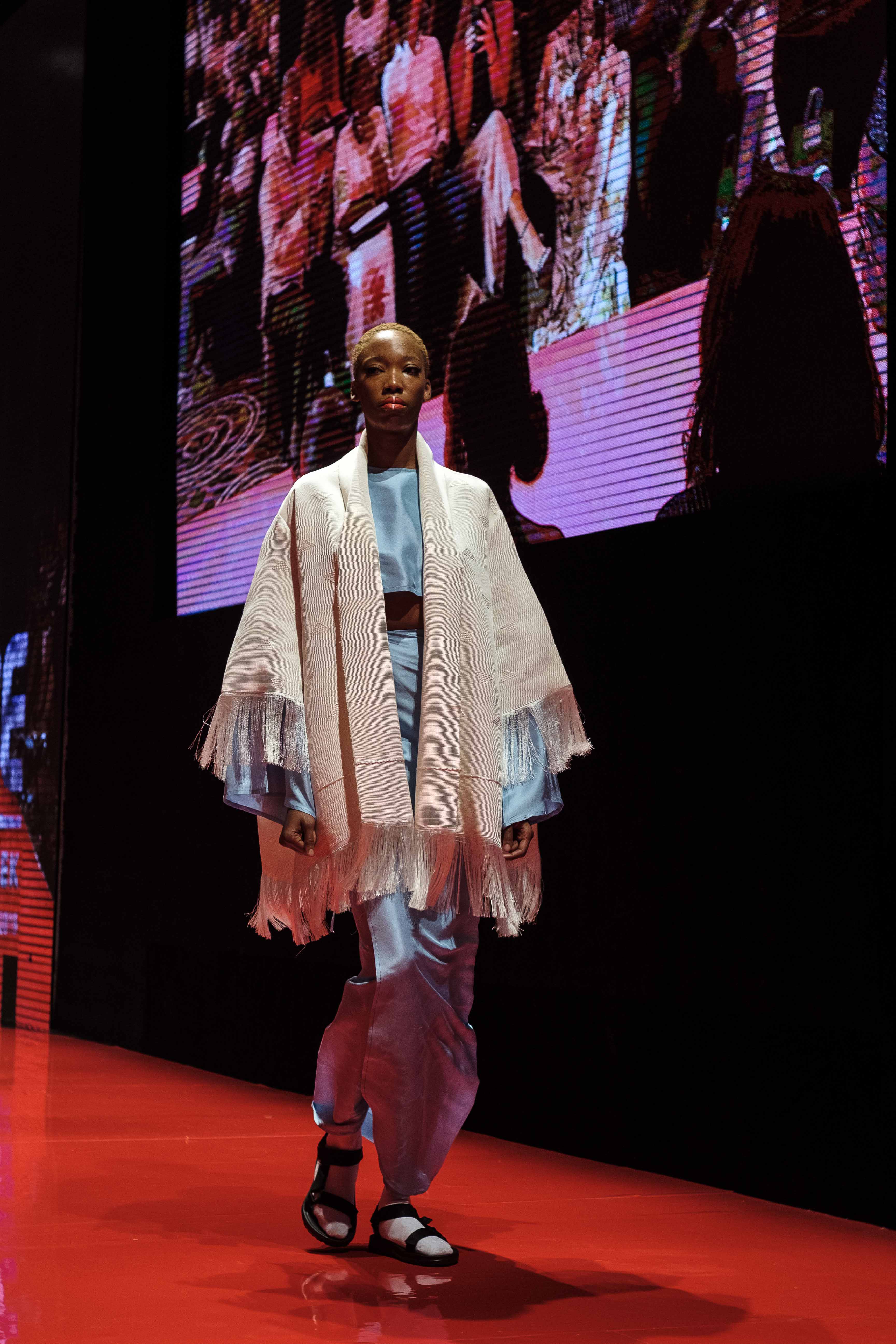 For Sunny Rose, rich-girl-chic was still the order of the day but with a monochrome palate of aso'oke and ankara in many pieces, and  added flourishes of tulle for those who require it.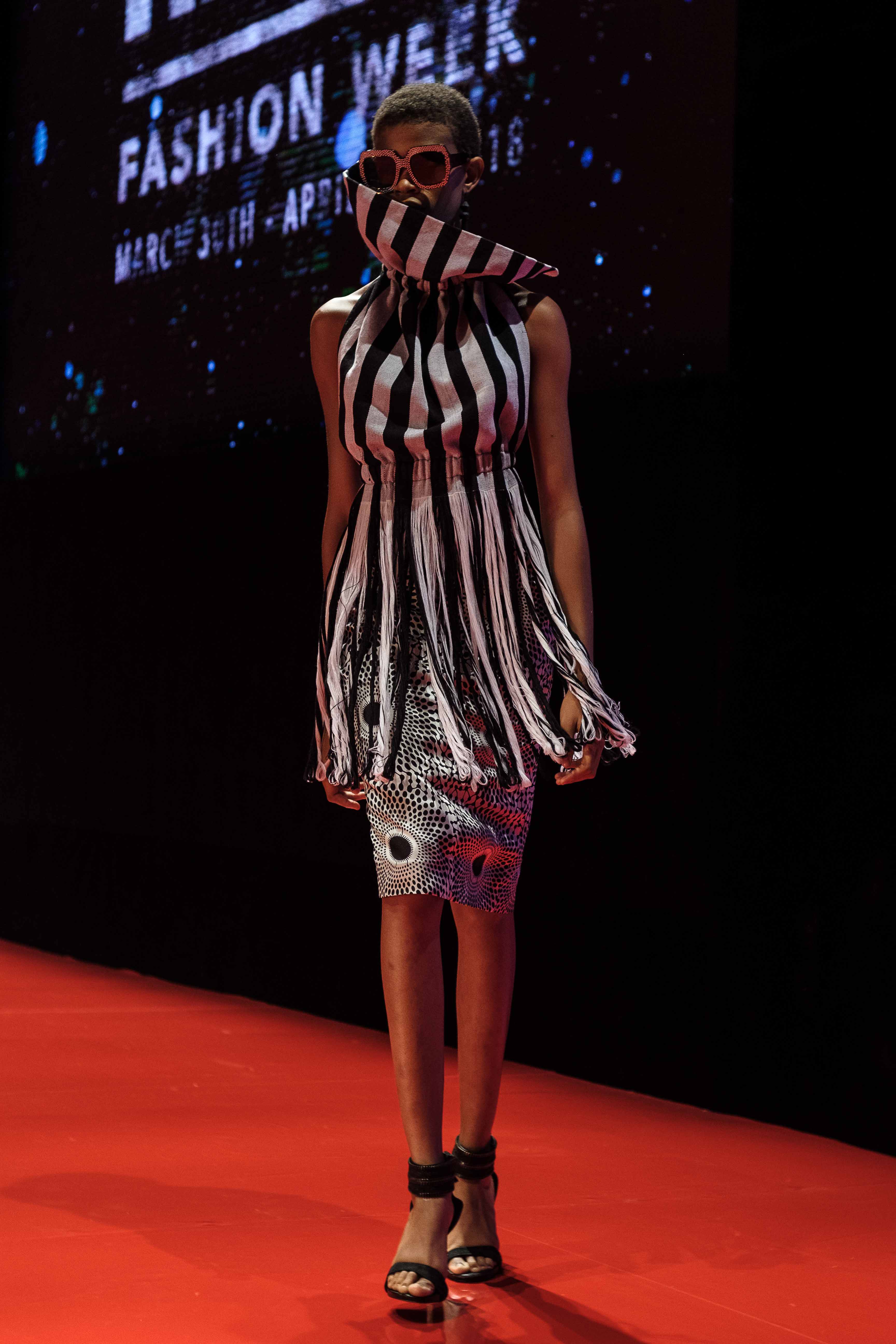 Gozel Green remained wedded in a good way, to the ath-leisure motifs, panelling, and contrasting palettes that have become something of a taste talisman for them.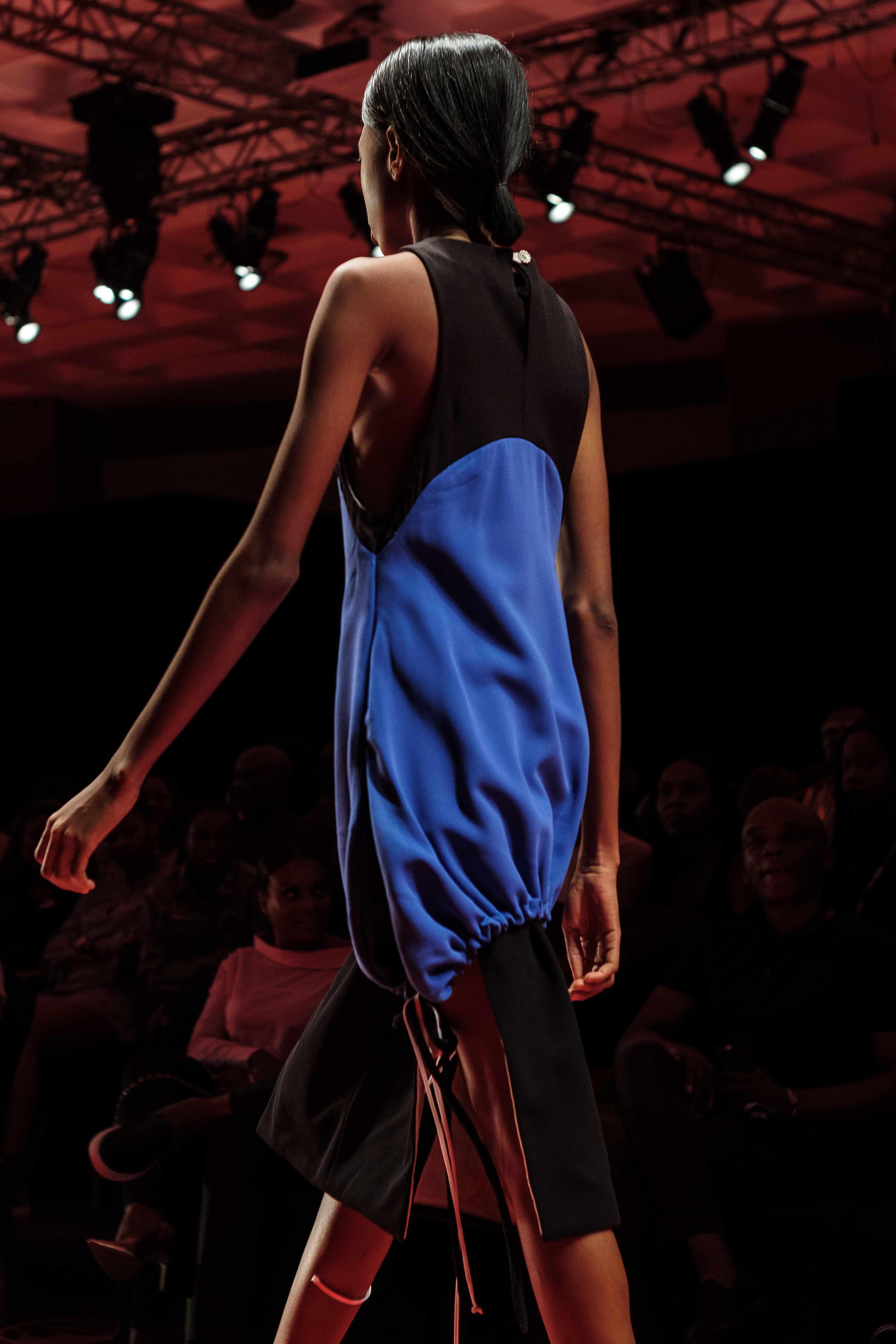 In contrast Maxivive's show felt more restrained than what was shown previously. Putting props and staging aside, the styling was sober with fewer women walking and the overt references to gender fluidity and the Drag Queen subculture muted to glitter and guy-liner for a less full-on fashion crowd. This didn't diminish the pieces presented, and as before there was still much to consider when one looked beyond the styling of the show itself, particularly pants, knits and suiting.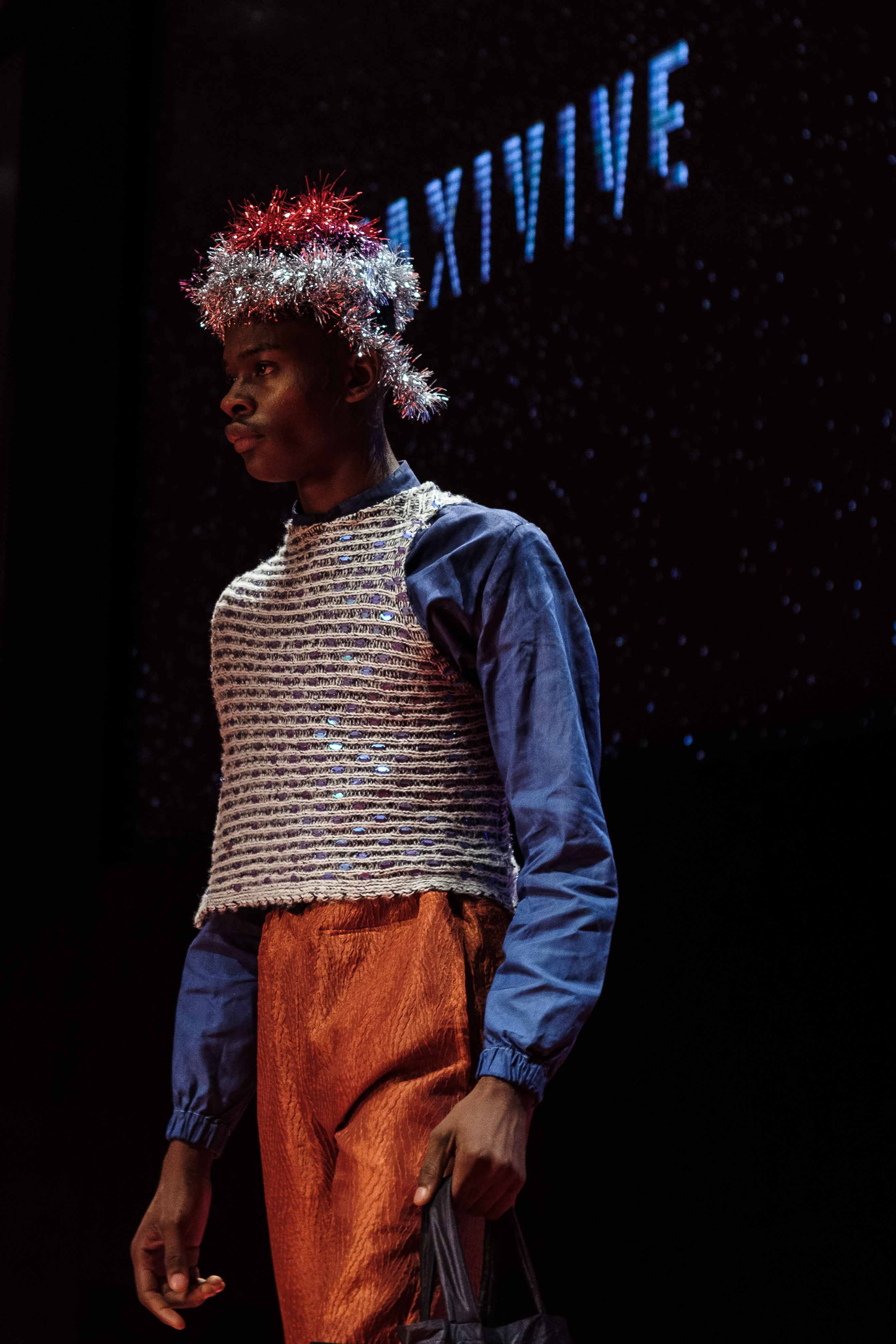 For South African brand MaXhosa by Laduma, the collection presented was a means to answer the question of where to take their knitwear trademark beyond the realms of twinsets and pencil skirts. Creative director Laduma Ngxokolo answered with the introduction of ostrich plumes on the hemlines thus creating a day to evening air. Also gorgeous and bound to be a future best-seller was a flared dress that was the definition of pretty. Laduma also experimented with silk prints with a sequence of silk jogging pants sitting somewhere between lounge and evening wear and floor length gowns. Super narrow denim was teamed with graphic t-shirts for men, wrapper skirts were also offered as an option and the signature sweaters continued to be every bit as beguiling as they were when Laduma first appeared on the scene.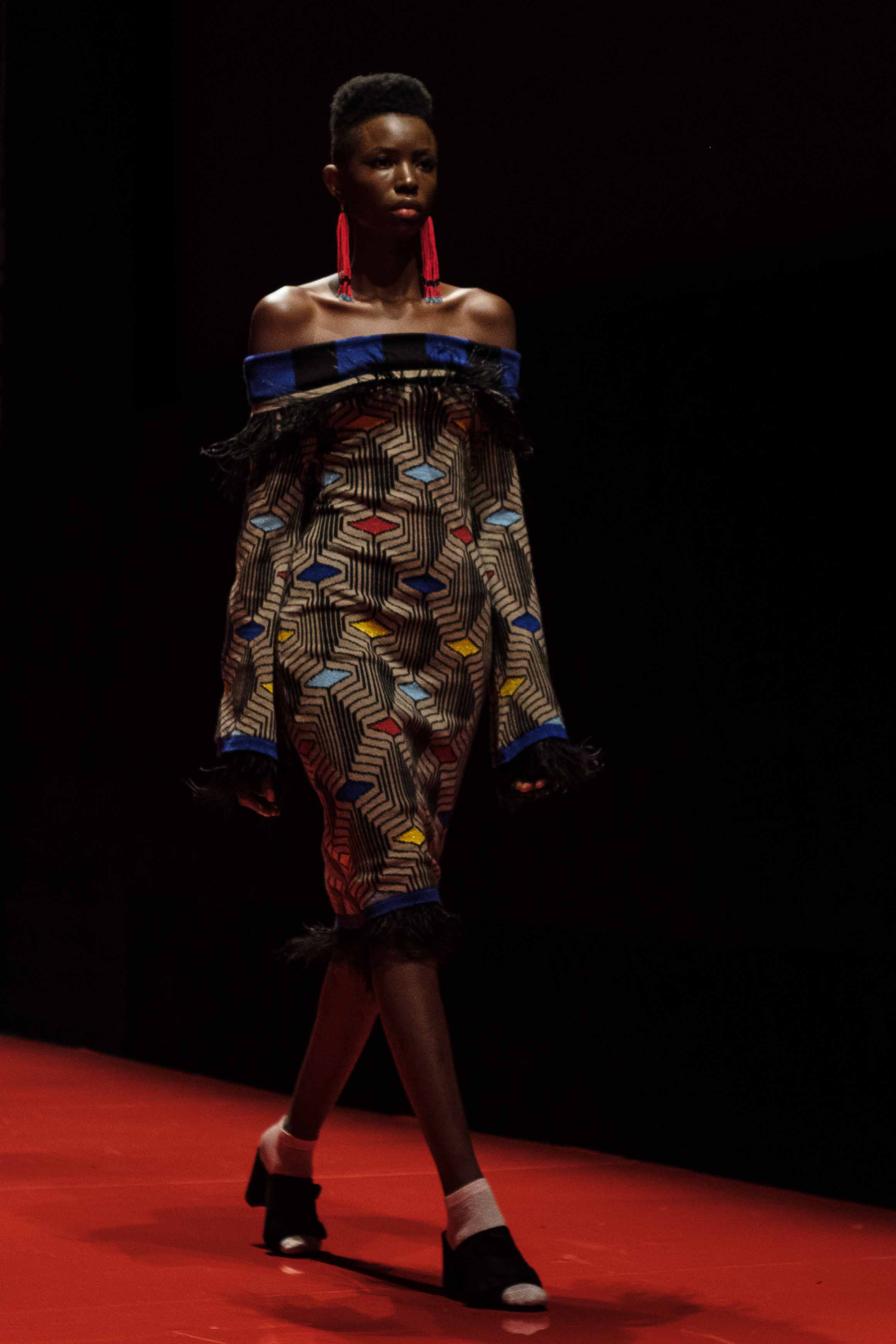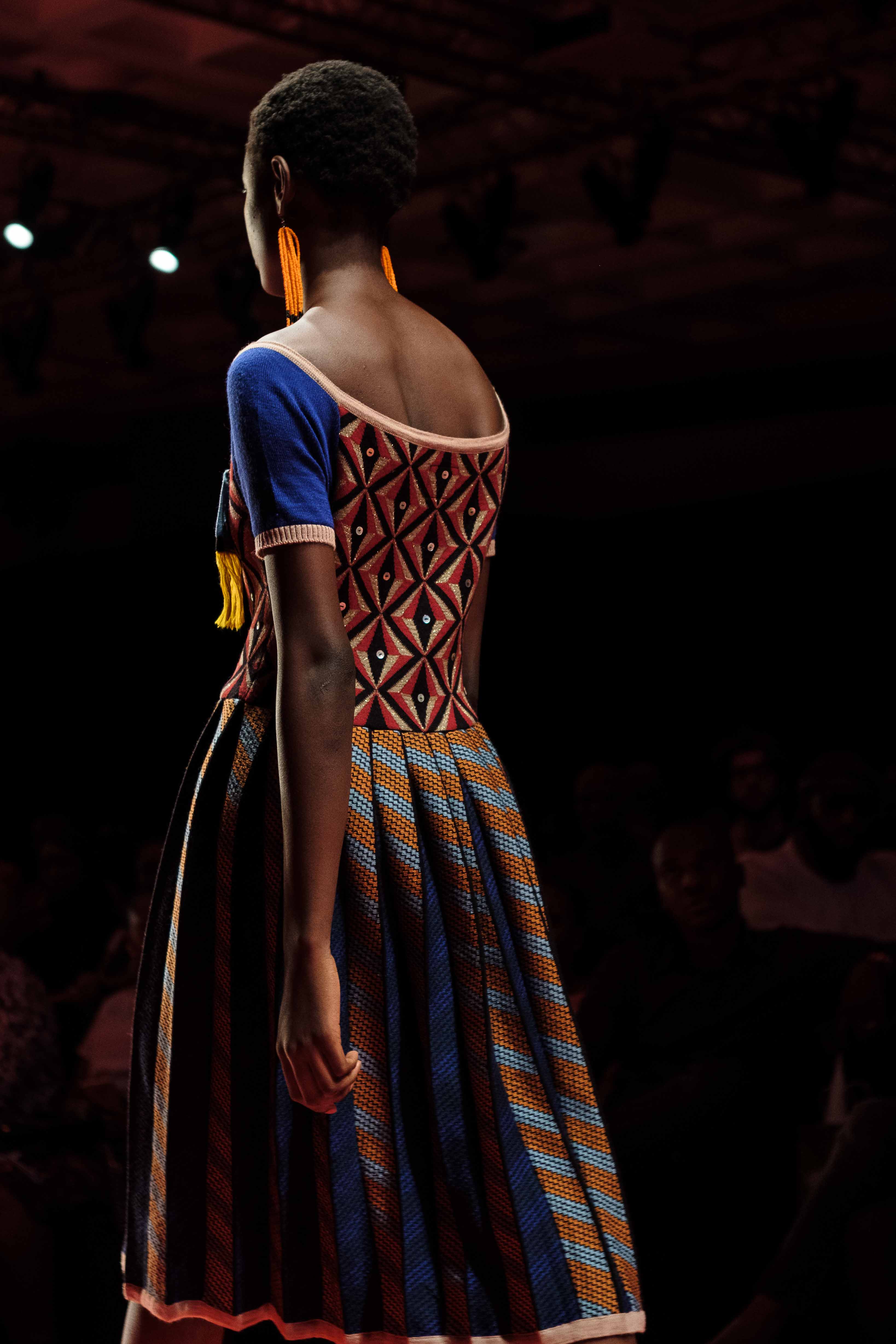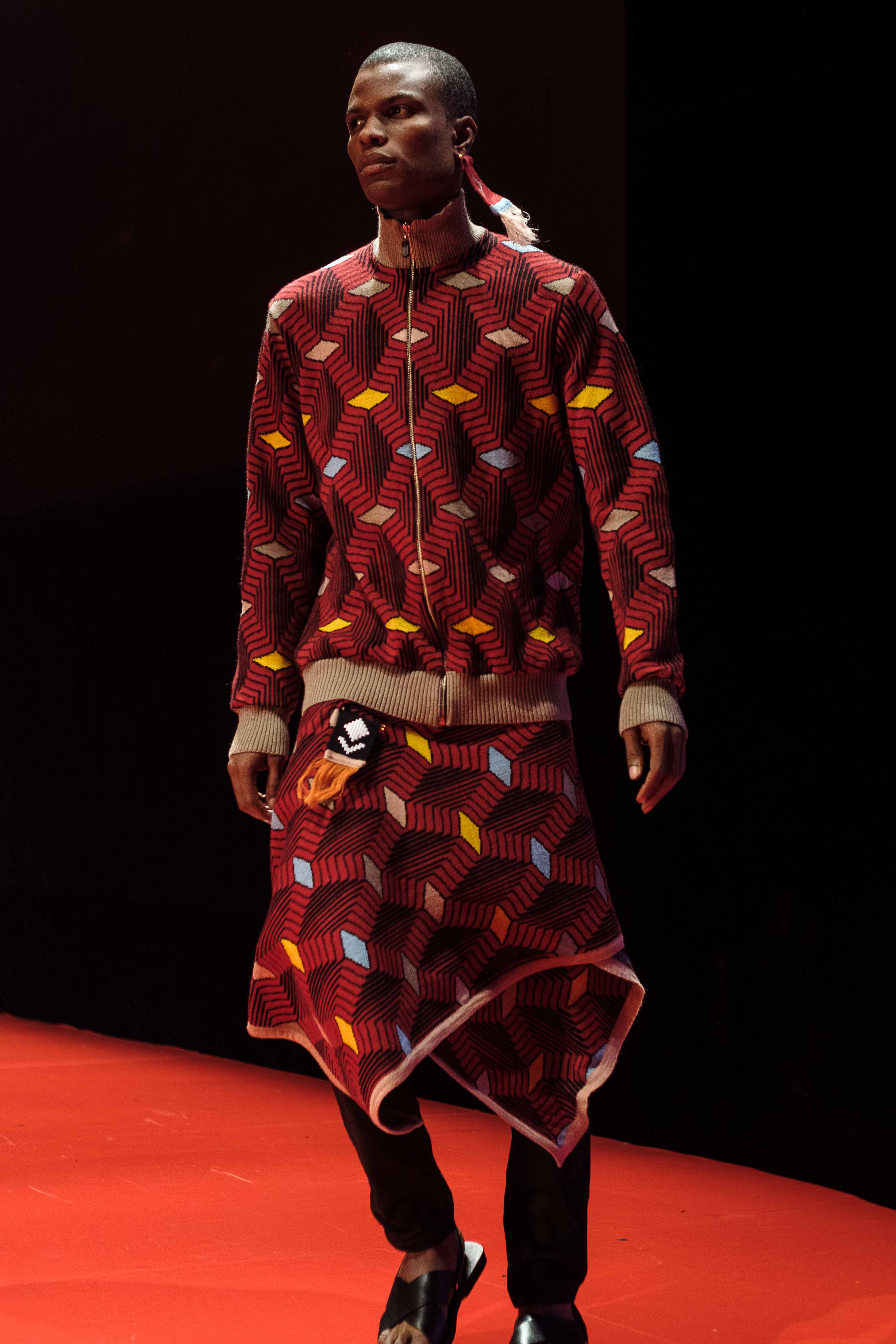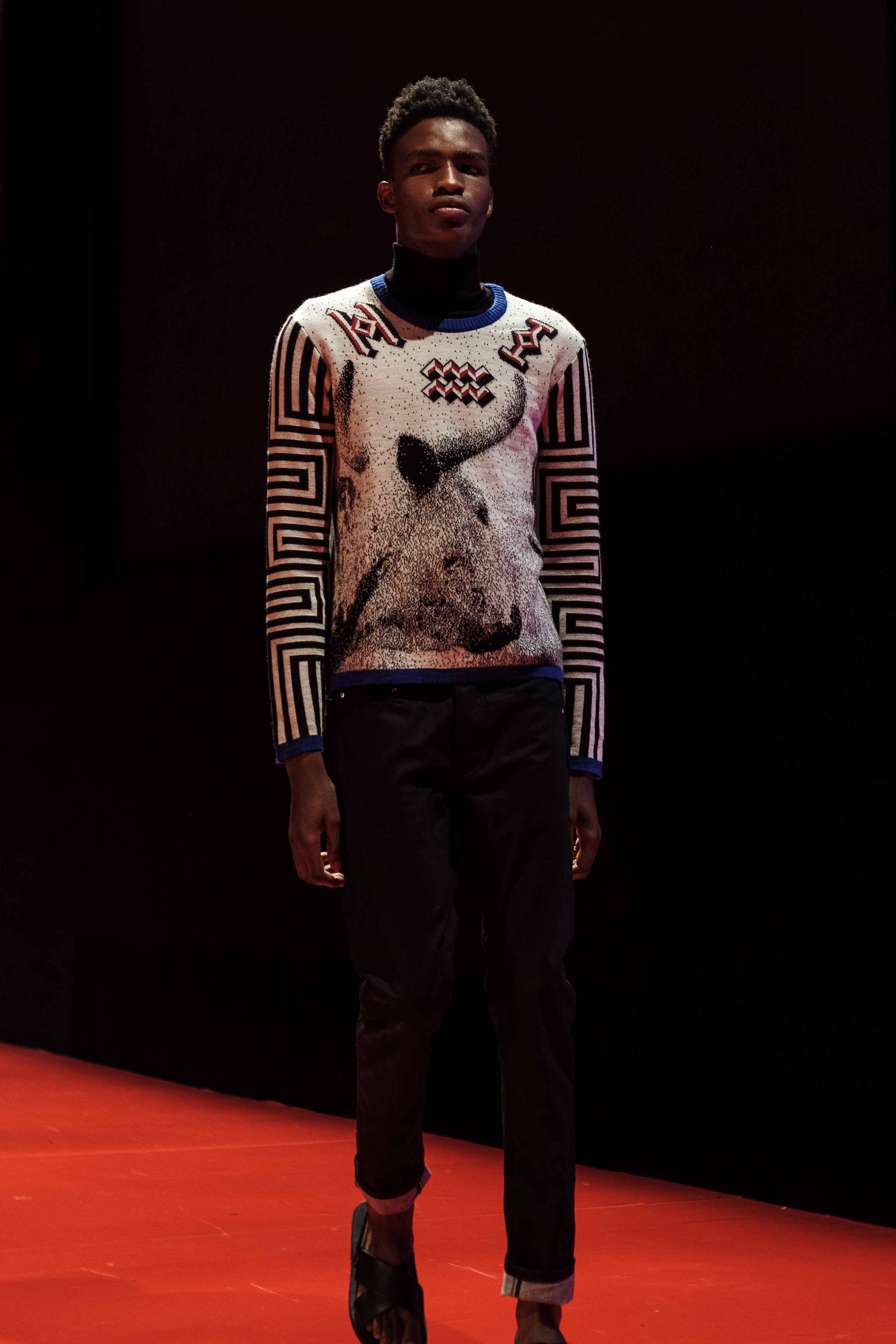 Rich Mnisi also ably flew the flag for South Africa and showed why he is considered one of the most exciting voices in African fashion. Coats were a particular triumph with a white gauze coat with a corseted fit particularly strong. Pinstripes came in many iterations, but felt neither dated or dull in Mnisi's hand. It was refreshing to see a collection that did not feel derivative and instead forged a distinct direction of its own.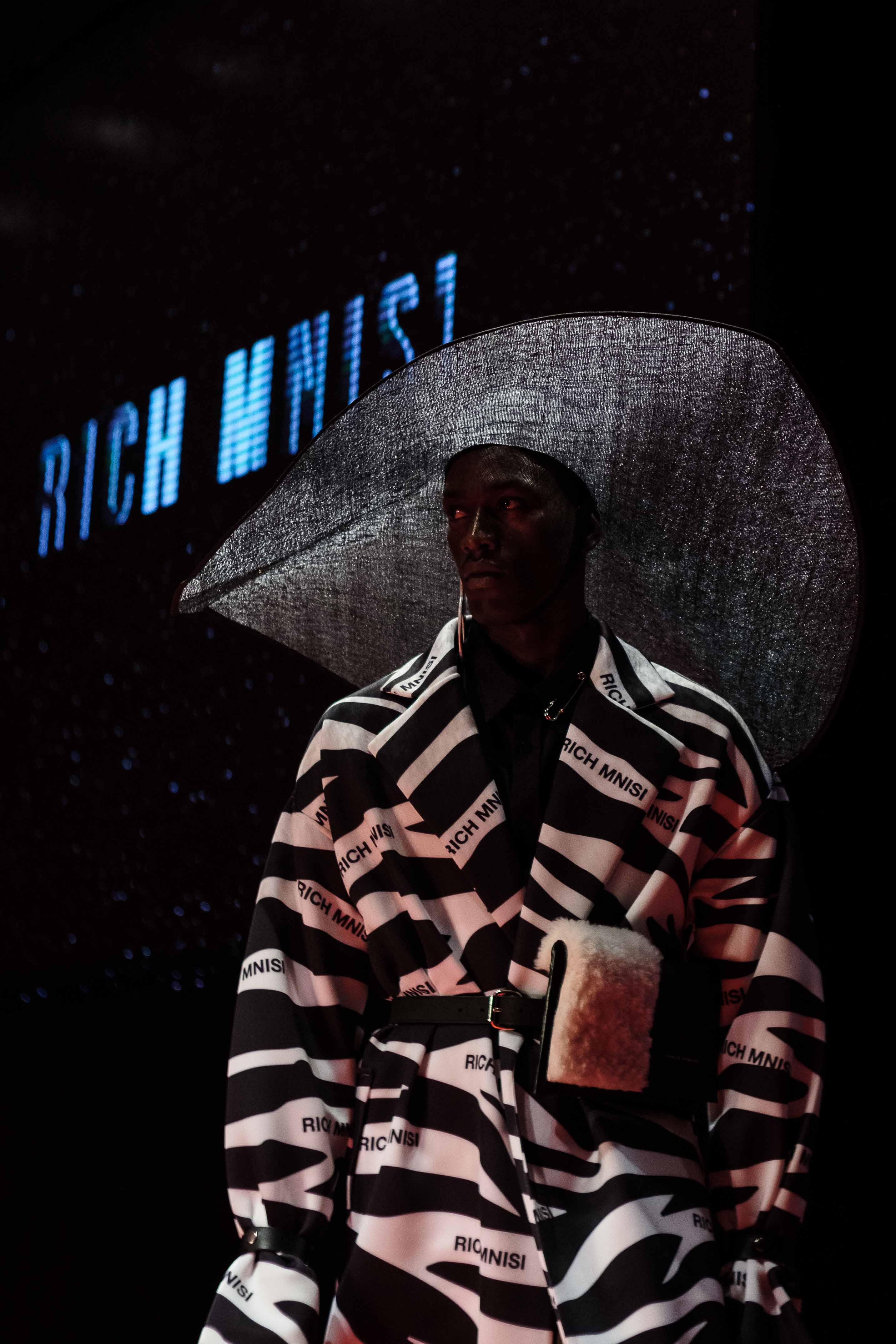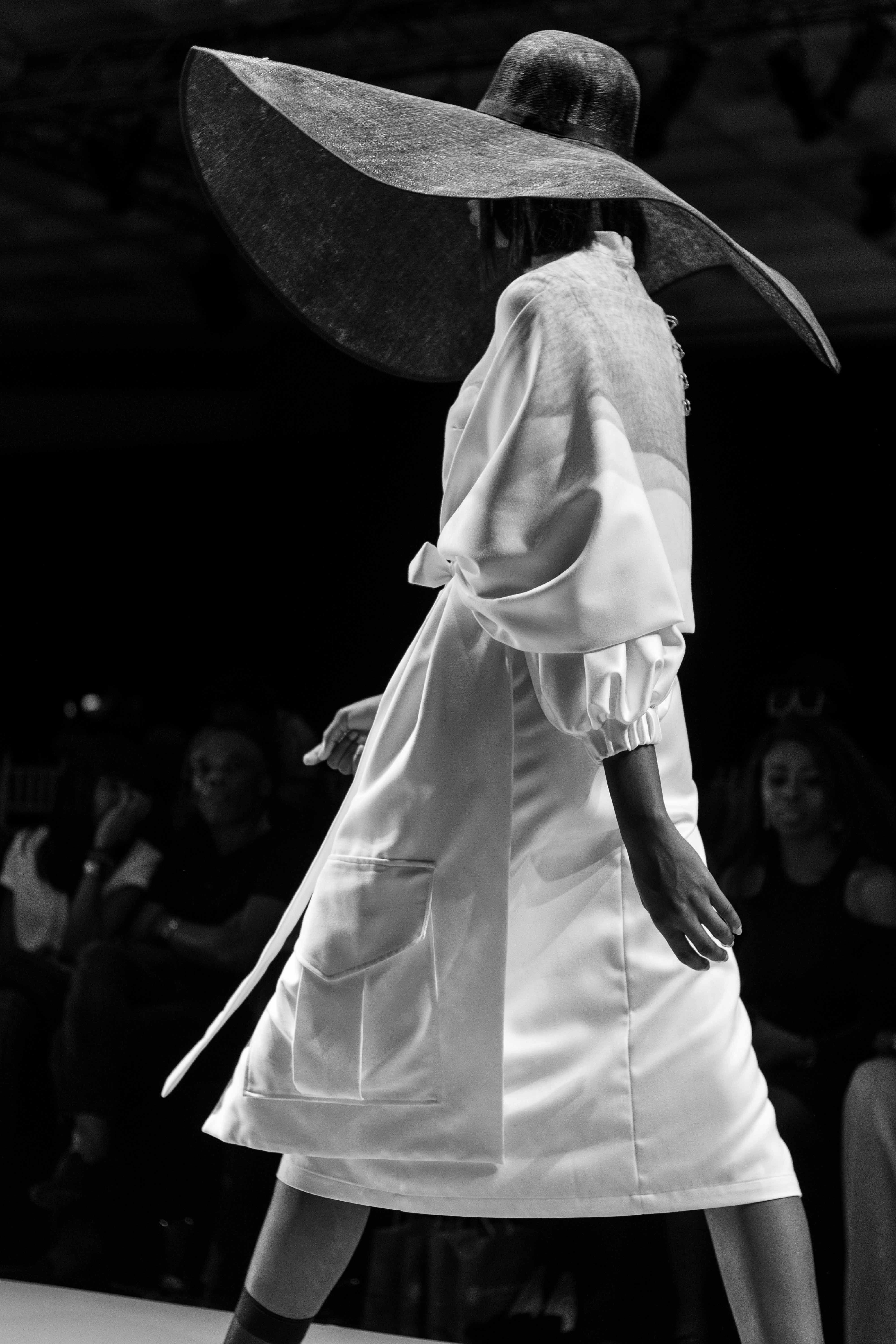 Continuing in that theme of charting a path that is both original and gorgeous was Bridget Awosika. As is often her way, Bridget did not offer pieces in a plethora of colours instead sticking to a palette of red black and white. Dresses were tea length and with a cornucopia of  sleeve styles and options, but not compromising on the slim line silhouette which is part of her design language. Black cocktail trousers sat somewhere between an old-school jodhpur shape with a delicate ribbon tie on the hem and were an exciting alternative to the proverbial little black dress for evening. Blouses, which have become something of a calling card for Bridget were also present and correct with one narrow barrel sleeved number a God-send for those whose arms are less than spectacular and another with a black silk obi panel equally special. An experimental tuxedo day dress sounded on a paper like it could be clichéd or messy, but in her able hands was clever and sophisticated, the 'lapels' appearing on the back of the dress. A black coat with an exposed shoulder might wreak havoc in a snowstorm but would clearly be fun to wear and ever the pragmatist Bridget offered an Origami folded sleeved option too. As the show closed one was left with the boggling decision of which piece you would wear first. It is rare that clothes immediately speak to a critic's wardrobe, but these ones bellowed 'Buy Me!'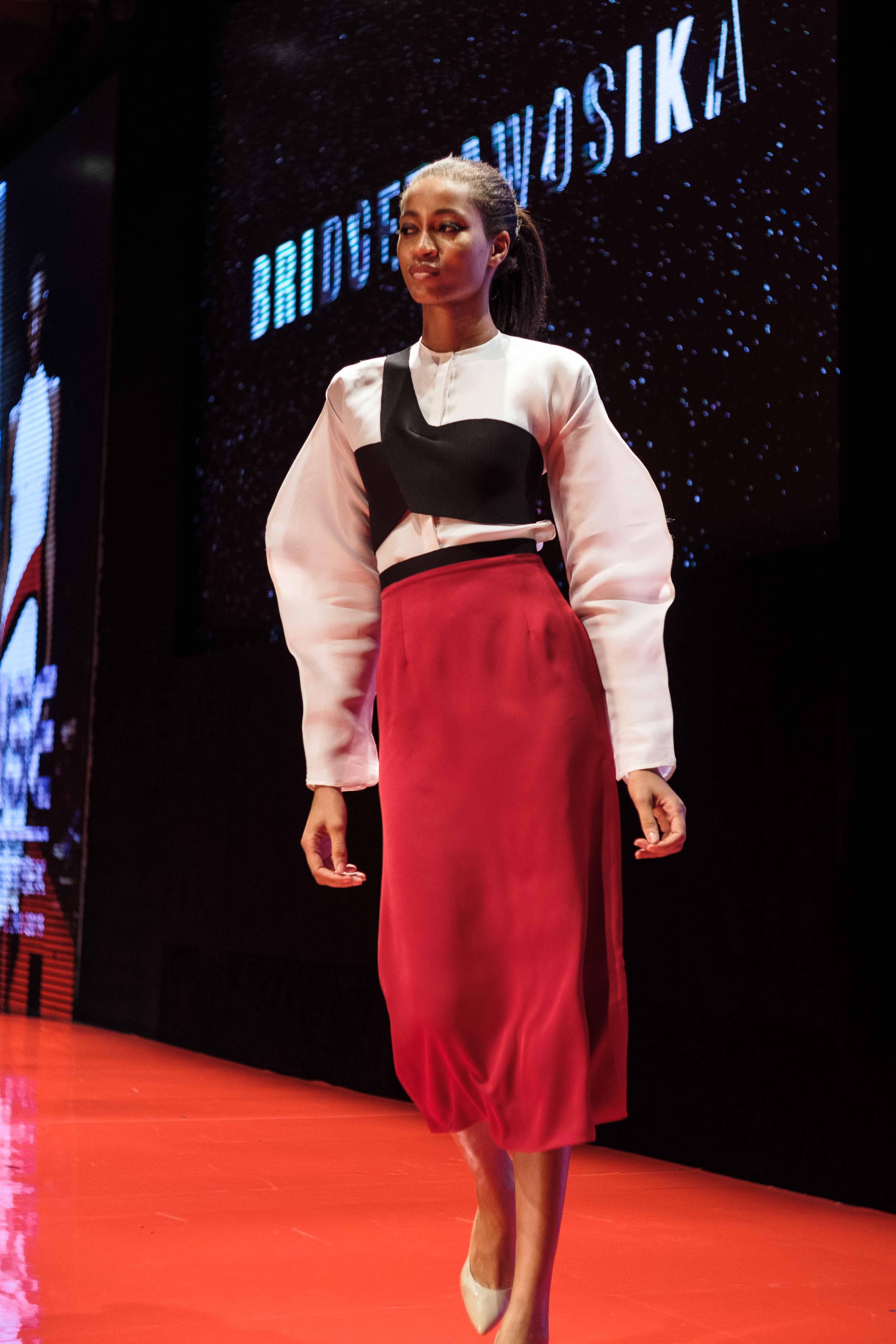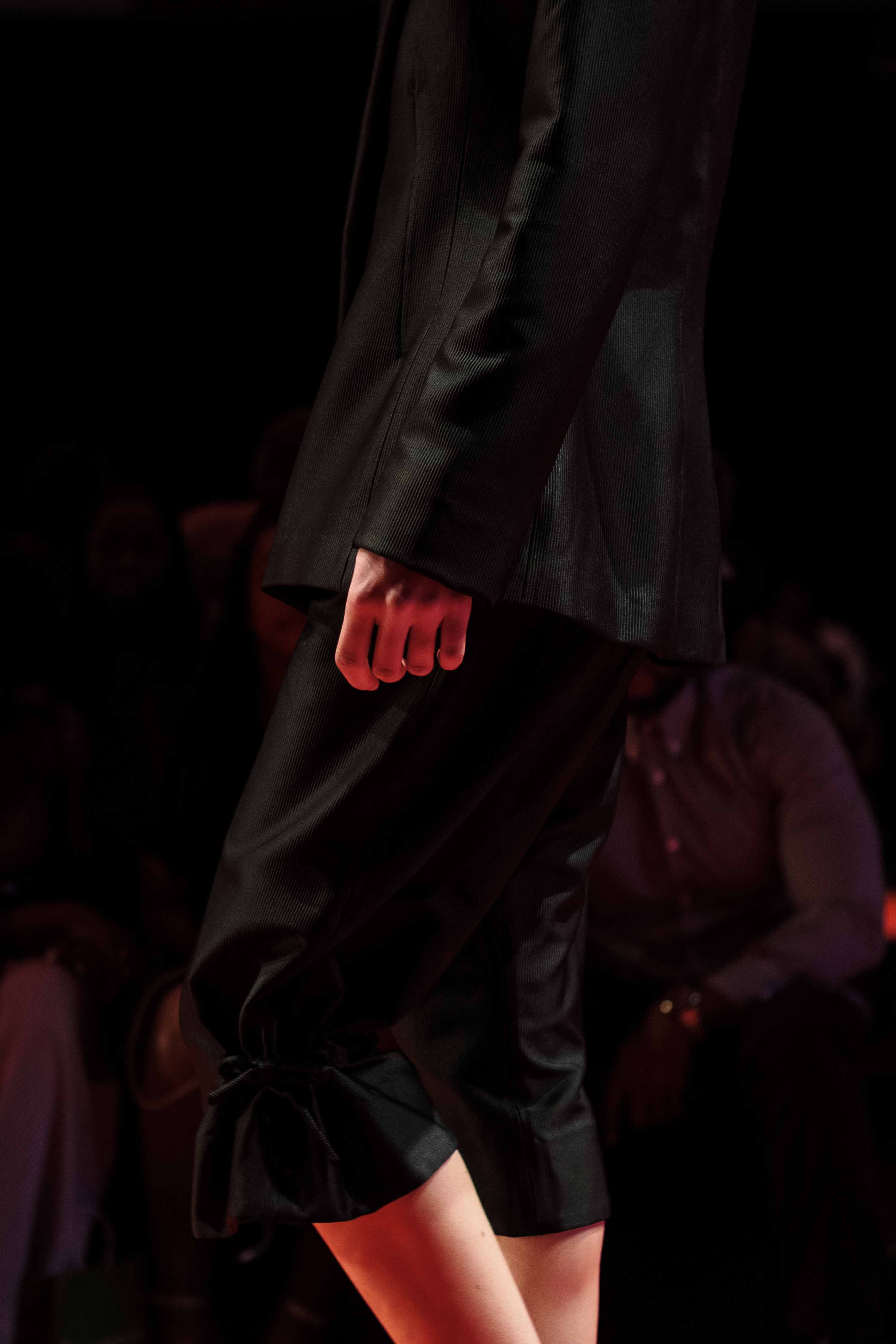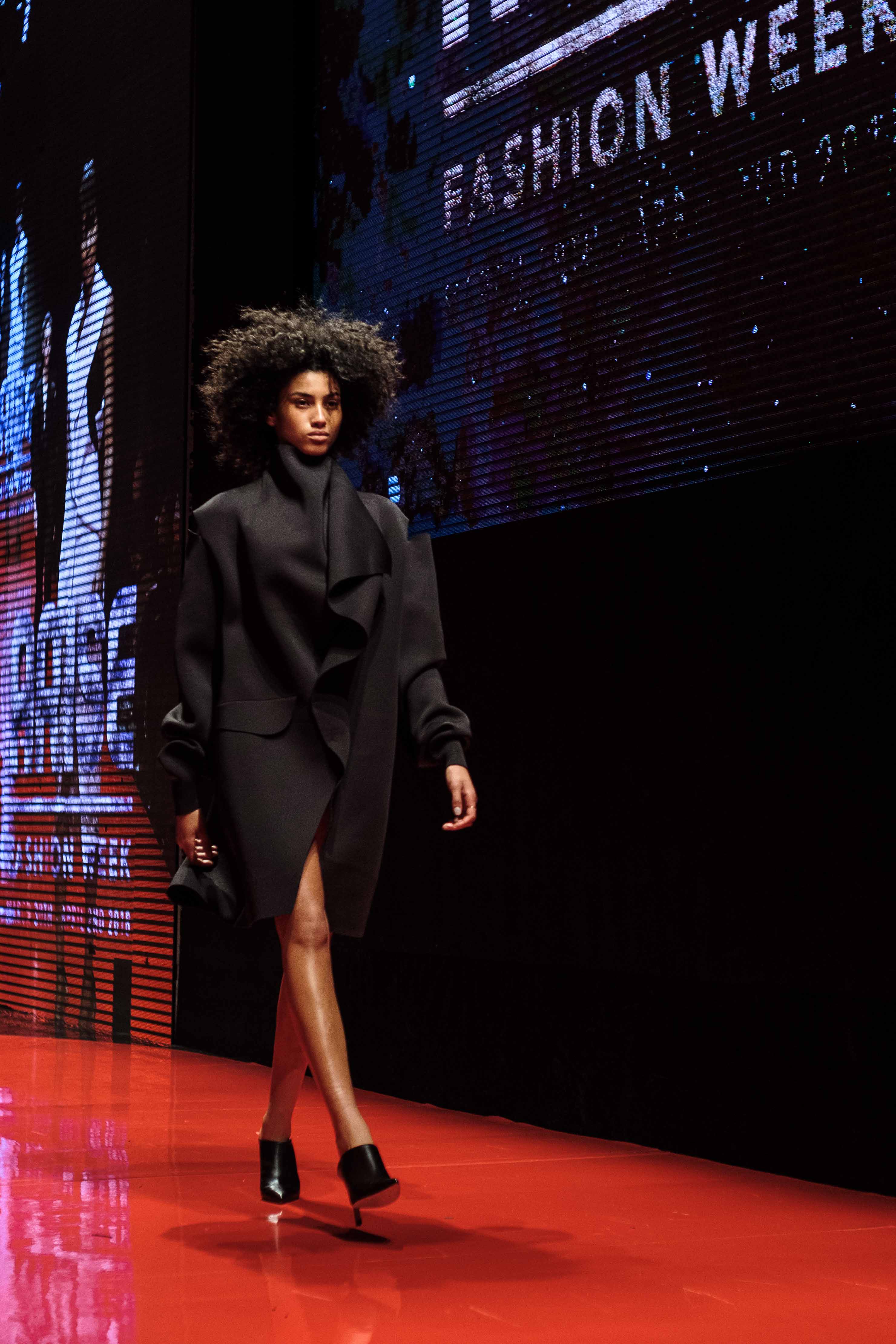 Tokyo James is the polymath of the fashion scene in Nigeria with art direction and a successful stint running a fashion and style magazine just two of the many strings he has ably added to his bow. Whilst he remains best known for menswear, this season saw him branch out into women's. The Tokyo James woman is sexy with a bit of the part-time innocent dominatrix about her with the inclusion of a white PVC cocktail dress as the first evening option presented. Low slung leather trousers tiered floor length skirts completed the look of a woman who was destined to stalk her prey at night and devour them by morning. Men's was a continuation of what Tokyo has become best known for body conscious suiting and coats that create a crisis of which one to wear first when the weather turns. Quilted duster coats are sure to be sell-outs as is a single breasted jacket that foregoes a button as fastening for a safety pin. Nothing is left to chance and polka dot linings peaking through as models walked was testament to a creative director that leaves no detail to chance. For those who need an entry-point piece James has unequivocally branched into footwear with low Cuban heels and rivets and in this label-mania renaissance moment that fashion is currently having 'Tokyo James' writ large on the straps and you could also choose to drape yourself in a Tokyo James scarf. Overall it was indicative of a designer who is steadily creating a 'world' for consumers to enjoy.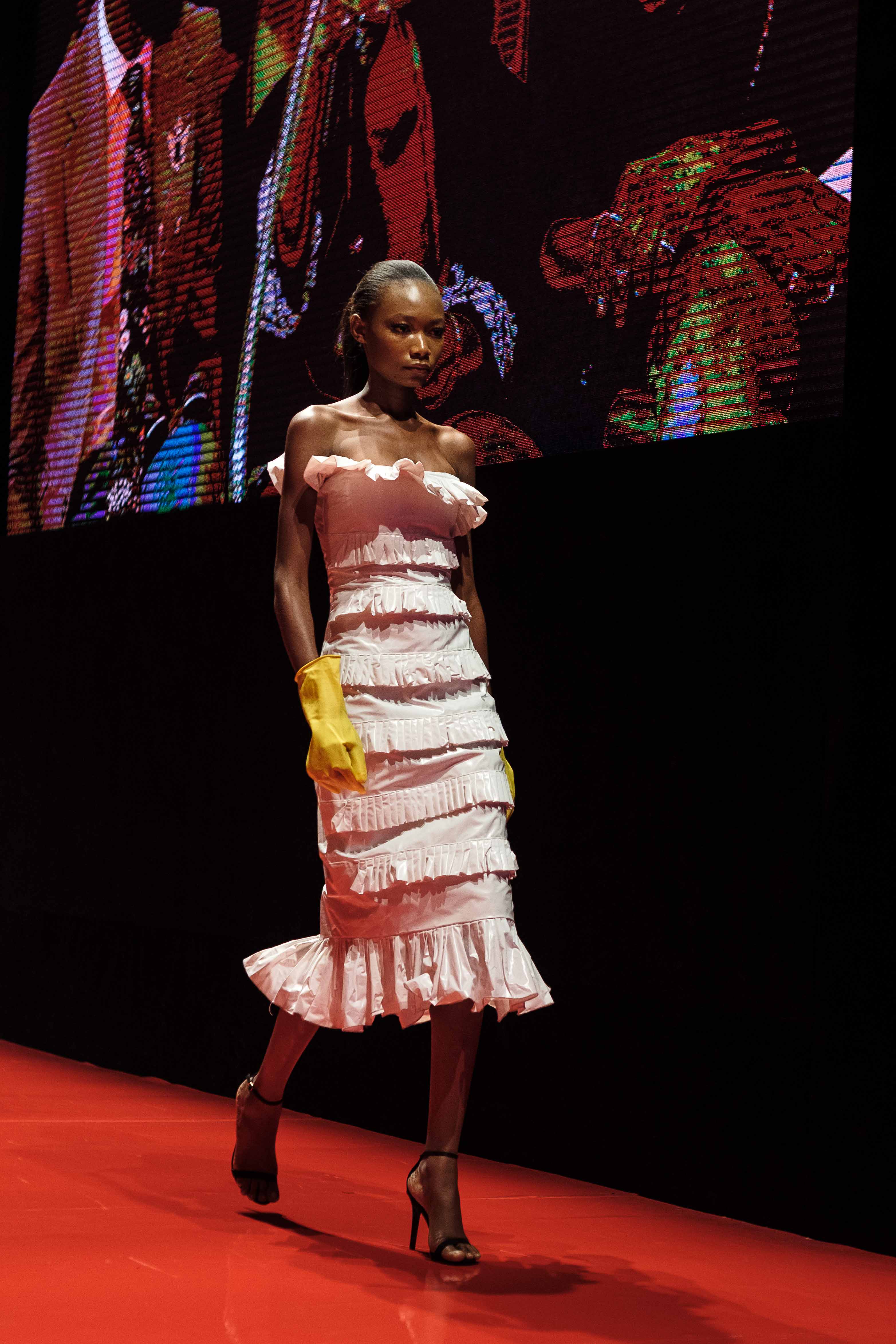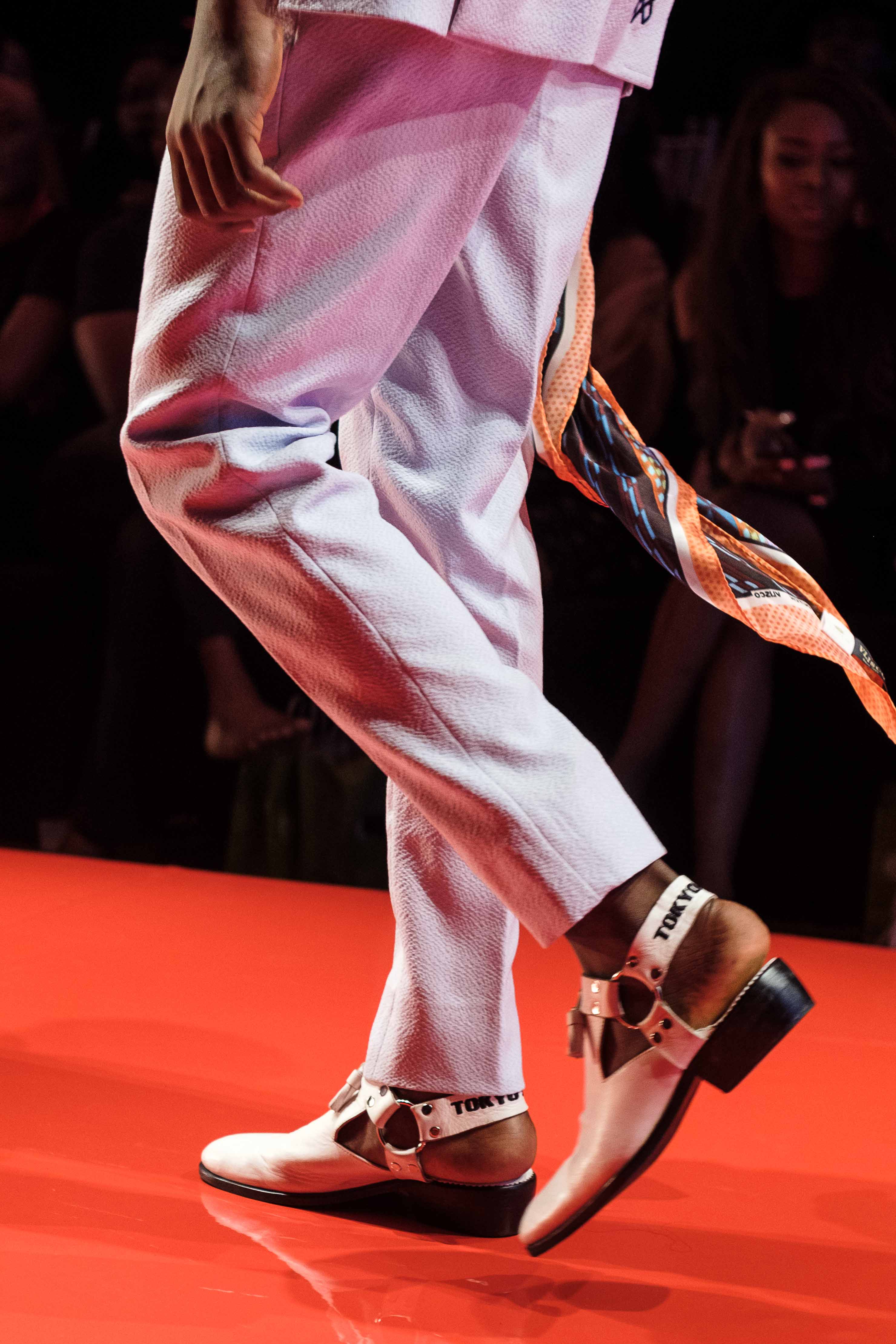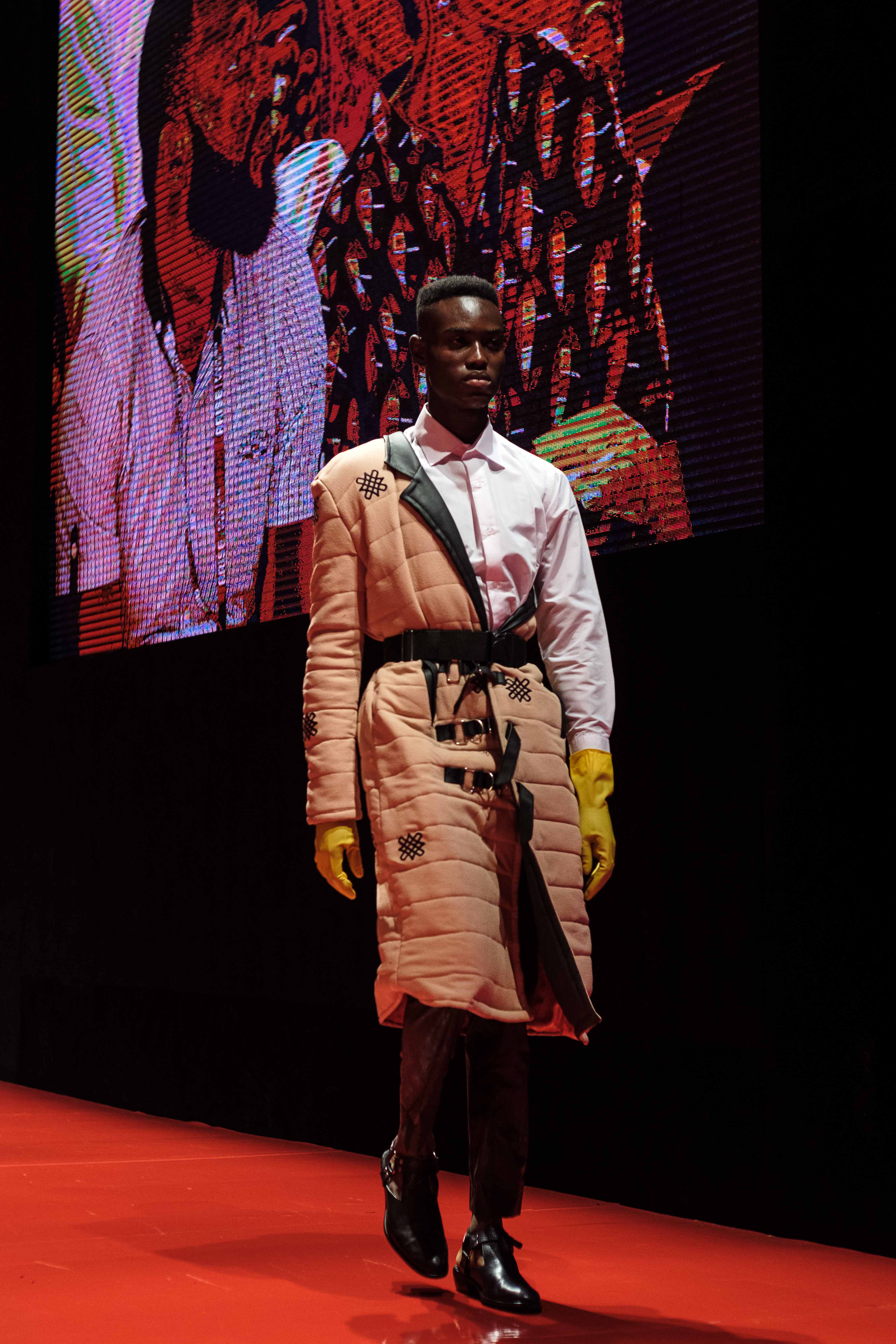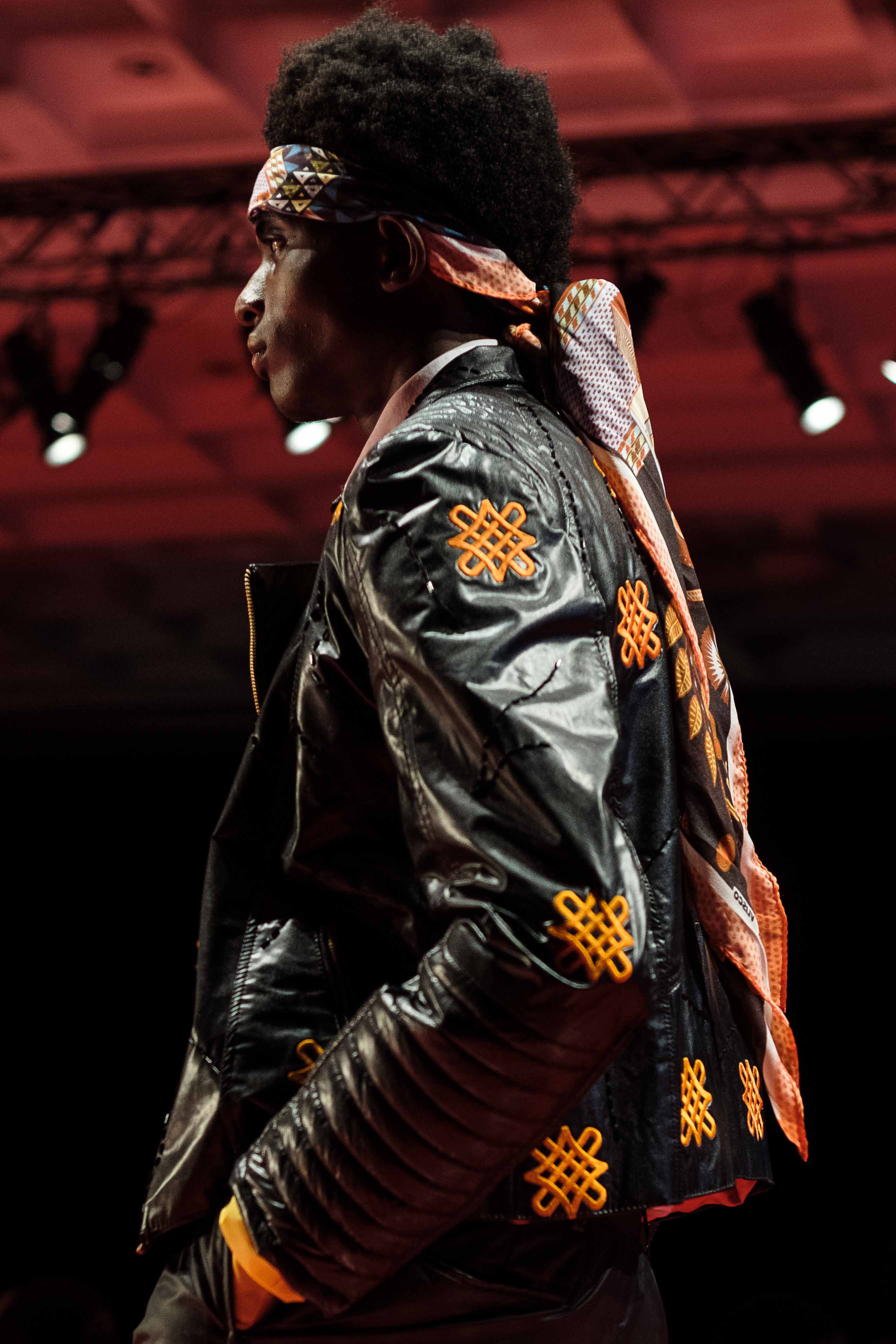 Chulaap's collection was one that was rewarded murmurs of appreciation, especially as the brand and creative designer behind it Chularp Suwannapha is not known in Nigeria. The directional pieces were a print mash-up with kaleidoscope of colours featuring and the models' faces concealed by knitwear. Blankets were tied casually on the shoulders and all of the pieces rather than a handful were created with colder weather in mind rather than as an afterthought. However, this is also in part a reflection of the cold snap experienced in South Africa which is not in tropical Africa. Nevertheless, from an Afrocentric perspective the possibility of being swathed in winter staples designed and made entirely on the continent was thrilling.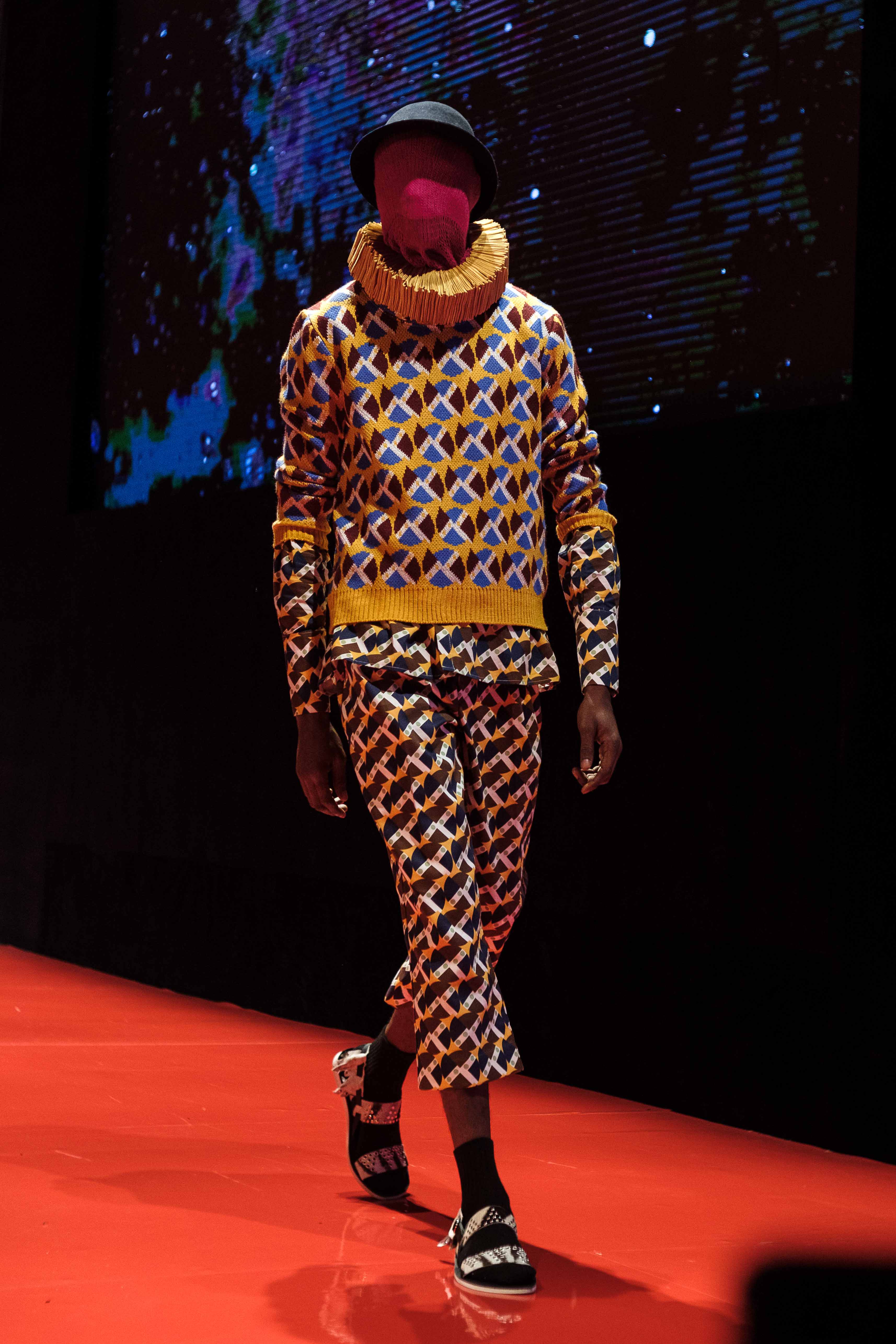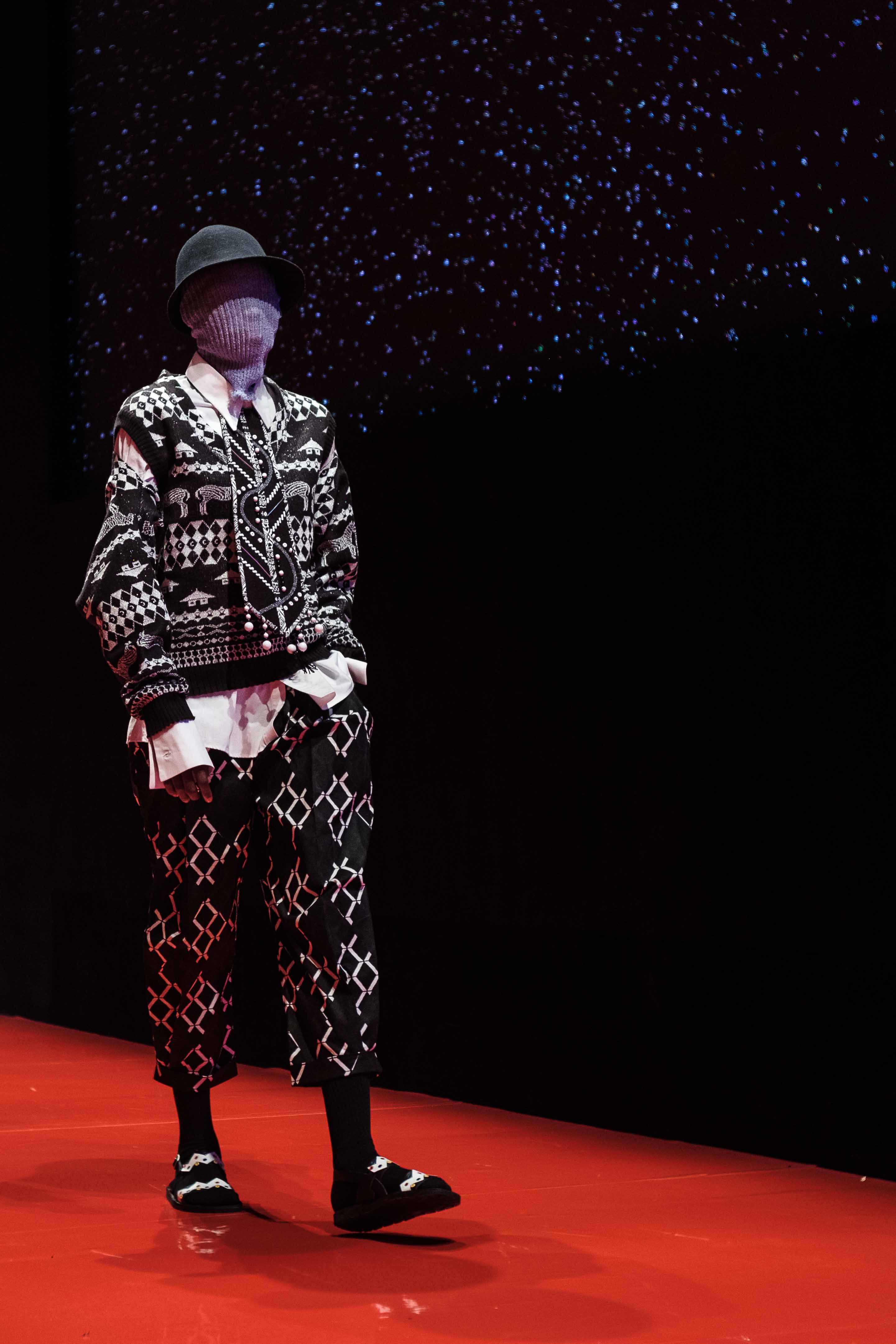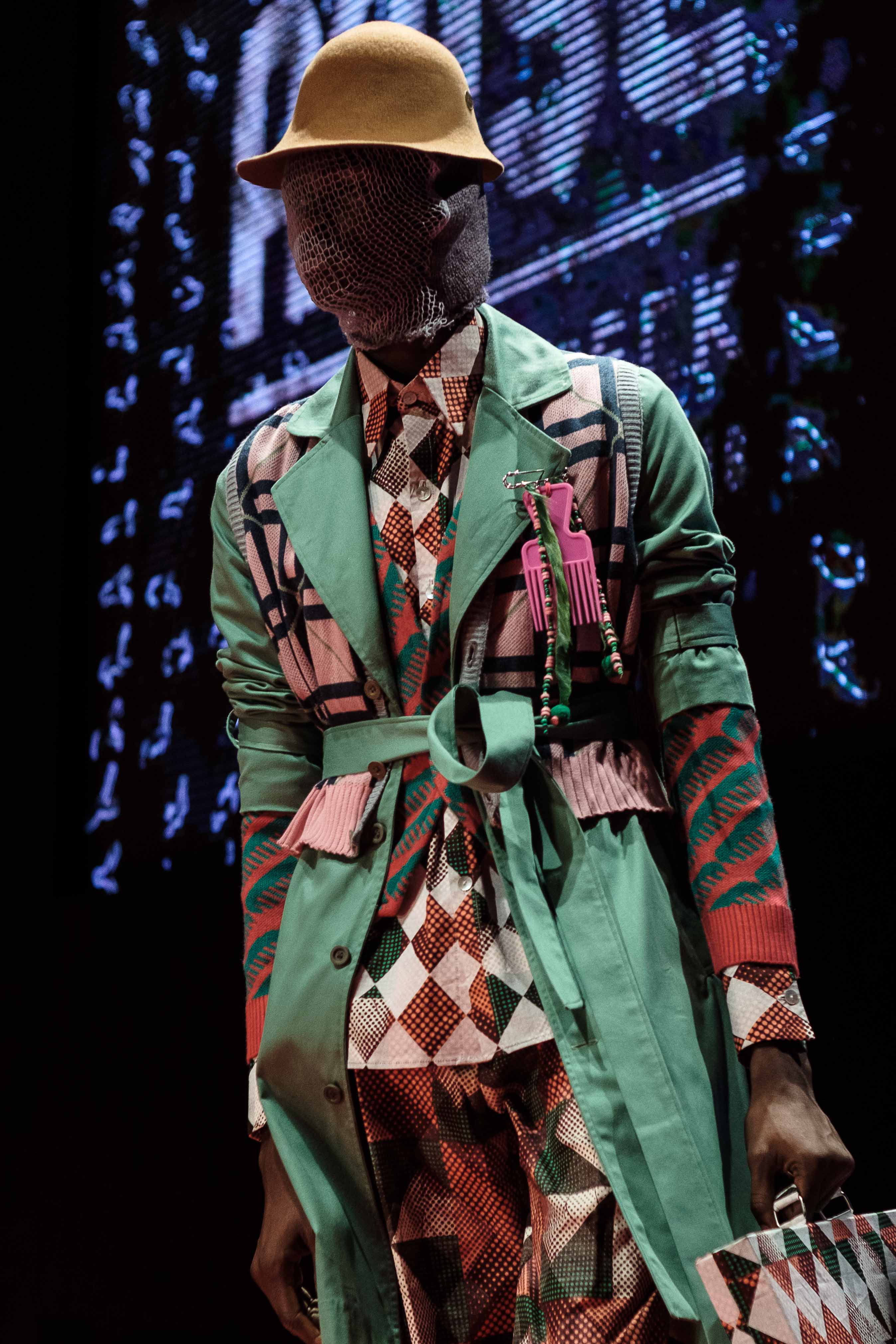 The night and evening closed with a triumvirate of design heavyweights from Nigeria (although Chulaap was sandwiched between the two) and in many ways we were given a snapshot of the story so far for the Lagos design scene in particular, which has been dominated by certain names for some time. Odio Minomet's collection played to her strengths which have seen her garner a loyal clientele addicted to her way with prints and lavish fabrics such as lace, lame and silks. Her series of cocktail dresses  and evening pieces was especially pleasing and definitely aimed at a grown woman rather than an ingénue. It was bold and ultimately a financially savvy approach especially when we live in an age which for the most part worships youth that in turn might not have the means to buy into the brand.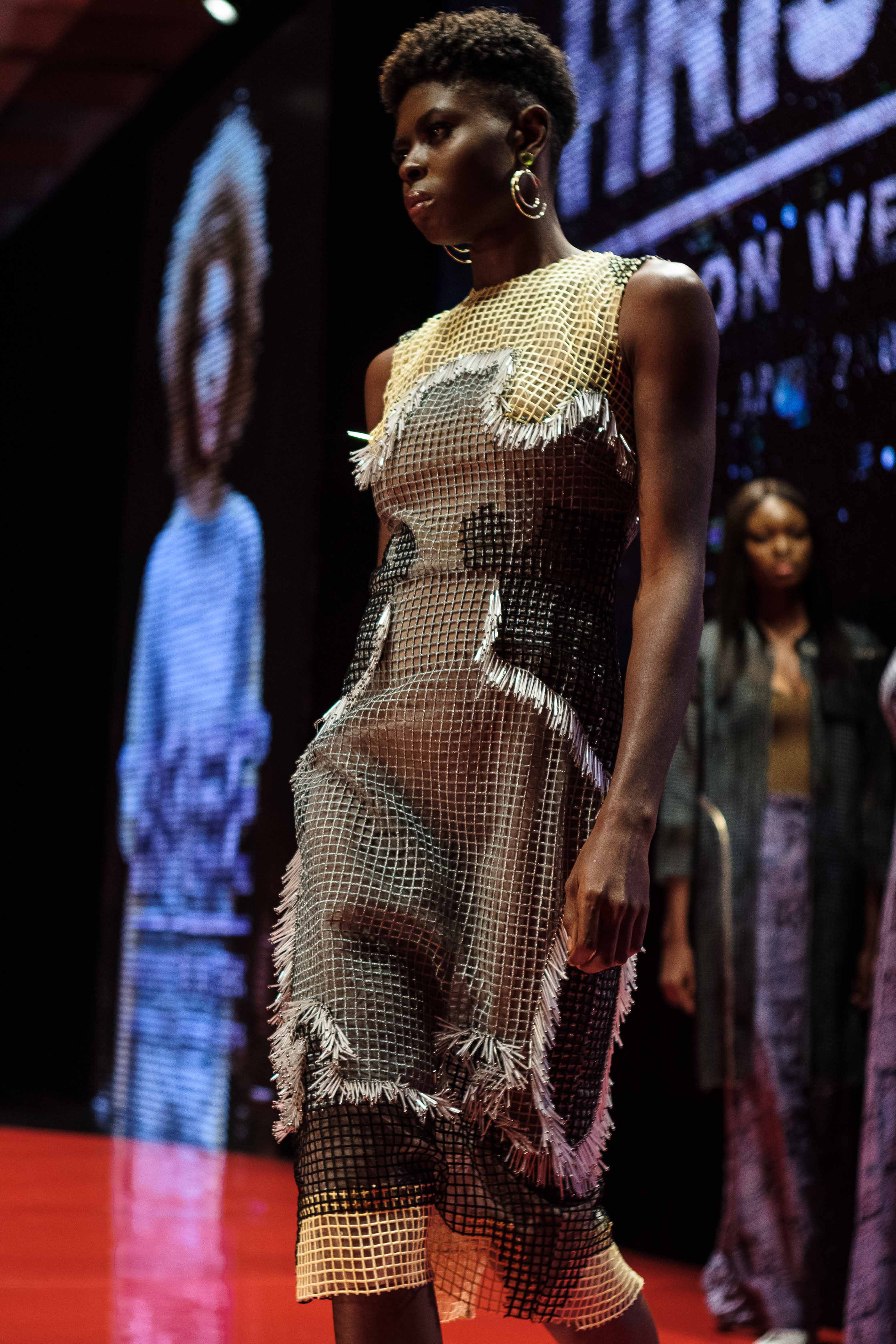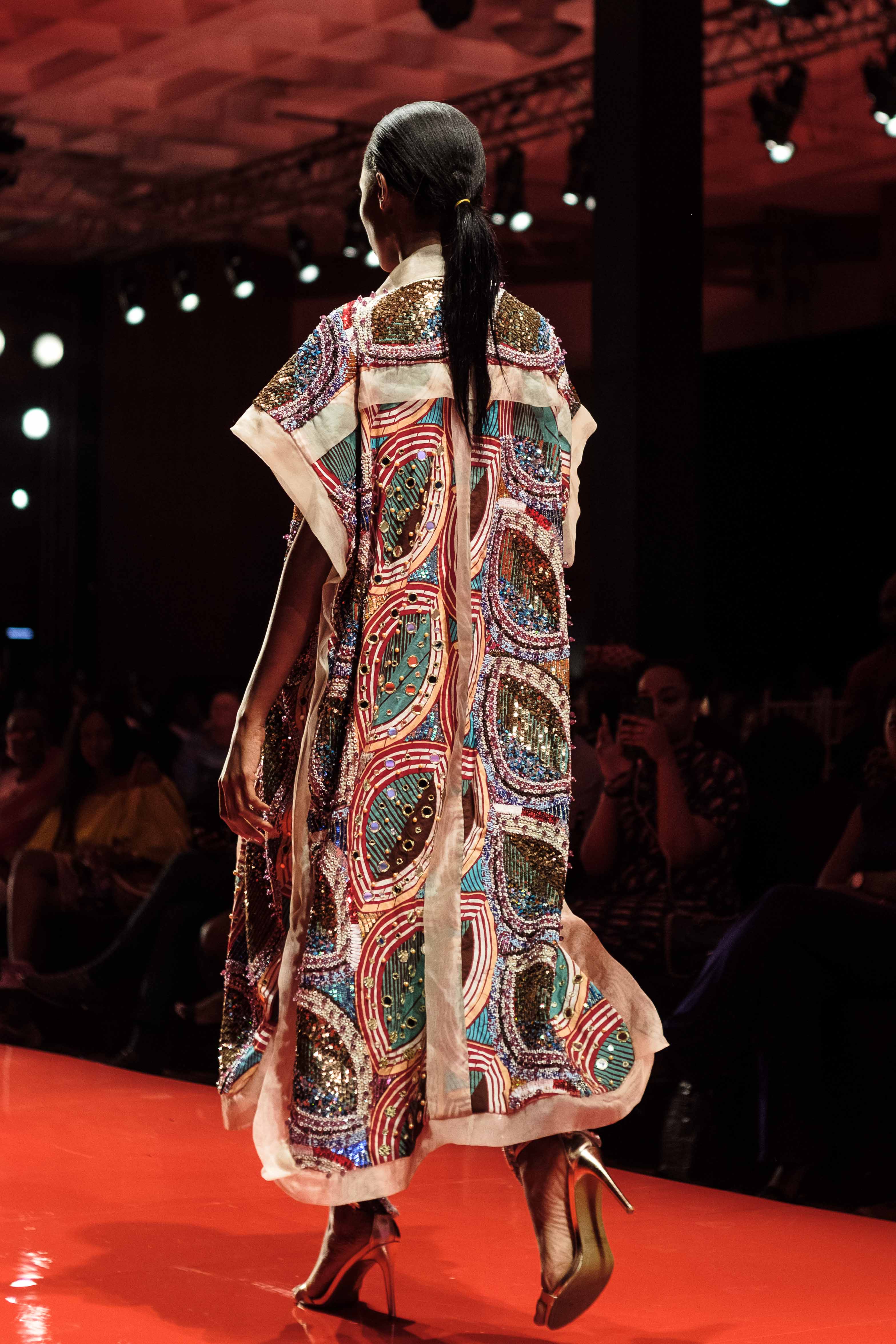 Tsemaye Binitie produced a collection that like many seen this week teamed traditional fabric aso'oke and rejuvenated it for a younger audience. Opening with actress, model and all-round media darling Eku Edewor was a stroke of genius and a cropped trench coat and an asymmetric lace shift were reminders of how his designs had caught the attention of the international press and influential retailers. Less successful was an evening gown sequence which felt rushed and would have perhaps been best omitted altogether. But there were enough elements that meant the collection will keep him in the cross hairs as one of the continent's 'ones to watch'.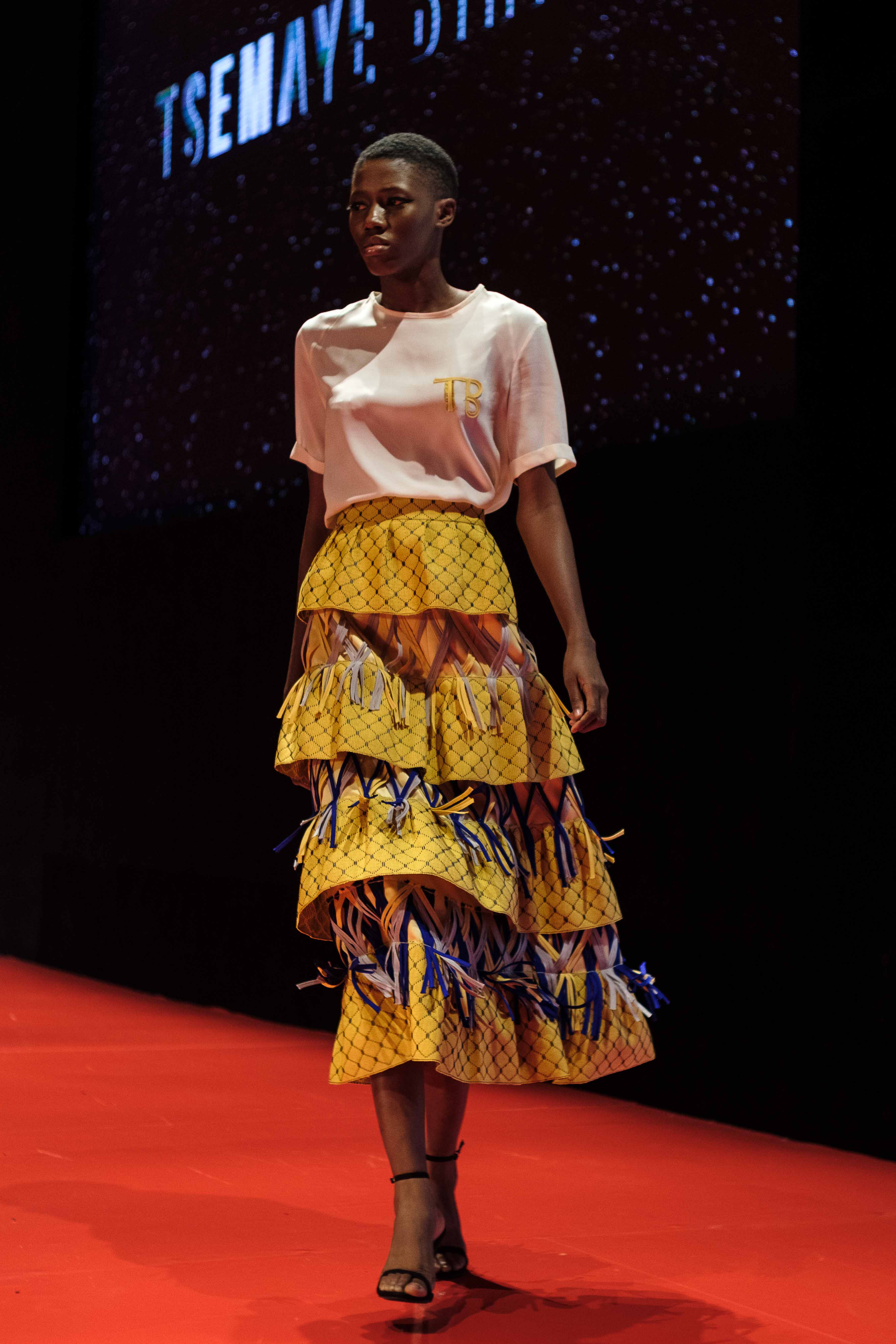 Mai Atafo's closing collection featured the pieces that his customers, for the most part men with considerable means, have grown to know and love. Velvet smoking jackets brocade and body conscious trousers remain part of his winning formula. However, the exciting development was the fulsome and thoughtful offerings he gave to women's wear whilst still remaining loyal to his tailoring instincts. The pieces were for women who were principal boy rather than femme fatale, with over sized burgundy bow ties on coats, double breasted jackets and slim fit trousers and brocade frock coats that were nipped in at the waist but still teamed with masculine caps. Atafo, known for his statement off duty options, with his 'Beard Gang' print shirts proving particularly popular last season, followed them up this season with 'Isi Agu' pullovers with the Igbo lion print re=invented for winter. It was a noteworthy direction for a designer who could easily sit back at the helm of men's occasion wear in particular. But what is fashion if not evolution and Atafo closed the week leaving audiences with an impression of there being so much more to come.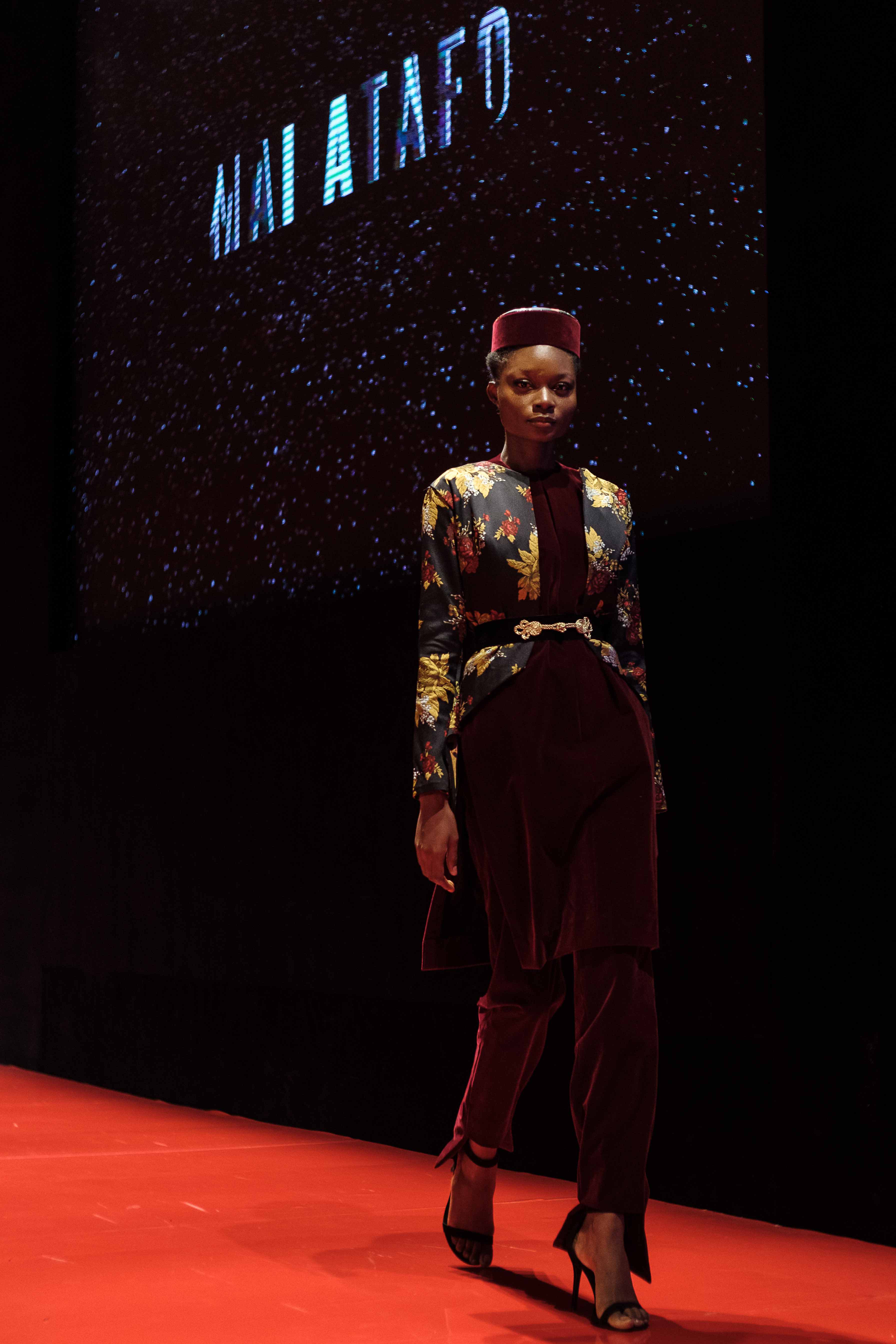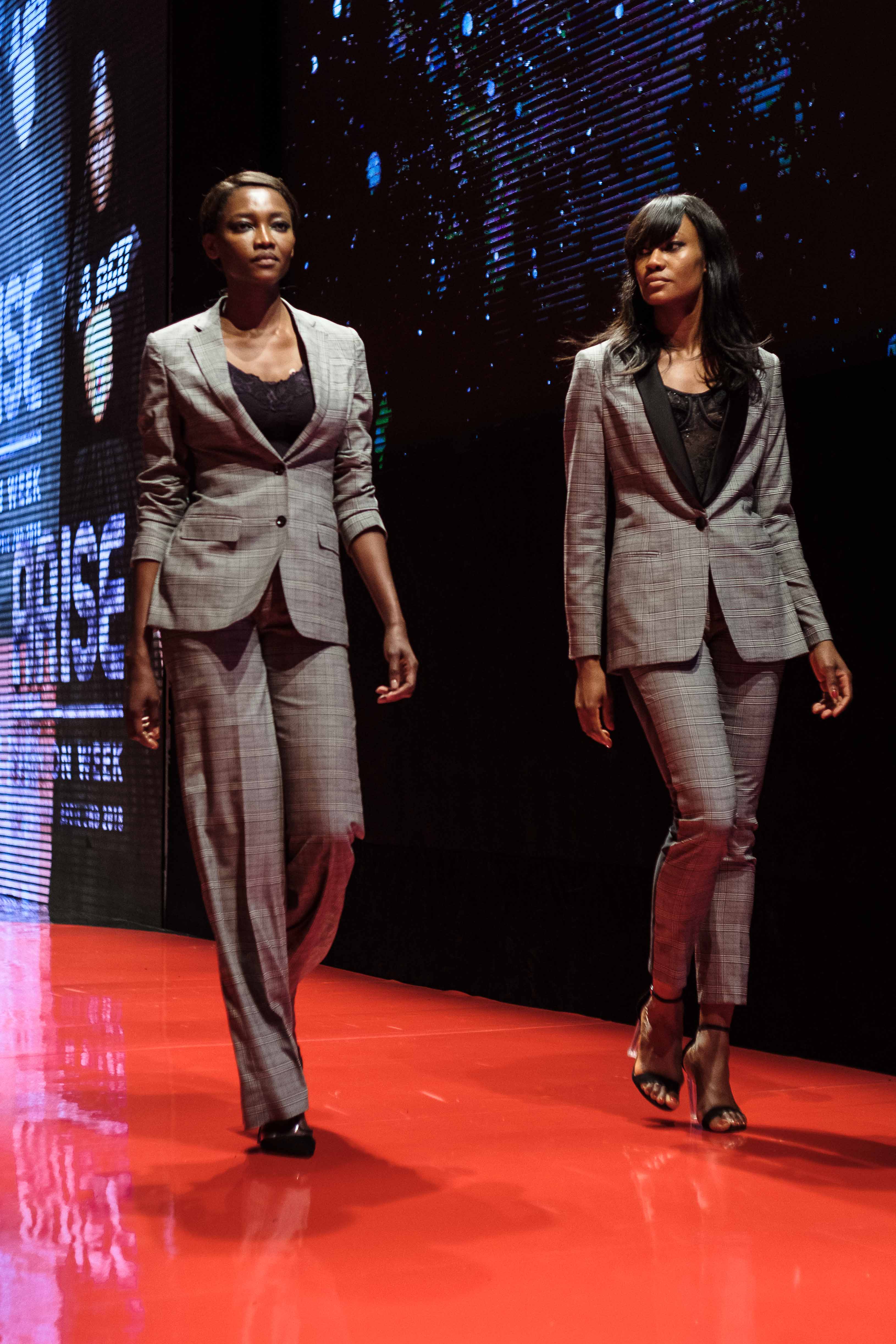 Arise Fashion Week was an undeniable success, the excitement and conversations that it continues to occupy both domestically, regionally and globally speak to that. Some might say it was all down to organisers booking supermodels, others too might point out that aside from a N300 million fund for designers announced, there was scant information on how it success would be tracked and measured, but this is perhaps to miss the point. Even those with a neutral relationship to clothes were aware of the happenings in Lagos Intercontinental Hotel. Furthermore, there are other platforms that exist in Lagos that provide a more buyers friendly focus and supply chain support that is needed to grow the industry as a whole. Perhaps a thought for future weeks is a further edit of participants so audiences do not flag when viewing collections that honestly do not pass muster. However, in our information saturated age, one has to be talked about, and Arise Fashion Week with its combination of scale and omnipresence has effectively made African Fashion an inevitable part of the global fashion conversation.