As the great philosopher Socrates noted, "no condition is permanent" and so it was with Lagos Fashion Week Day One which in many ways presented a change of order. Apart from the name change (design has been ditched and official has been added to the IG handle, more of that later), there was also a shift in format and of course venue. Attendees were offered for the first time a see now buy now model, a trend that has been adopted by some of the biggest global brands, and discreet order sheets were placed at the end of each bench, so one could presumably go wild in the aisles if you were buying for your store or indeed yourself. It was an important touch, as it also allowed for designers to test the temperature for certain pieces, before going into full-on production mode. Also of note was the space, the ground floor of the Wings Buildings was reminiscent of noughties New York off schedule presentations in down town Manhattan or Fashion East in London, before it got mega-investment and became glossy with it: the Industrial concrete flooring, triple height ceiling and plain white benches meant the clothes rather than any epic set were the stars of the show.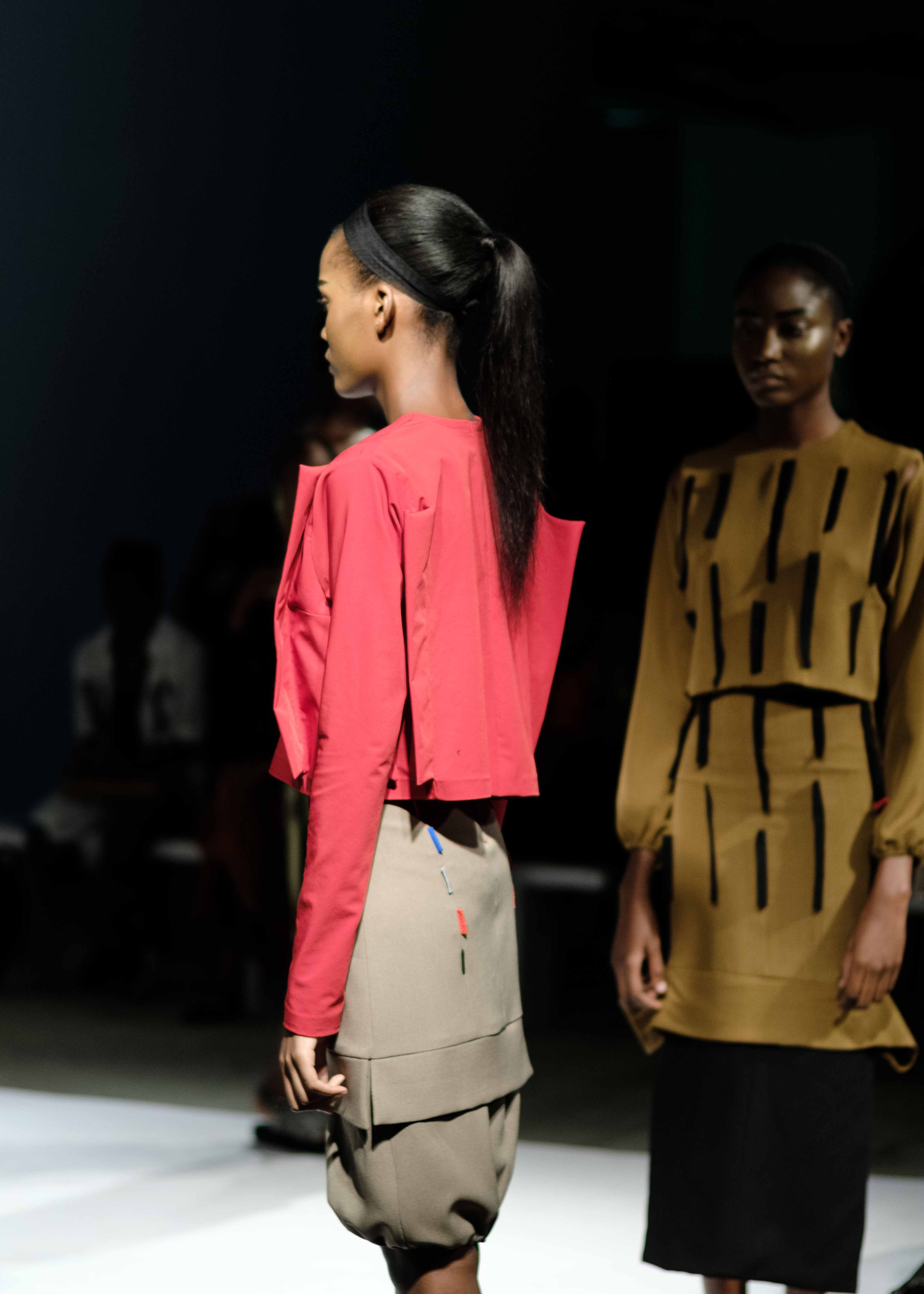 The night opened with Gozel Green, the design duo that embarked on a glowing international show rooms tour organised by Style House Files last autumn and have garnered a loyal clientele who love their play on proportion, finishing and contrasting palettes. For this season, all of those elements were present and correct, so no major scares for the core customer. However, and this was an exciting development, we were treated to athleisure motifs which found their way into pieces from the toggles on the hemlines of skirts and dresses through to a  hoodie finish on a cropped blouse with the emblem "Me, My Earth, My Culture".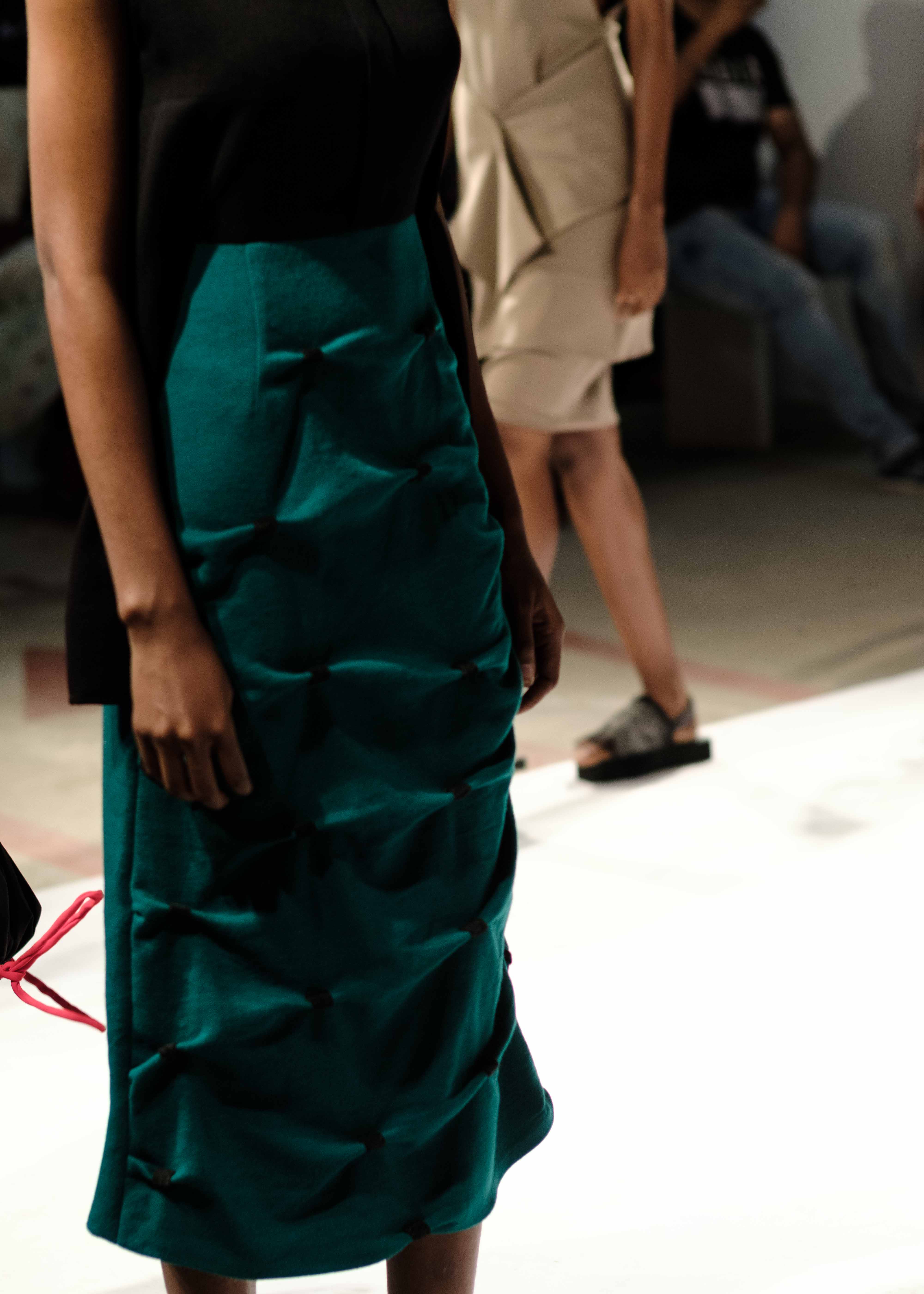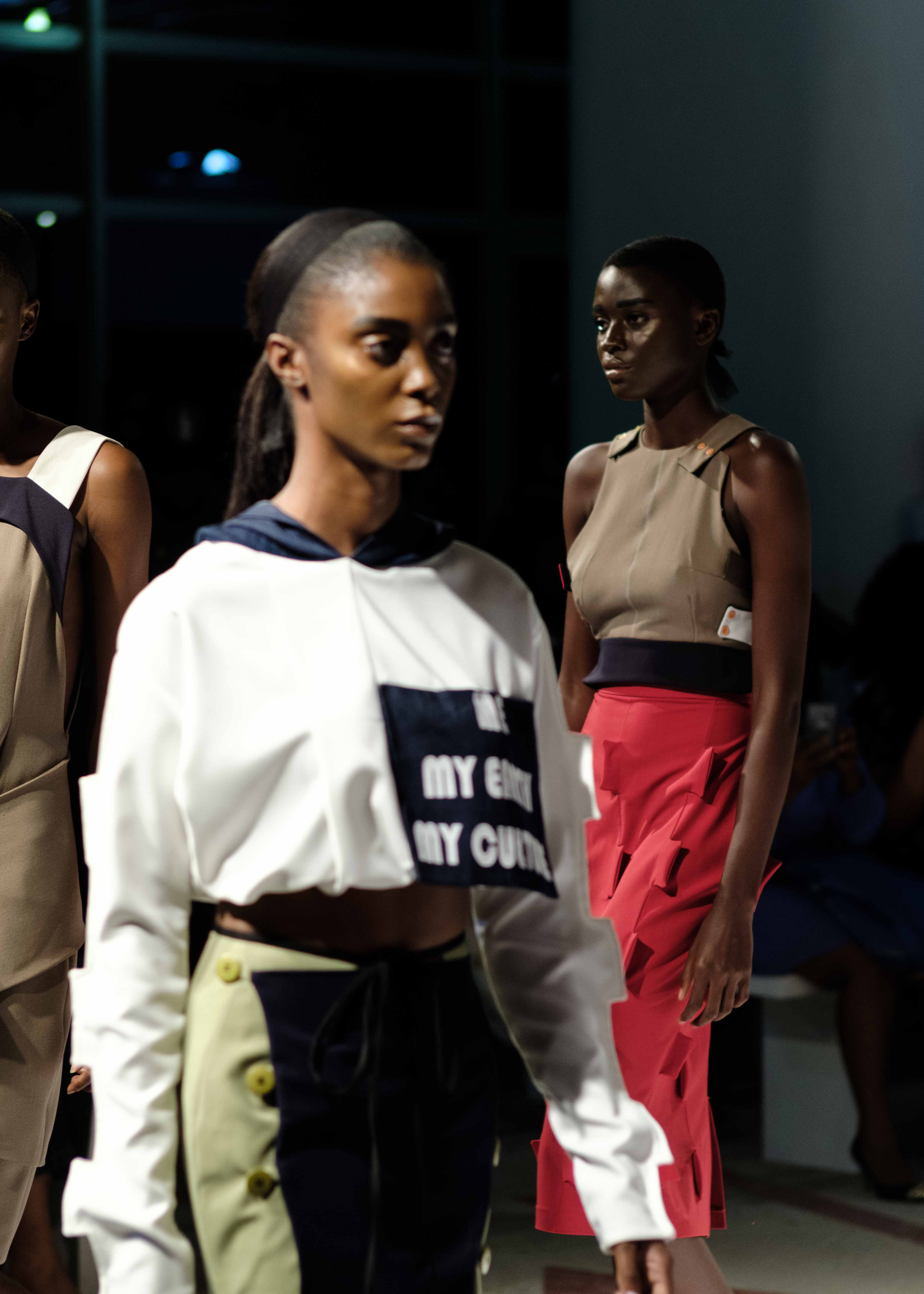 Outerwear also experienced an existential moment as jackets had partially exposed sleeves, surely the cold would get in one thought, or maybe we were meant to rethink what it was to be a jacket, with the exposed opening an invitation to wear a contrasting long sleeved vest underneath? Either way it was a winner that got my pen twitching on that order sheet!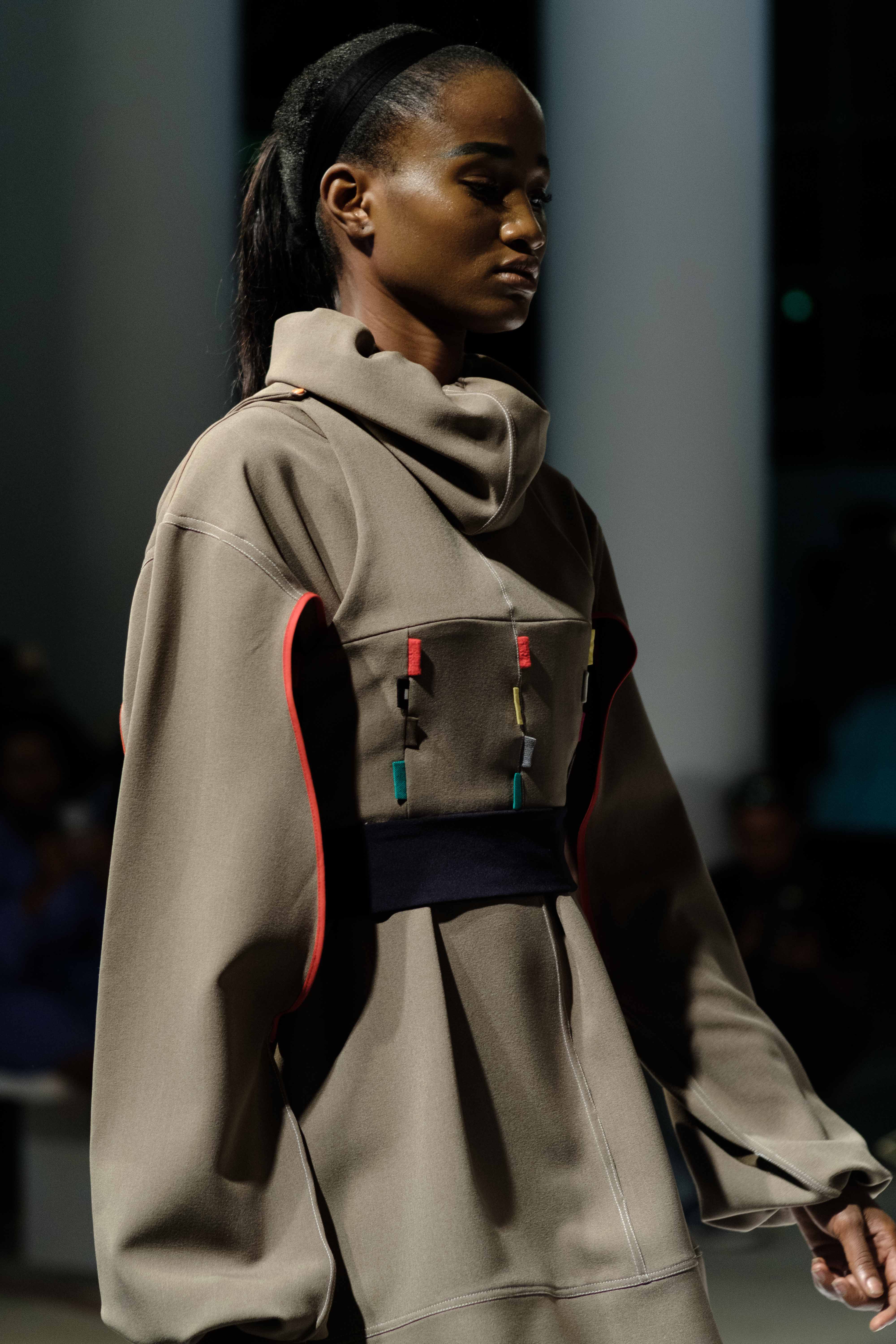 Also of note was a lime apron dress, with pleating and body-merciful cocoon silhouette, it is no surprise that Gozel Green has managed to achieve the hallowed feat of appealing across age-groups. Worn with trainers or as the models did here with wooden sandals with net meshing and you were a Millennial, pop on some heels and if you are not delighted by your upper arms, a white shirt, and boom, Coolest Auntie Ever/Fashion forward executive. Continuity with a dollop of new doth a great collection make,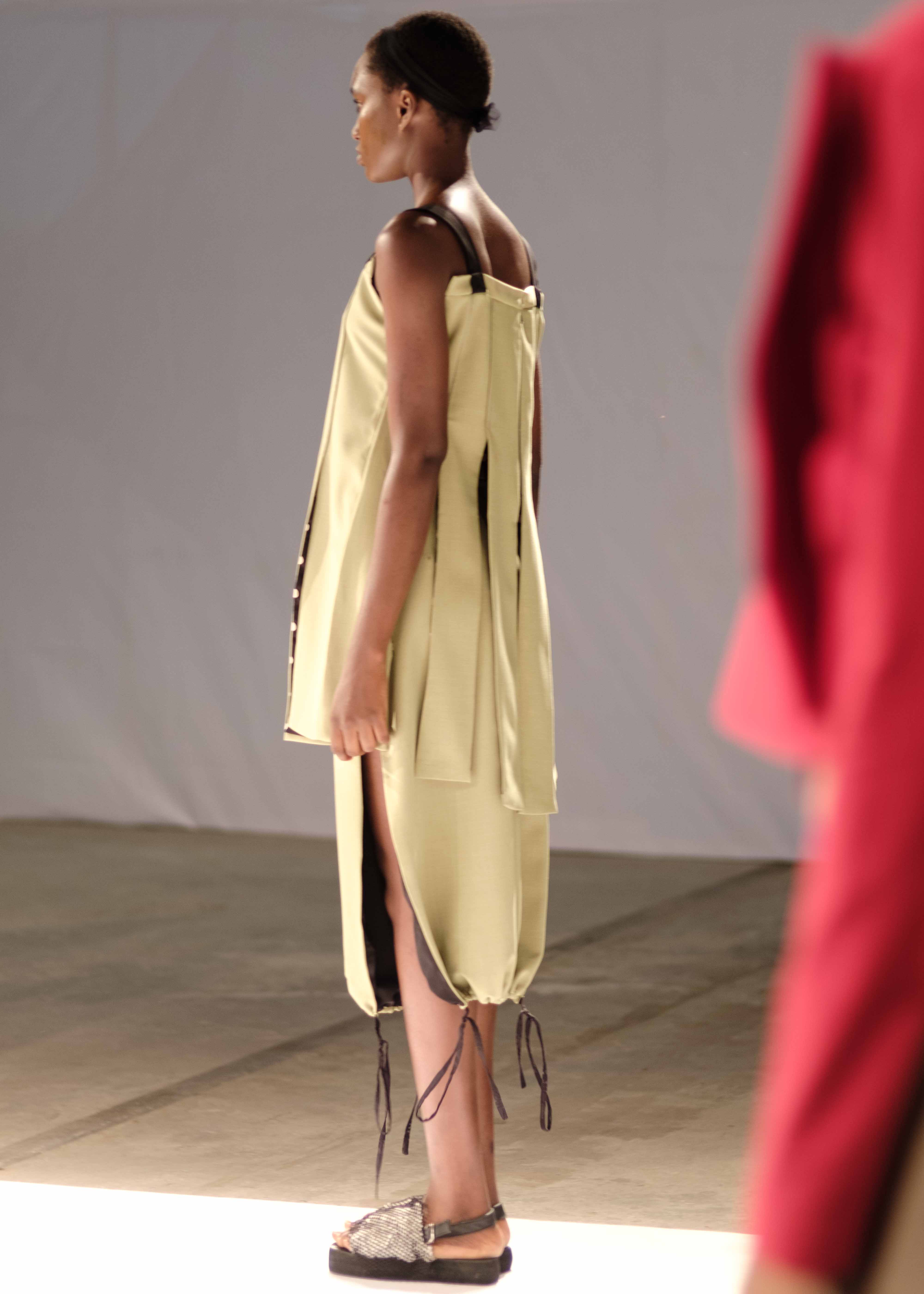 As Beyoncé's 'Party' came blasting from the speakers it was clear that Mo Agusto's collection was going to be for the rockers in the house. Show opener, a silk satin a line mini in midnight and ice blue was definitely revving of engine hot, and it was clear that the Mo Agusto woman would probably have 'Slay Queen' in her Instagram Bio.
We were treated to a pallete that alternated between blush pink and raspberry with sheer white accents or midnight blue and ice with silver. Aso'oke featured heavily, either as a contrasting silver panel on a three quarter length jumpsuit or in all its glory in a sugar pink only for the brave or sensational of leg a-line mini dress and slim line city shorts.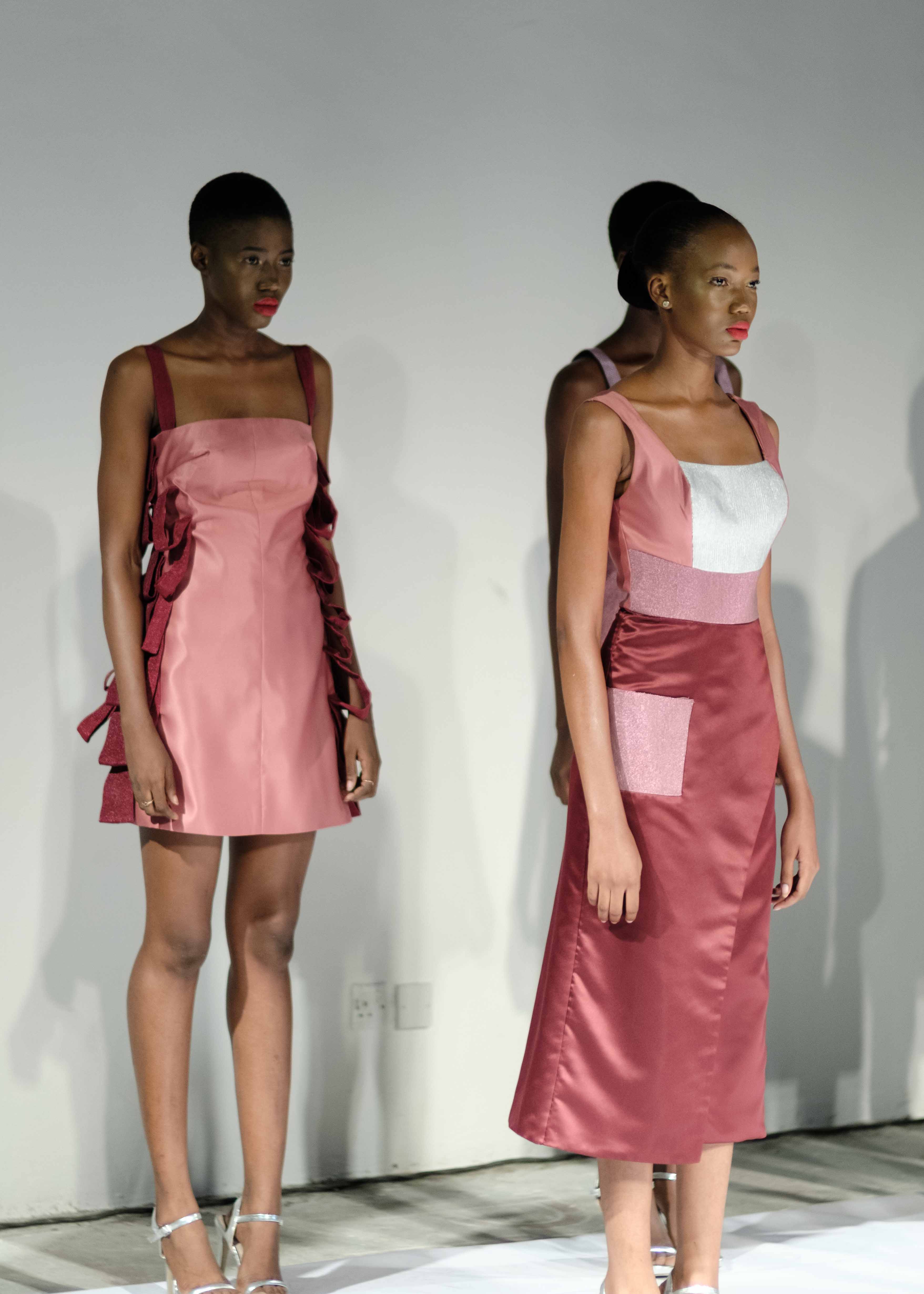 There were hints of historicism in the sheer blouses with their exaggerated ruff on the wrist, and modesty and commerciality had been taken into consideration with hemlines either at a modest mid-calf or for the brave grazing mid-thigh. She is definitely a designer whose popularity, particularly in her home market, is assured.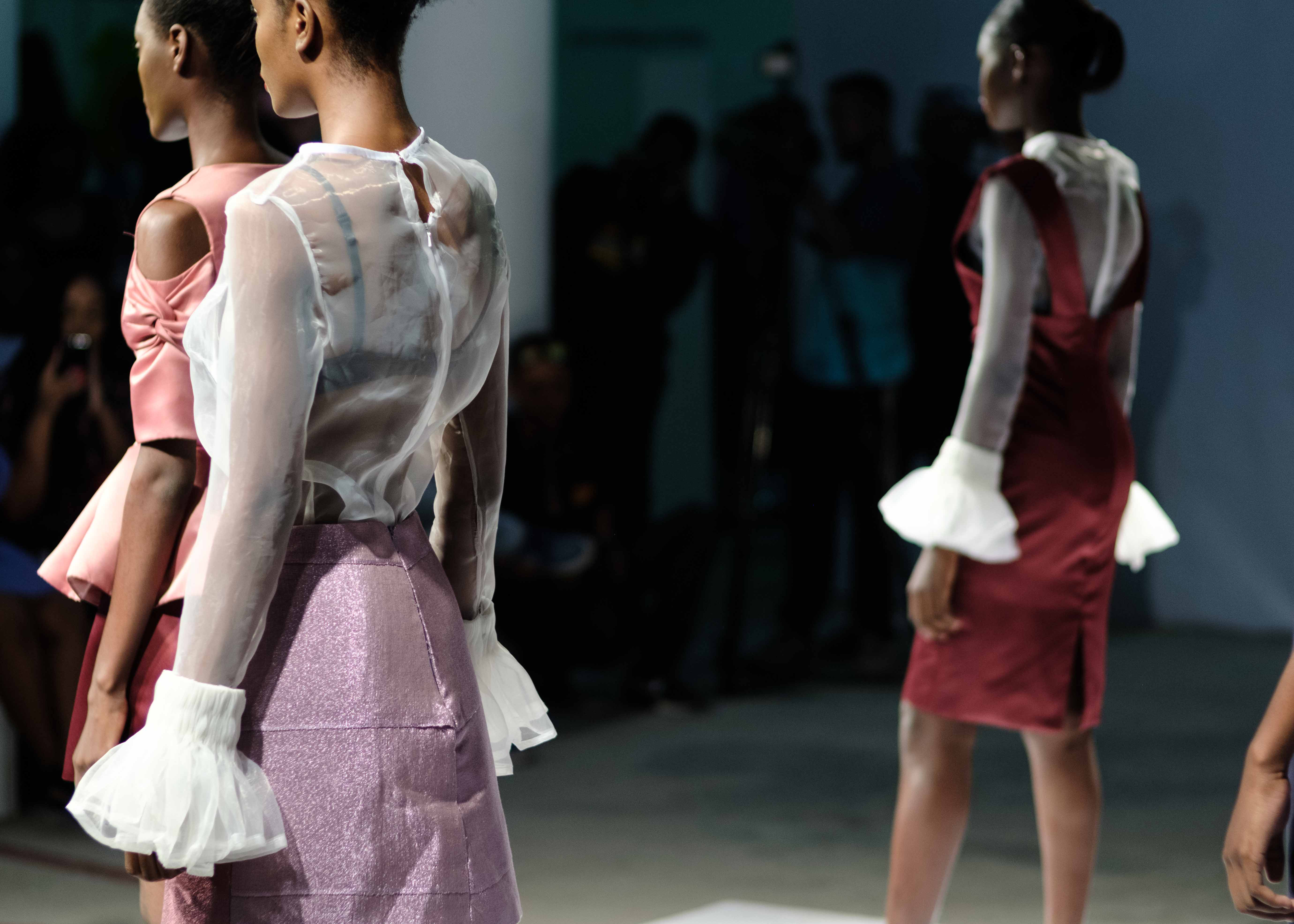 Last show of the night and by no means least was IAMISIGO. We knew we were in for a spectacle, or as much as one could have within the new austere space when a set of ten chairs was placed, in a formation that had me thinking of childhood games of Musical Chairs. Would the models have to fight it out for the last chair? Of course, I should have known better from Bubu Ogisi, who is far too cool to opt for such a gimmick.
Instead models sauntered in, hair in a studied bird's nest disarray, and with white Ori chalk marks across their faces. Show opener a powder blue trouser suit with a lime overlay was a stunner. Fist bumps and double marks for the layering effect of the trousers and the contrasting colour on the jacket and the frankly inspired use of Guinea Brocade,  which is often associated with menswear, in so many of the pieces. Why should the boys have all the fabric fun so to speak?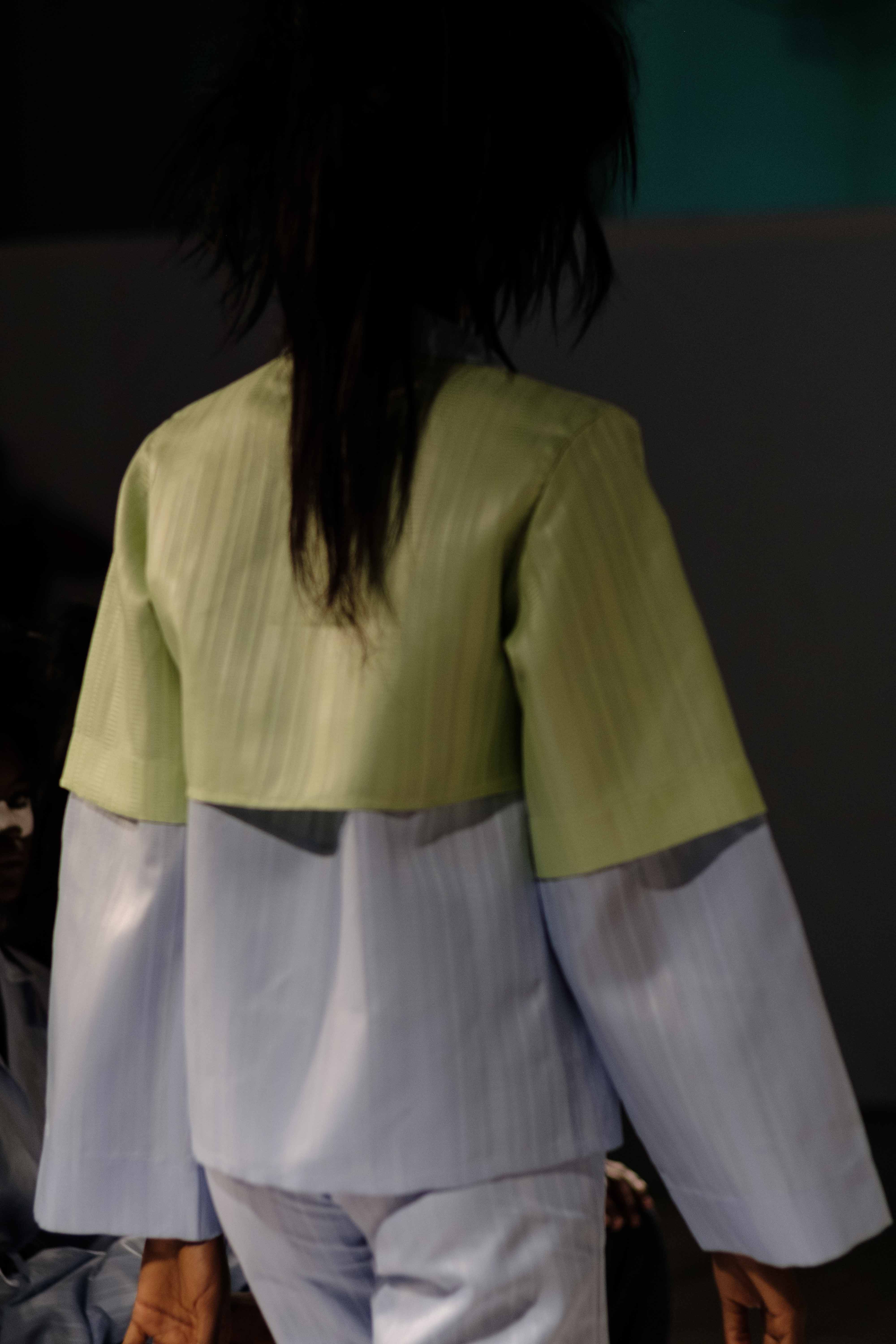 The seemingly unfinished side hems on many of the pieces hinted at a girl, who just couldn't be bothered with preening, knew when she looked great and kept it moving. A white floor sweeper dress and an off the shoulder lime and white two piece reflected this ethos perfectly: day, evening, beach, at home, all will be well, style wise at least in these pieces.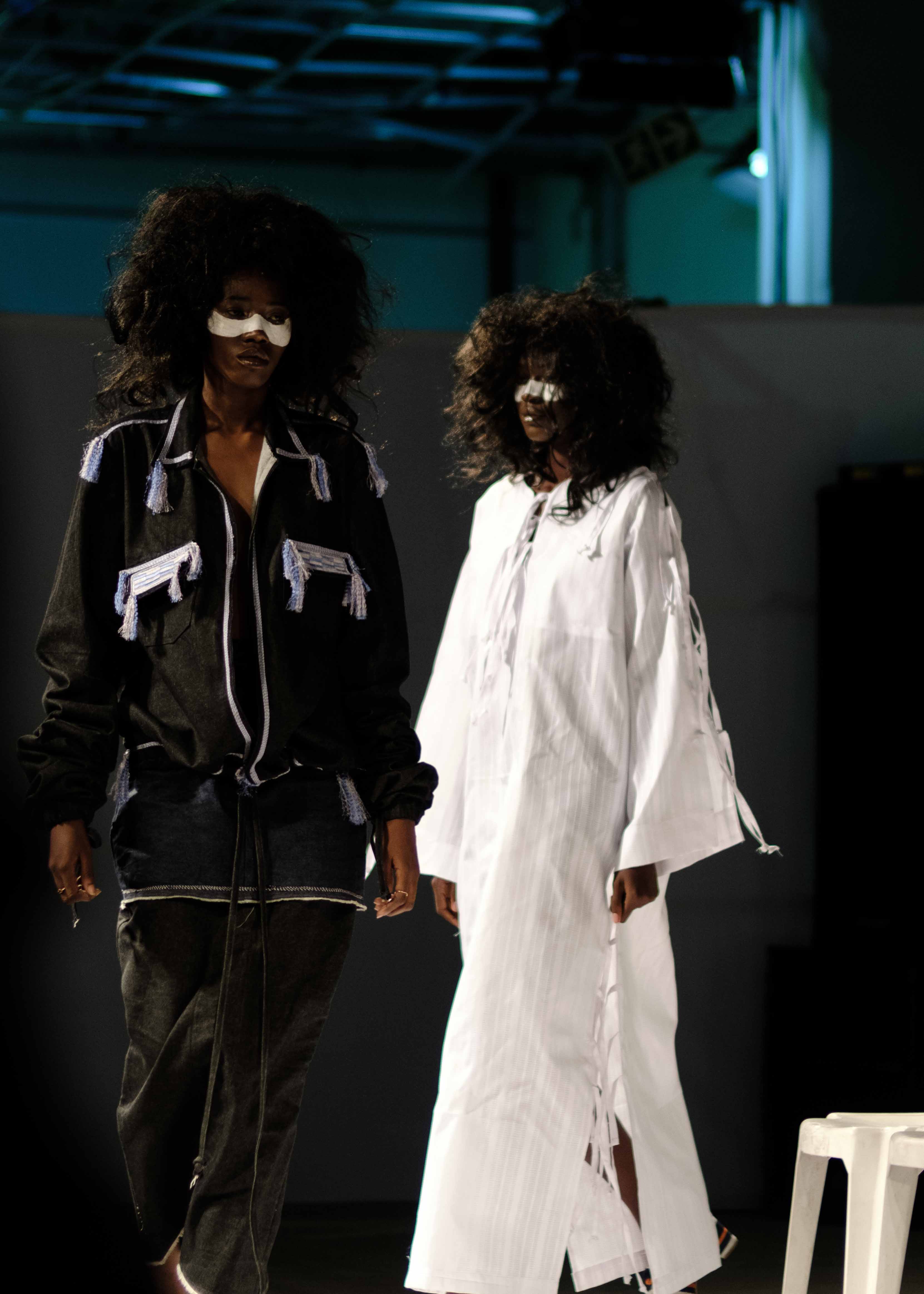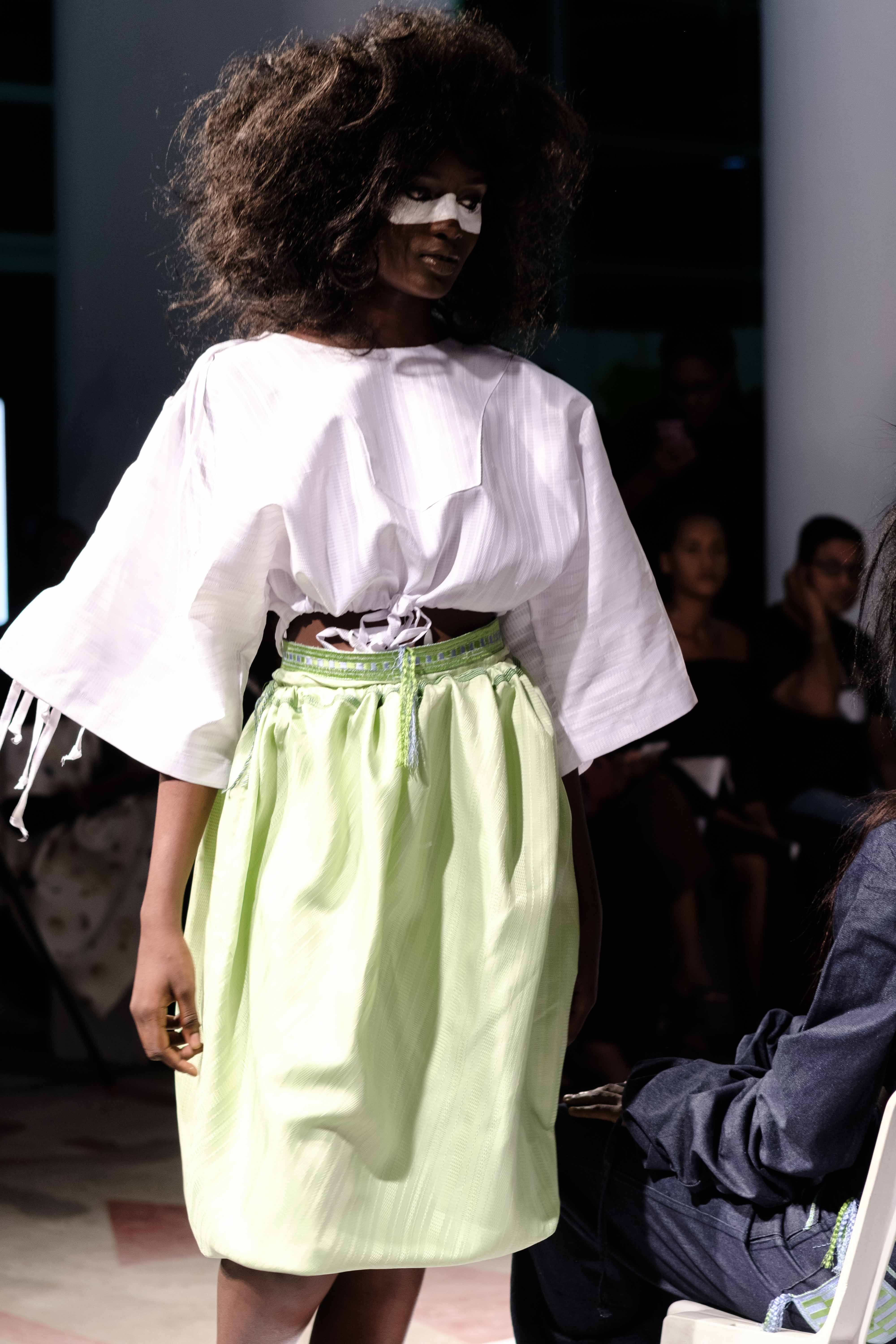 A collaboration with It-Accessories brand Shekudo pulled everything together as the aso'oke weave on the footwear married well with the brocade on top. A surprise and great addition was the denim sequence with one double layered coat, destined to become an Autumn-Winter hero piece. IAMISIGO ensured that Day One closed on the high we all wanted and indeed expected.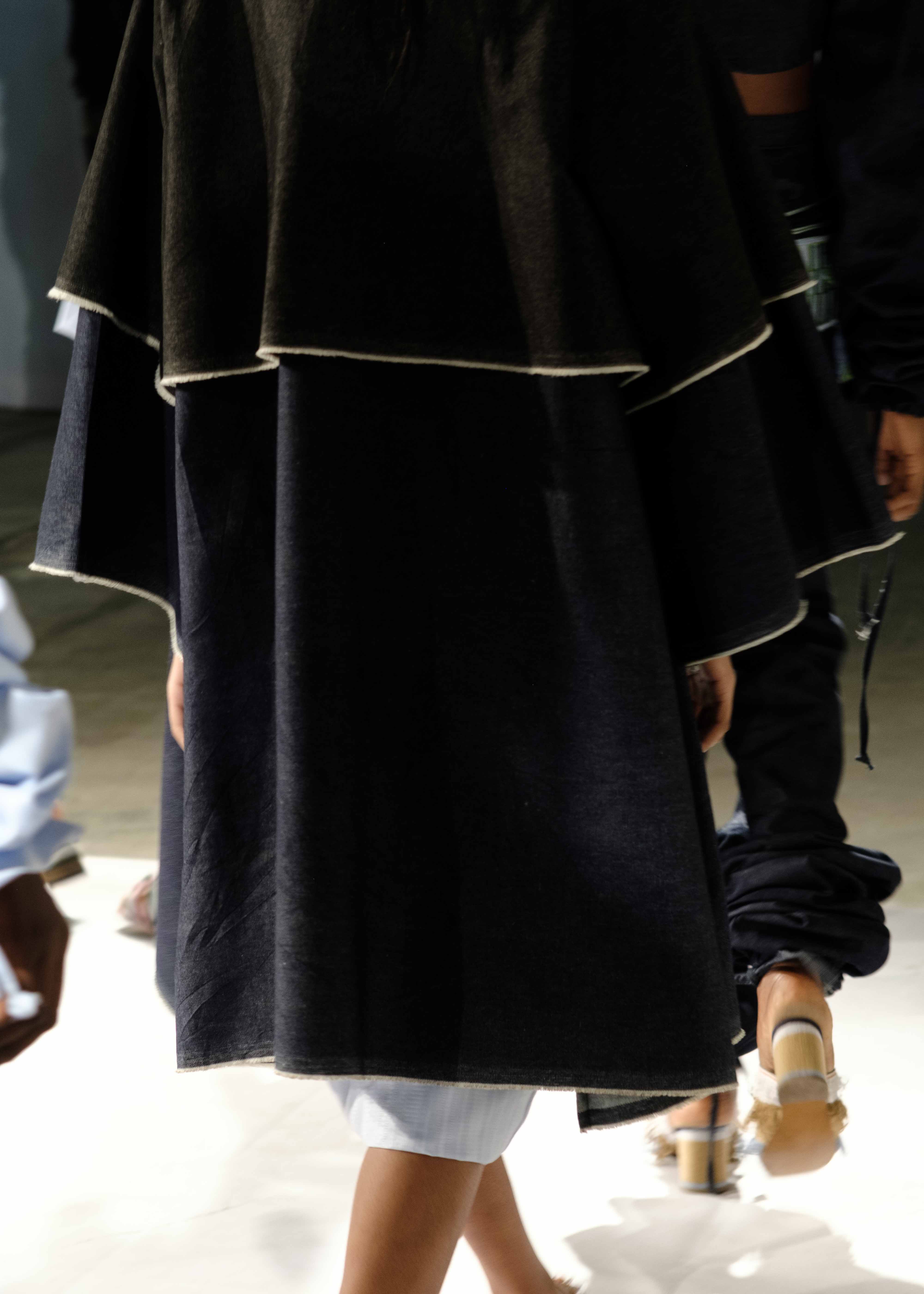 As to what to expect from Lagos Fashion Week Official, still with founder Omoyemi Akerele at the helm, I think the clue is in the name. A focus on location (Lagos, Nigeria and also Africa in a wider sense) and the vitality and creative brilliance that has chosen here for its home is an obvious objective. Secondly, there are the aims of genuinely augmenting the diverse actors, organisations and systems that not only constitutes, but also are necessary for a healthy industry. This is seen in particular in the Fashion Focus funds that emerging designers have access to, and the order sheets which allow the designers showing presently to immediately make money. And finally, the addition of the word Official, we have all seen it a hundred times on the 'gram, especially in issues of celebrities wanting to distinguish themselves as the 'real deal', but in this particular instance it is about authenticity of intent. Yes, we all love a party, especially one where fabulous ensembles come into play, but come here, show here and buy here and you are supporting an industry into its future.