Day Two of Lagos Fashion Week could be described as a day when reputations were cemented, more of later, but also big doubts with some more established names as to whether the hype, pressure or general hailing, that in our part of the world is par for the course had resulted in a loss of form. It is sometimes easier to keep churning out what is working or selling but it gets to a critical mass when not evolving can potentially result in stasis. Loyal customers who buy pieces by the half dozen are great for now, but a dicey proposition to rely on for the future, especially if growth beyond the domestic market to capitalise on regional, continent wide and global opportunities is part of a brand's long term strategy.
Commencing proceedings were two Fashion Focus finalists: Bloke and Demure by Denike, with Bloke by far the stronger. Bloke's Creative Director Faith Oluwajimi  entitled his collection "Collection About Nothing" with the colour white utilised as a starting and finishing point. Iterations of tailoring that would appeal to the younger man who wants to look pulled together but is also proud of his heritage were sent down the runway, and one is assuming the white face markings on models were a nod to indigenous religion.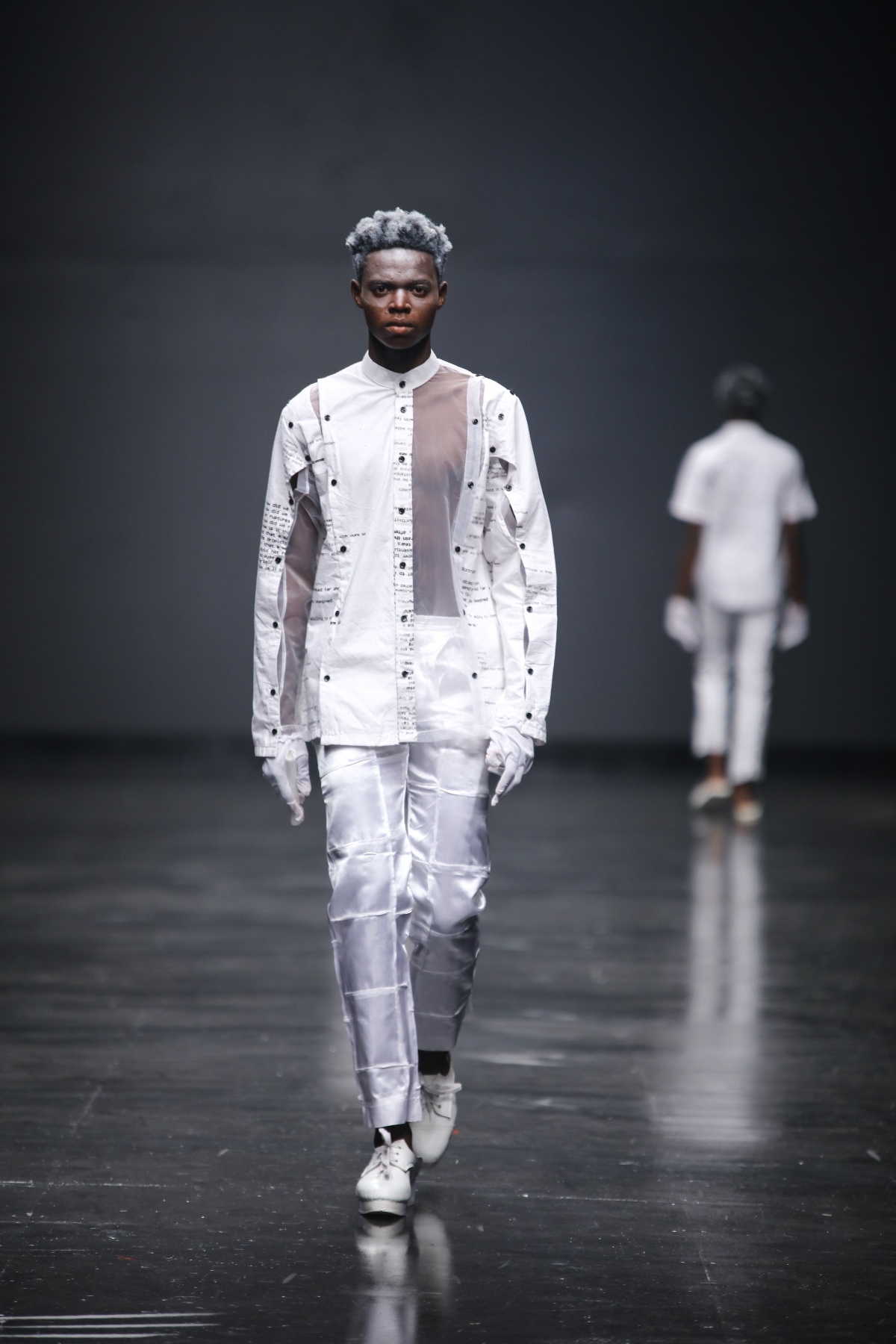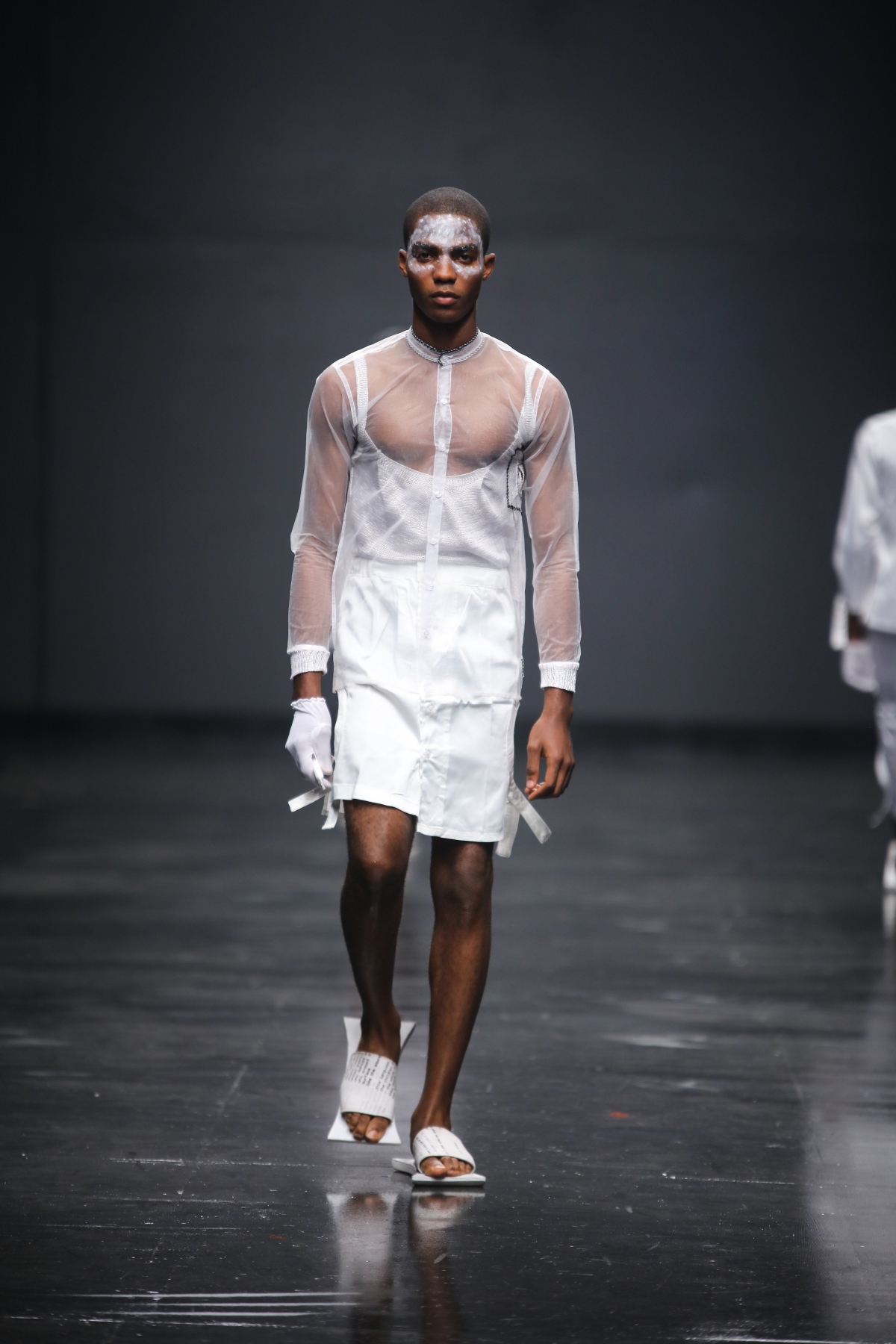 As earlier indicated some reputations were well and truly cemented and it was felt most in the area of men's trad. Curiously, the two dominant forces, Ugo Monye and JZO, showed on day two, with both putting arguably their strongest showings yet. Over the years Monye has built a following who go to him for exquisite renderings of traditional attire, and today he pushed the envelope further with a series of long line tunics in cobalt blue with cardinal red accents. The long staffs the models walked with channeled the village elder of yesteryear, but one who has a side-hustle of being the style arbiter for the traditional ruler. The show stopper and indeed closer was a short agbada teamed with an Abeti Aja cap; even if one takes away the show's 'mood enhancers' which in this instance included a full company of traditional talking drummers, the metamorphosis of an outfit that conceptually screams 'wedding guest attendee' into something that could be worn anywhere else was inspired. For men of a certain generation, wearing white trad indicates an elevation in station – mainly due to the fact that the dry-cleaning bill will no longer make your eyes water but also because it lends the wearer gravitas. Monye offered some alternative propositions: first evening trad – think brocades, tunics with chain fastenings and asymmetric tunics with contrasting and visible linings, and secondly black trad with texture in fabric combinations – black satin and cotton for instance – bringing the luxurious wow factor. Will black trad become the thing to step out of your G-Wagon or Bentley?  Very likely.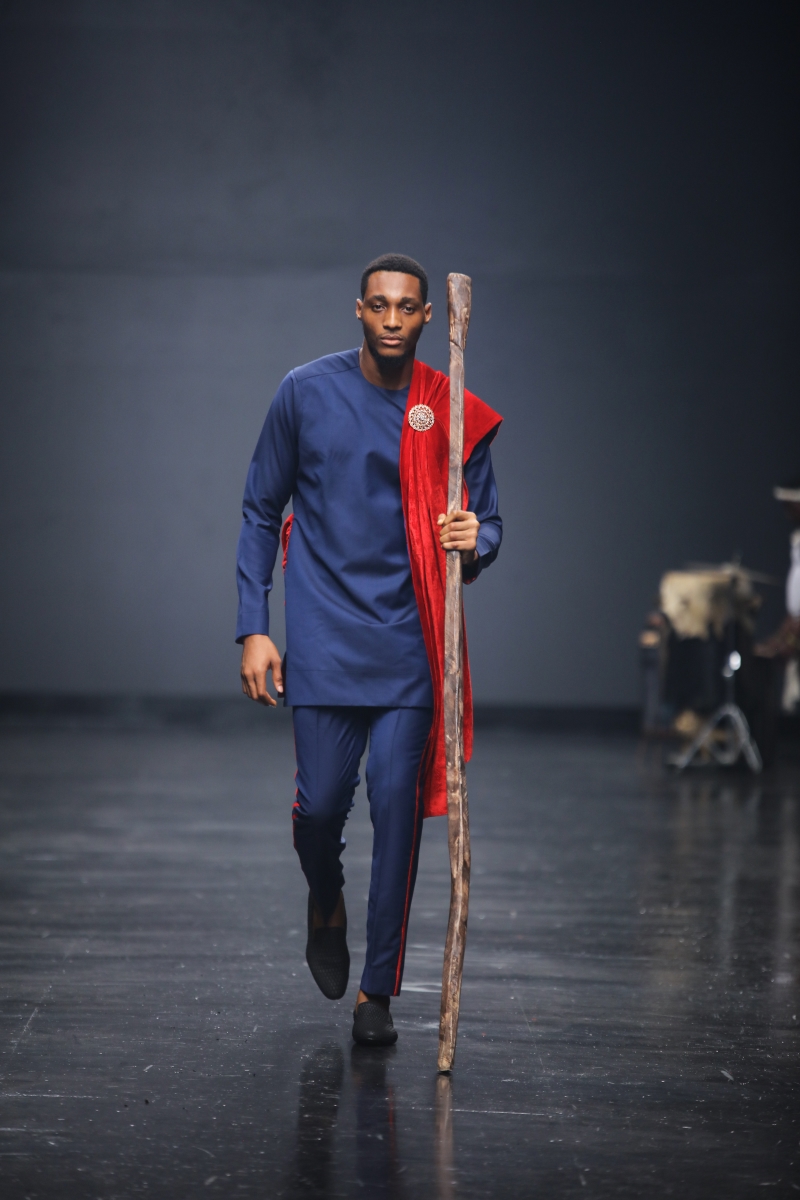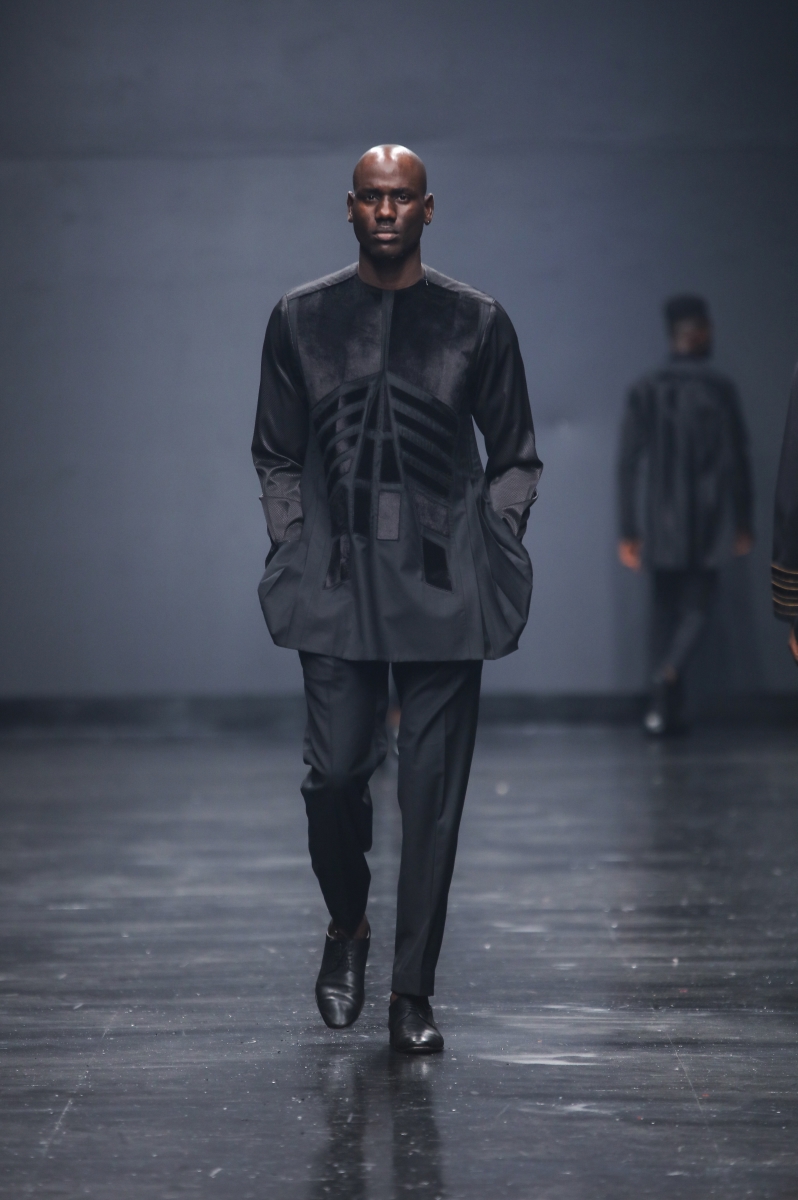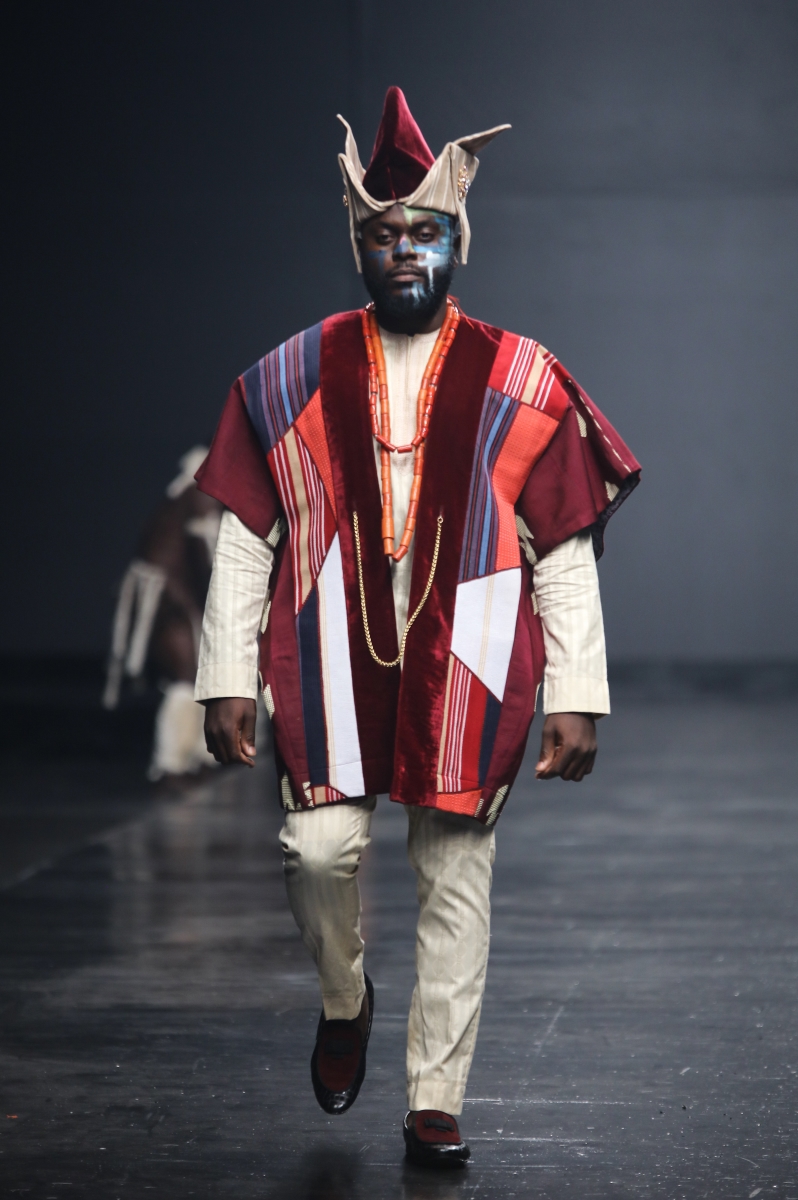 In the instance of JZO their collection was an extension of a mandate that since 2014 Creative Directors Joseph Ike and Olamide Akindeinde have been refining which is how to make trad an active sartorial essential rather than a cultural obligation for the younger man. It's a thin line between edgy and try-hard, but JZO have consistently created pieces that other designers might have a moment of wishing they had thought of the same idea first, such will the inevitable popularity be. This season, asymmetry in tunics and jackets which provided sexy hints of torso in addition to collars and doubled up sleeves turned the familiar into the unusual and covetable. Palette choice was strong without being obnoxious with cobalt, claret, and burnt umber tempered with black and white. When you're on a creative roll such as this it is best to simply continue.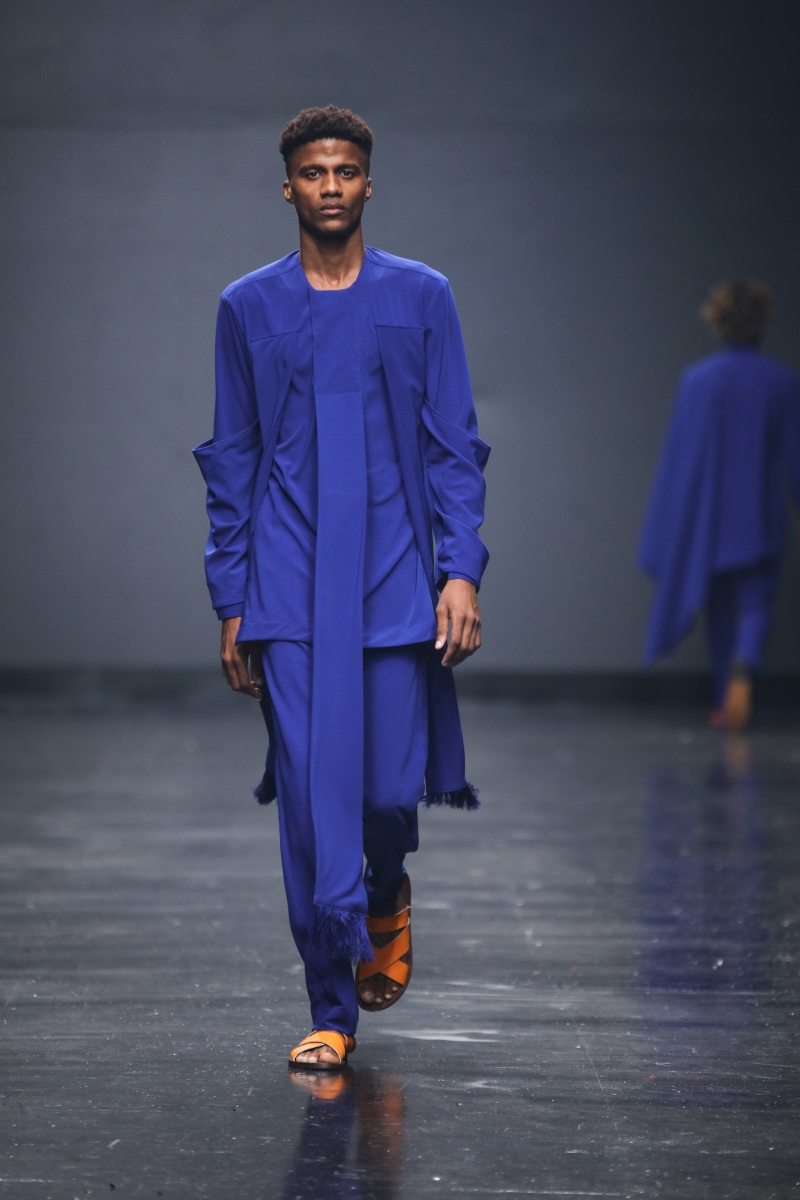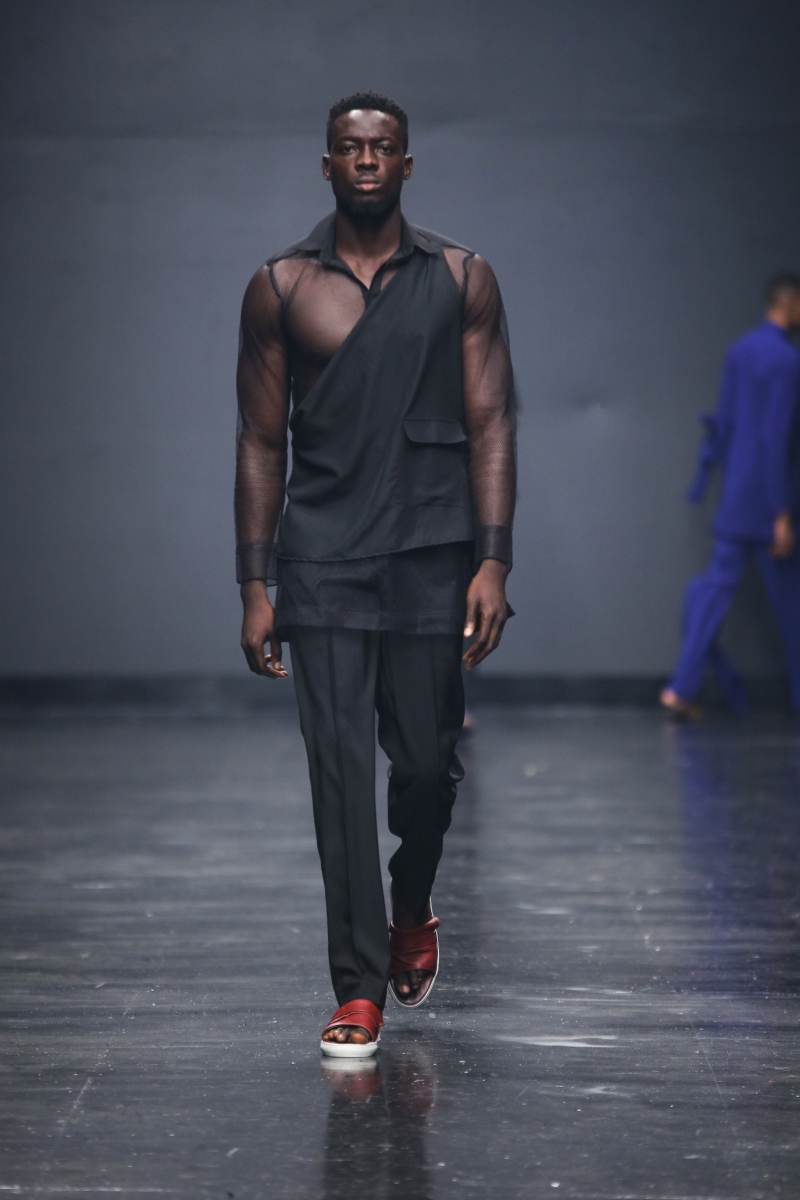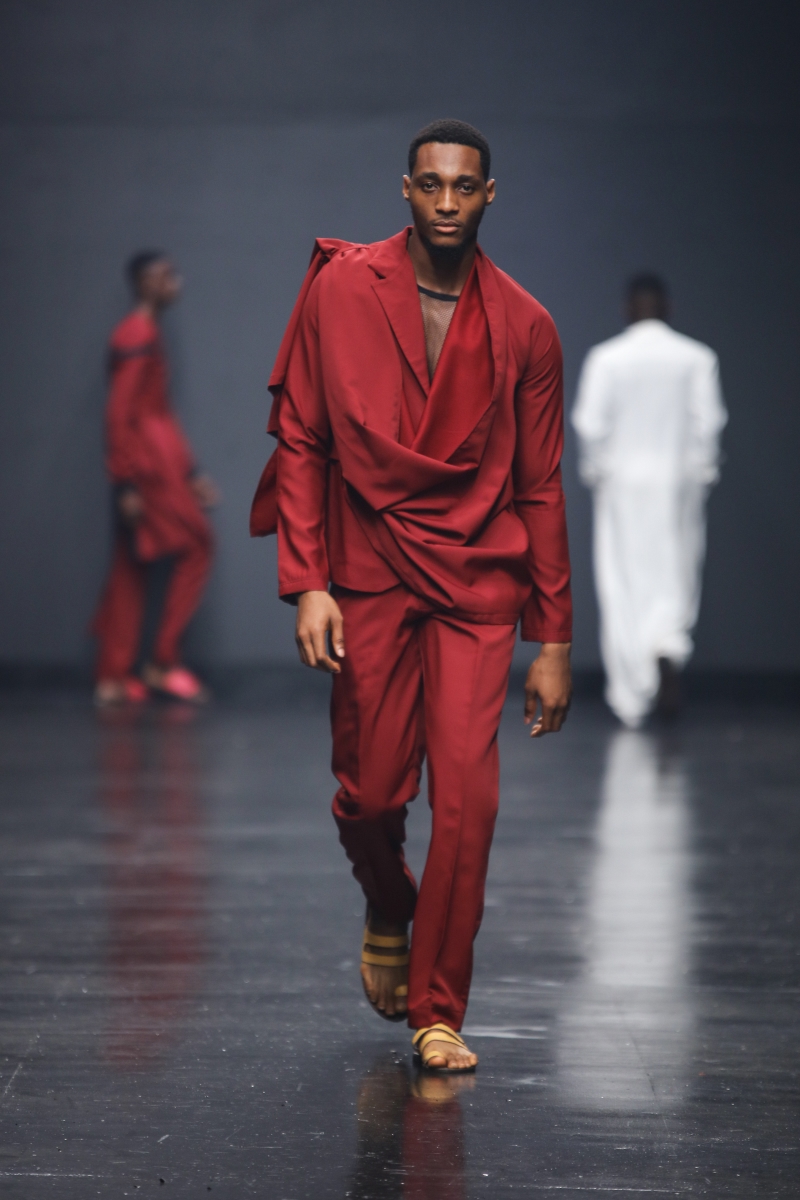 Going beyond the shores of Nigeria, Senegalese brand Tongoro Studio and Ghanaian brand Studio 189 were a window into alternative African aesthetics. Tongoro Studio's Creative Director Sarah Diouf in a previous interview with Elle South Africa has said the "The Tongoro girl is one of a kind; she's an adventurer." And travel sprang to mind in a collection that felt like wealthy woman on holiday rather than pieces you could throw on every day. Drawstring trousers, voluminous legged jumpsuits and roomy tunics in greys, blues and whites or lilac and lime prints accessorised with tiny totes or exaggerated cylinder-shaped clutches were not for the Monday morning meeting but were pretty nevertheless.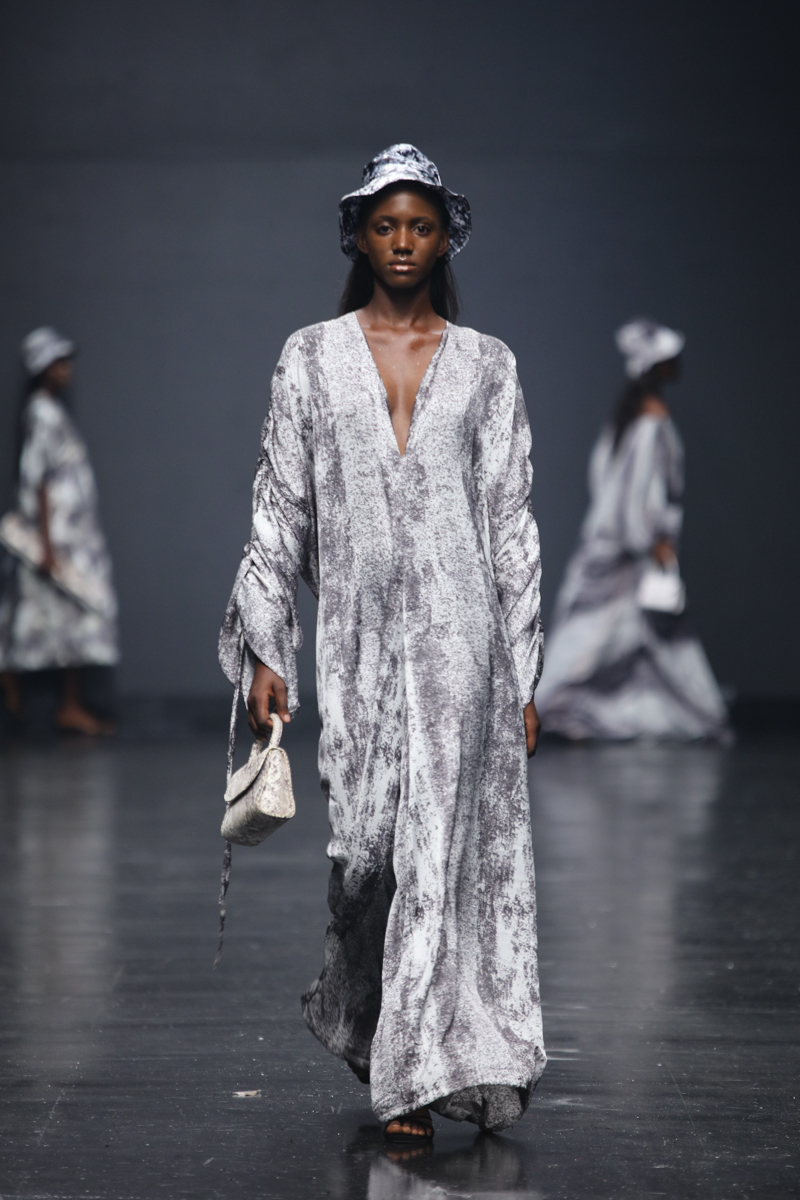 Studio 189 also had a resort season vibe with a sunshine yellow and deep blue palette, yet even with the Soukous music  bangers at full volume it never fully took flight. It did however, have a celebrity moment with fashion blogger, and special editorial guest of Lagos Fashion Week Tamu McPherson taking to the runway.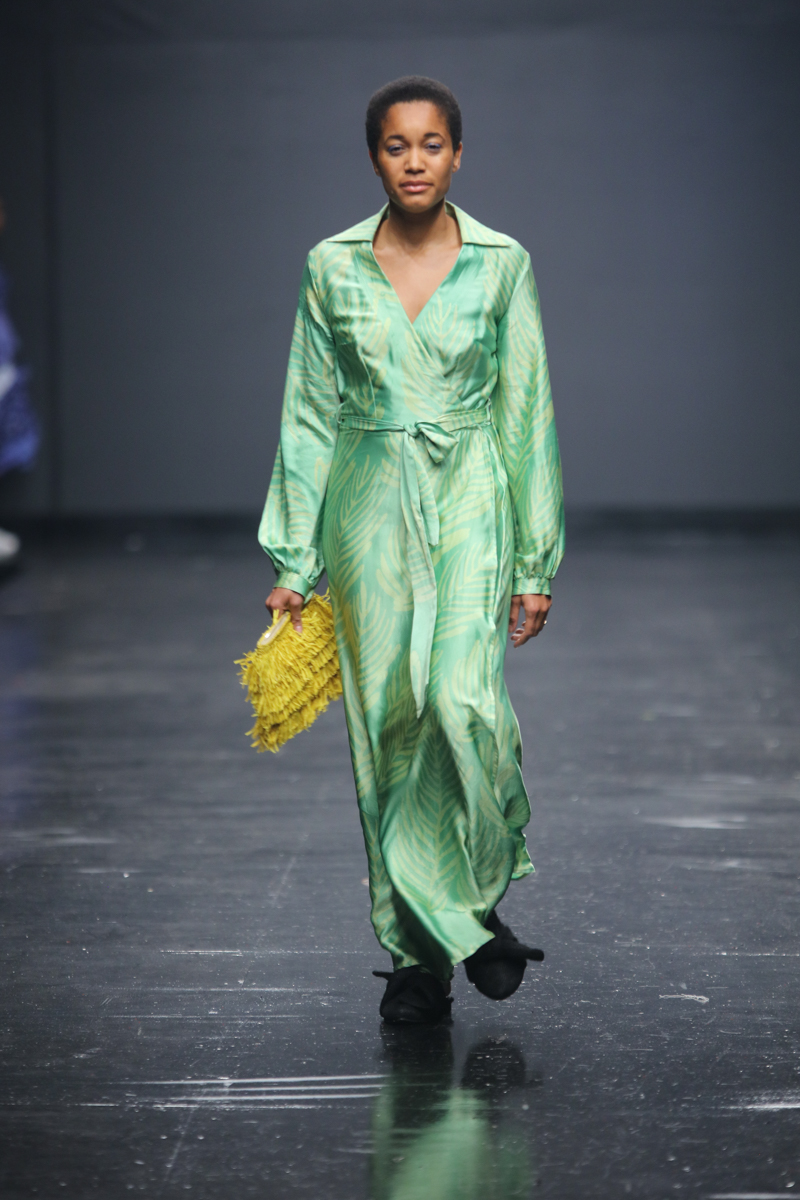 The evening closed with Lisa Folawiyo a woman who is not only one of the principal poster girls for Nigerian fashion but also by virtue of her business beginnings is seen as the standard bearer for print. In what felt like her most personal collection yet she referenced growing up in 80's Nigeria and how that has informed the woman she has become today, with even the music choice of Old-School classic Odyssey's "Going Back To My Roots" augmenting the point. The palette was very much tropical garden with orange, lilac and green prints, however, the sensory assault clashing was tempered by softer silhouettes that evoked care free summer days. Embellishment was by and large kept to a minimum and even the show's opener of knee-length city shorts, off the shoulder bra top and over-sized blazer was a statement of intent; that Folawiyo known best for tunic shaped dresses and skirts could also bring fresh cool girl vibes to the table. Inevitably, there were contrasting textures; a signature that she has stayed true to and the orange neon trims referenced hair bands worn as a child as too did the corn-row hair-braid trim that featured on some of the dresses which varied in shape from bias cut to floaty midi with cutaways to hit of the night, judging by the cheers, a tulip shaped mini. The hemline variation was a business savvy one – depending on your age and figure situation, all could participate. Nostalgia can sometimes end up looking dated but in Folawiyo's hands it was merely a tool to create pieces that chime with present times.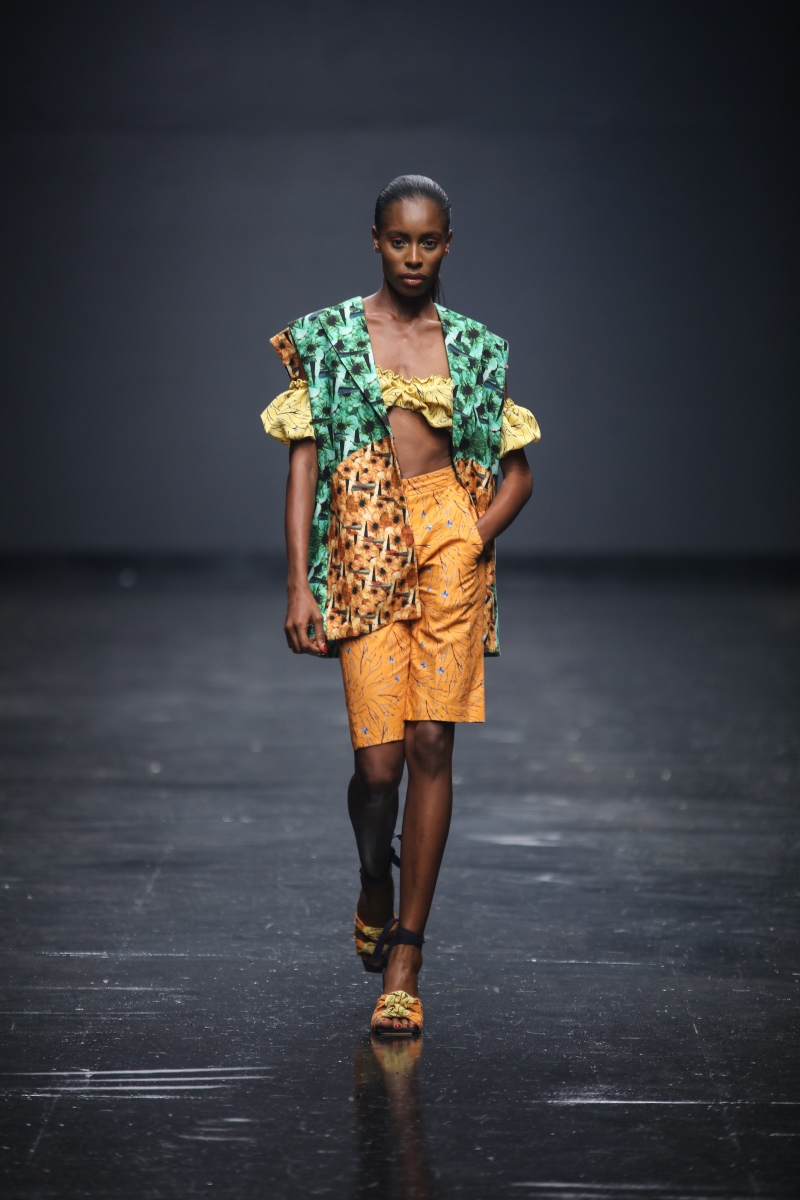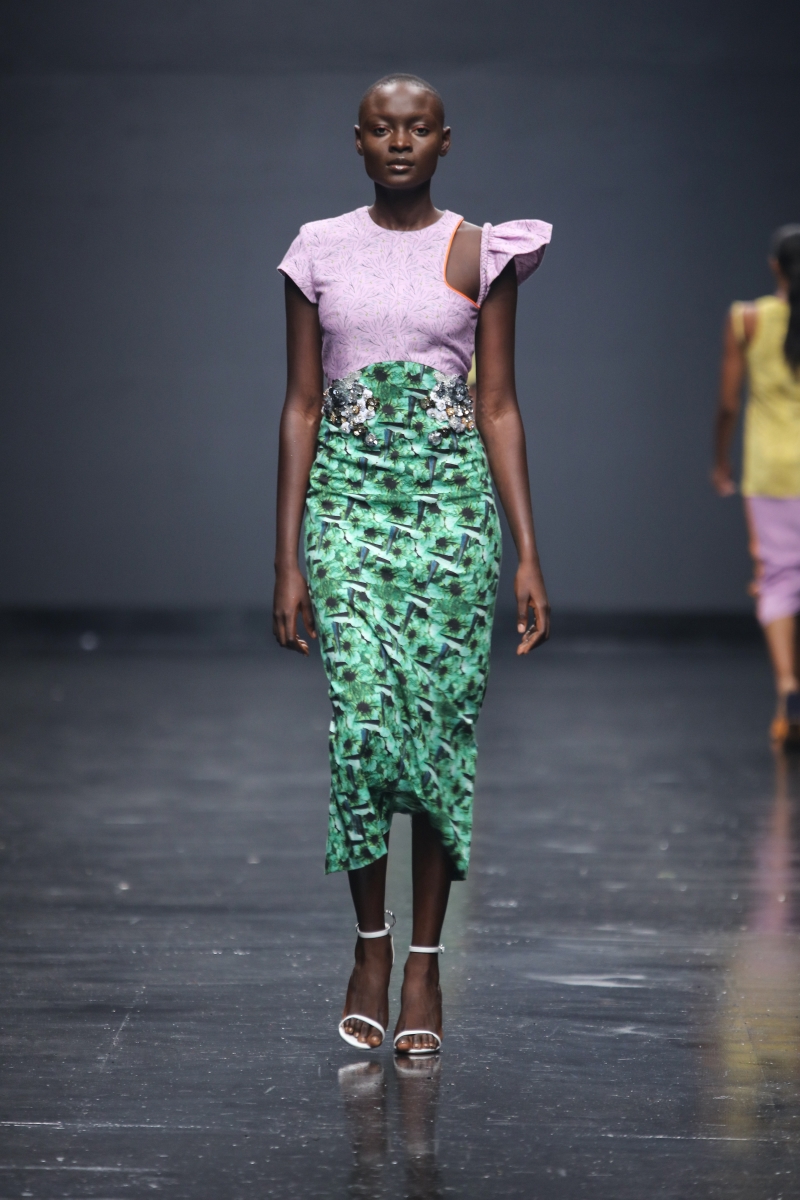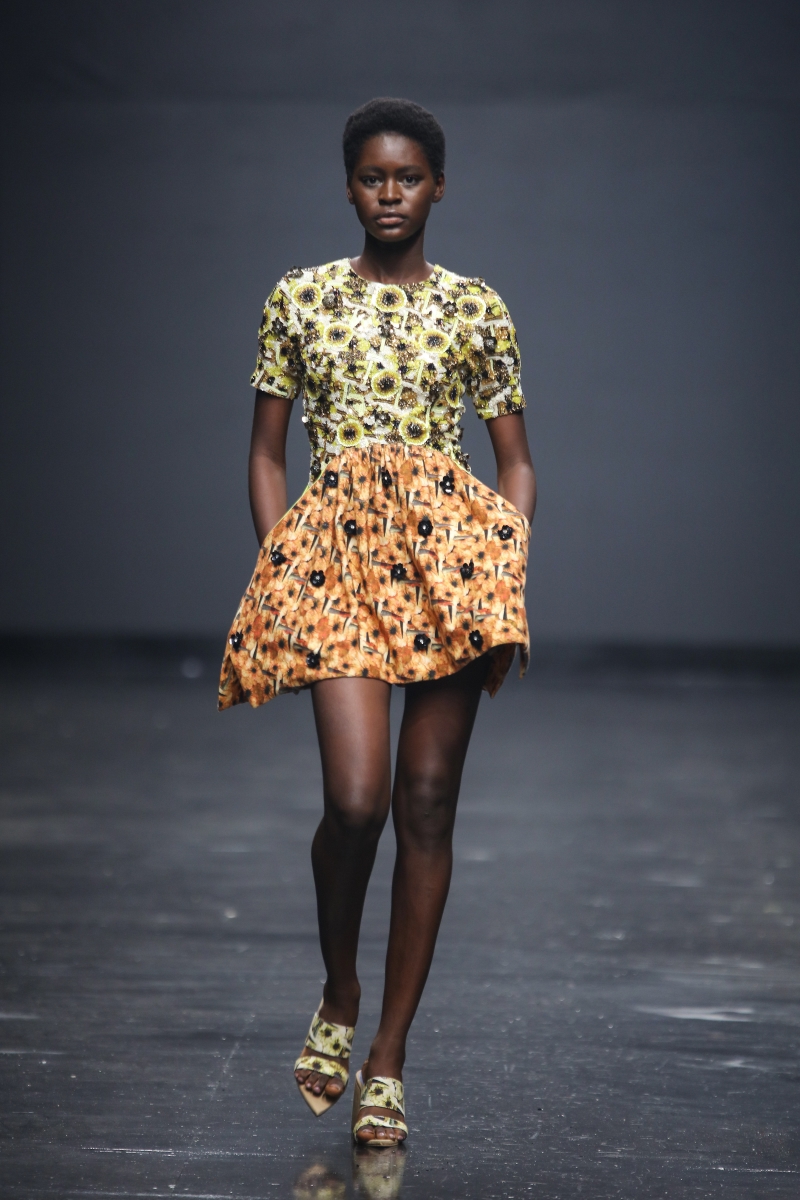 For those who were there on the night, it is clear there are some omissions in this review, but it becomes difficult and somewhat disingenuous to praise collections that seem to have lost their way either in part or entirely. Whilst it is exciting and exhilarating when the spotlight is thrown on Africa, especially for those of us who live here, it is also important to temper the enthusiasm, and keep a critical eye so that in turn we can keep improving our industry. Just as it's impossible to claim London is awash with talent on a par with the late Alexander McQueen or Paris has a dozen Yves Saint Laurents tucked away in each arrondissement, not every designer currently working in Africa is a prodigious talent. And one could counter, nor do they have to be.  Some are masters of garnering support from a particular segment of the market, still others are happy to court the media and be lauded even if the  sales sums don't tally in the books. However,  it is the designers that are rooted in their identity  and who also challenge themselves artistically and dare to translate the complex layers that make up  the numerous contemporary African narratives, whilst simultaneously creating collections that are lusted after the world over, that will  truly endure.