The French have a name for the new academic year – La Rentrée,  when students are brimming with excitement at the prospect of new learning. It also implies return, after all learning is continual, there is always more to discover and more to master, and if you love fashion there is always a new uniform to fall in love with too. Lagos Fashion Week kicked off what is now the creative season and includes contemporary art fair Art X Lagos, African Film Festival , AFRIFF, Aké Arts and Literature Festival and GTBank Fashion Weekend. Expectations were high this year not least because the legendary Fashion Critic Suzy Menkes Editorial Director for Vogue was in attendance.
Betty Irabor requires no introduction; as the owner and founder of Genevieve Magazine, a pioneering publication that has done much to alter the fashion landscape in Nigeria, her foray into presenting a collection seemed organic. Entitled "The Dew Collection" it was a collaboration with a host of brands including Mai Atafo, Style Temple and Needlepoint with an aim of promoting awareness on Mental Health. Rather evocatively of brighter tomorrows, the designers chose to use a sunshine palette of saffron, tangerine and white print with pieces that for the most part leant strongly to occasion wear including a number of red-carpet ready gowns. As it was for a cause, one cannot judge the collection by the same yardstick of others that followed. Nevertheless, it will be interesting to see how the brand develops but judging from the applause as she took her bow to Gloria Gaynor's classic 'I Will Survive',  Betty's own personal popularity will be  the fuel required and given that it's expanding the conversations around the taboo subject of  mental health it is a worthy inclusion.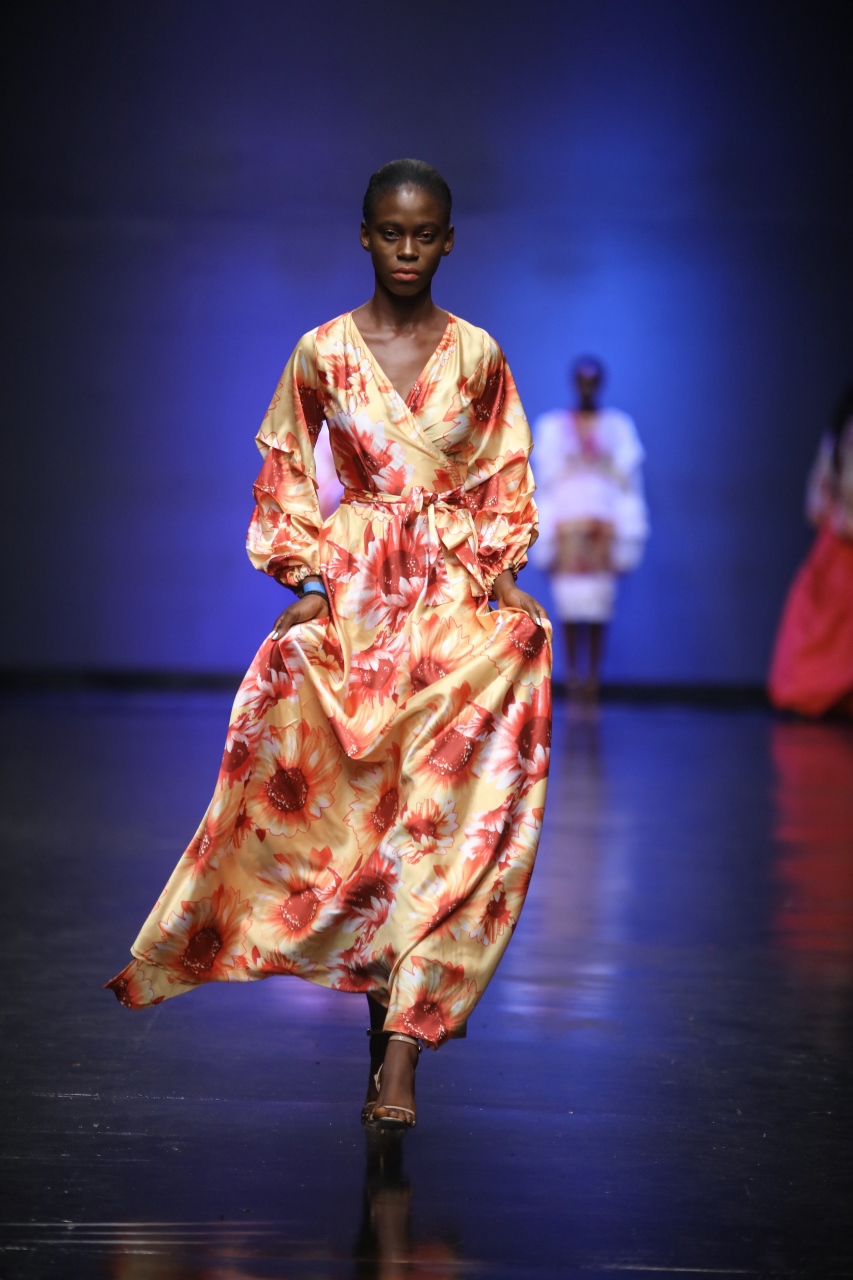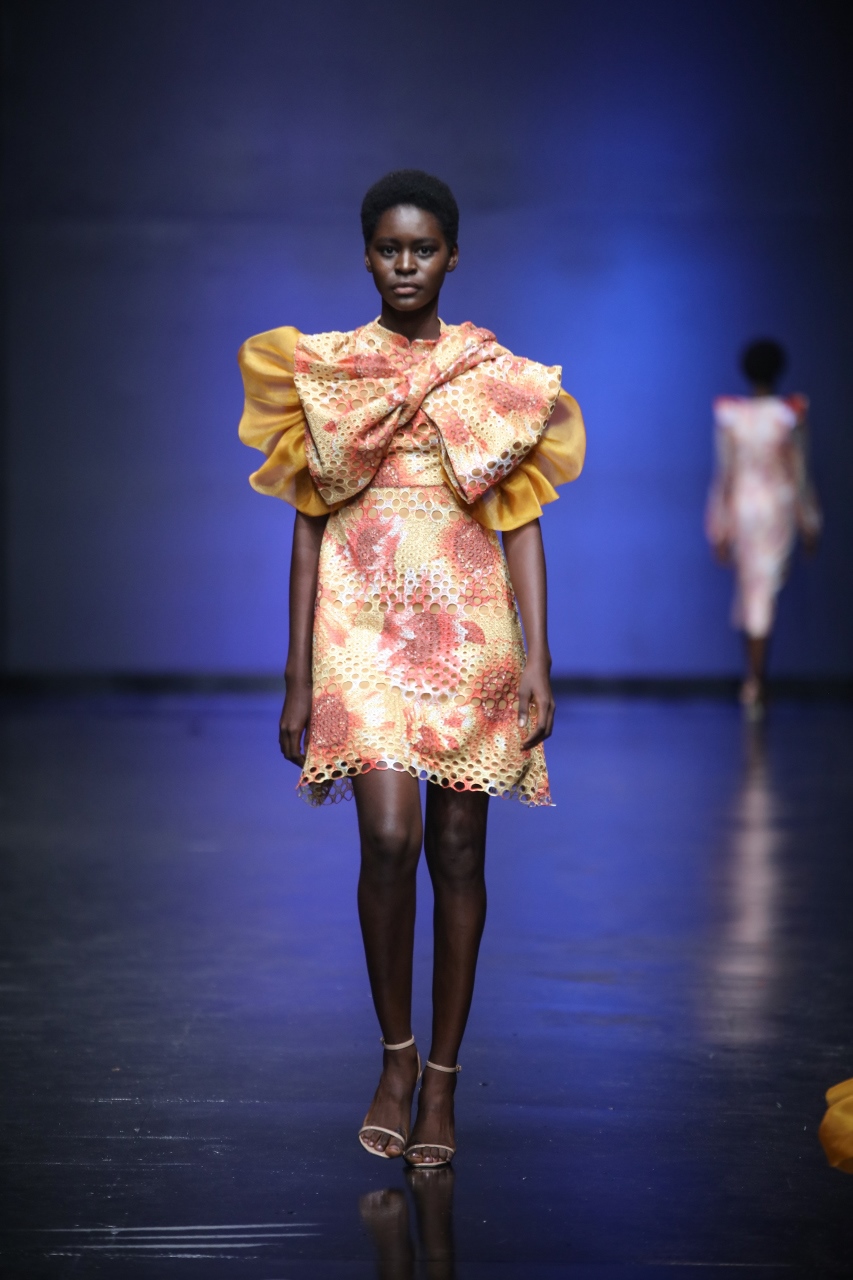 A new name to not only watch, but to buy now, before the wahala of getting pieces when you want them gets too much is Lagos Space Project. Every fashion capital needs one: that designer that fuses intellectualism and culture to create pieces that are not only conversation starters but conclusions in and of themselves. Creative Director Adeju Thompson  was entitled 'Project 3.1 AWO-WORKWEAR'  and he took as his starting premise what a modern-day Babalawo might need to go about his business. In turn we were treated to high waisted drawstring trousers with voluminous legs, overalls that were given a knife precision finish, long line tunics with outsize pockets that would render a handbag entirely optional rather than necessary and wrap adiire skirts with white shirts worn very insouciantly by both men and women. Granted, some customers might be put off from the lack of overt sexiness from the pieces, but to offer an alternative way of dressing in a tide of Slay Queen-age and Fine-Boy-No-Pimple and excessive fuss and flounce saturating the runways was refreshing to say the least.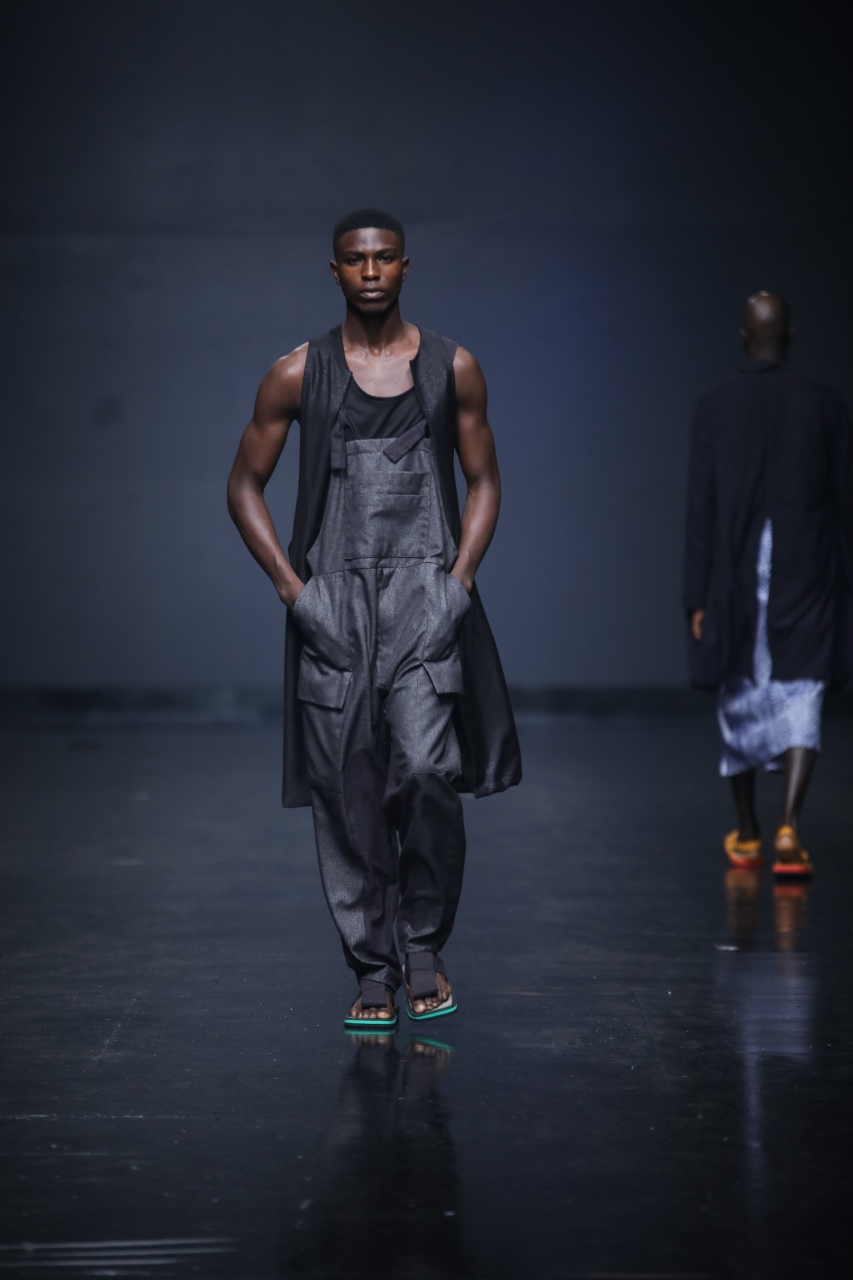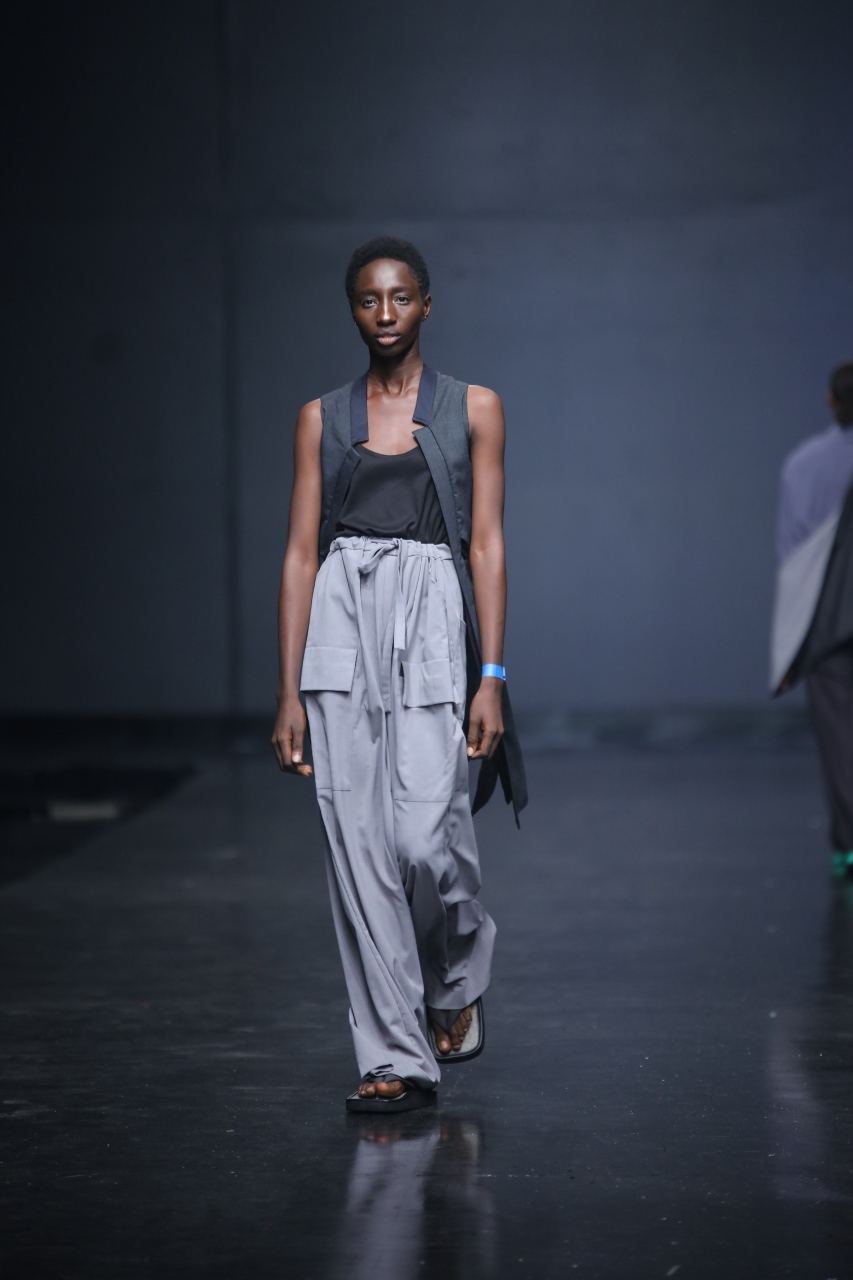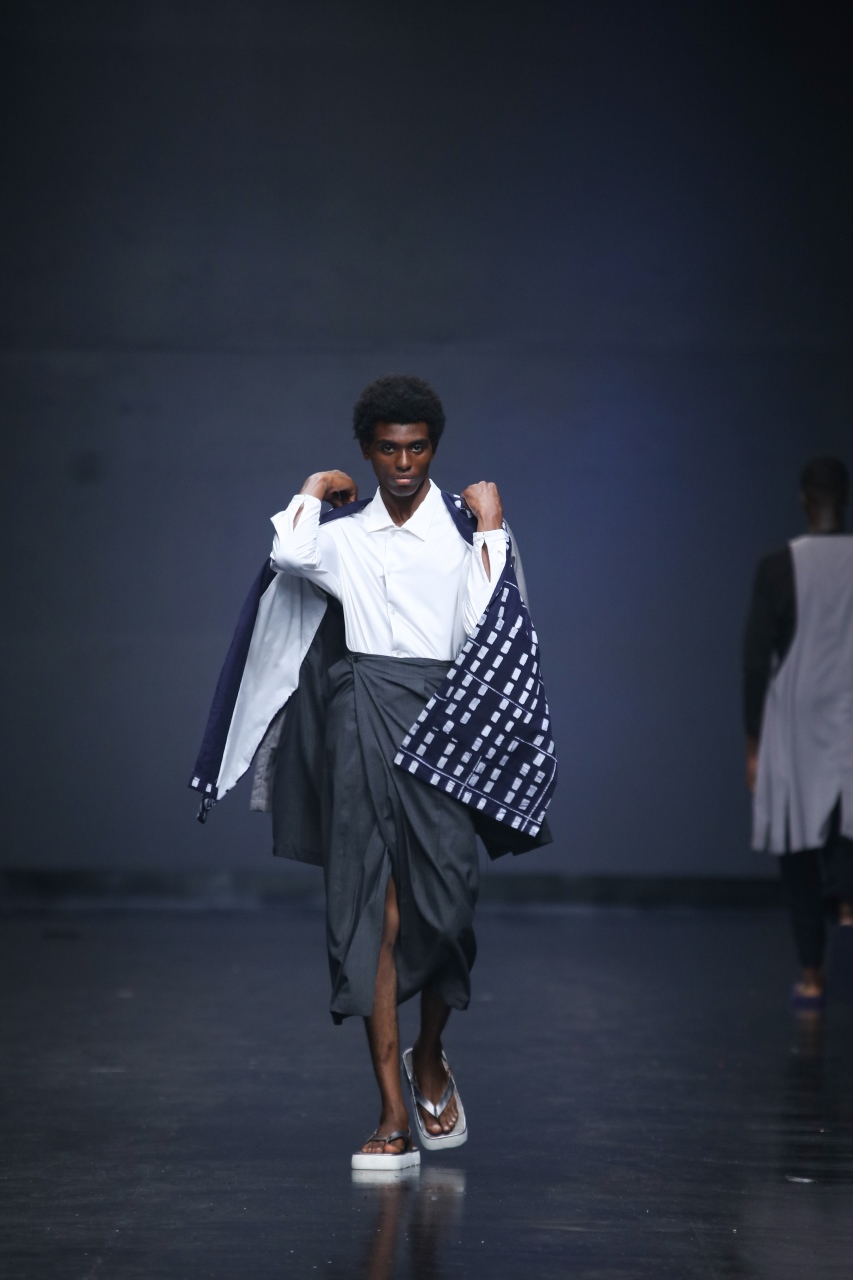 Kiki Kamanu's collection was entitled 'Sisi Eko' and was a love-letter to the women of Lagos, although this being Kiki it was the women of Lagos who are as fearless and expressive as the eponymous designer. Silhouettes varied from body skimming to trapeze for dresses and slimline to drop crotch harem shaped for pants, a touch that thankfully made participating in the Kiki Kamanu aesthetic not dependent on body shape or size. Slogans on pieces is nothing new to the designer who gave us the 'Pepperdem' dress, but this season as well as a return to the evergreen 'LoveLagos' hooded dress this time in a pencil silhouette and with contrasting fabric on the hemline.  We also had a cheeky top with 'Take What You Need…' with an assortment of options and an asymmetric hemline and clashing fabric skirt. As always there were accessories aplenty including large trapezium fringed tote bags that are sure to be a hit. The former runway model took her signature walk to Drake's megahit 'Kiki' and yes, the crowd definitely still loves her.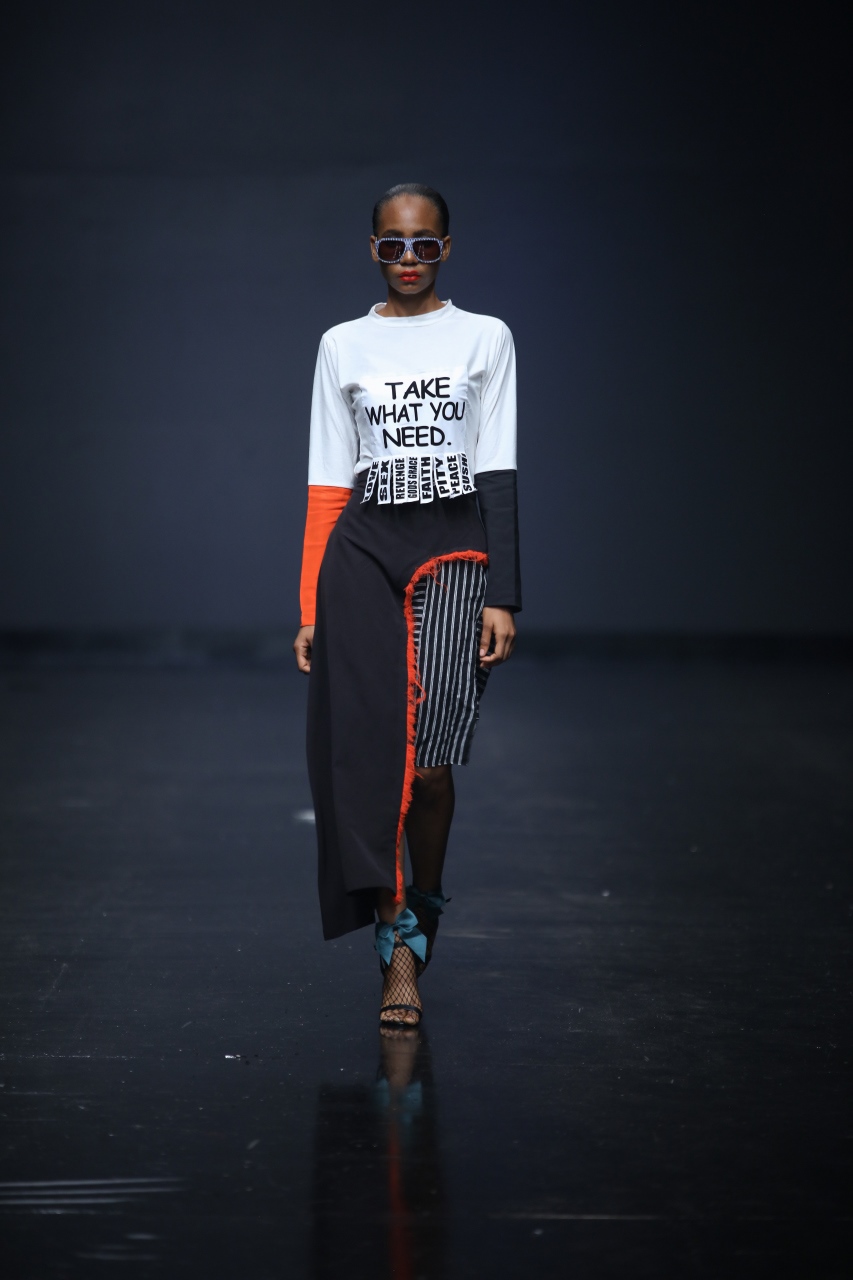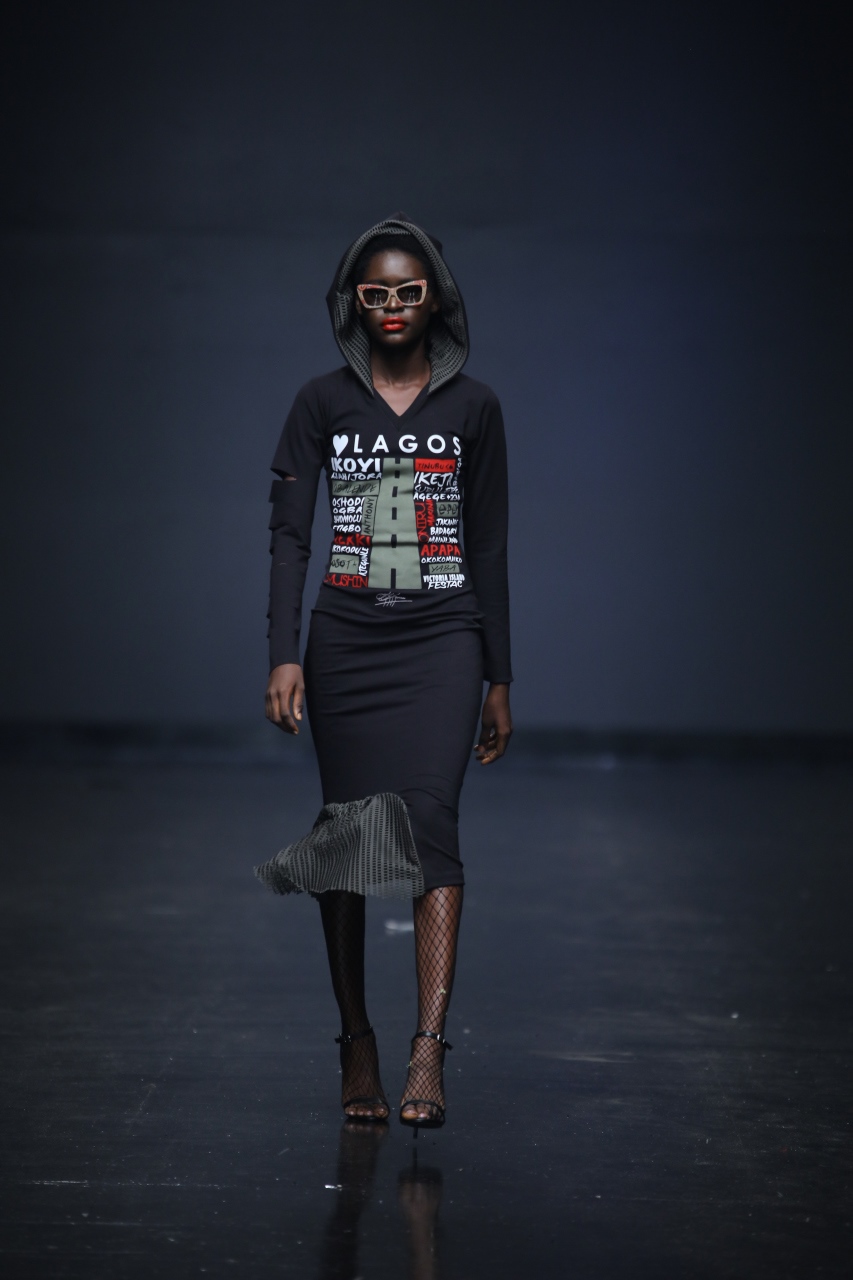 Anyango Mpinga was new to the roster but the Kenyan native definitely made an impact with an assured collection. A series of white lace dresses opened a show and if you are an existing Self-Portrait fan, you would have found more to lust after and purchase. Pretty prints were most definitely a thing with an asymmetric free shaped frilled  and pleated dress garnering a flutter of applause as it made its way down the runway. Equally well received were a series of red silk bird printed dresses with text that had 'love', 'freedom' and other positive words adorned to replicate newspaper headlines. Styling details such as the straw hats worn at a jaunty may have divided the crowd, but they spoke to a designer who possesses clarity of voice.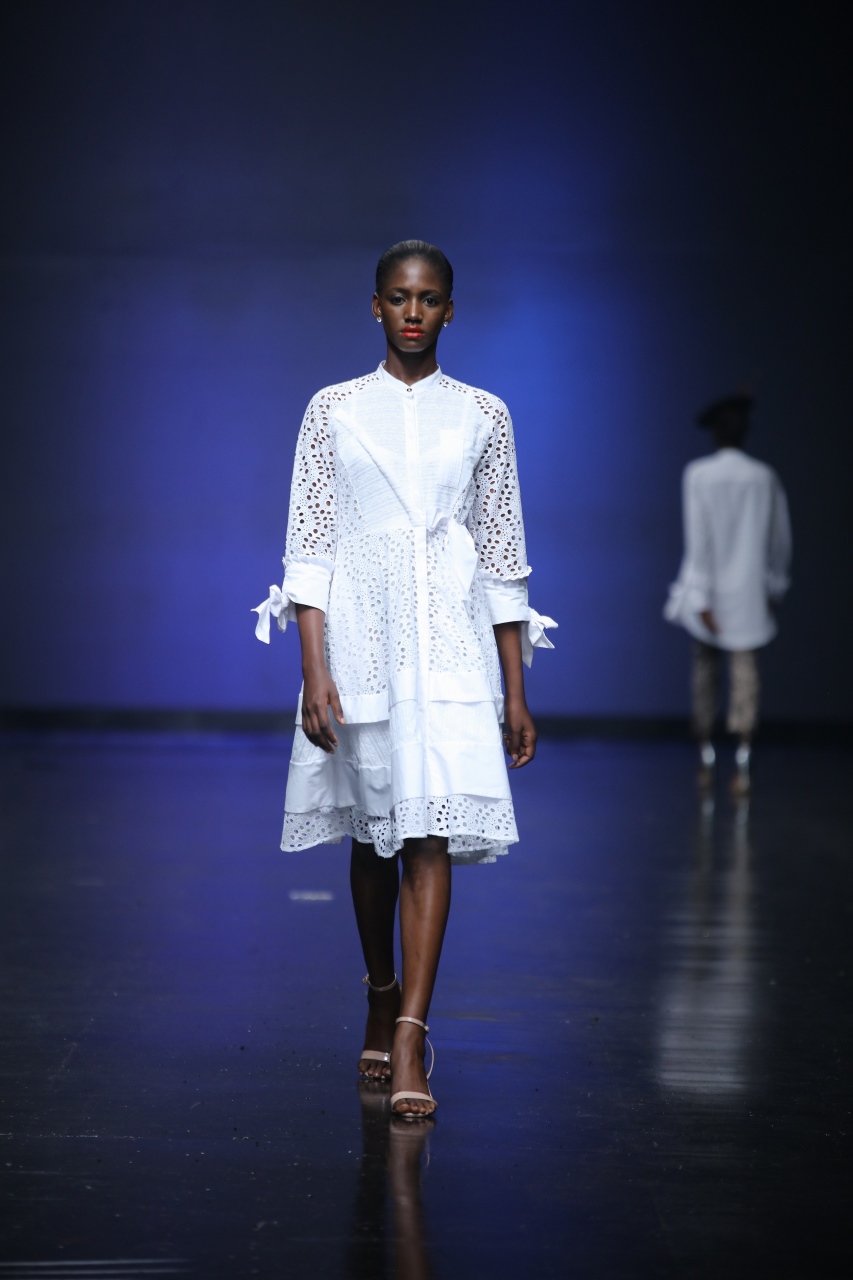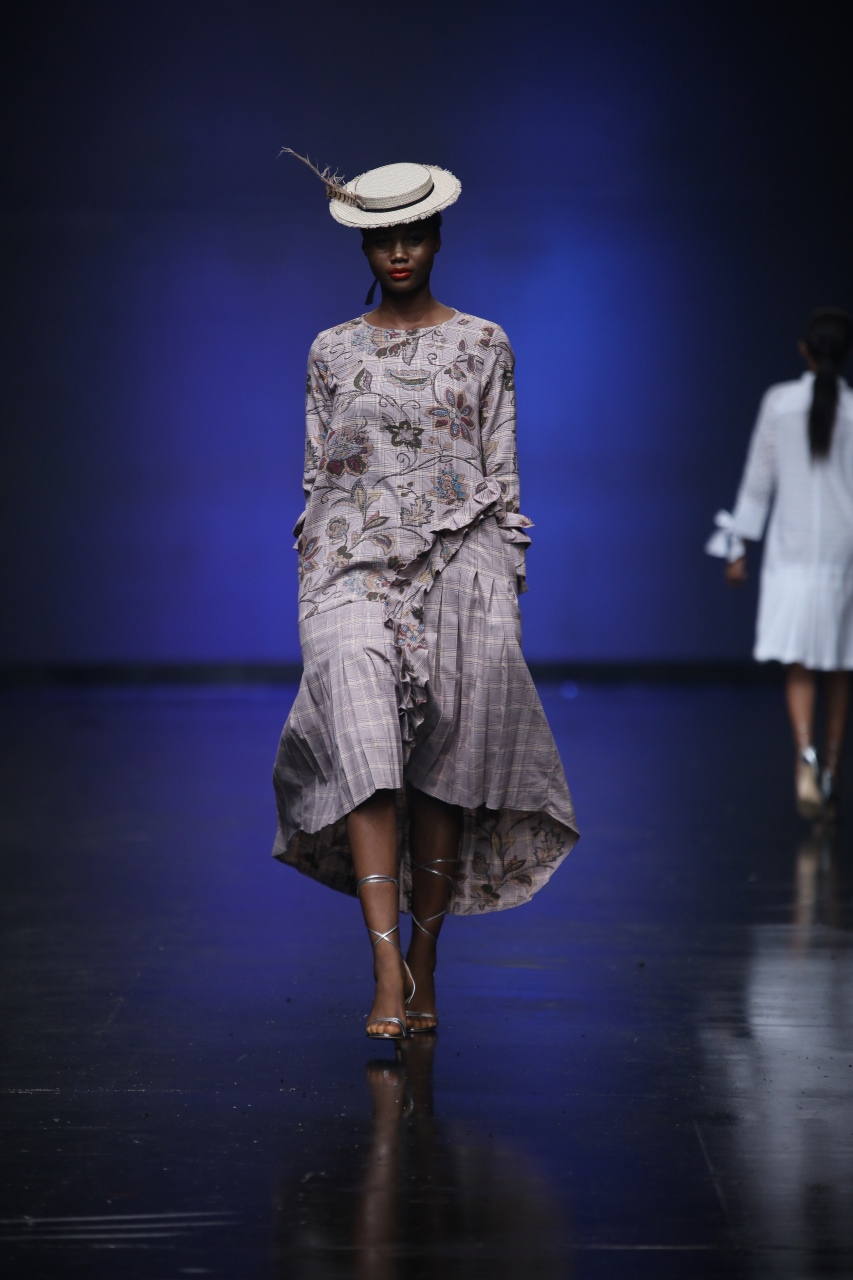 Maxivive is definitely the Marmite of the Lagos Fashion scene with as many who love as those who dislike Papa Oyeyeni's work, but that is oftentimes the price you pay for singularity of vision. The Collection entitled 'How to Marry A Billionaire' opened with some 'look away now those of delicate dispositions' slogan sweaters, t's and pants, a collaboration he has created with Funmi Fagbemi. Some might say completely obscene, others will counter merely provocative. And indeed, the notion of using your more carnal charms to get what you want, whether it be a partner who can lend you the Private Jet for a quick shopping run in Paris, or for people to see and desire the real you were present in all of the pieces. Lurex, sequins and iridescent finishes indicated a continuation of the 'Glistening' theme explored in the previous collection, and the palette was as broad as one's tastes or orientation may be. In the midst of the show flourishes including an unconventional bride and groom closer, were pieces that Maxivive is known for, with knitwear, shirts and trousers that were covetable and simultaneously spoke to the genderless agenda that is being championed globally. Since the show, there has been much talk that the brand went too far, was too controversial and is not representative of the prevailing norms and values of a country that for all it's flamboyance is conservative. But beyond selling clothes,  isn't this the point too of a fashion show and other outputs from the  creative industries be they books, film or art; to hold up the mirror to society but also to push the proverbial envelope? Amidst the hoop=la there was a lot for the existing and new Maxivive customer to wear, and whether one wishes to admit or not, apart from offering covering, clothes play many roles including denoting power and aiding in seduction.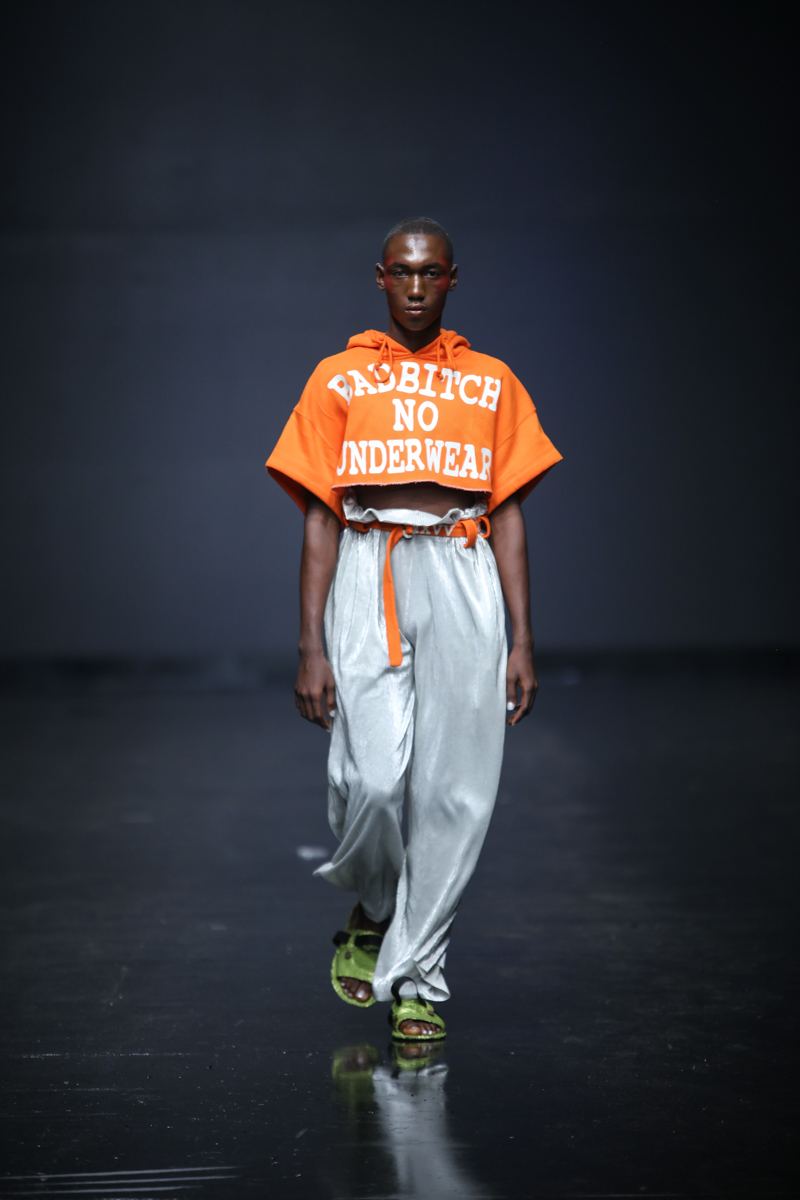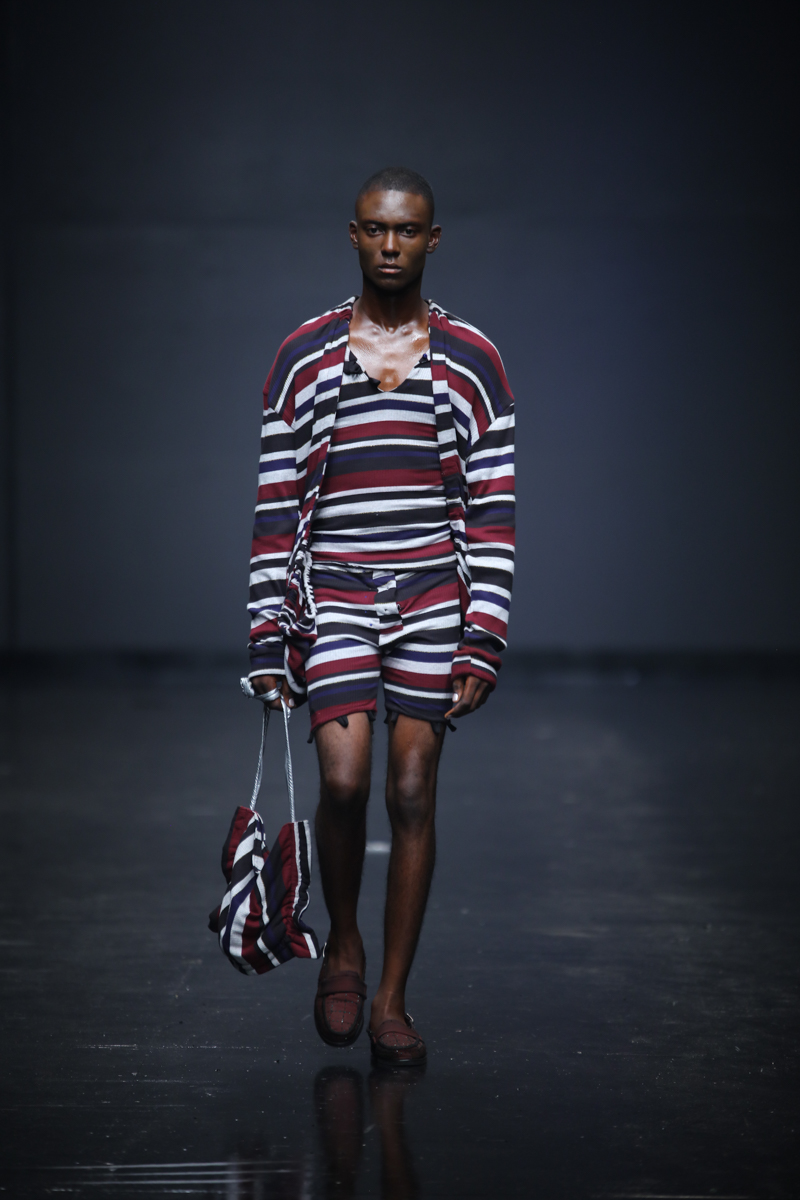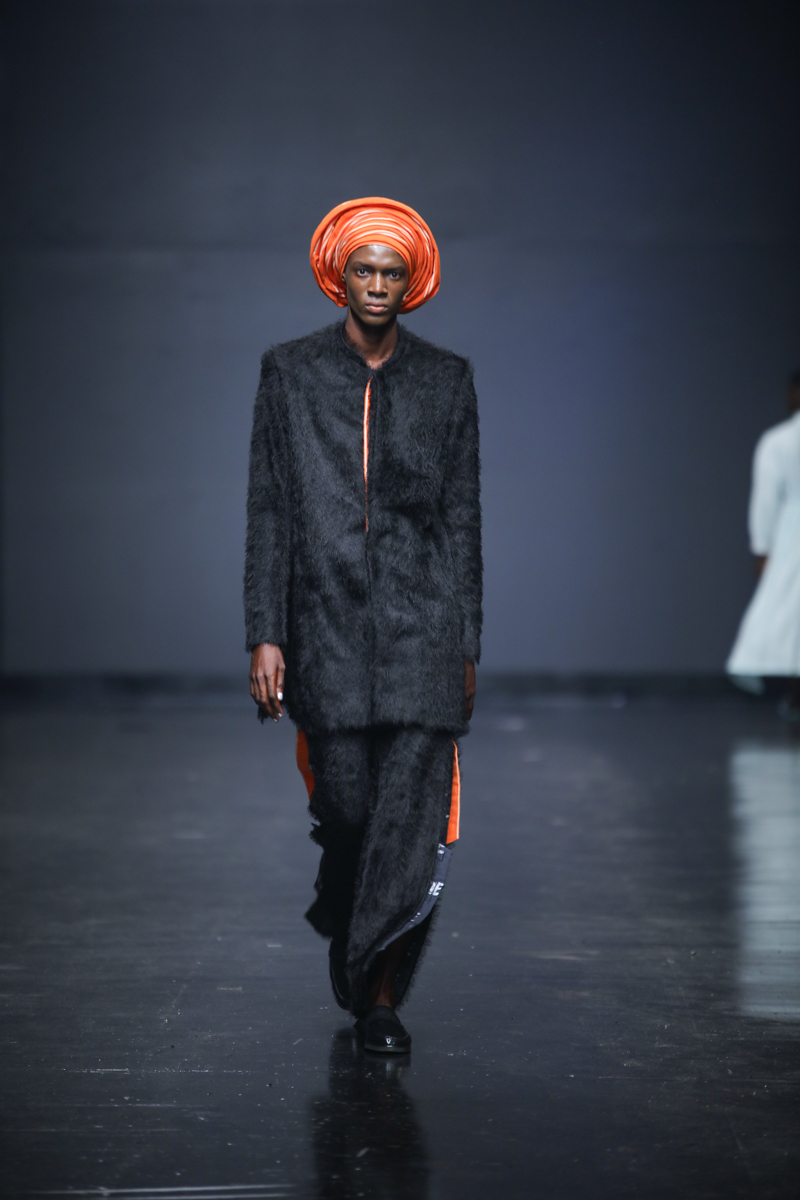 Closing Day One was Kelechi Odu. Full disclosure; the designer is a close member of my family. However, like a child at Christmas who doesn't unwrap presents early even when you know where they are hidden, I was as surprised and delighted as those who persevered with the crazy-have-to-have-been-there-to-believe-it late commencement of the programme itself; a situation that had a knock on effect for all who showed, especially the designers later on in the schedule, who were seen only by hardcore to the death fashion lovers, family and friends or those who are partial to driving the streets of Lagos post-midnight on a weekday. But if you were there you were given a masterclass of executing a concept, distilling your message and leaving an audience stunned to the point that they might just not only consider but also wear what you're proposing tout-suite. The collection was entitled 'Automatic' and the silhouette was a throwback to the 1970's when men wore flares, stacked heels, open shirts or no shirts at all and had swag for days. This being Kelechi Odu, exquisite tailoring, origami folds on shirts, conceal and reveal elements on tops and the show stopper closing jacket, as well as slits half way up trouser legs meant to truly 'dress and oppress', the gentleman in question might need to head to the gym first. Footwear was a hybrid of then and now with wooden heeled sandals that had leather, suede and and gortex finishes. In a sea of streetwear, logo drenched mania and it-trainers, is the time ripe for the modern man to do a volte-face? If you were up for it here was your solution.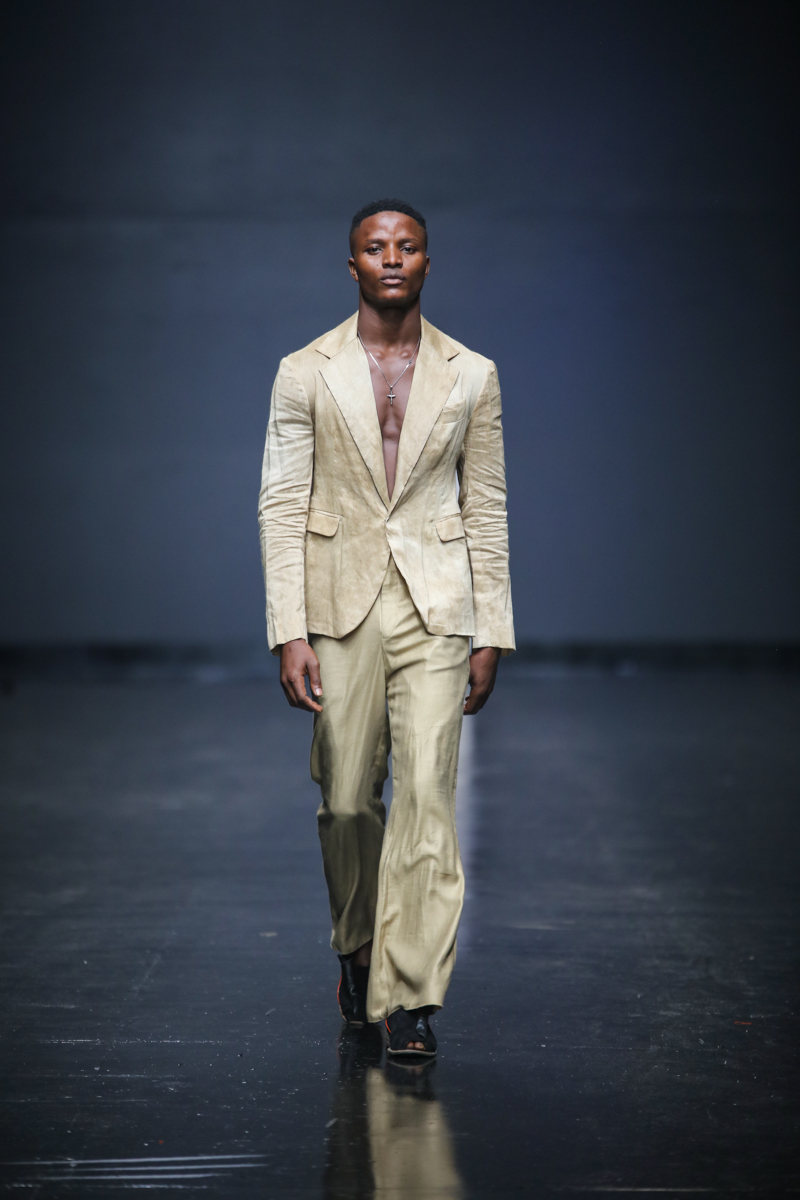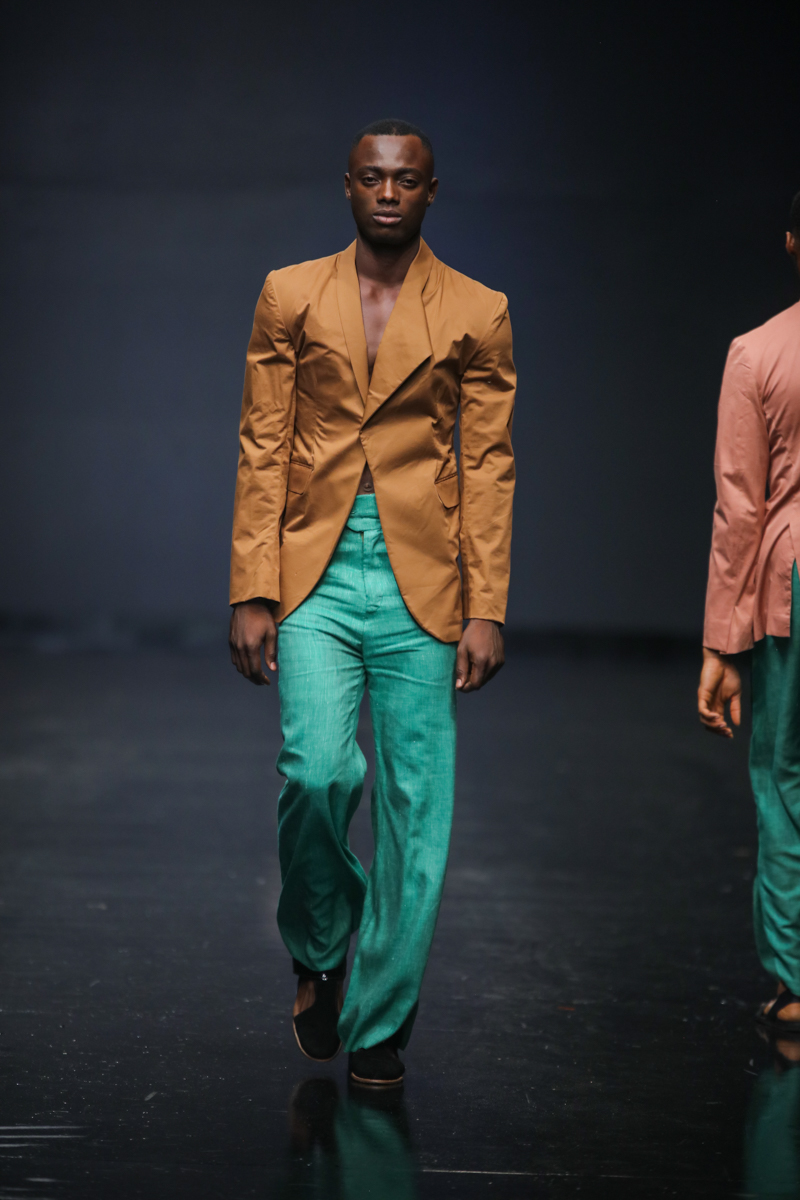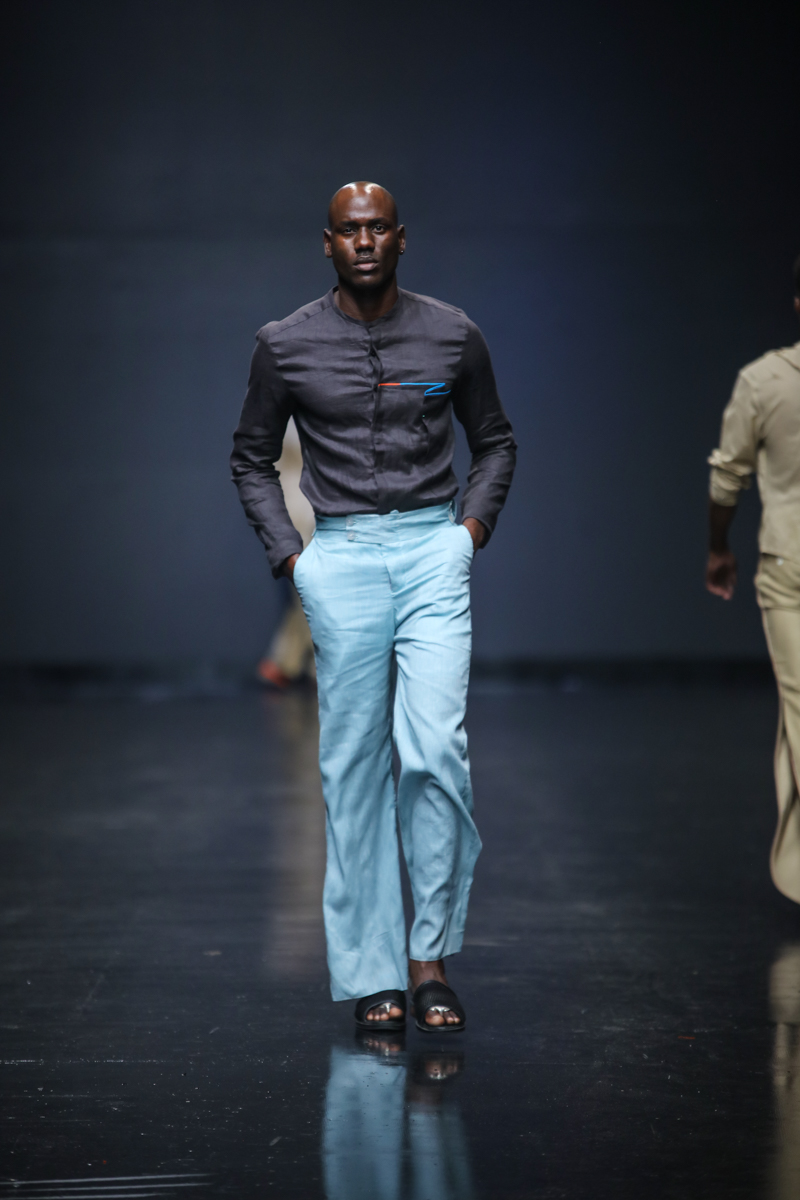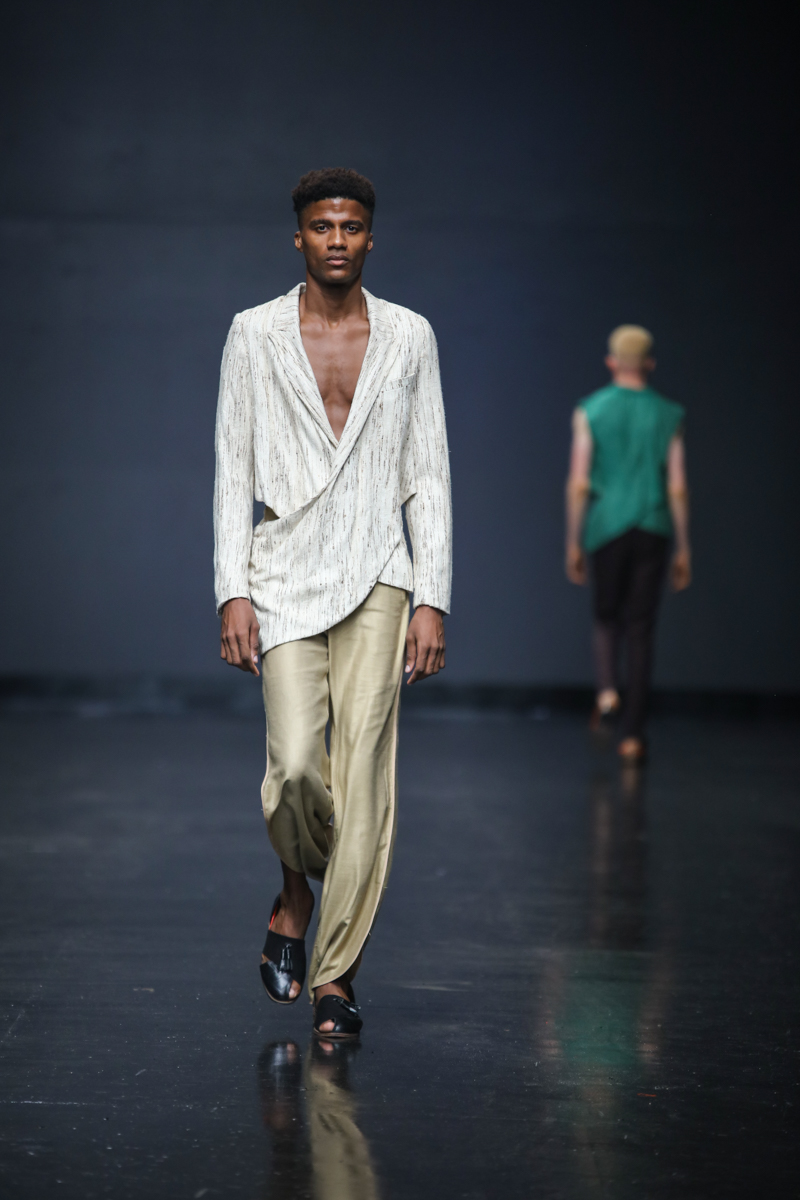 Overall, there were a lot of take-aways from Day One. There is no doubt that there are not only green-shoots but fully developed talents working in Nigeria and other parts of Africa right now. Has the time come for winnowing? Perhaps, especially as there was almost too wide a range of competency levels and experience on show in one evening. It's for this reason other fashion capitals will have showcase stages or separate events on their calendars for emerging talent thus allowing buyers or members of the media who need to focus and make immediate business focused decisions on what is currently commercially and critically ready for the domestic and global marketplace.