Let's be honest, only a super tiny minority of fashion lovers will experience the ecstasy and fantasy fulfillment that is haute couture. A slightly larger crowd will have the joys of trotting into the very best that prêt-à-porter has to offer: a place where everything just fits that little better, fabrics are luxe and attentive staff give you movie-star treatment. For the majority, the luxury dream truly lives in the accessories. Yes, Hermès handbags can run into the $100,000 plus category; but for the most part, putting exotic hides and limited additions to one side, a handbag or shoe from a luxury brand is going to come in at less than a head to toe day or evening look. And besides, the laser sharp scan from arm candy to feet is real. One can leapfrog into the style elites with the right shoe or bag.
Having an accessory or die approach to fashion has become entirely acceptable: shoe-a-holics are not freaks in the image of Imelda Marcos, (we have Carrie Bradshaw in Sex and the City to thank for that) and a handbag the price of a mortgage repayment is absolutely okay. We use phrases such 'wear forever' and 'investment piece' to assuage any background feelings of guilt and perhaps best of all accessories are by and large size democratic, which some of the more exacting pieces to wear are not. You can have that extra scoop of gelato, be eight months pregnant or have your best-body-ever days long behind you and still rock those Louboutin Pigalles with impunity.
With the dust long settled from the whirl-i-gig that was New York, London, Milan and Paris, the trends that are going to travel fastest here in sunny Lagos are the accessories. We have rounded up a selection of shoes guaranteed to make that dull as ditch dress into a spectacular-spectacular or have you perfecting fancy footwork on the dance floor just so they get their star turn. And let us not forget bags, for where there are bags there is calm, peace and joy. Presenting the MO Accessories Edit.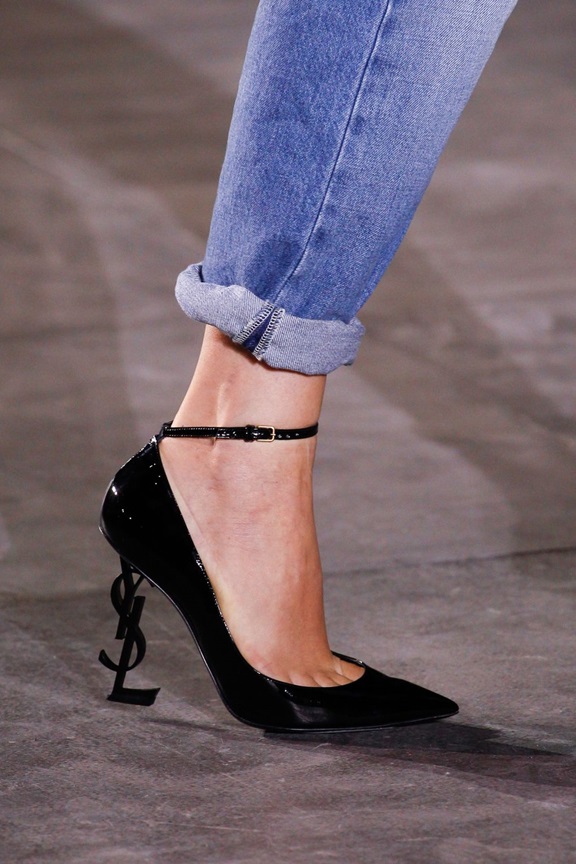 This shoe made me cry. With joy at its beauty and then with nostalgic memories. Yves was back in the mix after the aberration that was dropping the Yves from Saint Laurent in the first place. But sentiments to one side; the heel alone is twenty stanzas of poetry epic, although clearly this is a strictly car to venue sort of shoe. Another throwback was the extreme toe cleavage in the toe box, sexy with a capital S. If there ever was a shoe that is guaranteed to cause a riot or get the wearer mugged (for the shoes, nothing else), this is it.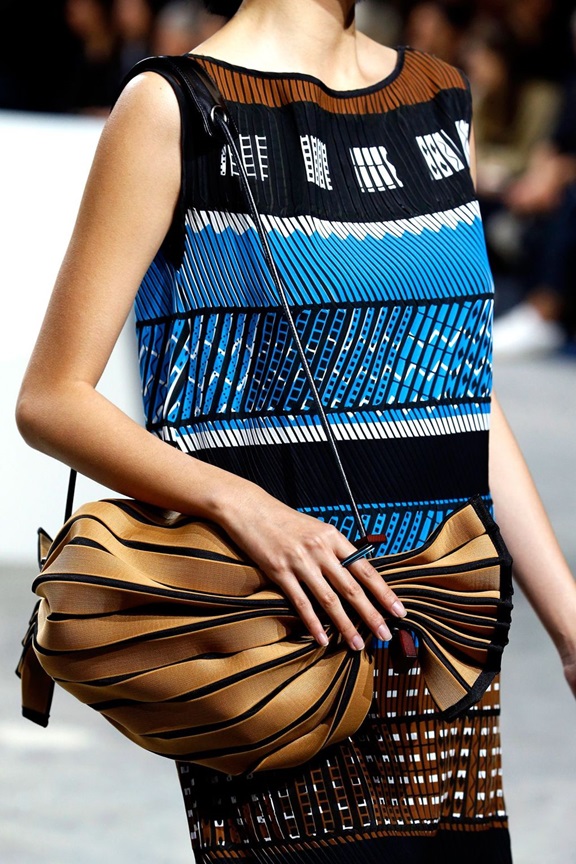 Issey Miyake is known as the purveyor of pleats so it was only a matter of time before his signature motif found itself interpreted as a handbag in lick-able looking caramel. The magic in this shoulder bag is the proportions. The thick pleated capacious pouch is supported by skinny straps that loop into a thicker shoulder strap. Just call it clever-girl chic.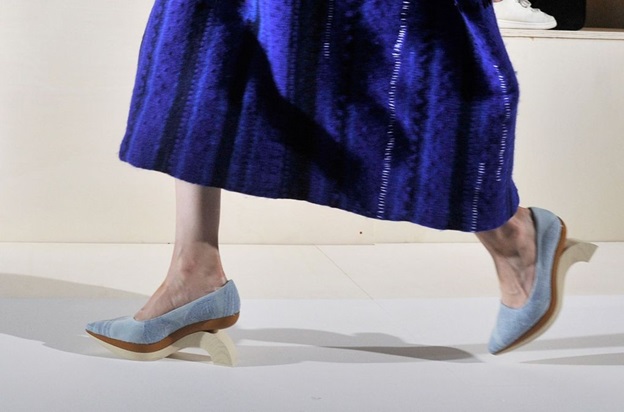 The Summer pump gets an edgy Scandi reworking from ACNE STUDIO. The sky blue upper in denim is next level inspired and softens the formality of the point in the toe box. But the start the applause moment really begins with the tonal heel with its sculptural curve. Extra bonus points for it not being too high, thus an all-day wear possibility. Whoever said wooden shoes are for clowns and extras in a medieval play has not seen these.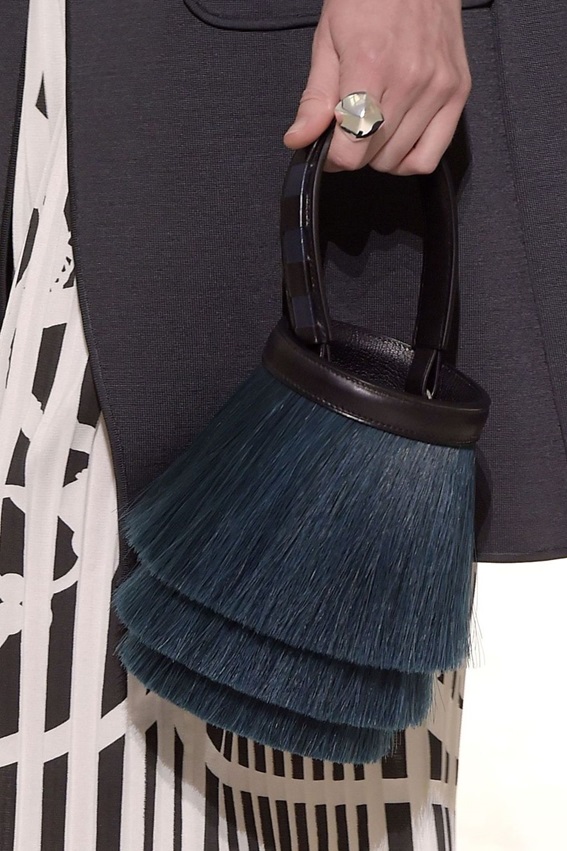 Nothing says ultimate handbag goals like Hermès. However, the undefeated world champions of making the world's most convertible handbags have dared this season to push the boundaries. For those who have had their fill of Birkins, Kellys and Constances, this circular fringed tote is EVERYTHING. Whimsy meets exquisite craftsmanship and the petrol blue and rich chocolate colour way is ultimate lo-fi-luxe the remix. It also comes in canary yellow. Choices, choices indeed.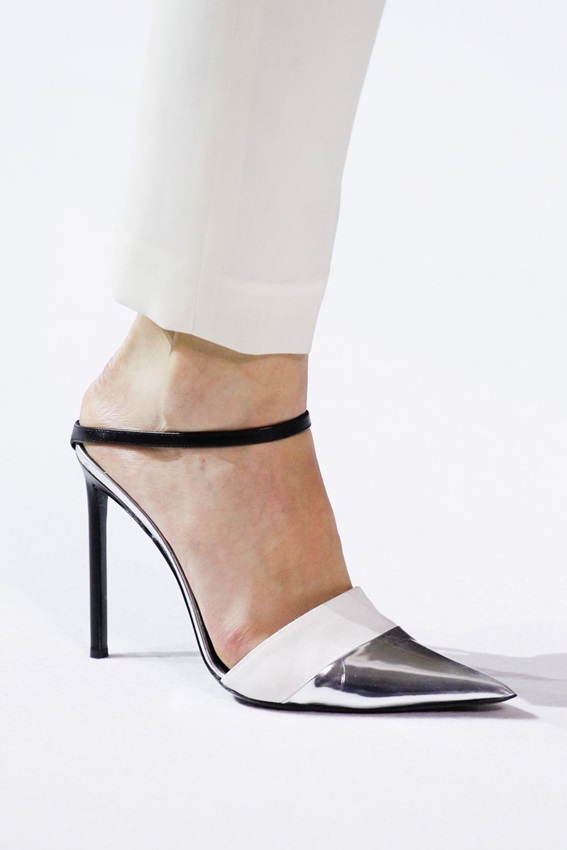 Some things every woman should have in her shoe collection. A sky-high stiletto, a shoe with some sort of skinny strap action and a metallic of any colour. Haider Ackermann in this stunning number has given us all three in one shoe, if this isn't a canny investment piece I don't know what is. Masculine tailoring is a natural and sensational pairing as the model in the picture illustrates. But this shoe would look equally good with a midi skirt, and don't get me started on trad where the subtle potential for sartorial oppression is boundless.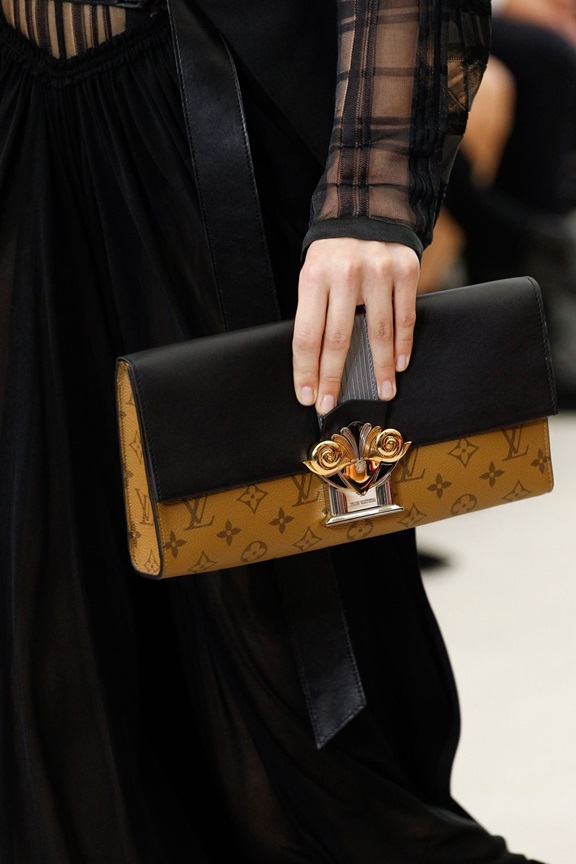 Yes, we agree, the LV Monogram is the Alpha and Omega of ubiquity, not helped by how much counterfeit product it has begat, but how pretty is this clutch? And in Lagos at least, LV is definitely a rite of passage. First dance. First Kiss. First LV. Again, the excitement comes in contemporary flourishes, the hardware is on point and the black flap over mustard body proves that LV can still surprise. Definitely coming soon to several parties and weddings and church services and christenings and funerals…One gets the picture
Accessories front and center is definitely here to stay but as this selection illustrates there is something for every variation of woman and ensemble worn. No longer items considered as a final flourish they are oftentimes the foundation for a look, reflecting mood, purpose and aspiration of the wearer. If this doesn't convince you dear readers to close your eyes at the till, hustle 'til you drop and partake in the leather goods extravaganza that is heavenly handbags and sick shoes, nothing will.