Catching up with Chekwas Okafor the creative force behind Onchek.com, the one-stop African fashion focused online retail destination is a bit of a challenge. For one thing, Chekwas is perpetually on the move, base camp might be New York City, but  if he's not sourcing new designers across the continent, he's knee deep in the practicalities of garment production, not withstanding the endless calls internationally to speak on the myriad of ways that the African fashion ecosystem needs to be supported and invigorated. But connect we do, and not a day sooner, especially as today, Lagos, Nigeria and the Diaspora are fever pitch for the forthcoming  World Cup in Russia and today in particular as the Super Eagles will face England in a friendly. Nothing connects the world on a more visceral level than the beautiful game and if you add fashion to the mix you are onto a winning combination, which is why Unity, the football inspired collection, available exclusively on Onchek.com and for those hardcore patriots, made in Nigeria too, is particularly exciting. However, there is more to the name than an exhortation of just how football binds in a way that nothing else quite can, as the design process was something of a Superstar collaboration with Chekwas collaborating with design titans, Adebayo Oke-Lawal of Orange Culture and Shem Ezemma of Shem Paronelli Artisanal.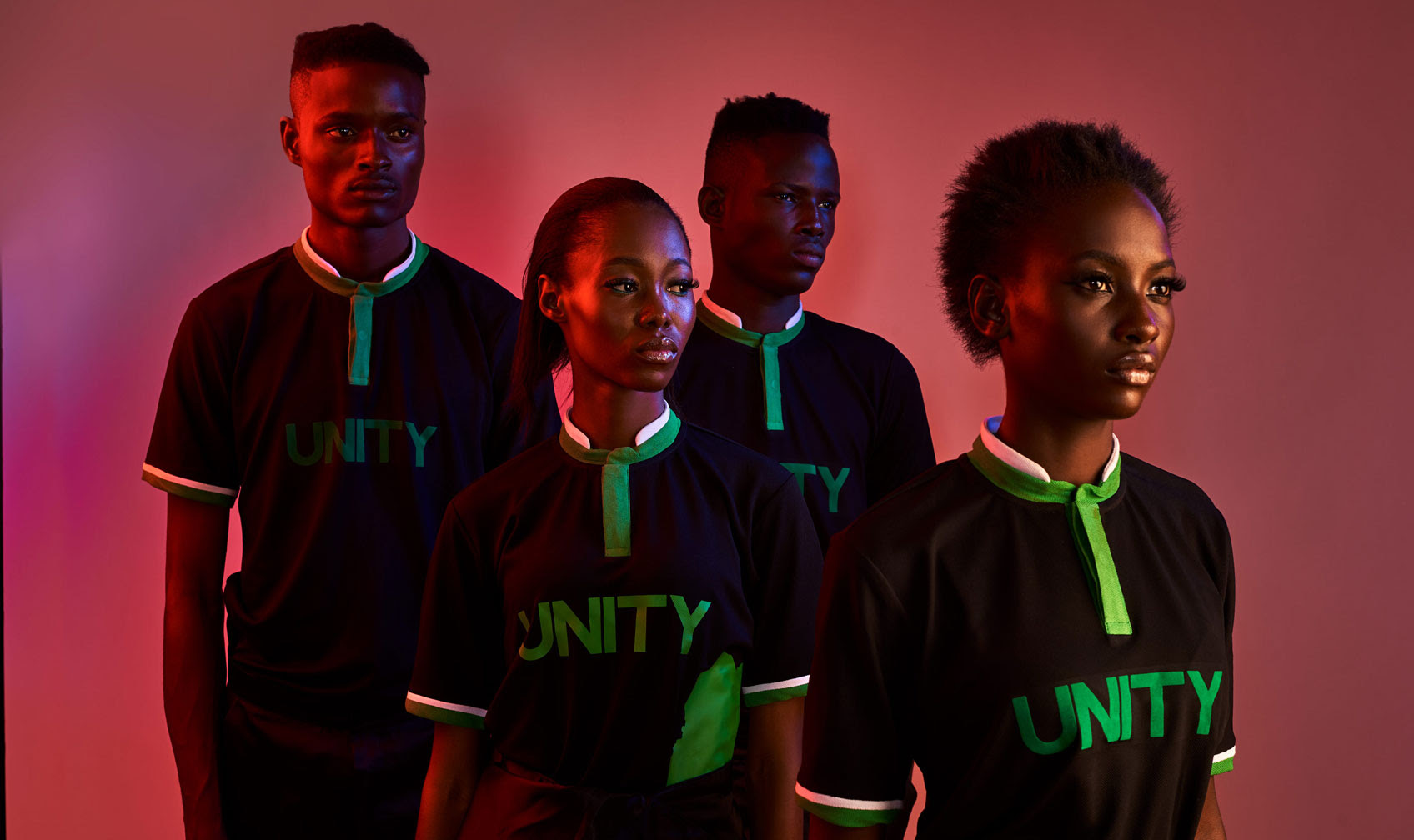 The premise for the collection was a case of Chekwas wishing to alter perceptions regarding production, innovation and quality. He elaborates: "I wanted the collection to show that we can source design locally, that the sports space can collaborate with Nigerian designers to achieve the same high quality design that can compete with any other outsourced design." For Adebayo his decision was based on a more romantic notion as he cites: "The idea of celebrating collaboration , oneness and the tenacity of the Super Eagles." And for Shem it was the idea of creating something that is truly bipartisan when he notes:  "Soccer is about the only thing that unites Nigerians you know; suddenly they put the whole tribal differences behind and unite as one. So I guess that idea was it for me."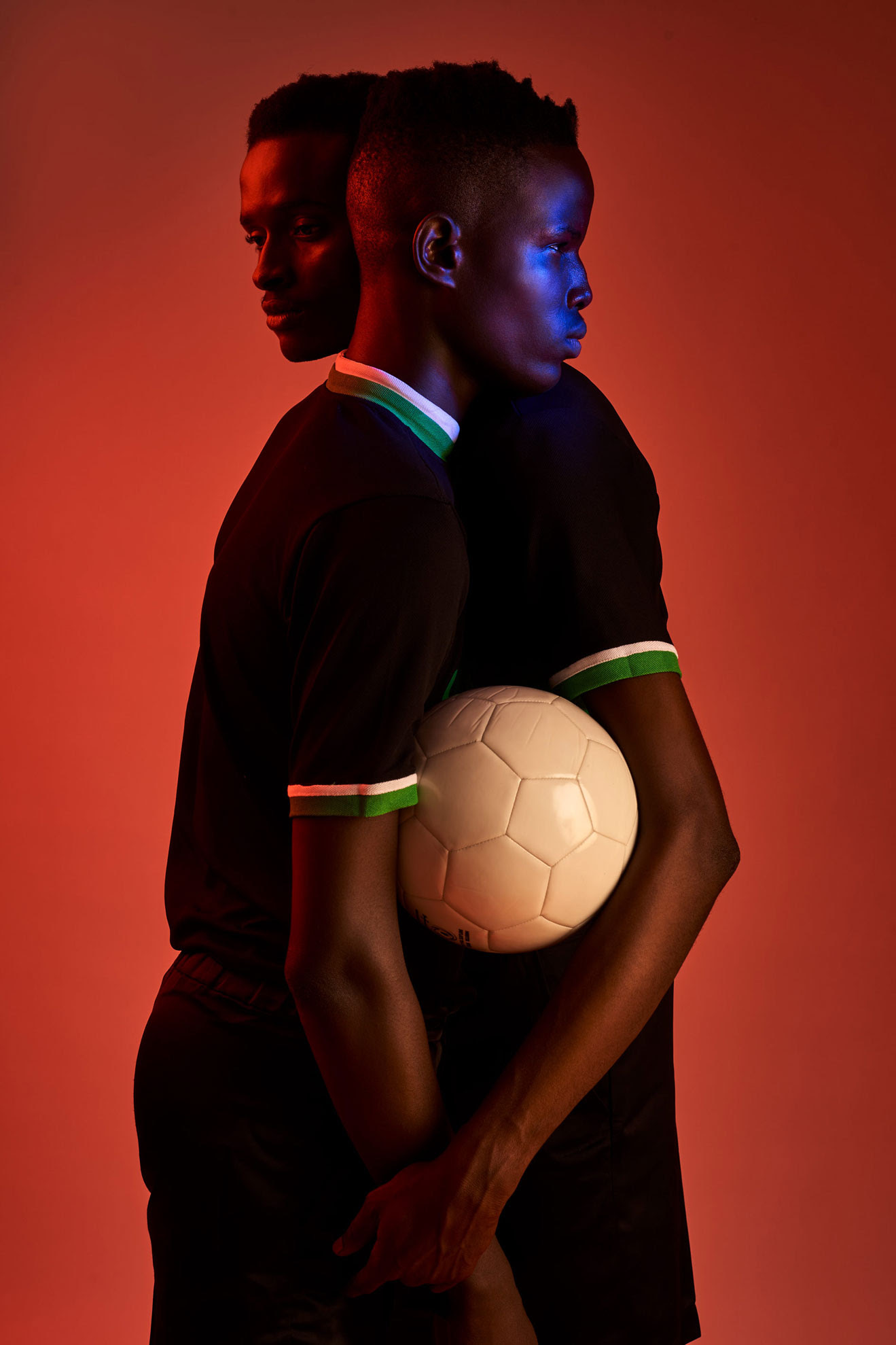 The ideas coagulated into a football shirt incorporating the national colours of Green and White and using black as a metaphor to both race and excellence. Apart from the legend 'Unity' which is as much a statement of intent as it is a celebration in spite of difference, is the map of Nigeria which acts as a graphic motif on the side of the t-shirts. Whilst running or indeed dancing, the nation remains close to you, the wearer. Adebayo also speaks of the challenge of combining form and function when he adds "I had to think – what would people be able to wear while playing a sport. Is has to be breathable  but I also  wanted the design to be beautiful." The shirt more than achieves it as it would look welcome on a pitch, in a gym or teamed with a killer heel, agit pants or easy, breezy shorts.
For the shoe, Shem choose to re-imagine his brand's N-100 sneaker model, but with football visible in design accents. He adds "It was more of an adaptation; picking ideas, from the aesthetics and key features like the extended flap, a higher hugging counter and a much more pronounced and definitive cut that mimics the silhouette of a traditional a soccer shoe." However, because this is a Shem Paronelli Artisanal shoe luxury flourishes include an oiled nubuck leather upper, and instead of studs a smooth sole making it a favourite for men and women alike.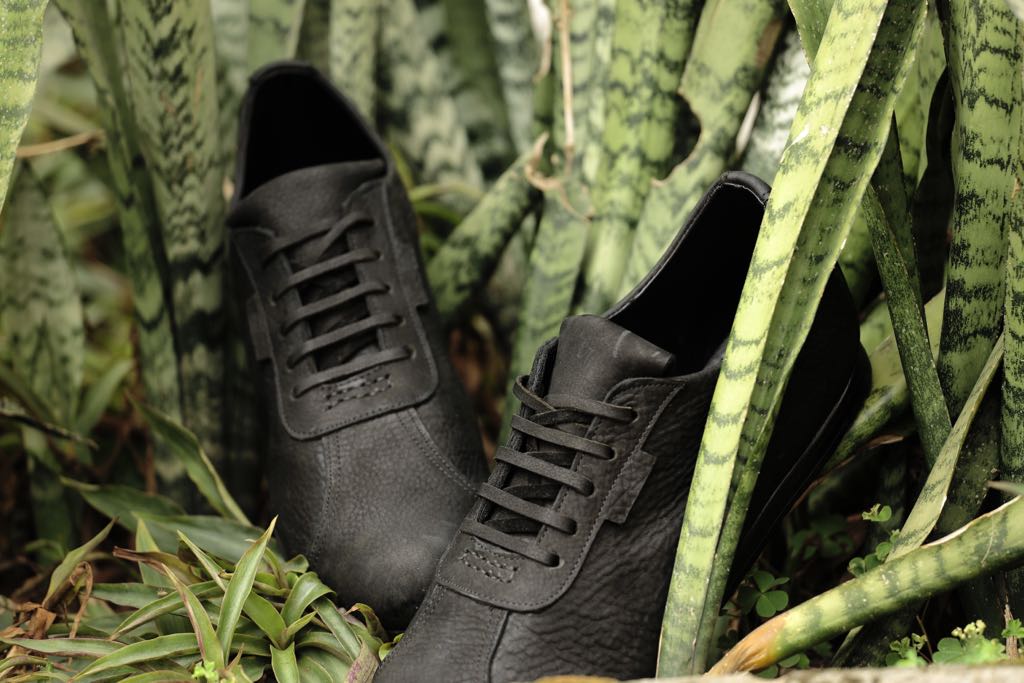 Perhaps most significantly, the Unity Collection illustrates the power of collaboration,  and how it offers a potent riposte for those still stuck on the old adage of there being only room for one shining light  at any given time in the African fashion design space, or designers being too ridden with rivalry to work dynamically and effectively together.  Adebayo notes that he has always been "open to collaborations" and Shem adds "the vision kind of just resonated with me and I was like yeah, let's do it." It also does not go unnoticed that Adebayo and Shem hail from different parts of Nigeria, places whose norms, language, culture and aesthetics will have to a greater or lesser degree informed their  design language thus far and yet in this instance are harnessed to create a greater whole. Food for thought for others operating in other disciplines to be sure. However,  the designers' ebullience is also echoed by Chekwas himself who sees the collection as just the beginning of future projects that Onchek.com will be championing in Nigeria and other parts of Africa. One cannot help but be excited about the age of collaboration, a buzzword and a feature of the fashion landscape for sometime, fully taking hold across the continent.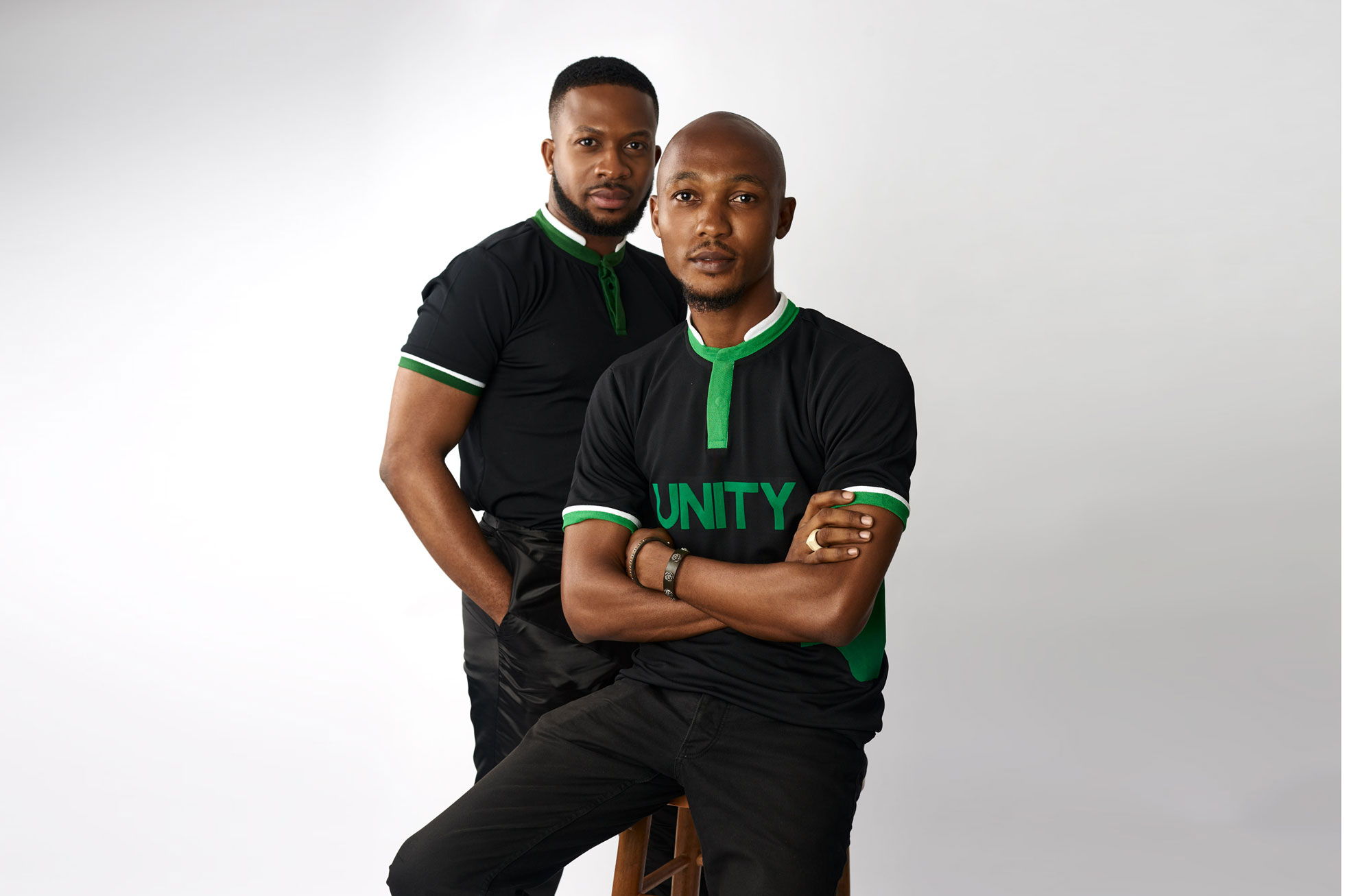 As Nigeria garners more interest both regionally on the continent as an incubator of talent, and globally as a key location for exploring and immersing oneself in the African aesthetic; long term and lasting improvements in the garment production industry can no longer languish as a conversation piece in the corridors of power and must find themselves as an action point providing measurable results. It is here that the Unity Collection has both distinguished itself and excelled as Onchek partnered with a factory in Apapa, Lagos which has benefited from Human Capital Development Consultancy training and management that in turn has been facilitated by Style House Files Creative Agency and supported by the Nigerian Export Promotion Council. In doing this, rather than seeking production in other global, some might point out cheaper locations, Chekwas has positioned the collection as an emblem of the possibilities for the fashion industry. An industry that with the right infrastructure, a favourable environment for investment and long-term strategic development has the potential to be both a creator of wealth and a catalyst for the diversification of the Nigerian economy.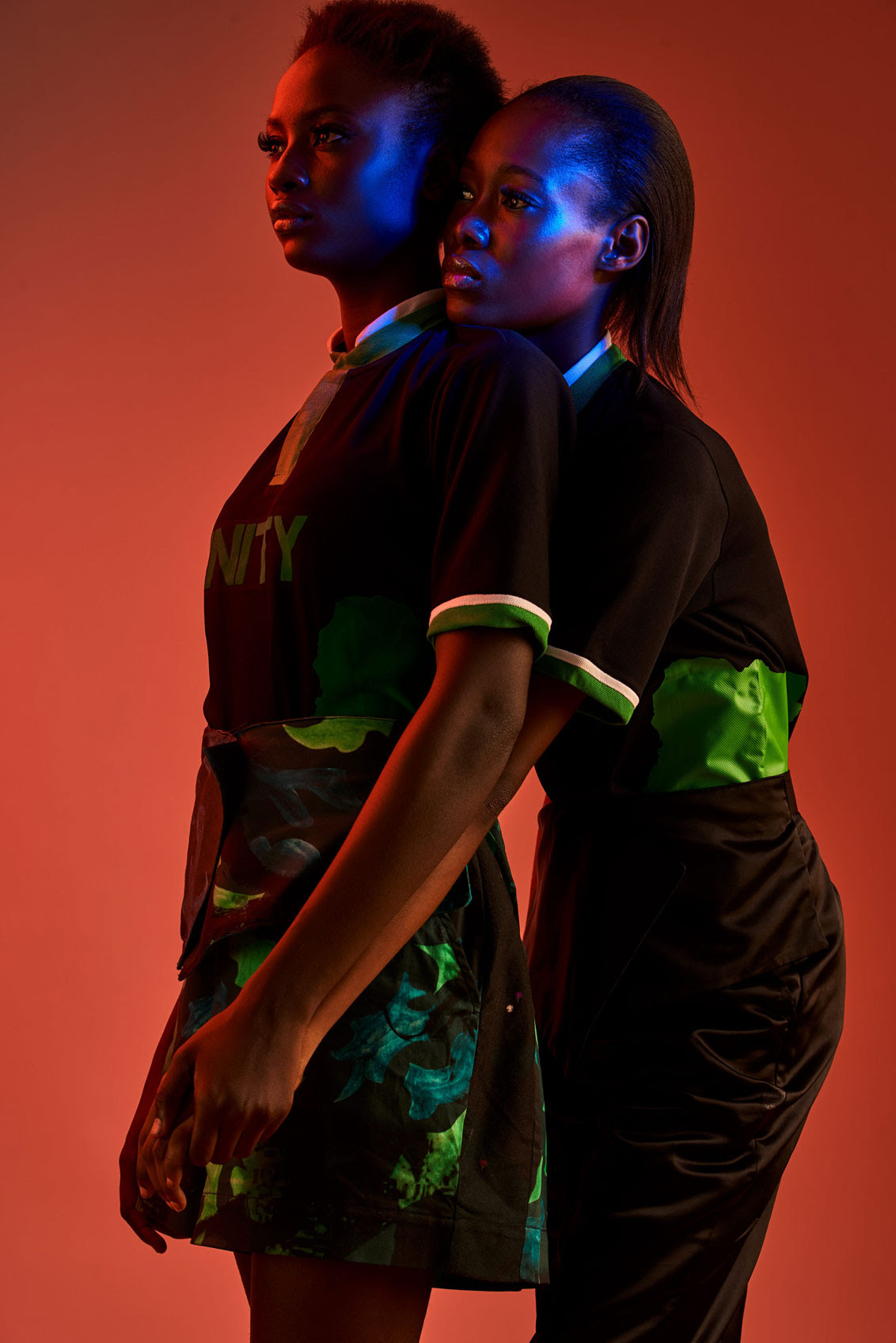 There is also something cheering of thinking that the whole process, from ideation through to production happened in Lagos, arguably Africa's fashion capital. For Chekwas this element was a non-negotiable aspect for the project: "This is our company's philosophy. It is in our DNA that all the products we carry will be made in Africa. That's the only way we can live our company's purpose of "creating jobs and promoting culture through fashion"." As the world moves increasingly to a more conscious form of capitalism, such an approach not only resonates with customers but also with notions of sustainability and economic inclusiveness. And for those of us who love our football and fashion with equal fervour, what to wear when Nigeria plays, just got made simpler.