It's good to be back in the Federal Palace Tents. Day One of LFDW saw the MO team observe the action from every conceivable vantage point: after all this wouldn't be fulsome analysis if we didn't.  And to prove our dedication to the cause we even spied the make-up stash required to make all the models look runway-ridiculous worthy.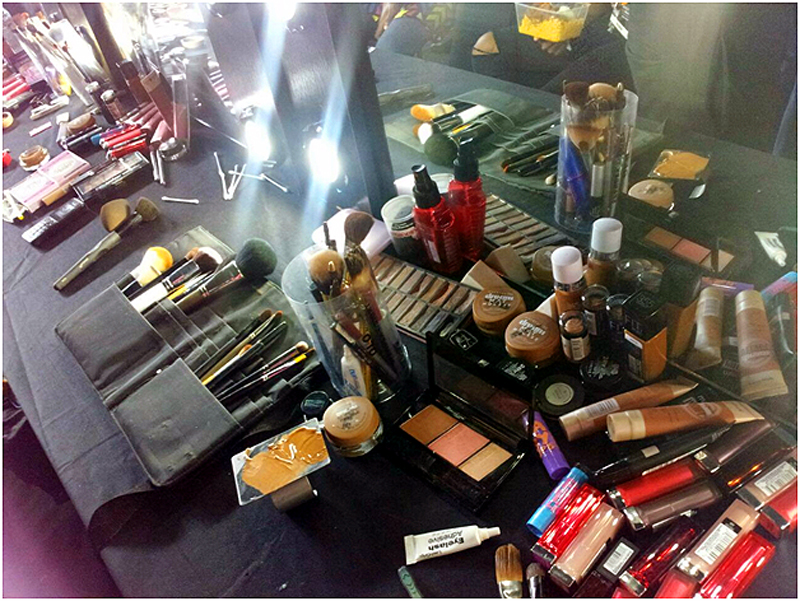 But onto the collections themselves. For us at MO it was all about the menswear. Tokyo James in particular showed a conceptually strong collection; entitled the 'Circle of Life' his vision for Spring/Summer 2017 was arresting in every sense. Shirts under suits were abandoned and cuffs and bondage style harnesses featured heavily; for the 'tops' out there, you definitely know what to purchase your best-beloved!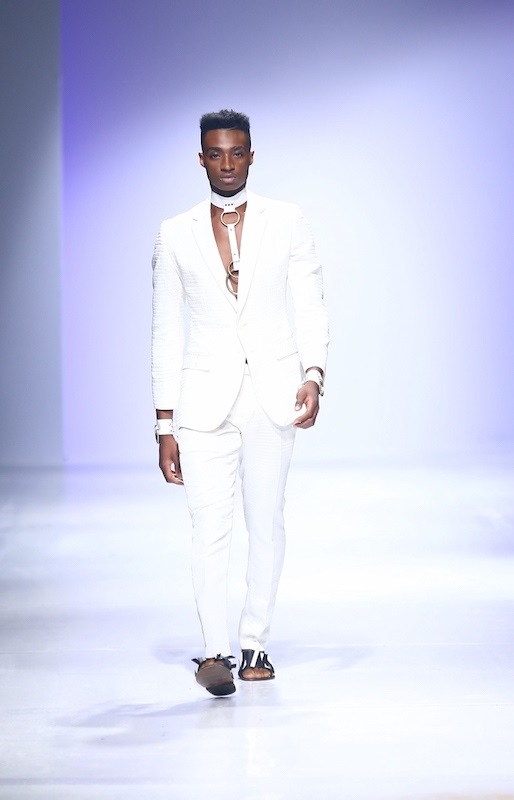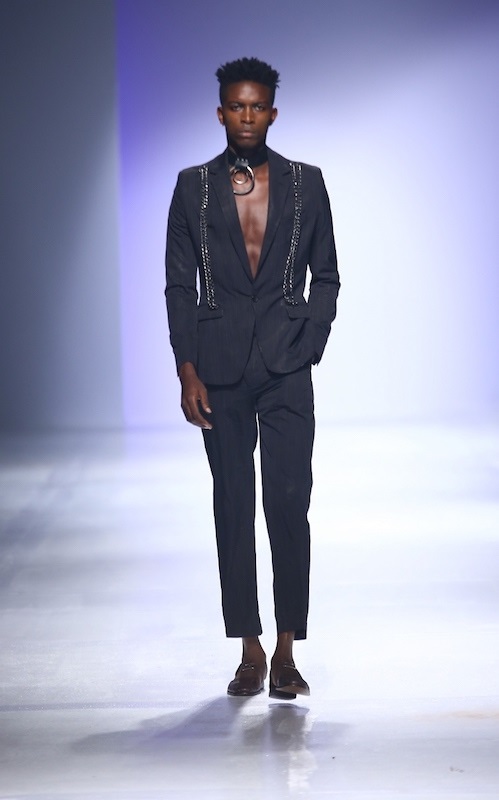 The interplay between power, submission and indifference were also evoked by chain details, neck cuffs that would be perfect for consensual constraint, shoes with shackles (an inspired collaboration with shoe designer King David) and the outsize 'Tokyo James' tags which were emblazoned with the legend 'No One Cares' a statement that also appeared on casual t's.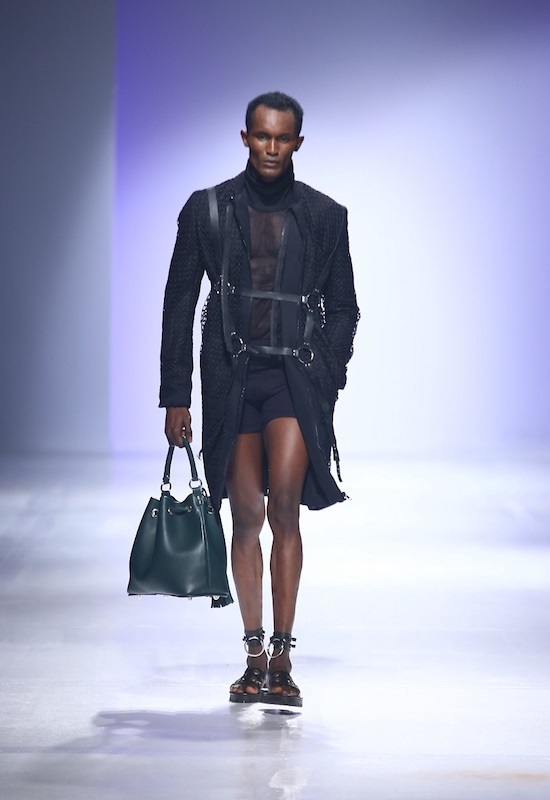 Tokyo has always had form with coats and there were some stand outs in this collection including a Parker that gave us Nautical-Extreme with the outsize rope fastenings.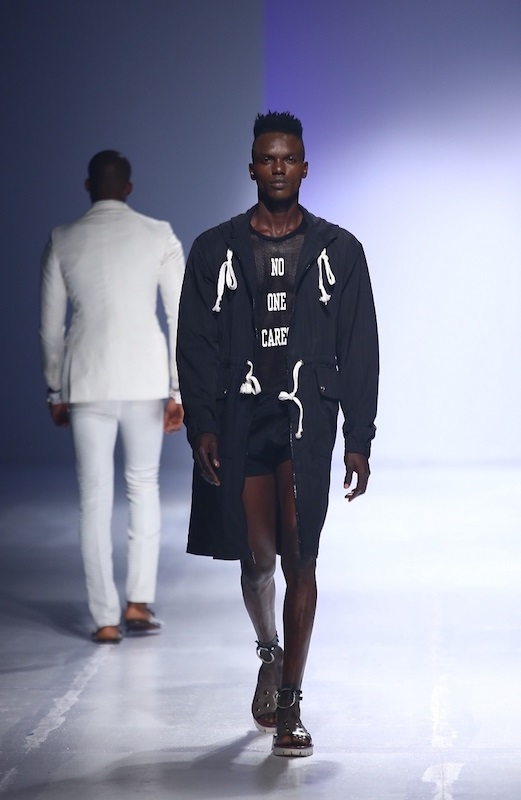 The applause erupted for a white dressing-gown style wrap coat with outsize faux fur pockets but for us the winning piece was the damask pea coat with bondage motifs.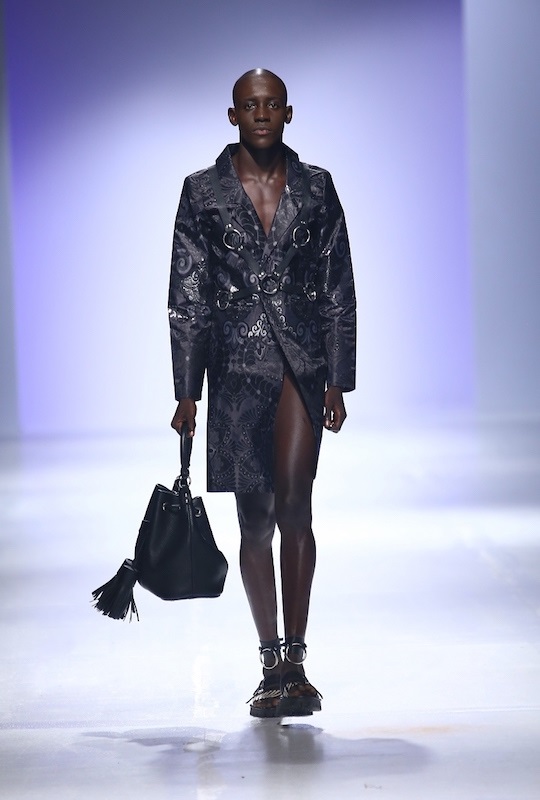 T.I Nathan gave us a show that was great in parts. The moment his name come up spontaneous applause and cheers were deafening and seemed more at home for a teen concert than a fashion show. Cynically we thought this was due to the opening bars of  Lukas Graham's mega-hit 7 Years,  that was the show's soundtrack, but then Nathan served us  a bit of Vetements flavour with his mixed gender runway, and a clever, luxe take on street-wear. With Nathan the fun was injected via his t's that had Pop Art influences and LOL slogans galore that were firmly posited in Lagos living.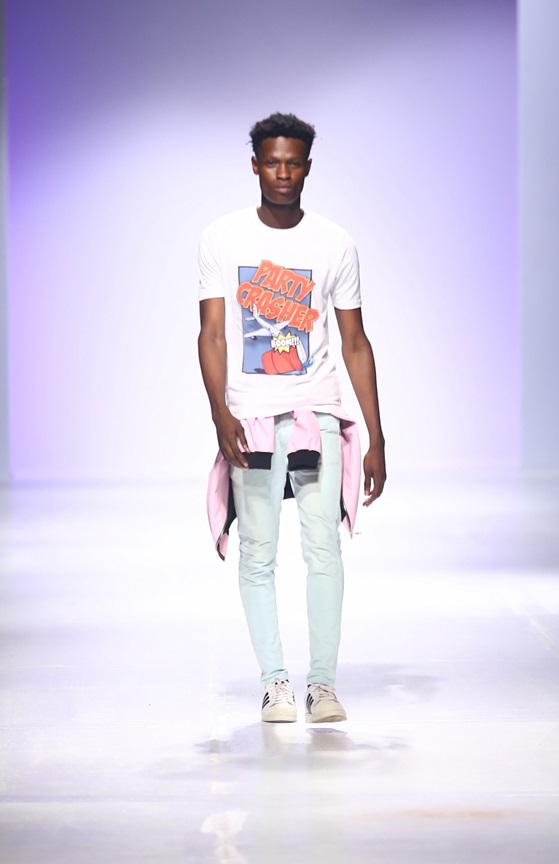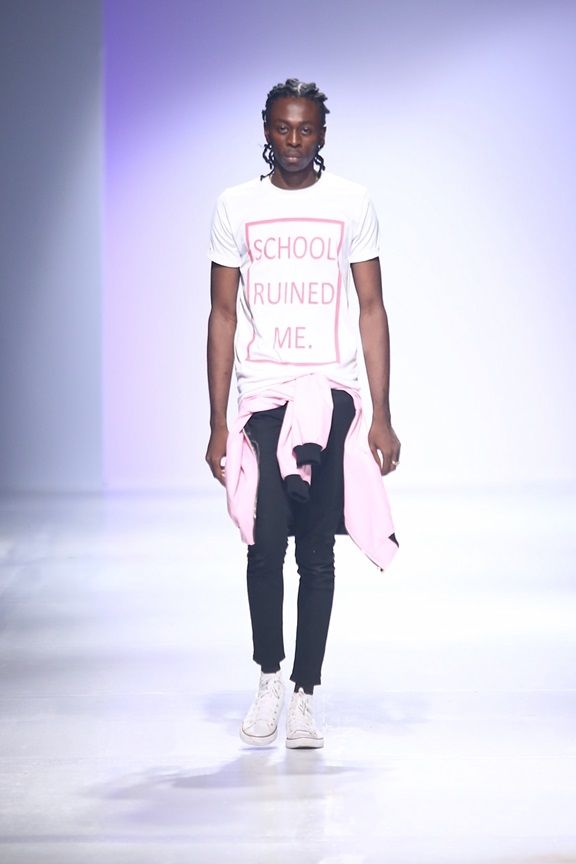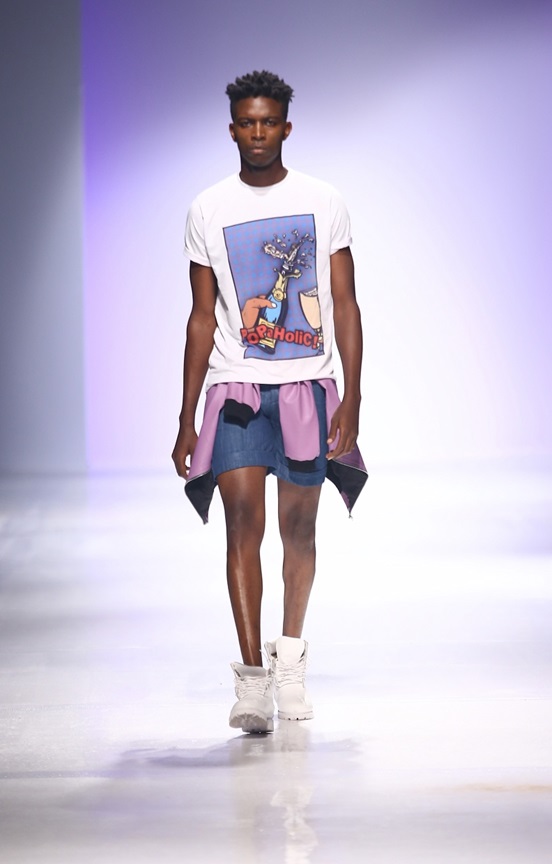 I guess it is at this point one should self-declare as a Popaholic.  A special mention must also go to the runs-chick reference with a barely there ensemble covered up with a bomber jacket that announced 'Give Me Your Money' in cursive on the left shoulder.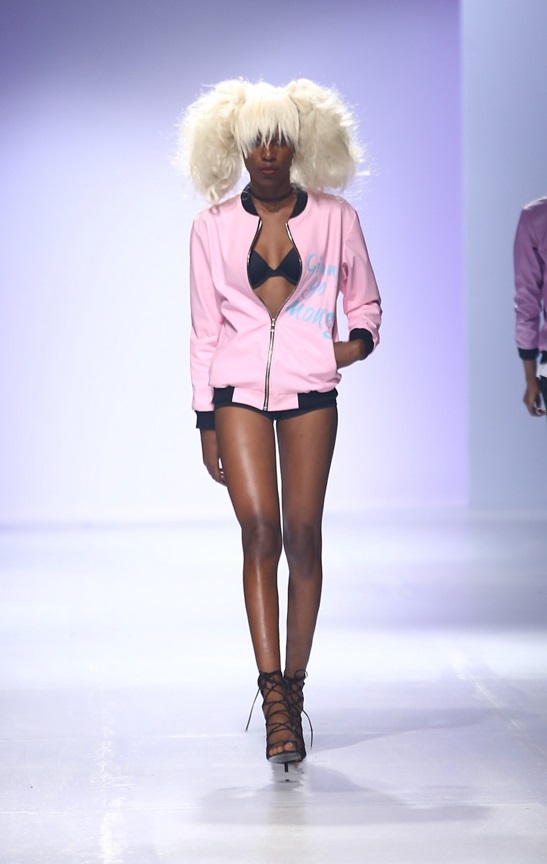 Less successful were the sequence of jackets with polo-necks underneath teamed with slim-fit trousers that felt forced and jarred against the playful opening. However, Nathan is definitely one to watch.
Women's wear was not floating our boat sadly. There seemed to be a lot of 'incomplete' concepts and in some cases incomplete pieces which were barely holding together as they made their way up the runway.  I said an internal prayer for one shoulder seam that was breaking for the border as the model strutted past me (I shan't name names); and pondered how one would sit in many of the  pieces that saw models either hobbling, teeter-tottering and wincing past me. There were too many inconsequential video montages that didn't flow with what followed on the runway (Style Temple springs to mind) and in one instance a mini-documentary that felt it belonged at a World Bank Conference (Kinabuti, we're talking to you),  another memorable distraction was a singer closing one show who then seemed to do a runway-takeover of her own. All this smokes and mirrors action did not disguise collections that felt patchy and lacked clothes that were truly desirable, which ultimately is what these shows are all about. The biggest cheers of the night came for the plus size collective, About That Curvy Life whose soundtrack of Rihanna This Is What You Came For perked up the crowd. However, much as I was loving the idea of inclusiveness, especially when the reality of life is if one chooses a diet of Small-Chops, fast food and cake and repeats to fade, you will be in these clothes, the pieces themselves were not as fabulous as the attitude of the models rocking them. Inclusion needn't resemble a concession which it pains me to write, this felt like. Most Plus-Size shows have models who though larger are still standard model tall, and in many instances the pieces suffered from not having the wow-factor of a Glamazon who would have sold them to us potential punters more effectively.
Overall though, the MO appetite is definitely whetted for the next three days. Connecting the dots never felt this fun and we are sure by Sunday we will be adding, never looked this sick.