Yesterday evening Lisa Folawiyo chose to step outside the fashion melee of last month and present her Autumn/Winter collection in an art gallery, Rele Gallery to be precise. A risk some might think, surely retailers, clients and members of the press would be thin on the ground to attend, document and most important of all figure out what they are going to order from her latest collection? As it was, the event was unsurprisingly a road-block, you do not, after all become bona-fide African Fashion Royalty and not build a loyal following, in the case of Folawiyo, of the glossiest kind. And besides what is fashion if not wearable art?
Arriving and the space had more of a private view vibe than a major fashion happening, complete with open frames, presumably for the models to walk through, stand inside, do something performative, one couldn't help speculate? A long single bench much like the ones placed in galleries so one can absorb and fully contemplate a painting was all there was by way of seating and for those who were not speedy, standing was the order of the day. It made for an intimate setting, one which made the focus entirely  on the pieces rather than the FROW and who was wearing what. And the show opener, a model walking through the crowd, barefoot, in a floor length Folawiyo gown and beginning to paint to the sound of Alexndr London's hypnotic song April gave us a hint of what to expect, which was an immersive experience with a capital E.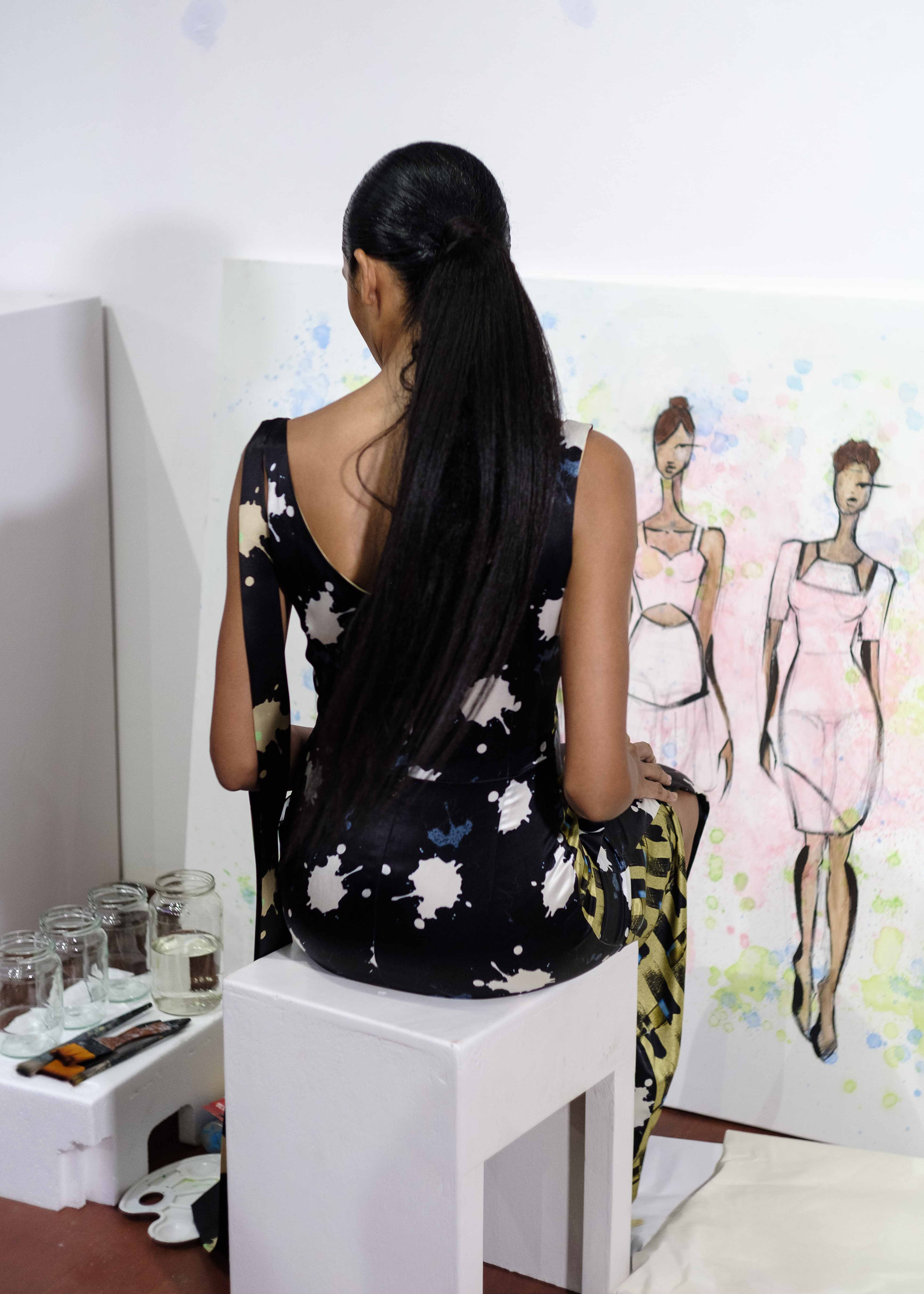 Entitled "Textures, Chaos and Systems" the show notes read more like a curator's statement with those present being promised "a collection, [that is ] a journey of reflective progression, in Lisa Folawiyo's visual state of mind". One was also keyed up by the same statement to look out for Bauhaus architecture influences and exemplum of Folawiyo's  "bold, unashamed, and rebellious ideology reflected through a self-curated aesthetic." There was nothing chaotic to my eye in what Folawiyo presented, if anything she has become a master of fluid assymetry, with hemlines, sleeves and backs being her playground of choice. Not for Folawiyo, the obvious and basic option of a plunging neckline and heaving bosom when one can produce an apron shaped exposed back instead, that manages to tread the line between demure elegance and erotic allure simultaneously.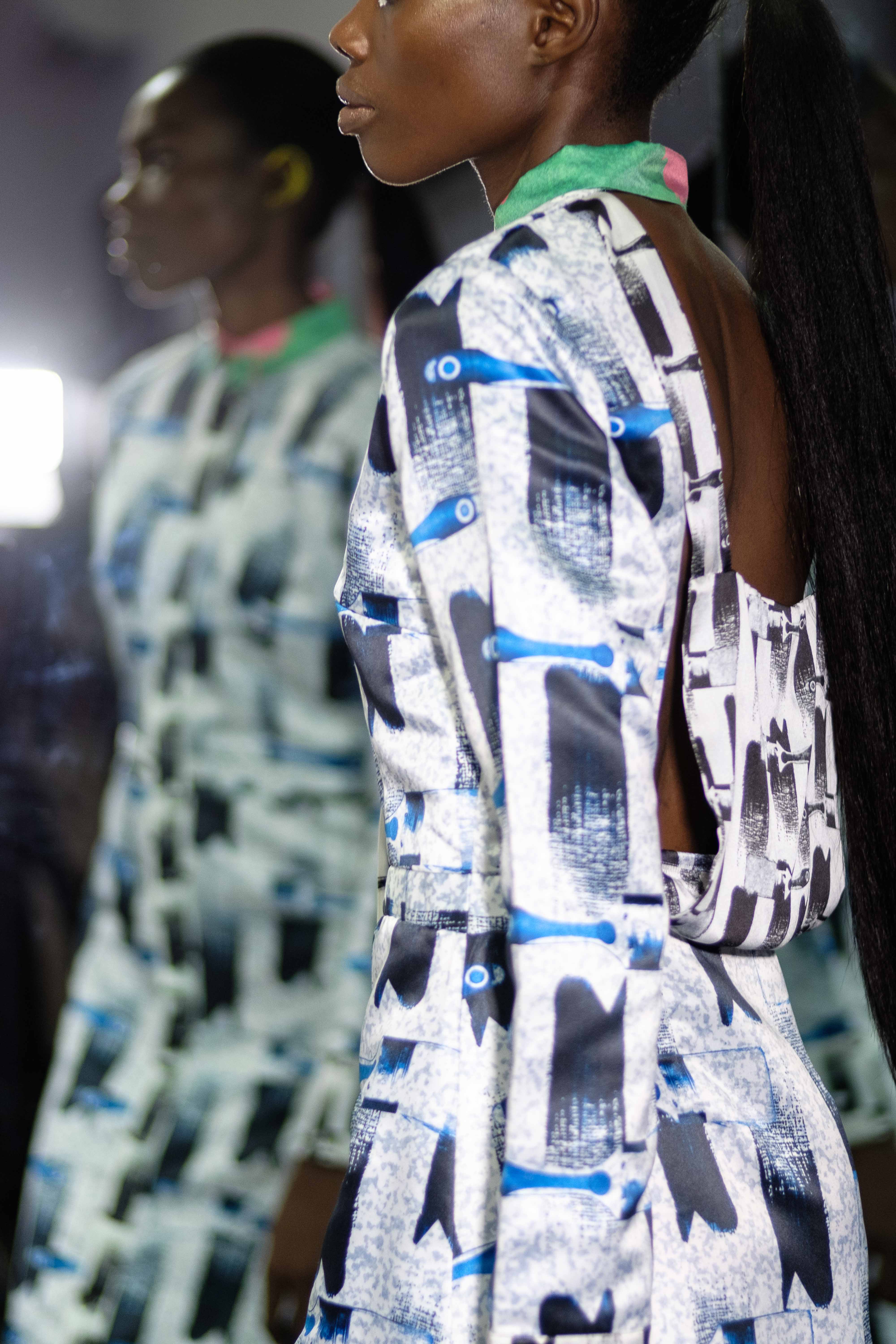 This is not to say that piping-hot wasn't available. Erogenous zones a la Folawiyo came courtesy of the exposed midriff, which if you are over 30, stop eating carbs post 6pm and you will be more than fine and able to participate. Alternatively,  if you have been chilling like a villain on a treadmill, or are just naturally, Praise the Lord, built like that, a scandalously short skirt is a seasonal must. It was sexy and sassy and perhaps because other elements were chilled, in the instance of the cocktail dress, via an over the knee hemline and in the case of the micro-mini with a blouse that had a variant of a leg-of-mutton sleeve, didn't delve into the realm of tarty.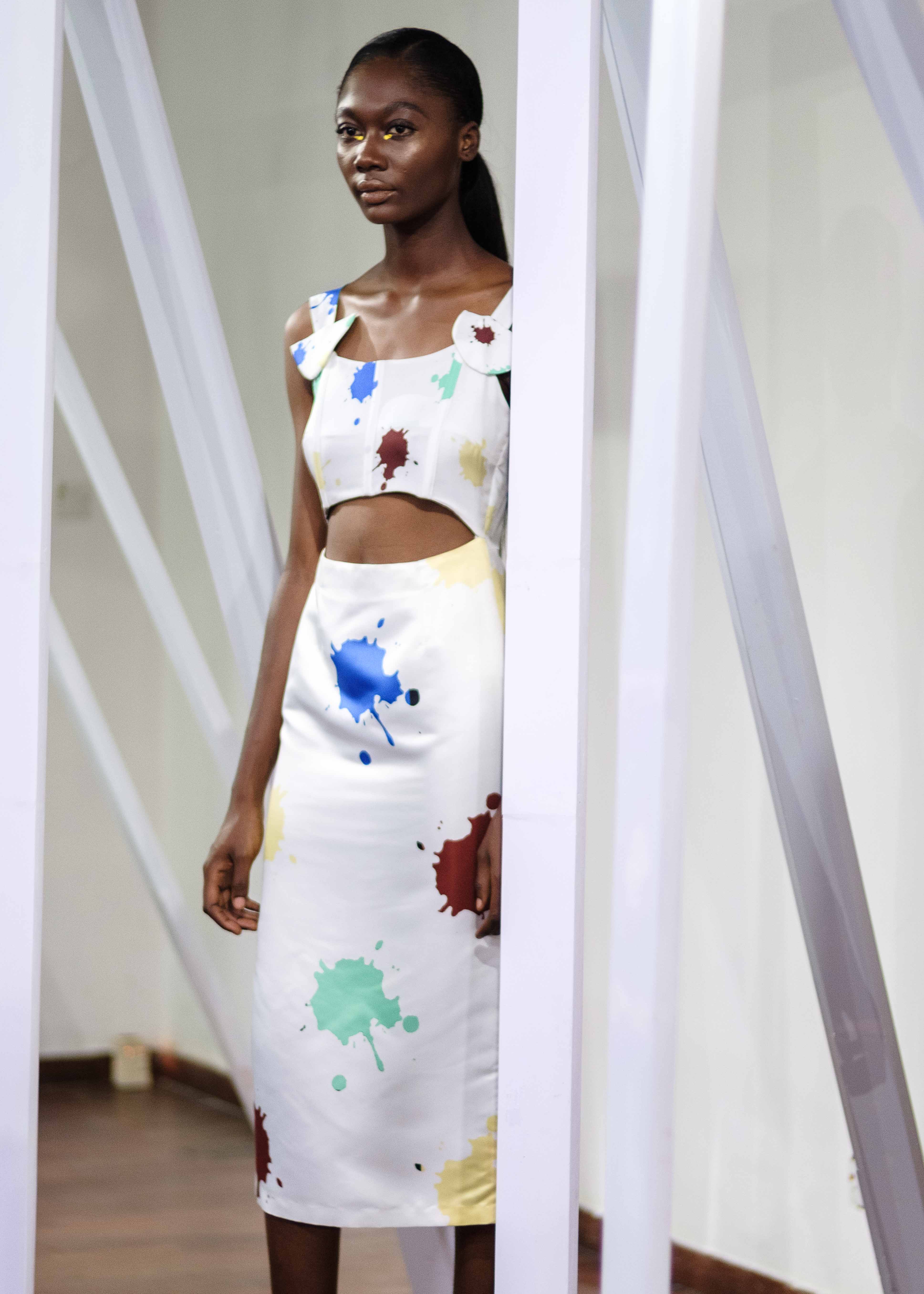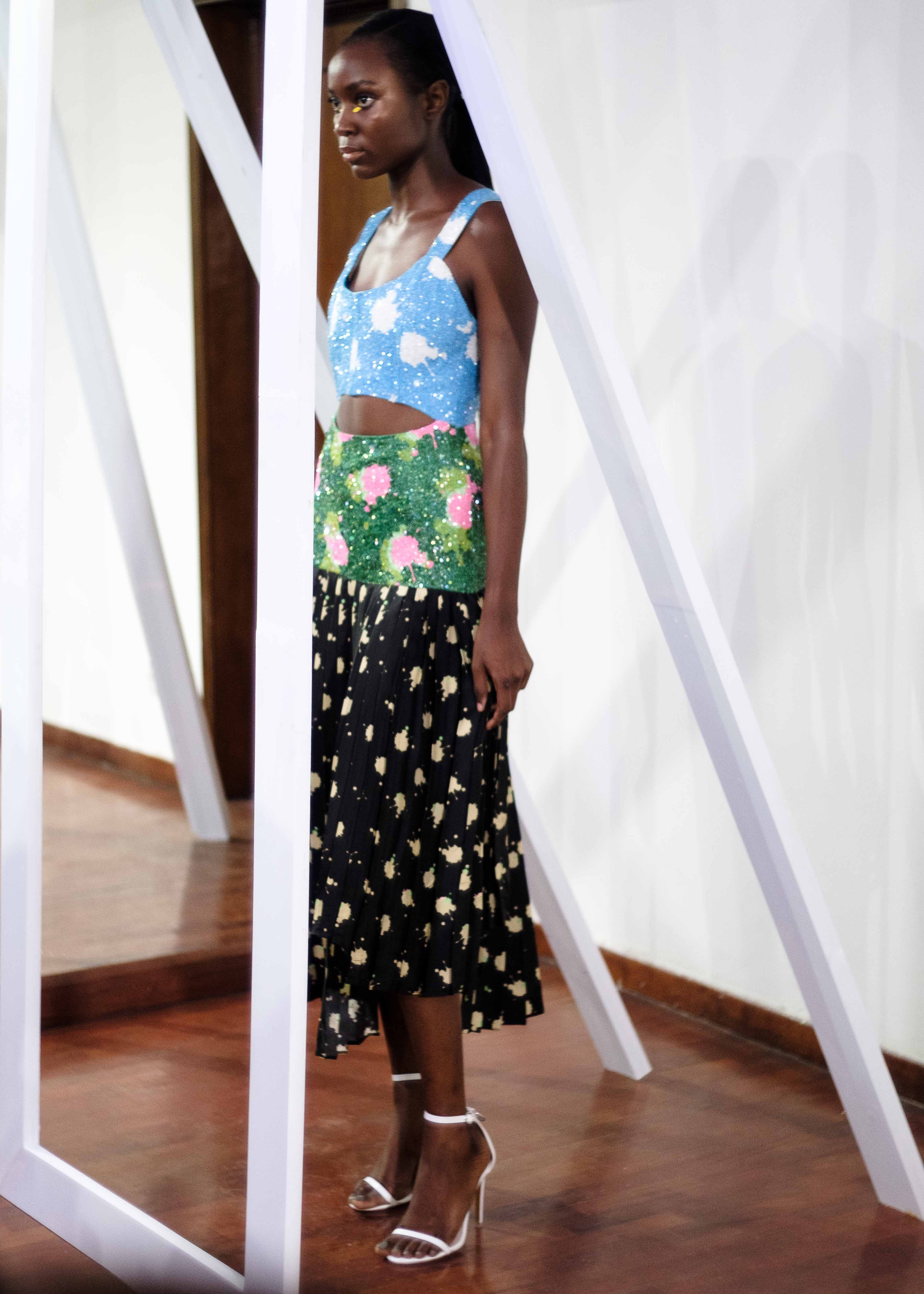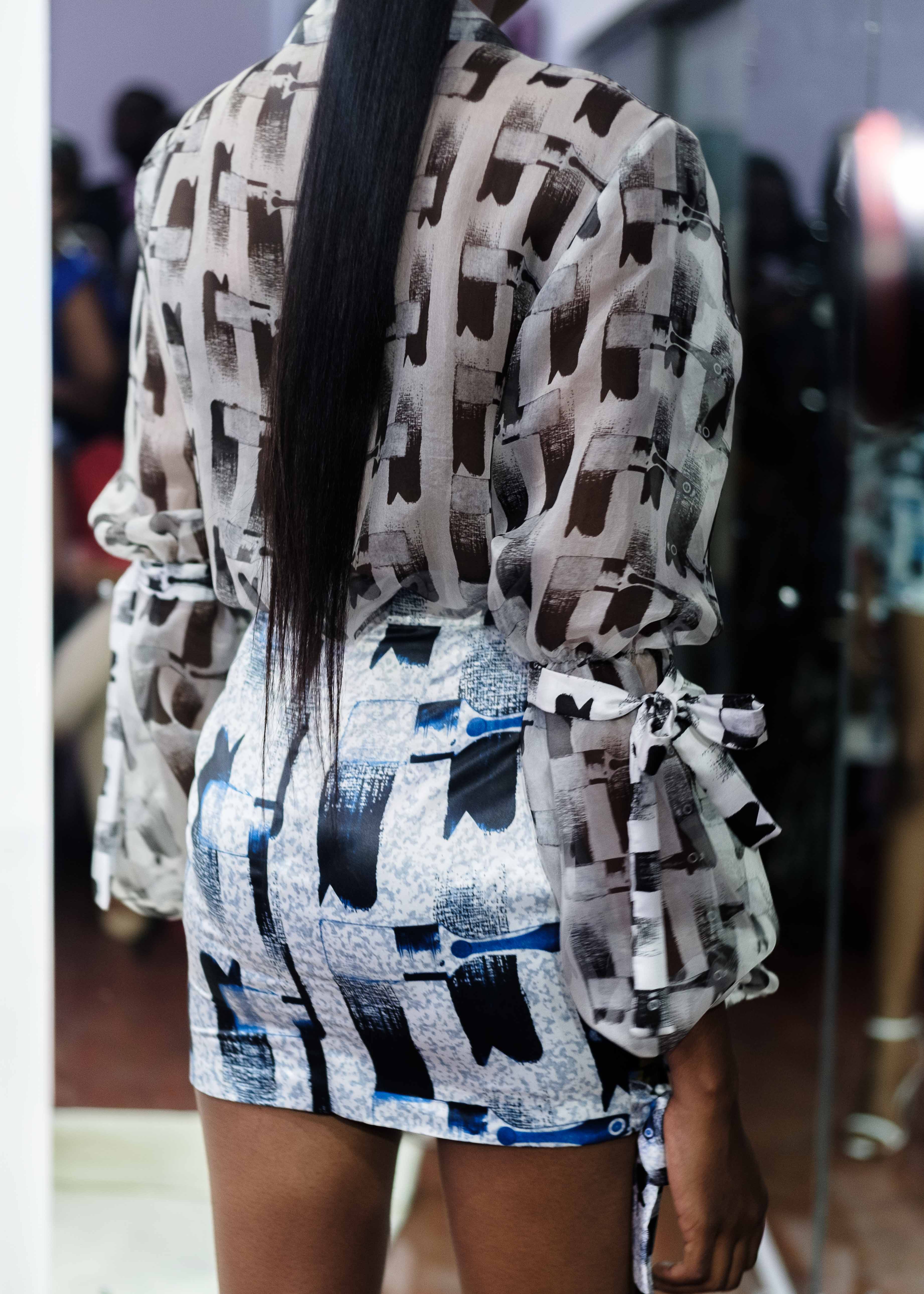 Art or rather brush strokes and painters' splatters was referenced in two signature prints created with Folawiyo's long time collaborator Banke Kuku, and were the calling card in all of the pieces. Palette wise, blue, grey and green dominated, and as a designer who has made a credo of audacious print combinations, fans of such were not disappointed. A sequence of three quarter length day dresses were  particularly successful in elucidating the aforementioned brave approach to print mixing as too were evening pieces, which brought back the J in Jewel By Lisa with bugle beading and embellishment adding sparkle and glamour to proceedings. Make up also got an artistic re-boot courtesy of painted ears and primary colour accents in the corner of models' eyes. Accessories were minimal bar the small beaded evening top handle bags that have become another Folawiyo signature.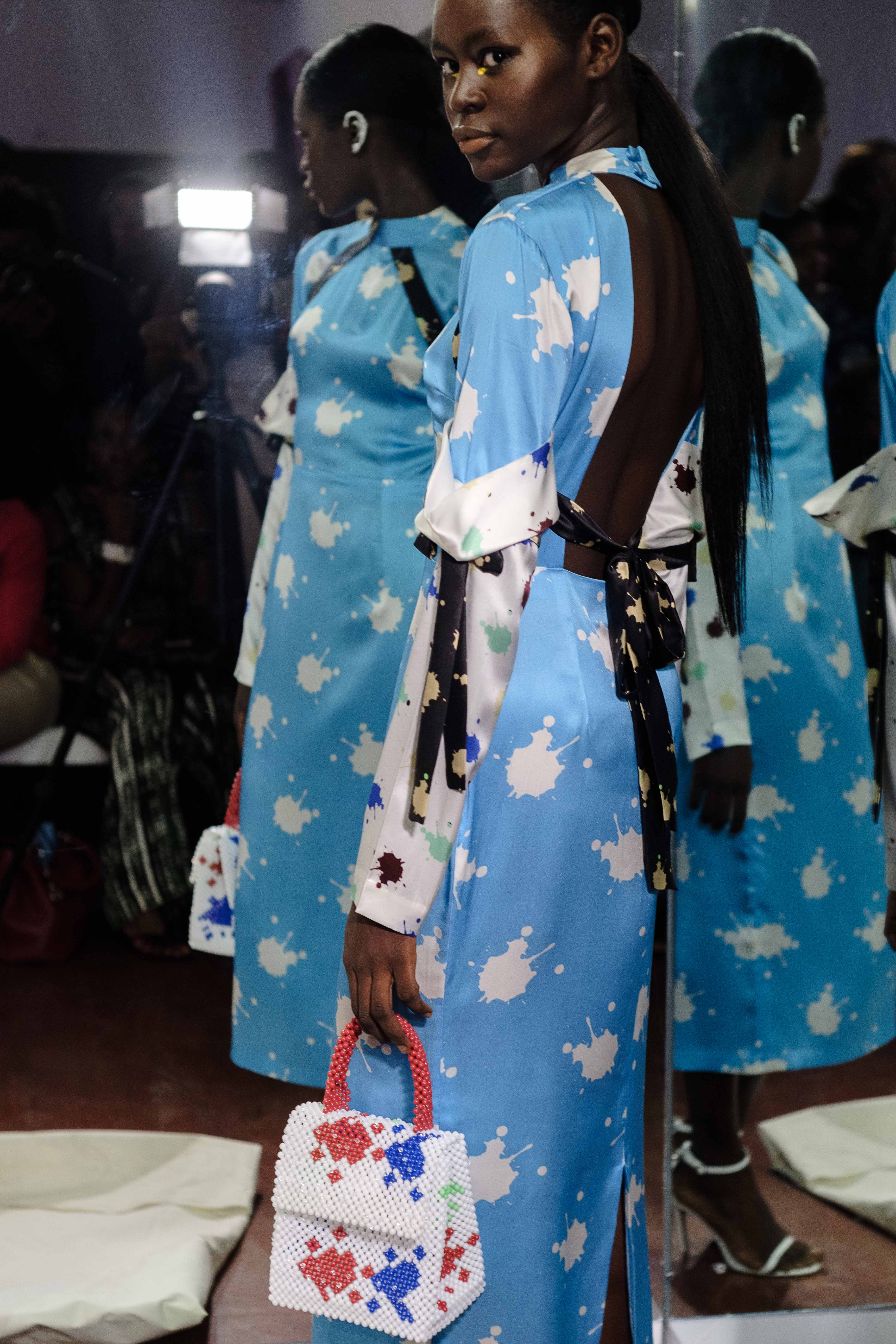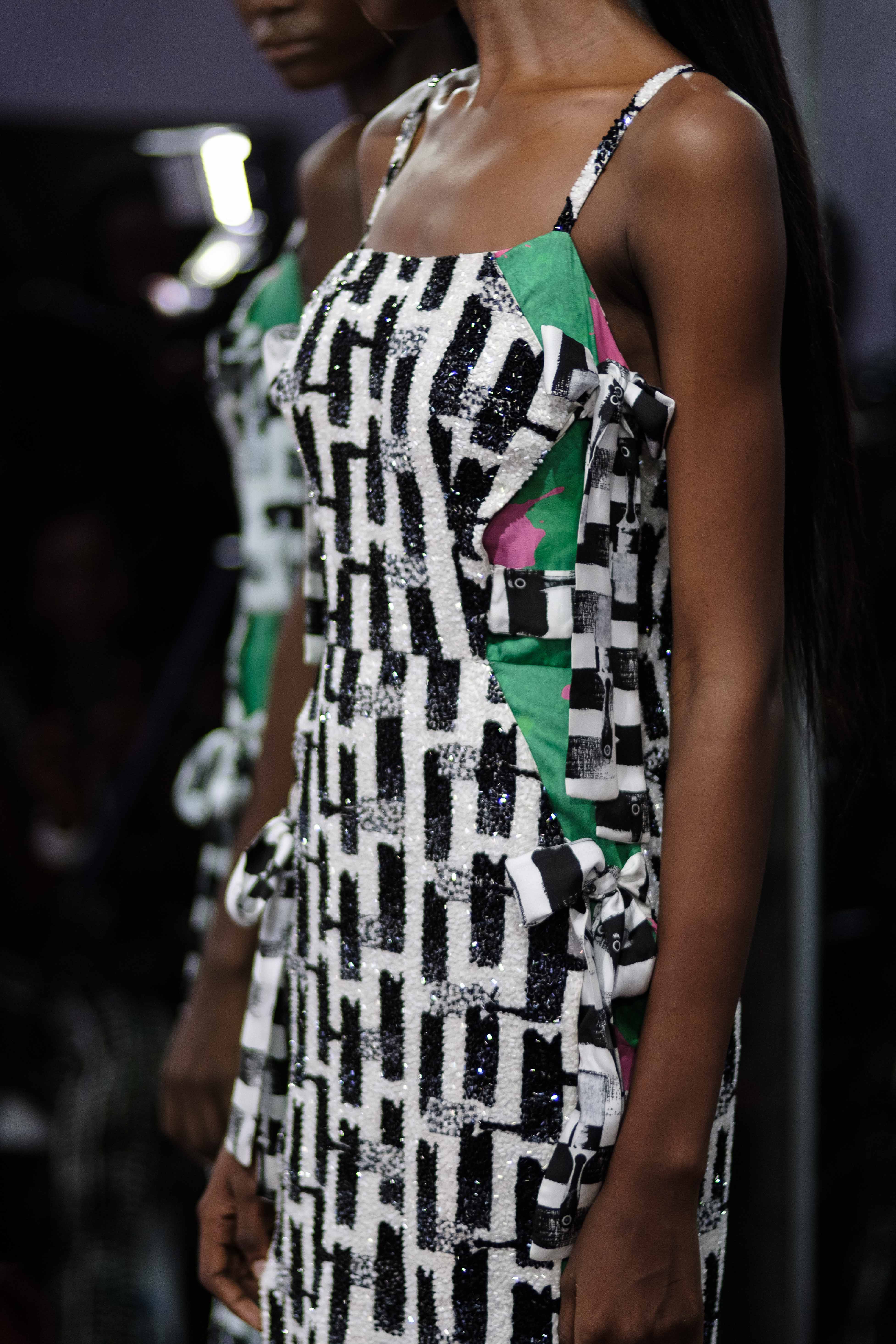 For an Autumn/Winter presentation, outerwear was scant although a jacket teamed with a skirt that featured pleats and not one but two prints was a welcome option, with it's super cinched waist and dramatically long belt. Hero ensemble of the night however was a three tone ( there she goes again with the print-a-cular alchemy) pleated trouser with layered silk blouses atop one another, in the manner of a woman who just cannot decide between the two and decides, sod it, wear both. The trousers felt like a revelation – and it would have been thrilling to have seen the silhouette and the thesis of the piece expanded upon further – perhaps in a light wool for the cold?  But the sky blue blouse with it's blouson silhouette and accented lapel was a masterclass in what women want to wear right now. As it was styled for the show or with those favourite jeans knocking about in the back of the closet it had useful, and gorgeous and super easy to team with existing items writ large.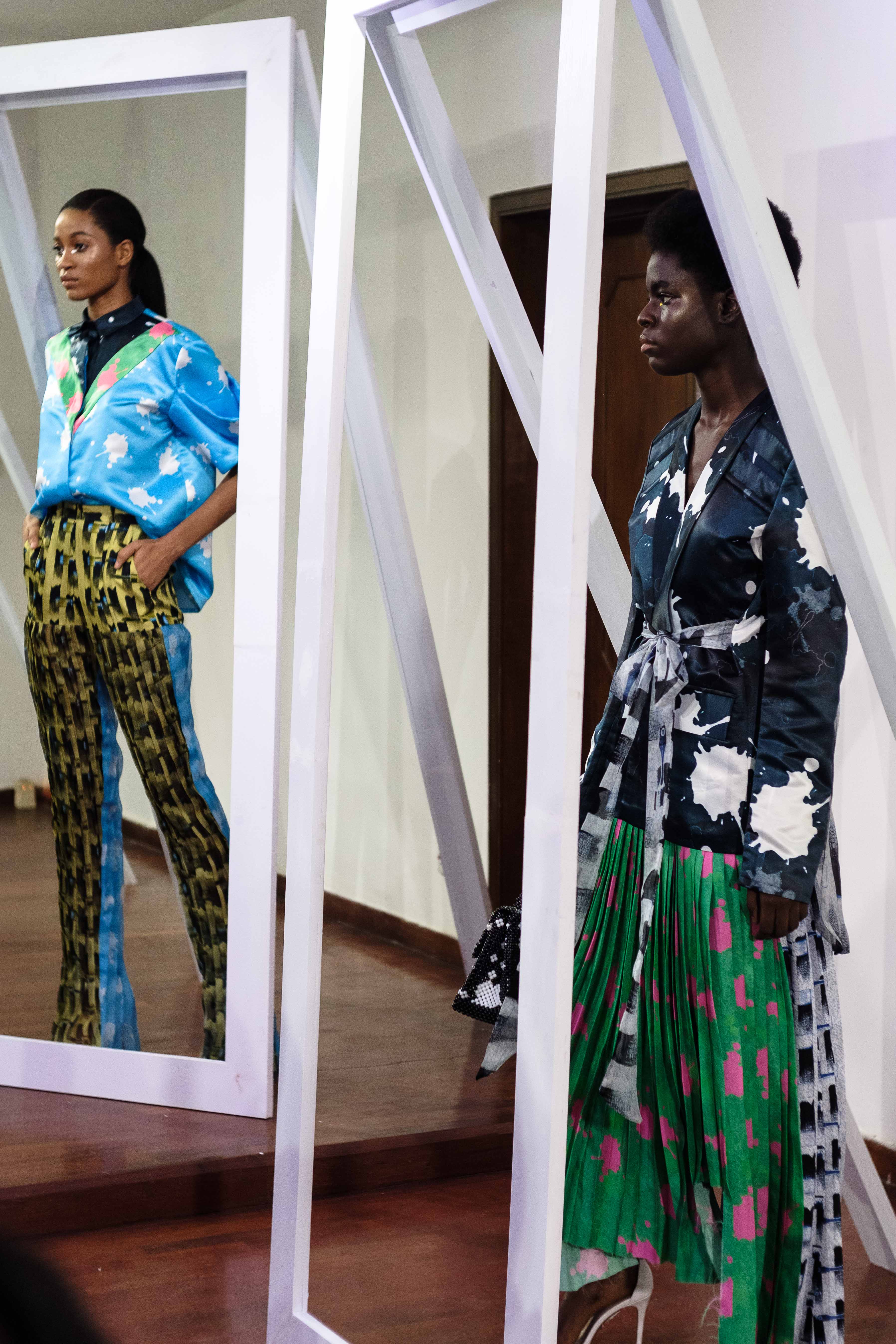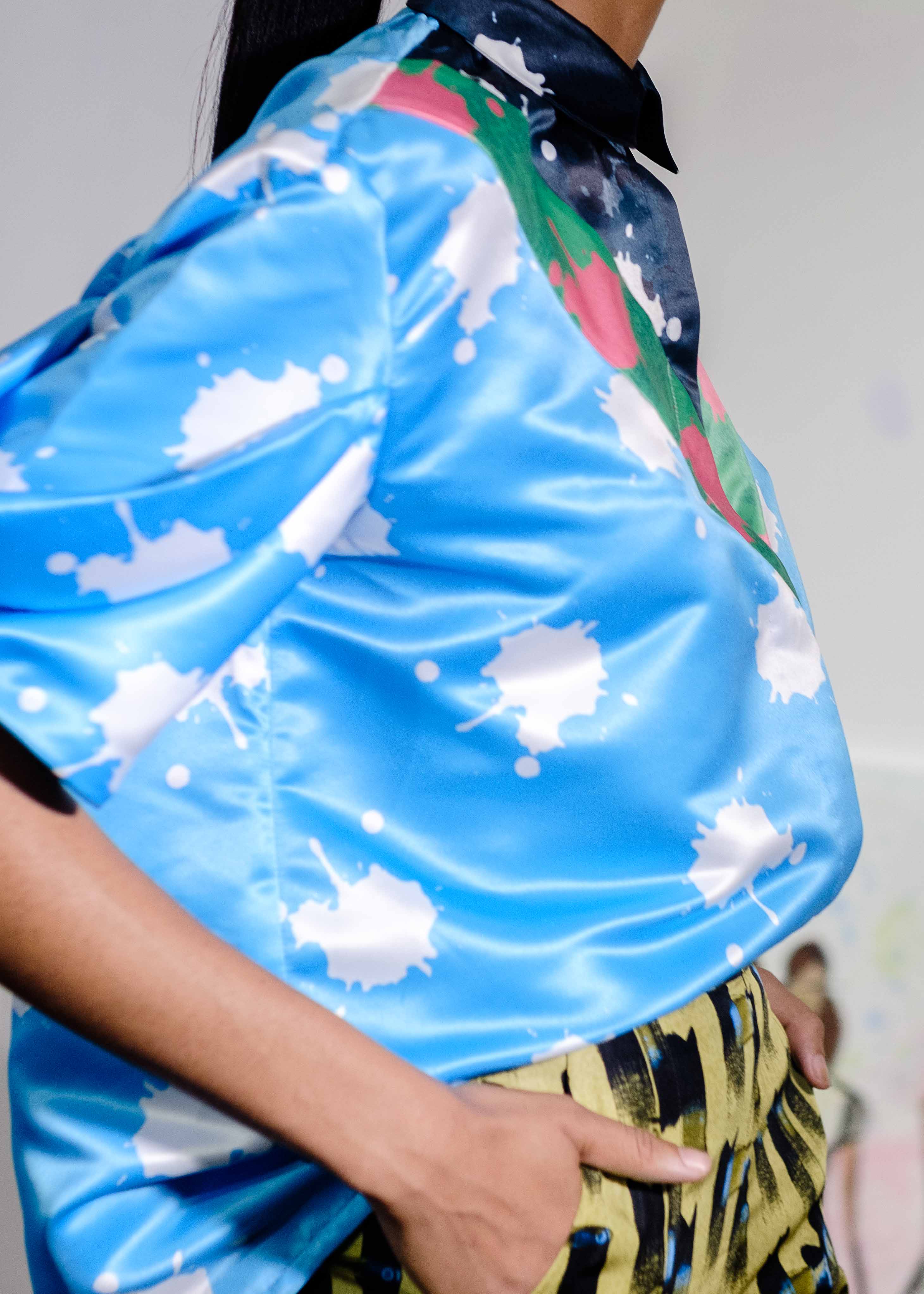 It takes a brave designer to dare to go against the grain in terms of both timing and style of presentation. But Folawiyo is in a powerful position:  known, celebrated and at a juncture in her career where she can experiment and dabble in other visual media without there being adverse consequences on her principal offerings. Significantly, intimacy, authenticity and creating a design language that is truly one's own have become buzz words in the wider conversations around luxury and fashion in particular. Folawiyo, taking a bow at the end of her show in a shirt of her own design, Monse Jeans and Fendi Shoes illustrated that loving and engaging in fashion needn't be a straight narrative arc. It can take in art, music, other fashion designers and whatever else might inspire. The order books will be full, as per usual, but perhaps most significant is this is an artist, and let's face it, fashion is art, who continues to push the envelope with herself and her craft.