It was the best of times, it was the worst of times. It was the age of wisdom it was the age of foolishness. Charles Dickens we acknowledge the lyrics swipe, but we couldn't begin this style critique without framing it thus. Toronto International Film Festival saw two super-memorable looks on the red carpet. One that had us whooping and screaming and dipping low like we were a video vixen and another that just had us in complete sad face mode. Like, pressing the one emoji so hard it became three rows on the phone screen of relentless unhappiness. We are talking Rita Dominic in Lisa Folawiyo Studio at the '76 premiere (for our cheers) and Lupita Nyong'o in House of Herrera and a head tie at the Queen of Katwe premiere (for our still hot tears).
In the spirit of poso vibes front and centre always let's talk through the look we LOVED. Rita Dominic has been having a purple patch of late…as in consistently looking off the chart hot whenever she is on the red carpet. We loved the fact that she rocked Naija for Toronto and that she wore custom Lisa Folawiyo Studio at that. Rita has attended a gazillion and one events but in this picture below you can almost hear her causing a commotion, sashaying in cascading jumbo- paillettes, that swish as she moves, the light catching on any reflective surface and bouncing off the camera lens. And what of the super femme bodice? Her hourglass old-school Hollywood Glamour figure encased in a vibrant heart shaped print that is sequined up to her bustline, the colour singing against her skin, her waist nipped and the peplum hinting at the all-round va-va-voomness of her? A special note to hair and make-up which was inspired; and to think we normally get so perturbed at MO towers by hair and makeup in Naija with the scary go-large-or-go-home element that often takes over! We LOVED the blue shadow, the nude with a hint of pink lip and the side sweep up-do. Rita you 'repped big time! In fact so much so that we had to show the look in duplicate!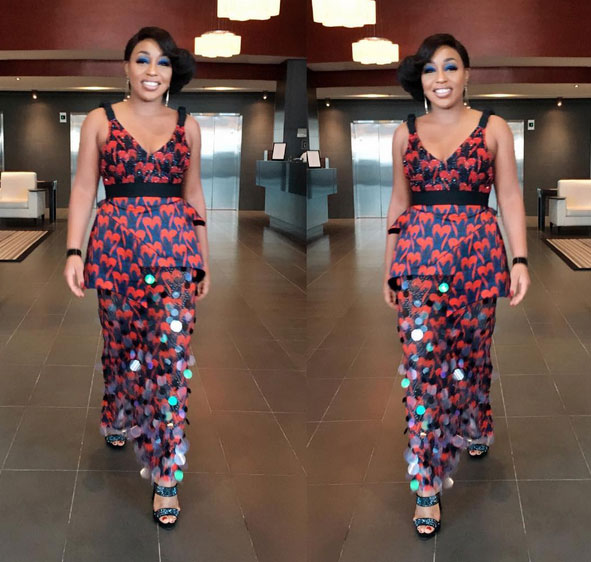 Lupita on the other hand…Jesus wept. The colour… yes, Darker Black Lady On the Red Carpet 101 dictates that a full-on colour is going to pop louder than a magnum of Krug on your skin tone. And a column dress when you are doing the needful and staying in shape will work in theory, BUT there are all kinds of wrong here. Made sadder because this is a woman who has KILLED AND SLAUGHTERED fashion royalty on the Red Carpet before. There is something 'old' about the bodice work (yellow and ultramarine is so passé-composé as a colour combo). But what really bothered us at MO was the head-tie. It was so 'Coming to America' version of Africa. Speaking from Lagos, for roughly $3 (or maybe $30 for 'Auntie Bisi based in Toronto'), she could have had that gele tied properly. I wager that whoever created the monstrosity masquerading as a gele was not an Auntie Bisi! The thing is, a poorly tied gele is like a black chick plonking one of the Queen's tiaras on an uncombed Afro at a jaunty with some of the diamond florets not even showing, and thinking boom! Buckingham Palace here I come! Added to which anyone in Lagos knows that gele with an evening gown is O to the V to the E to the R as a look. We stopped rocking this in the summer of 2009. But then one can almost hear the stylist speaking: 'Hey, the movie is called Queen of Katwe, so let's make you look like you know, a Queen." Note to the stylist, us lot in East Africa (I am from there and the film is set there too) do not rock gele be us queens or not, and when we do, we get a West African professional to sort it out for us. And as for the clashing brick-red(ish) lip, less said soonest mended.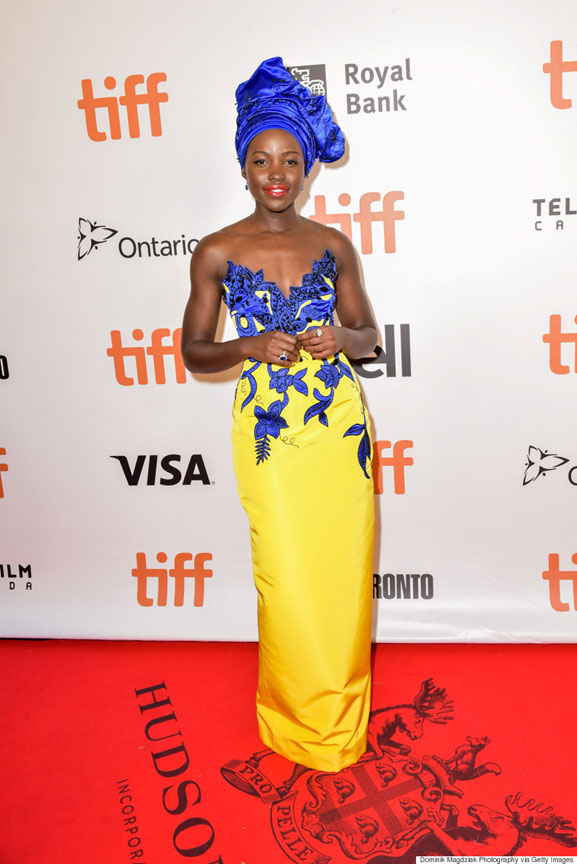 It must be so tough looking on point consistently on the Red Carpet, but it always works best when you do you. One gets the impression that Rita rocked her outfit whilst the concept of 'headtie with everything' that Lupita did throughout the festival, rocked her. Subsequently she looked more in costume rather than in control. And at MO Towers we are all about championing the powerful sensational African woman! Sack the stylist Lupita, remember that Prada high season (Oscar Night, Met Gala) which was everything. And as for Rita, you are officially MO's reigning WCW the actor edition, keep serving us the magic moments and give your stylist a raise!