Solange has long been chilling at the high-table of fashion forward musicians. In fact judged on her fashion savvy alone the cheese course has come and gone and the claret has been drunk at this particular banquet. Her red-carpet arrivals alone are the stuff of sartorial legend. A difficult hem-length, figure compromising silhouette, or so under the radar designer that the metal detector isn't even beeping, none of it phases her. More importantly, she always looks like she actually enjoys fashion, rather than seeing at as an essential weapon in the arsenal of staying relevant in the digital age. Added to this Solange was rocking a natural a good clear four seasons before it became 'a thing' and everyone and their balding cousin decided to 'transition'. A quick reminder for those of you at the back; an off-duty look that almost had me thinking cycling might be my new hobby, until I remembered I can't ride a bicycle and I don't live in Brooklyn where the streets are relatively pot-hole free, and her insane Giles Deacon dress at the Met Gala 2015 that was ultimate Optical Illusion Festival and is one of my all-time favorite looks from her.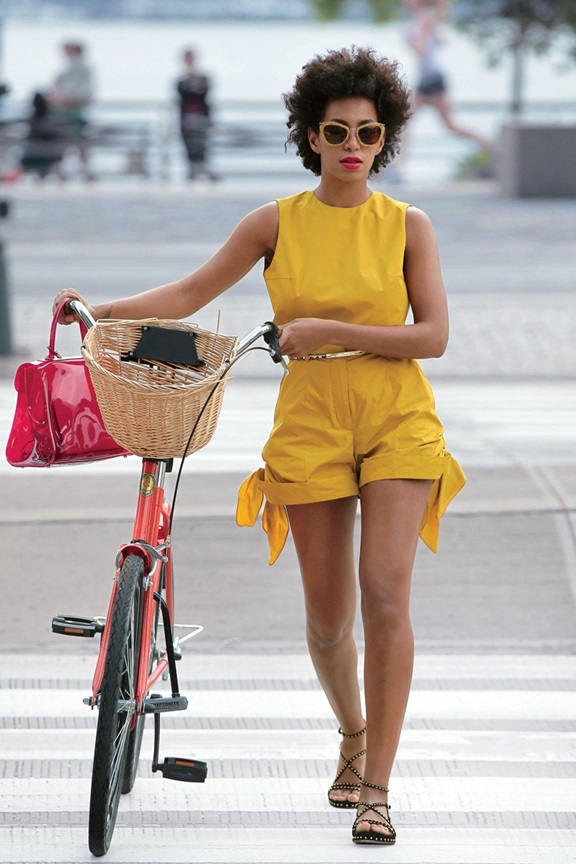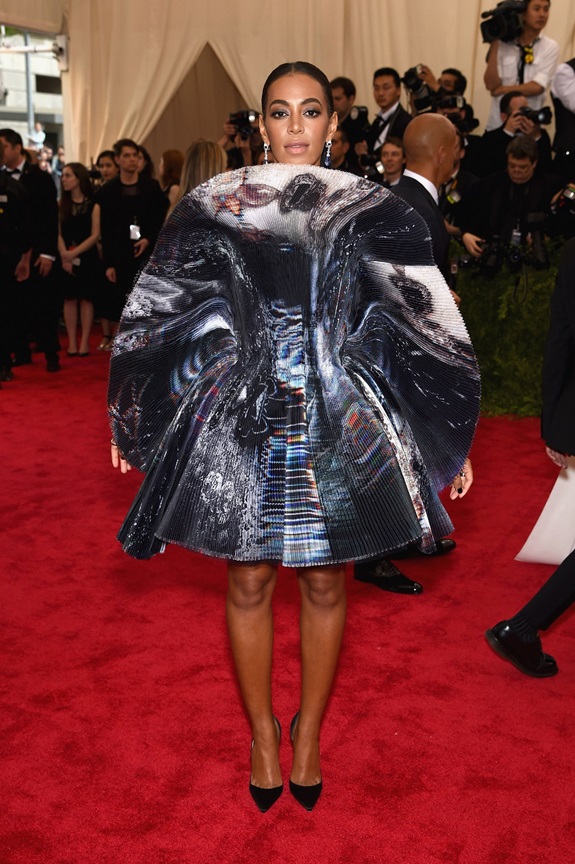 But this isn't just a discussion on her wardrobe choices but how with her latest album release (yes, it's easy to forget that she is principally a musician and not a fashion plate), A Seat At The Table, she has managed to fuse the personal with the political and marry it, judging from the first two videos released so far, with the visually seductive.
I have had the album on loop for many reasons. First of all the genre shape shifting is a treat for any musical and cultural omnivore. Hip Hop legends are represented with the likes of Lil' Wayne and for the old school 'heads, Q-Tip (although he doesn't rap, just harmonizes beautifully), who pop up on 'Mad' and 'Borderline (An Ode To Self-Care)' respectfully, but then there are electronica and synth vibes on 'Don't You Wait', and classic soul is given a jolt of modernity in 'Cranes In The Sky'. Second, there is something so celebratory, powerful and unapologetic in many of the songs, one gets the sense of a woman in charge of her destiny both internally and externally. 'Don't Touch My Hair' is on one level a paean to the self-determinism of how a black person wears their hair and how that echoes experience, but on a deeper level is an exposition of self-expression in all its forms. The issues are real, especially with dreadlocks still deemed in some companies 'unprofessional' and cliques formed and broken based on how one wears their hair. Taking the thesis of strident self- acclamation further is 'F.U.B.U',  which to white ears might seem exclusionist with its refrain 'this shit is for us' but that actually  speaks lucidly to the  many ways black people navigate their blackness, from alienation, upending assumptions and  stereotypes and the occasional defiance required in doing it all. However, the album does not feel like an angry 'protest record', Raphael Saadiq's production is too sophisticated and on-point for that, and this is further buttressed by the plethora of arresting motifs as seen in the two opening videos dropped.
Those videos! 'Cranes in the Sky' and 'Don't Touch My Hair' are master classes in how to make the music video, a genre in danger of cannibalizing itself, into something fresh and interesting again. One can see that Solange has been rolling with the fine-art crowd with the precision of composition and with each video having a distinct tone and palette. Ever the pioneer, Solange mixes it up in her styling; with known luxury brands and underground labels all sharing viewing time and many of the tableaux created resemble full-on fashion editorial. Game-over pieces include an exquisite sherbet pink jacket by emerging talent Nadine Goepfert.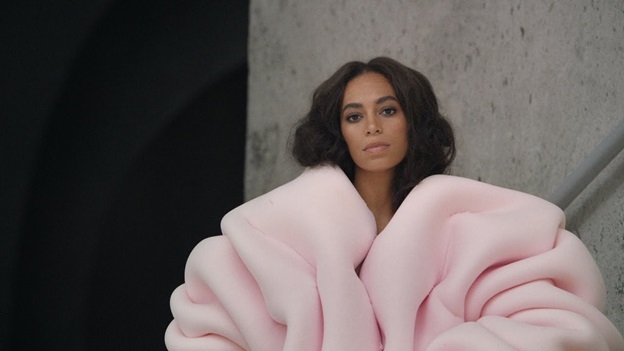 A luxe take on street wear is seen in an ensemble that features Chloe pants, a 3.1 Philip Lim top and cult accessories label of the moment, Mansur Gavriel shoes.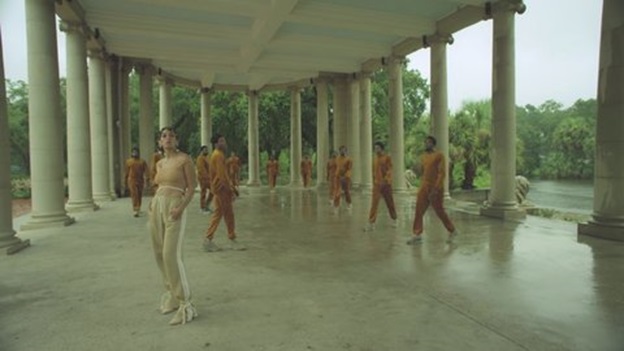 Finally, a risqué piece that would be at home in the Bush-Girl-Boutique consisting of strategically placed foliage, just remains with you long after you've seen it.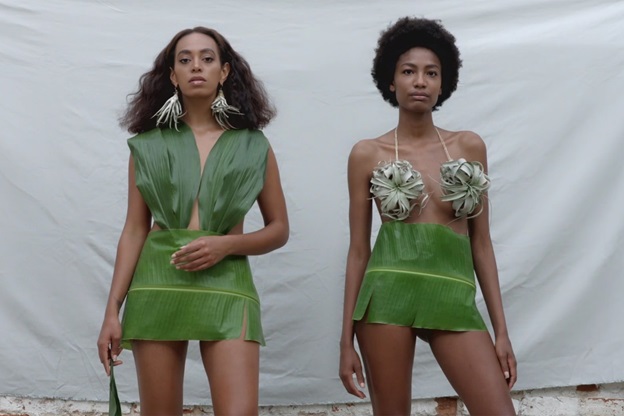 Having rinsed the album thoroughly, I eagerly anticipate what she does next with any of the follow up videos as they're guaranteed to be a feast for often bored eyes.
The title of the album, speaks directly to the continued debate around equality. Are we all allowed the proverbial seat at the table? Or are some dismissed or not considered good enough due to race? It is easy to dismiss the question as one steeped in inherent privilege; if you are too busy dealing with the business of survival, whether you are at the high table or not becomes irrelevant. But music like fashion is a place where we can come to dream whether in the creation or appreciation of it. In this album, Solange has given a voice to experiences that are obviously posited in her subjective reality, but she has done it in the most inclusive way with sumptuous songs and gorgeous videos. And for that she deserves all the praise, inevitable accolades and petit fours.